How to Cleanse Your Scalp in 6 Steps
Lather, rinse, repeat. If this sounds like your regular hair wash routine and you're not getting the results you were expecting, you might want to consider adding a weekly deep cleansing treatment for your scalp.
Much like the way we remove makeup and wash our face, a deep clean of the scalp can help remove buildup from hair products and other debris that can cause itching, irritation or damage. Read on to learn what you need to cleanse and clarify your scalp ASAP.
The Importance of Scalp Care, Explained
Without the deep cleansing needed for a healthy scalp, it may lead to issues with your hair and skin, including a reduction in healthy hair growth. Think: An itchy or flaky scalp, dandruff, irritation and discomfort.
"Any inflammatory reaction on the scalp not only can cause flaking and itching but also can reduce the potency of the growth phase of the hair follicle leading to increased hair fall and thinner hair," said Daniel Belkin M.D., FAAD, board-certified dermatologist at NYDG Wellness and dermatologic surgeon. "Buildup that occurs from the use of hair products like conditioners, hair creams and sprays can cause an irritation reaction on the scalp that leads to discomfort and reduced hair growth."
"The most common thing that I see in patients who do not cleanse their scalp frequently enough for their own skin, or do not do a good enough job of getting a lather deep enough down to their scalp, is seborrheic dermatitis, which represents an overgrowth of yeast on the scalp that causes redness, itching and flaking," said Dr. Belkin. He also said that treating this type of scalp condition can not only reduce flaking but also help improve hair growth.
Related: Experiencing Itchy Scalp and Hair Loss? Read This
6 Steps to Cleanse Your Scalp
Now for the good news: A salon-worthy scalp cleanse can be done on your own, at home, following this simple step-by-step guide.
1. Start With a DIY Scalp Detox
Use a scalp scrub weekly before you shampoo and condition. GRO Scalp Detoxifying Serum can reduce sebum production and dandruff-causing fungi. This exfoliating scrub also gently removes old skin cells and excess product buildup from clogged pores, soothes irritation from free radicals and restores balance to the scalp. To use the scalp scrub, part dry hair into even sections. Actively massage the serum into the scalp for one to two minutes, leaving it on for five to 10 minutes before thoroughly rinsing it out.
2. Start With Well-Saturated Strands
"The scalp and hair should be nice and wet," recommend Dr. Belkin. Hop in the shower and saturate your scalp and hair completely, rinsing off any lingering product buildup from dry shampoo or other styling product residue.
Beginning with wet, well-saturated hair allows for a deeper cleanse of stubborn styling products such as dry shampoo, texturizing sprays or other hair products that have a "grip-like" texture.
3. Completely Cleanse Both the Scalp and Hair
"Cleanser can get through the natural hair along with its natural oils and down to the skin of the scalp," noted Dr. Belkin. This allows for you to gently exfoliate the sometimes sensitive skin around the hairline and scalp.
Choose wisely when it comes to picking a shampoo and conditioner.
Opt for products that include natural ingredients to act as both a cleansing agent and scalp detox with anti-inflammatory properties. GRO Revitalizing Shampoo and Conditioner are a clean, color-safe duo that utilize plant actives and the first-of-its-kind vegan keratin, Karmatin™, along with microencapsulated vegan b-SILK™ protein, to leave hair shiny, healthy and hydrated while the scalp is also left thoroughly clean and clarified.
4. Do a Double-Cleanse at the Roots
"Then, do another lather deep at the root of the hair shafts, [which] is important to whisk away oil, product buildup and fungal elements from the surface of the skin," said Dr. Belkin.
5. Apply a Serum
Just like with your skincare, applying serum can help seal in the benefits of your scalp cleansing routine. This step in scalp and hair care is just as important as it is in skincare. GRO Hair Serum's plant-based, multitasking formula is powered by a combination of clinically-tested, vegan phyto-actives that work in tandem to help support a healthy and balanced follicular ecosystem while soothing the scalp and revitalizing hair roots. It has been shown in multiple clinical studies to increase the appearance of hair density by up to 52% while reducing signs of shedding by up to 76% to bring you thicker, fuller-looking hair. Or, opt for GRO+ Advanced Serum with the same great scalp and hair benefits, plus the added boost of microencapsulated CBD for extra calming and soothing of the scalp. 
6. Boost Results By Stimulating Your Scalp
To stimulate your scalp and boost its health, use a scalp massager when you detox, cleanse and work in serums. The GRO Revitalizing Scalp Massager is safe for use on all hair types, as well as wet or dry hair. Its gentle bristles boost circulation in and around the scalp and hair follicles.
Scalp and Self-Care the Natural Way
Make the most of nature's healing remedies by integrating other ingredients activated by plants into the care of the scalp, skin and hair. The following natural ingredients have beneficial properties that may bolster scalp and hair health:
Apple cider vinegar, when used as a hair rinse, has been shown to have a level of acid content that decreases itching, flaking and calms down the inflammatory reactions stemming from a yeast or fungal overgrowth.
Tea tree oil shampoo has antifungal properties that make it an effective dandruff remedy.
Witch hazel acts as an astringent to help shrink pores, soothe skin, reduce inflammation and irritation.
Coconut oil can be used to alleviate an itchy scalp and help with dandruff.
Aloe Vera gel has been thought to help with dandruff by soothing scalp inflammation and irritation.
The good news is that with VEGAMOUR, you're on the right track. All of our products are created with vegan, natural, non-toxic ingredients, which are specifically designed to boost your hair's wellness.
The Takeaway
As with most things in life, a cleanse and reset can be beneficial for your health, including that of the scalp and of your hair. Integrate the above steps into your weekly TLC routine — hello, self-care Sundays —for a happier, healthier, recalibrated hair and scalp.
More from VEGAMOUR
Photo credit: K8/Unsplash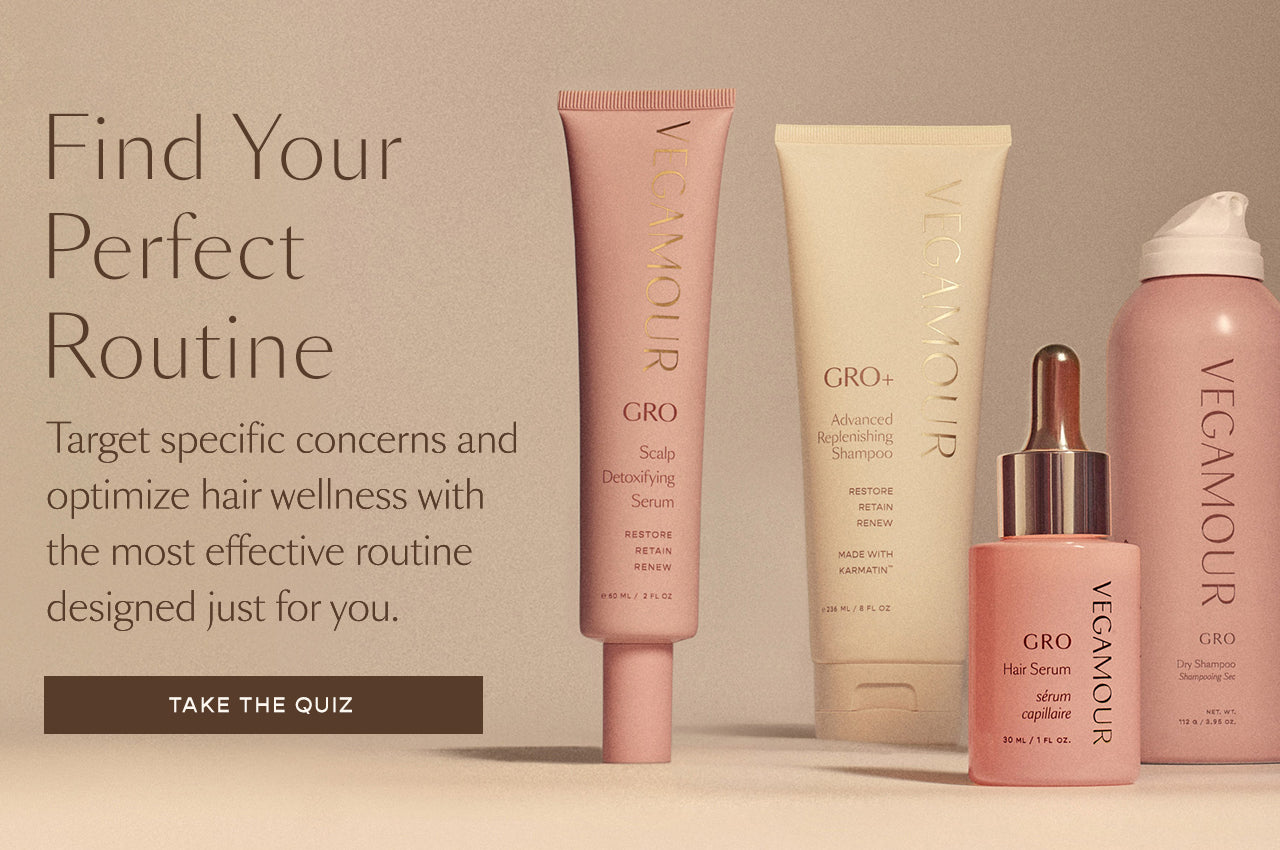 Disclaimer: Information in this article is intended for general informational and entertainment purposes only. It is not intended to constitute medical advice, diagnosis, or treatment. Always seek professional medical advice from your physician.