A Beauty Editor's Inside-Out VEGAMOUR Routine for Hair Wellness
As a beauty editor, writer and yoga instructor, wellness isn't just a once-in-awhile habit to casually fit in when I have the time. Rather, it's an integral — and essential — part of my daily routine. These practices optimize the physical health and emotional wellness of the most important relationship I have in life: Taking care of me. 
Morning to night, here are the eight healthy habits I practice to help me stay mindful, present and in optimum health, from tresses to toes. Plus, learn more about some of my favorite products to keep my hair looking thick and healthy. 
Maximize and Make Mornings Mindful
Elevate your mornings by making the most of those early hours. How you start your day sets the tone for the hours that follow. It's the law of attraction, after all: If you begin with a positive attitude and mindful intentions, they'll manifest throughout your day. Conversely, if you start the day waking up on the "wrong" side of the bed, you'll likely have a day filled with more of the same.
Wellness Action Item 1: Practice Gratitude 
When I wake up, the first thing I do is — while still in bed — is to say a prayer. Then, I read my three daily meditation books, followed by writing down at least three things I am grateful for in the journal I keep on my nightstand. 
Wellness Action Item 2: Set Intentions
Next, I set three intentions and/or affirmations that I want to manifest that day. I believe in the power of putting pen to paper, followed by reciting these statements and speaking them aloud.
Also: Why Choose Cruelty-Free Hair Products
Wellness Action Item 3: Cleanse, Clarify, Create
Following my workout is a much-needed shower! If it's a hair wash day, then I use GRO Revitalizing Shampoo and Conditioner to wash and condition my long hair. Then, I put my hair in a loose bun and tuck it into a satin-lined shower cap and apply GRO Hair Serum from my GRO Essentials Kit. The serum is perfect for daily use since it has a water-like formula that I can apply before or after styling my hair, and is easy to incorporate into a full routine with my kit. 
Wellness Action Item 4: Hydration Station
Next up: Rehydrating with the glass of water with fresh lemon and apple cider vinegar that I keep on the nightstand. This is super important, as dehydration can set in after the evening hours while we sleep — and I like to flush out the system with H2O before I drink any caffeine. 
Then, I head to the kitchen, where I've usually pre-prepared the ingredients for my morning hydration routine. My morning trifecta includes homemade low acid cold brew coffee, detox tea and an alkalizing, adaptogenic celery juice.
For the celery juice, I blend organic celery, fresh ginger, fresh lemon, fresh mint, a splash of apple cider vinegar, filtered water and a packet of VEGAMOUR's GRO WELL Boost Supplement + Probiotic. This proprietary blend includes adaptogens, vitamins and minerals, as well as probiotics (50 million CFU) to help support a healthy gut microbiome, which is helpful for healthy hair and skin. All of these super-charged ingredients address the underlying root causes of hair loss while also supporting healthy circulation and gut health.
Wellness Action Item 5: Hair and Skin Self-Care
While I drink up, I start my morning hair care and skin care routine. First, I grab my reusable eye patches and ice roller out of the freezer. Keeping them — literally — on ice helps up both the depuffing factor as well as soothes my sinuses and any lingering congestion. Plus, the cool shock is an extra pick-me-up in the morning!
After I cleanse and tone my skin – along with my lashes to keep potential eye irritants at bay – I head to the linen closet-turned-beauty closet next to the bathroom. Here, I reach for my morning routine serums:
Wellness Action Item 6: Get Moving Mindfully
I find that both my brain and body work best when I make movement a must in my morning. Whether it's yoga, pilates, riding my stationary bike or a morning walk, doing so allows me to alleviate any stress, get my endorphins flowing and creates clarity of mind, which ultimately helps me to focus better throughout the day. Plus, as a detail-oriented Virgo, checking off something productive on my list first thing boosts both my mental and physical state.
Also: 11 Things Beauty Editors Are Saying About VEGAMOUR
Elevated Evenings
It's important to take time at the end of each day to truly disconnect from the events of the day, reset your system and create the calm needed for a good night's sleep. You might want to try a soothing yoga flow for sleep, read a book, journal or enjoy a cup of tea — whatever helps you turn "off" your brain from your to-do list and transform it to chill mode.
Wellness Action Item 7: Relax and Unwind
One of my favorite things to do at the end of a long day is to treat myself to a soothing, calming scalp massage. I like to apply the same GRO Hair Serum that I use in the morning, using my fingers at the temples for an acupressure massage. Then, I up the ante with the GRO Revitalizing Scalp Massager. I find this helps to further boost my circulation and improve blood flow — and it feels amazing!
Wellness Action Item 8: Get Set for Sleep
Finally, before I go to sleep, I do one more final spray of GRO Dry Shampoo and apply GRO Lash Serum and GRO Brow Serum again. I loosely braid my hair and secure it with gentle hair ties that don't snag or damage my hair. Then, I always use a hair-preserving pillowcase that is soft, gentle, and won't create hair-damaging friction or breakage. I even pack one when I travel to protect my hair. Sweet dreams!
More From VEGAMOUR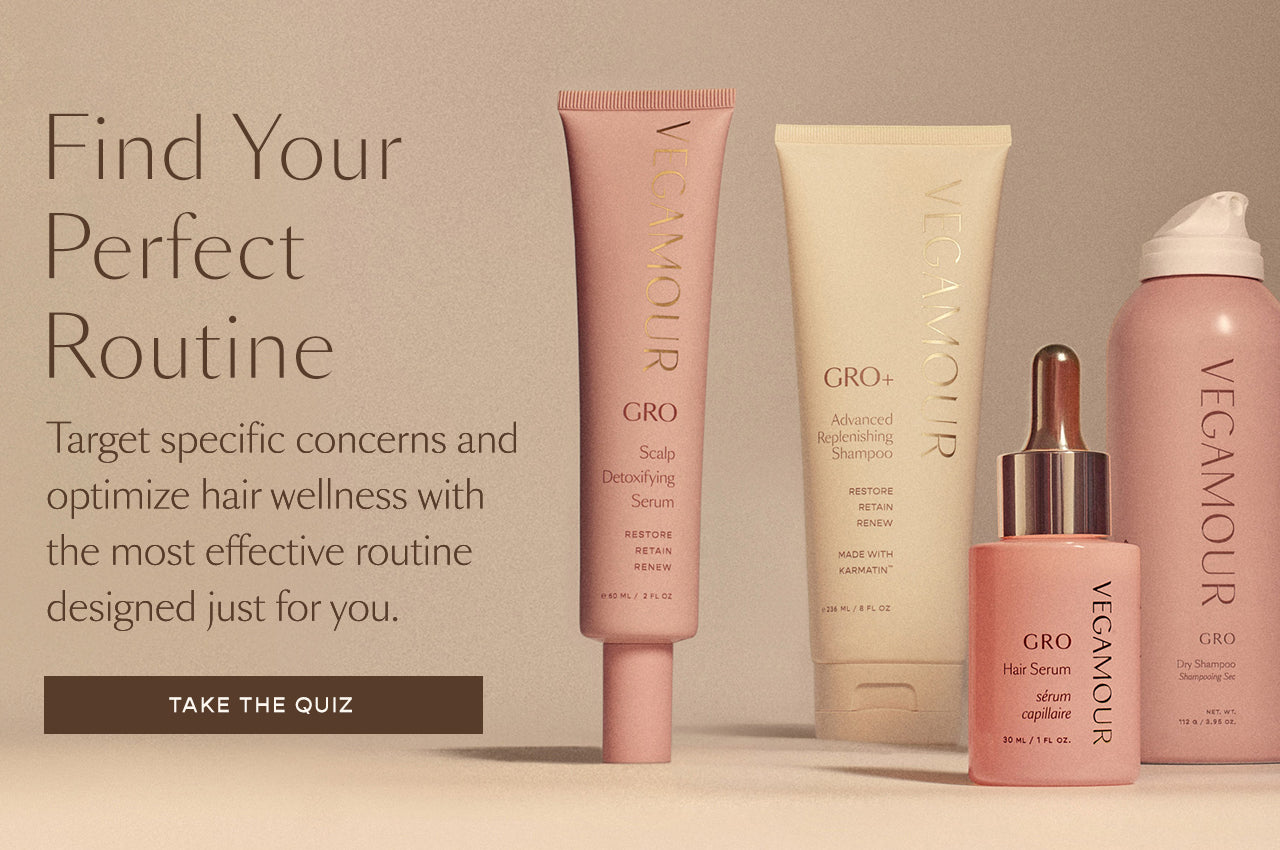 Disclaimer: Information in this article is intended for general informational and entertainment purposes only. It is not intended to constitute medical advice, diagnosis, or treatment. Always seek professional medical advice from your physician.