These Are the Signs of Dehydrated Hair
Your hair can get dehydrated, much like your body does when you don't drink enough water. But how can you know if your hair is dehydrated (not just dry), and how can you replenish moisture and heal your dull hair?
VEGAMOUR spoke with a hair expert about what makes hair get dehydrated. Plus, find out what products you should add to your hair care routine to correct and prevent thirsty hair.
What Is Dehydrated Hair?
Dehydrated hair is caused by a lack of water in the hair, catalyzed by a wide range of hairstyling habits, chemical services and environmental factors. Dry hair, by contrast, is caused by a lack of hair's natural oils. Although dry and dehydrated hair are similar hair conditions, dehydrated hair involves whole-body hair and scalp health. Therefore, a multifaceted approach is best to bring the hair and scalp back to a healthy balanced state.
Shop: HYDR-8 Collection for Dry, Damaged Hair
What Causes Dehydrated Hair?
VEGAMOUR spoke with Kevin Holmes of Hairbro about the causes of dehydrated hair. Holmes said some of the common causes are how you take care of your hair and physical health. He also said your hair is at risk for dehydration if you live in a dry, hot area; spend hours in the sun or wind or swim in chlorinated or salty water.
Also, heat-styling tools can damage the natural hair's physical structure. Your hair shaft is made up of inner and outer layers, with the scaled outer cuticle operating as a gatekeeper, of sorts, for all molecules that go into or out of your hair strands. Heat styling can damage the cuticle, making those "gates" too easy to penetrate. The results are water loss and exposure to harmful free-radical invaders, which can damage your hair's health.
Other common causes of hair dehydration include:
Environmental stressors like the sun's UV rays, cigarette smoke, pollutants, free radicals, chemicals and weather (wind, dry air vs. humid air, etc.)
Hair chemical services like color, bleach, permanent waves, relaxers or other chemical straighteners, etc.
Insufficient sebum (moisture) in the hair or too little hydration in the diet
Holmes shared with VEGAMOUR that healthy hair has a shine and sheen to it that unhealthy, dehydrated hair does not. There's good news, though — dehydrated hair is a rather easy fix! Just a few mindful changes can restore balance and shine, reduce tangles, smooth frizz, improve texture and restore the hair to a soft and shiny appearance.
Dehydrated Hair Characteristics
Dehydrated hair feels rough and brittle. You might also have a flaky or oily scalp and dry ends.
Here are some other characteristics of dehydrated hair:
Hair appears dry, frizzy, dull
More noticeable split ends
Generally lacking in shine and luster
For curly hair — curls appear frizzy, and it's hard to get the curls to wind into shape.
Related: Your Guide to Dealing With Damaged Hair
Correcting Dehydrated Hair
Repairing dehydrated hair takes a multifaceted approach, but it's not super complicated. Start from the inside out by improving your diet and water consumption. Protect your hair and skin from exposure to dehydrating factors in both your home and environment. Additionally, nourish your hair with hair products that provide a perfect moisture and protein balance —something dehydrated hair desperately needs.
Improve Diet and Water Consumption
Drink enough water each day. In general, Harvard Health recommends four to six cups daily or two to three cups per hour if you're exercising or sweating. Also, eat more fluid-rich foods such as melon, fruit and lettuce. The best sources of water in your beverages will be caffeine-free, sugar-free and have the No. 1 ingredient — you guessed it — water! Consult your doctor for a more accurate daily water recommendation based on your health.
Protect Your Hair and Skin
Your hair cuticles protect your hair. Keeping them healthy and not overworked is essential to keeping your hair hydrated and healthy.
Avoid these dehydrating no-no's:
Aggressive brushing or towel drying wet hair
Too many chemical salon treatments (especially on already damaged hair)
Blow-drying on high heat (Use thermal protection spray when you blow dry or flat iron. These also usually contain a humidity protectant, an added bonus if you have damaged hair, frizz-prone or curly hair.)
Sun exposure without protection — Wear a hat or loose braid with leave-in conditioner when you're outdoors.
Sleeping on cotton sheets and pillowcases — Silk is better and won't sap the moisture from your hair while you sleep.
Skipping haircuts — Regular trims are necessary to prevent split ends and remove damaged hair or seriously dry ends.
Using hair products loaded with chemicals and alcohols that dry out your hair.
Replenish Your Hair with Moisture and Protein
In the past, you may have doused your hair with animal keratins (which left the hair feeling even more dry and brittle), then followed with hair conditioners. It likely didn't work well because animal keratin molecules are too large to penetrate through the cuticle and don't bond well with hair.
Today, there's a far superior form of protein — VEGAMOUR's proprietary Karmatin™. It hydrates, repairs and fights frizz and is the star ingredient in VEGAMOUR's HYDR-8 hair care system. Here are some other benefits of HYDR-8 products.
Restore moisture balance to your hair with nourishing ingredients.
Reduce breakage and smooth damaged cuticles.
Reduce frizz.
Bathe your hair in 72 hours of hydration.
Work for all hair types — especially dry and dehydrated, coarse, curly, chemically treated and damaged hair.
Easy Hair Care Routine for Dehydrated Hair
Replenishing dry hair strands is easy with a simple treatment system you can use right at home.
Step One: Shampoo with HYDR-8 Hydrate and Repair Shampoo with Karmatin™, aloe vera and Magnolia bark extract. Karmatin™ hydrates, repairs and reduces frizz, while aloe vera locks in moisture and promotes shine. Additionally, magnolia bark extract supports a healthy scalp and imparts soothing benefits.
Step Two: Condition with HYDR-8 Hydrate and Repair Conditioner, which contains Karmatin™, a Marula Oil + Botanical Oil blend for brilliance and shine and murumuru seed butter to lock in moisture.
Step Three: VEGAMOUR recommends HYDR-8 Deep Moisture Mask with Karmatin™, Marula Oil + Moringa Oil for brilliance and shine and milk thistle to protect the hair barrier and offer UV and environmental defense. Use this deep-conditioning treatment once or twice a week for the ultimate moisture bath with lasting protection from dehydration.
Take Control of Dehydrated Hair
The HYDR-8 collection provides the pampering and protecting ingredients dehydrated hair needs. Also, drink plenty of water, eat a nutritious diet, and give your hair a break from chemical processing for a while. Once your strands begin to retain moisture better, its shiny and healthy appearance will return. Here's to a future of healthy and radiant hair!
More From VEGAMOUR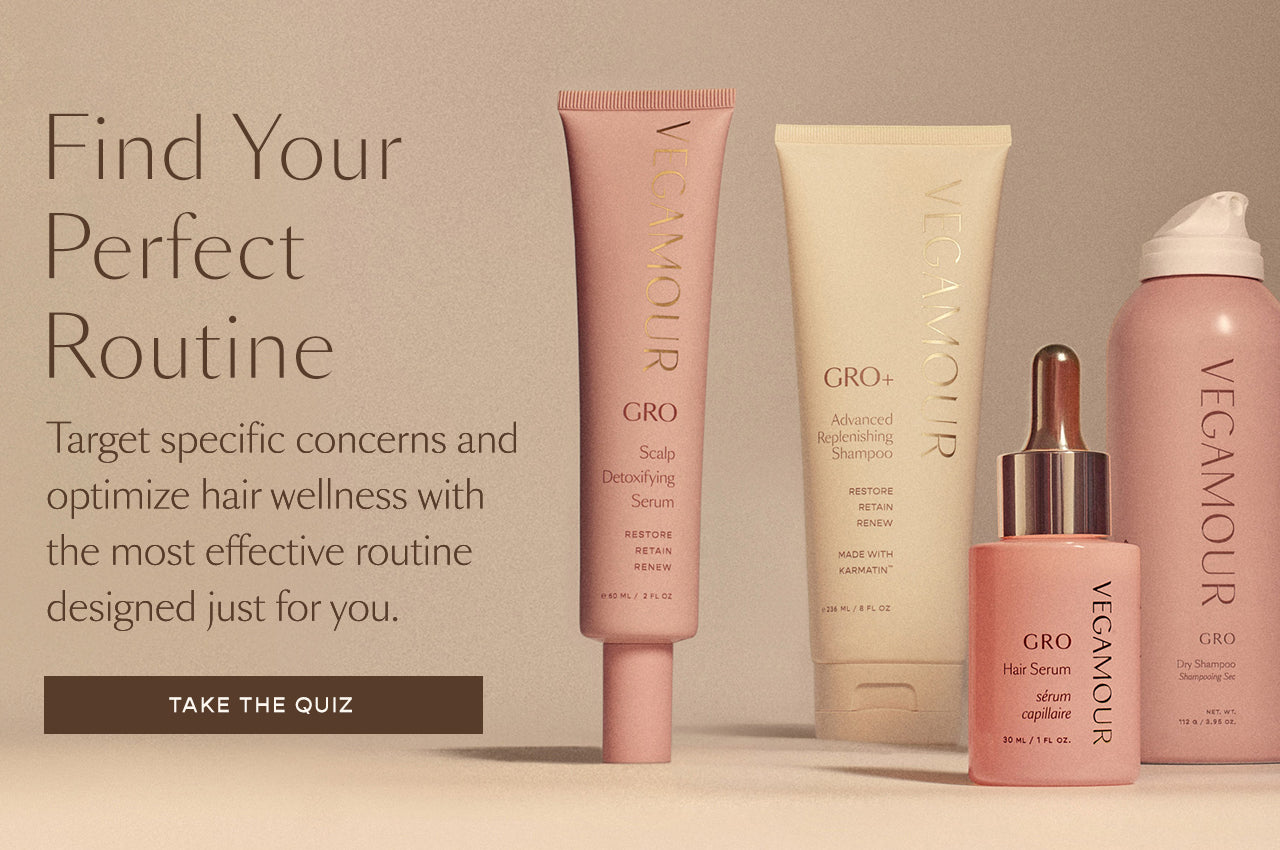 Disclaimer: Information in this article is intended for general informational and entertainment purposes only. It is not intended to constitute medical advice, diagnosis, or treatment. Always seek professional medical advice from your physician.