Oily Scalp But Dry Ends? Try This
While it's typical to try and squeeze your hair type into a group — oily, dry, normal, frizzy or greasy hair — the reality is, things are less binary. Hormonal fluctuations, excess oil and the products you use all contribute to your hair type.
For example, if you have a combination hair type, you could experience oily roots and dry hair at the ends. Here's your go-to guide to tackling oily scalp and dry ends, plus what products you should be using to get a healthy scalp and hair.
10 Steps to a Healthy Scalp & Hair
There are few things more annoying in life than spending time washing and drying your hair to perfection, only to wake up with an oily scalp/dry ends issue. Madison Dufour, licensed cosmetologist and barber, explained, "An oily scalp often means the skin is dry, so the sebaceous glands sense the need to produce more oil to rehydrate the scalp and bring the pH back to the skin's natural level: 4.5-5.5."
If you have an oily scalp and dry ends, you may be tempted to reach for a silicone-heavy conditioner to encourage silky, shiny lengths. Unfortunately, that's only going to weigh the hair down and create excess sebum at the root.
Follow these steps to help even out your combination hair, and get healthier hair that looks and feels gorgeous.
Shop: Sulfate-Free Shampoos for Oily Hair
1. Find the Right Hair Brush
As simple as it sounds, switching out your hairbrush could completely transform your dry and damaged hair by making use of your hair's natural oils. Brush your mane with a bristle brush, which is made up of a mixture of nylon bristles. This type of brush can help reduce breakage and evenly distribute the natural oils at the root along the hair shaft — your dry ends will love it!
2. Choose the Right Shampoo
When you have excess sebum production at the scalp and dry ends, choosing what products to wash your hair with can be tricky. Your excess oils might give you a greasy hair complex, pushing you to shampoo daily. But if you use the wrong shampoo, you could encourage even more dry hair and potentially hair loss.
Most shampoos at the drugstore are made with sulfates, parabens, phthalates and synthetic fragrances, which can encourage oil production and worsen split ends. However, GRO Revitalizing Shampoo is formulated with only natural ingredients and no harsh cleansing agents. Massage the shampoo into your oily scalp to lift away excess oil and pore-clogging dead skin cells. The wild-harvested marula, baobab and ximenia oils moisturize the hair strands, so your dry ends will feel nourished too. Pair it with GRO Revitalizing Conditioner and GRO Scalp Detoxifying Serum as part of the GRO Foundation Kit to save as much as 22% of your purchase!
3. Don't Overwash
When you have obviously oily roots, it's easy to fall into the pattern of washing daily. Unfortunately, Overwashing can lead to hair fall, plus it strips your hair of its natural oils. It could also lead to an even oilier scalp and, in worst-case scenarios, a flaky scalp.
Of course, you don't want to walk around with greasy roots between wash days. Keep strands fresh by using a dry shampoo that's formulated with only gentle, natural, non-synthetic ingredients. GRO Dry Shampoo will nourish dry hair and absorb excess oil without leaving a noticeable white residue. Plus, it smells terrific!
4. Put Down the Hot Tools
Straighteners, blow dryers and curling tongs can help you achieve the styles you want, but applying heat to your dry hair could lead to split ends and breakage that's beyond rescue.
Reducing your heat styling will keep your hair nourished and balanced. If you can't give up the heated tools completely, always apply heat-protectant products first to minimize damage. Your oily scalp and dry ends will thank you for it.
Shop: The Hair Collection from VEGAMOUR
5. Try a Scalp Serum
Without a healthy scalp, all hair types will suffer. You tend to the skin on your face and body with a routine, so it makes sense that the skin on your scalp also needs a little love.
If you're living with an oily scalp, focusing on scalp health should be integral to your routine — and exfoliation is an excellent place to start. Give your scalp the treatment it needs with GRO Scalp Detoxifying Serum. This vegan exfoliator will help balance your scalp's biome and reduce inflammation with a blend of Zinc PCA, biochanin A and marula oil. Excess natural oil will clear, and oily roots will appear less obvious. Add this exfoliating serum into your routine to change the look and feel of your scalp in just a few days.
Pick up the Good to GRO Kit which features the scalp serum and also our best-selling GRO Hair Serum to save as much as 24% on your purchase. 
6. Get Regular Trims
If you're growing your hair, you may think visiting the salon is something you can put on hold. Unfortunately, if your dry ends get too dry, the only thing for them is the snip. And the longer you leave it between trims, the more hair you're set to lose to the scissors.
Instead of leaving your hair six months or more between cuts, consider visiting your hairstylist every 12 weeks. This routine will help maintain the length without compromising the integrity of your dry strands.
Learn: Why a Healthy Scalp Is Important for Healthy Hair
7. Don't Let Conditioner Weigh You Down
A good hydrating conditioner will help bring your dry, damaged hair back from the brink of breakage. But when you have an oily scalp, finding the right conditioner is a balancing act. If your conditioner is made with heavy, weighty silicones, it could activate your oily roots more. Product instructions on conditioners made with synthetic ingredients advise to only apply the product to the lengths and ends, but the GRO Revitalizing Conditioner is perfect for the scalp too.
The formula is ultra-rich and completely natural, plus it's packed with nutrients. The mung bean and red clover help inhibit DHT production, which is a process that can damage hair. The nourishing formula also uses a microencapsulated vegan b-SILK™ protein, which remains on the hair even after rinsing.
GRO Revitalizing Conditioner is the world's first keratin hair treatment that doesn't rely on chemicals, making it ideal for dry, damaged strands. It won't clog the hair follicles or make an oily scalp feel worse. Rinse the hair with cool water after conditioner to lock in moisture and leave hair soft and luscious.
Check out this before and after of beauty writer Emily Beyda's experience using GRO Revitalizing Shampoo & Conditioner on curly hair. Read her review here! 
8. Stay Out of the Sun
Yes, vitamin D is good for your mind, body and soul, but for the sake of your overall hair wellness, keeping your hair out of direct sunlight will help ease an oily scalp and dry hair issue.
If your hair experiences prolonged exposure to the sun and its harsh UVA and UVB rays, the hair's cuticles could become damaged. As a result, you could experience brittle locks, discoloration and potentially an itchy, dry scalp. Wear a cap or hat to protect your hair, and use a heat protectant if you know you're going to be out in the sun for an extended period.
9. Check the Ingredients List
David Gray, hair salon and Talking Tan owner, told VEGAMOUR, "Choose hair products that don't contain sulfates, mineral oil, parabens, denatured alcohols, synthetic fragrances, formaldehyde, coal tar, silicones, phthalates and para-phenylenediamine." Some chemicals might leave your hair feeling soft and looking healthy, but underneath the silicone coating, your 'do could be more damaged than ever.
Natural products will help keep unbalanced hair in check. To achieve glossy hair that you're proud of, nourish your body from the inside out with a hair wellness routine that includes supplements and a nutritious diet. Because what you ingest really impacts how your hair looks and feels. Boosting your biotin and b vitamin intake will help your mane shine from the outside in. 
10. Talk to Your Dermatologist
If you just can't manage your oily scalp and dry ends issue, it could be time to talk to a dermatologist. A A skin doctor can help you get to the root of the problem by spending time looking at the impact your lifestyle has on the health of your hair. For example, stress significantly affects your overall well-being. A derm could suggest changes that resolve the problems you're tackling.
The Good News
Thankfully, approaching your hair care routine in a new way could completely change how your hair looks and feels. An oily scalp and dry ends are frustrating, but you can help yourself by using VEGAMOUR's renowned line of natural products that are designed for the ultimate in hair wellness.
More From VEGAMOUR
Photo credit: KoolShooters/Pexels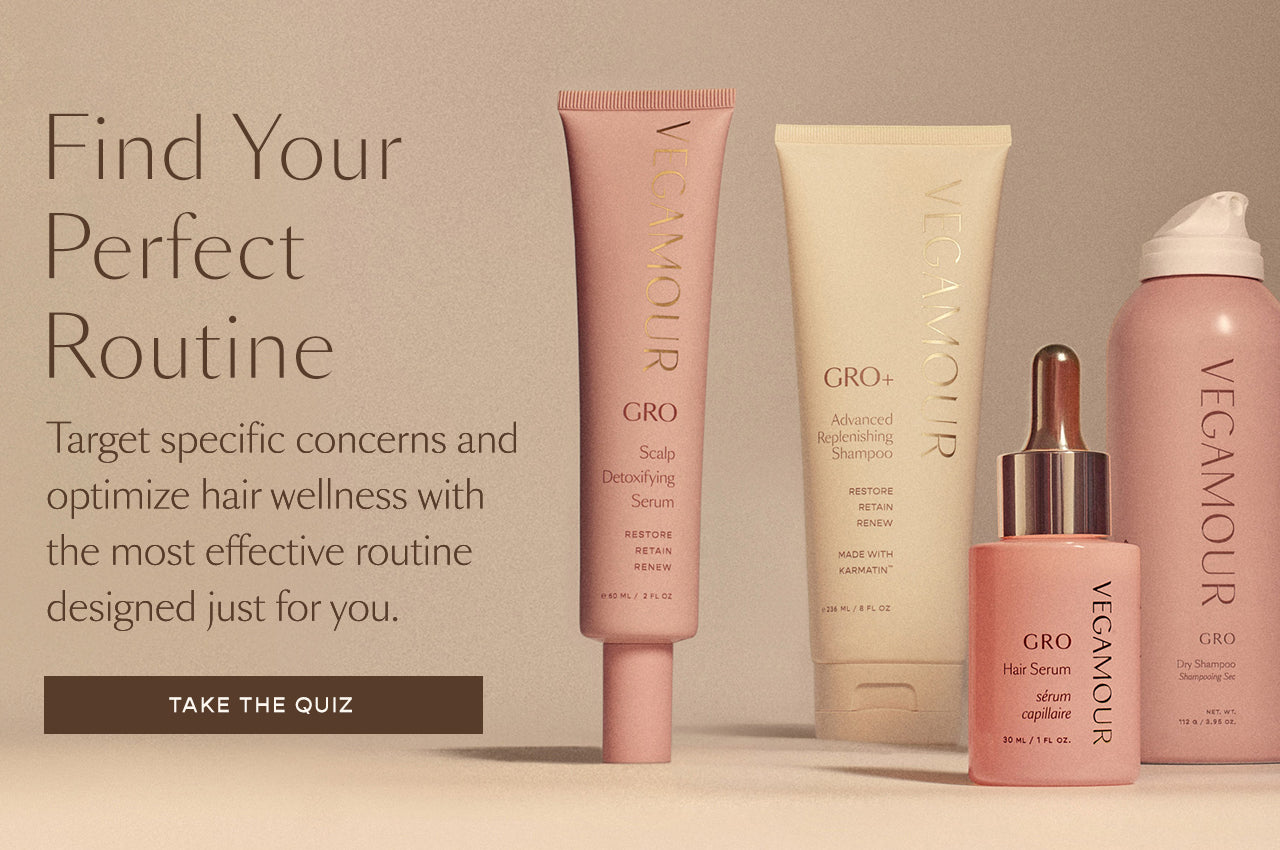 Disclaimer: Information in this article is intended for general informational and entertainment purposes only. It is not intended to constitute medical advice, diagnosis, or treatment. Always seek professional medical advice from your physician.