How to Transition to Gray Hair With Highlights
There are a lot of benefits to transitioning away from high-maintenance hair coloring sessions into something more simple. When your hair begins to gray, this is the perfect time to go a little more natural with your color while embracing your natural gray by adding some nice highlights.
VEGAMOUR spoke with the experts on how to make this transition smooth and as effortless as possible. Plus, we've got some great tips on how you can care for your hair during this period of change.
Why Transition With Highlights?
There are multiple ways to transition to your natural color and let your silver hair shine. You can simply stop coloring your hair and let the color grow out, but this often creates an unsightly line of demarcation between the natural roots and the old hair color. While this might be the most cost-effective method, it's not very appealing visually and can create difficulties in styling the hair to cover up the harsh line of demarcation. Unless your hair coloring services are very similar in shade and depth to your roots, this may not be the best choice.
Another method is to color the hair close to your natural gray color and then let it grow out. This method means that the gray or silver roots would be most noticeable.
Benefits of Highlights on Gray Hair
One of the best ways to accent natural hair with gray is to add highlighting. This brings out the natural beauty of your hair color, allows those silvery streaks to shine and adds some softer and lighter tones to your overall look. This look, called "gray blending," allows you to disguise as much or as little of your natural grays as you want in the finished look. Gray blending techniques can also help you transition to gray hair.
You can do a heavy highlighting on your hair to blend in most of the gray or simply add in a few dimensional highlights to fill in the areas with less gray for a more even overall blend of tones. This works well if you have more gray in one area, like around the sides, but not much in terms of lightness across the crown. Highlighting, then, could be used as a balancing tool for making your hair look more natural.
Highlighting gray hair works well for:
People with a lighter natural base color.
Higher concentrations of gray hair.
Base colors (root colors) that are in stark contrast to the hair color being currently used.
People who want to reduce how much time and money they spend at the hair salon.
People who want to transition to gray hair in a slow process rather than a drastic change.
People who want a more age-appropriate color or want to stop fighting against the new growth of gray color.
Gray hair with highlights might not be the best option for people with very dark hair at the roots, but it can be done. This method would create more contrast and a more dramatic look. If the desired look is salt and pepper, then adding some very thin highlights can make the hair look a little more sprinkled with "salt." Make a gradual transition by starting off with a few highlights and increasing the highlights as the hair turns more naturally gray over time.
White hair or silver strands will stand out on the dark hair, so the highlights can help create a more blended look. If you want an all-over gray hair dye, this is not an easy ask of your colorist. Your stylist might offer blonde shades with cool base tones since gray hair dyes can have a more unnatural finished look.
Learn More: Why You Should Consider Gray Blending for Your Next Hair Color Appointment
Getting Started With Your Transition to Gray With Highlights
VEGAMOUR spoke with Khamis Maiouf of Book of Barbering to find out how to make this hair color transition smoothly. Maisouf recommends working in some lowlights to help make the transition from previously colored hair to natural hair with gray and highlights.
"Lowlights are preferable since they just deposit color onto your hair rather than removing it, making them considerably less destructive," said Maiouf. "It requires far less upkeep, as well. Additionally, a lowlight darker base readily merges with your natural grey and makes the transition between them smoother."
Steps for Transitioning to Gray Hair With Highlights
First, explain to your hair colorist that you want to transition away from your current color and boost your natural color with highlights for a naturally gray-blended look. They should be more than happy to help you design a transition plan that you'll be happy with. Here's how to make the switch:
Talk to your hair color expert as explained above.
Begin spacing out your coloring appointments and go "softer" with your coloring treatments to create a less noticeable difference between your natural root color and the hair color that's on the mid-shafts and ends of your hair.
Add in some lowlights if your color is lighter than your natural hair color or if you are already fully gray at the roots.
Add in some highlights if your hair color is a darker shade than your natural color.
Strategically use highlights and lowlights as needed on your gray roots and throughout the lengths (if necessary). As your color grows out, transition to adding in highlights only.
Embrace your new silvery look!
The entire process will likely require multiple sessions for transitioning to gray hair but may not take as long if highlights and lowlights are used to help disguise the grow-out color and blend in those gray roots. It could take a few months to a year to fully transition, depending on the length of your hair. A few highlighting visits a year to add some enhancing streaks of blonde involves less maintenance at a lower cost when compared to monthly hair coloring. Plus, those fun blonde pieces are a lot less stress on your overall hair style, since some hair will be left natural.
Learn More: How to Care for Your Hair in Your 50s
How to Care for Your New Color
Naturally gray hair is far more fashionable now than it was in previous decades. These days, you can wear your gray at any age, whether you have a sprinkling of gray in your 30s or are nearly all gray by 40. The most important thing is to feel confident with your new gray hair and to care for your hair so that it's radiant at any age or color.
It's OK If You're Not Ready to Embrace the Gray
At VEGAMOUR, we're here to support more people who go gray naturally or choose to cover it up, with or without highlights. GRO AGELESS Collection is an age-defying innovation that uses clean, high-performing, plant-based ingredients to control grays, naturally.
Nutrient-rich supplements help delay gray hair, while a nourishing serum reduces the appearance of grays on new hair growth, which can help you in your transition. Whatever your desired end result, GRO AGELESS is made to help you get there.

How GRO AGELESS Gray Control Duo Works to Support Your Color Change
As your roots grow and you make the gray hair transition, switching out your home hair care products to the following gray-positive products can help make your transition a little easier.
GRO AGELESS Anti-Gray Hair Serum renews the appearance and shine of your naturally beautiful hair color, gray and all! This serum soothes both the hair and the scalp to treat yourself every day while you work toward your new, more natural shades of you. Fortified with peptides, B vitamins, glycoproteins and Fo-ti.
GRO AGELESS Gray Delay™ Hair Supplement is perfect if you want to slow the graying process while you transition to a softer color. Enhanced with collagen-rich shine, this daily supplement actually helps to slow down age-related graying, which might make all the difference when you're battling a line of demarcation from your hair color growing out. Plus, it helps to support your hair roots after your stylist adds in those new highlighted pieces.
Blending Gray Hair With Highlights Made Easy
Transition to gray hair confidently and enjoy unleashing the inner beauty that's always been hiding behind dyed hair. As you gradually embrace your own natural gray hair with enhancing highlights, you can also feed your hair what it needs during these changes with the supportive power of GRO AGELESS.
More from VEGAMOUR:
Photo credit:
NADOFOTOS/iStock

kate_sept2004

/iStock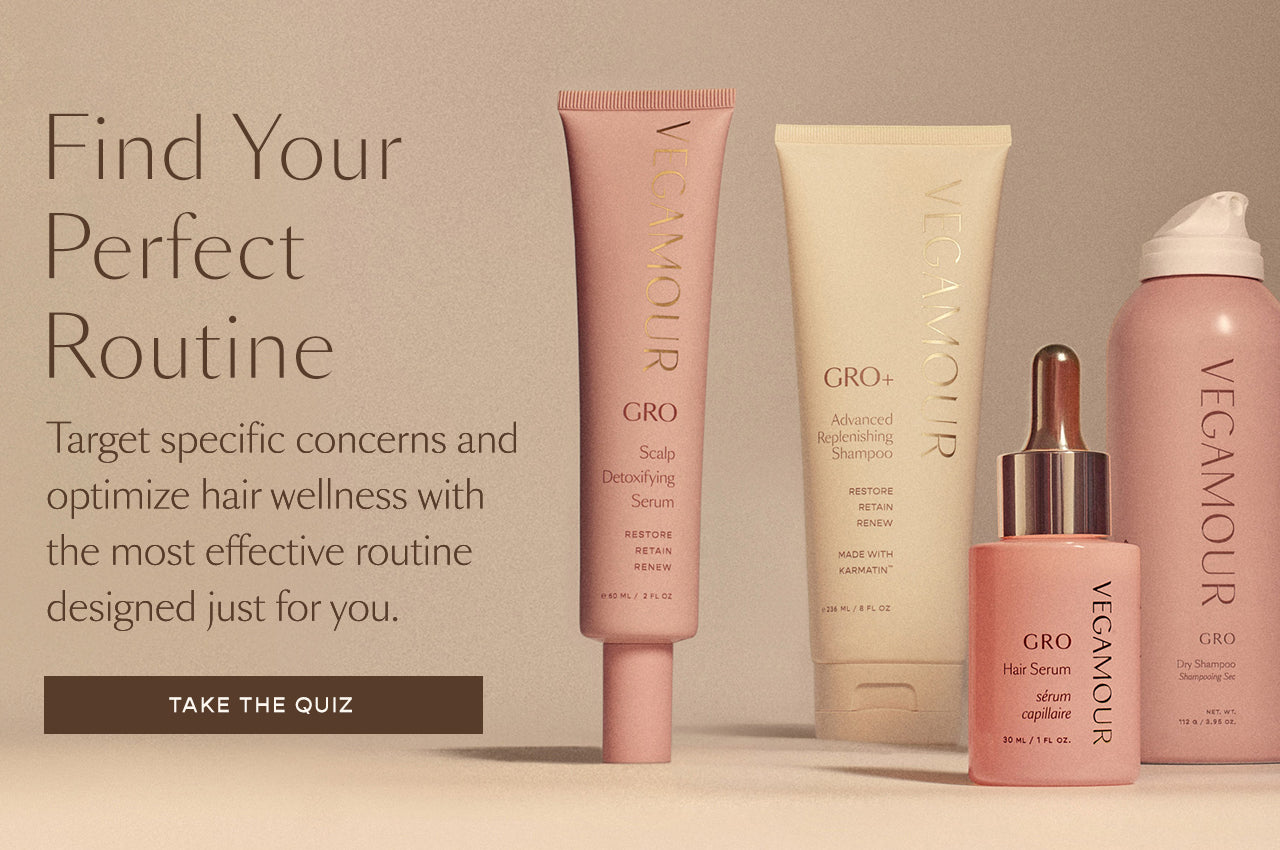 Disclaimer: Information in this article is intended for general informational and entertainment purposes only. It is not intended to constitute medical advice, diagnosis, or treatment. Always seek professional medical advice from your physician.