Get to Know VEGAMOUR's Brow Products
Brows frame the eyes and are the most expressive facial feature, making them as noticeable in your overall look as your hair. Waxing, threading or getting a little too tweezer-happy (we've all been there!) may have left your brows looking less than their best. The quest for perfect arches is rife with products promising to plump and define, especially with the recent popularity of thicker eyebrows. 
However, you might want to be more selective with what products you choose to use — many can contain harsh chemicals you don't want anywhere near your precious eyes! Read on to learn about VEGAMOUR's clean, non-toxic alternatives, along with the products you should be using to naturally encourage thicker, fuller-looking brows.
GRO Brow Serum
Tap into the power of nature with GRO Brow Serum and stop worrying about unpleasant side effects of traditional brow serums. Like all VEGAMOUR products, GRO Brow Serum utilizes phyto-actives to nurture brows with nature's healing properties. Here are some of the benefits of this brow-boosting serum: 
Clean and cruelty-free: The 100% vegan, cruelty-free, natural formula is safe for everyday use and contains no known toxins, hormones or other potentially irritating ingredients that can cause unwanted reactions in those with allergies and sensitive skin or eyes.
Enhances and enriches: The brow serum contains a polyphytobase complex with active phytomolecules, red clover (with hair-enhancing isoflavones and anti-inflammatory properties) and mung bean (with hair-enriching minerals such as biotin and zinc). 
Effective and time-efficient: The safe, effective serum supports the appearance of healthier, thicker, longer-looking brows with visible results in as soon as 30 days. Plus, it dries immediately after application so you can style brows ASAP. 
Customer Theresa was happy to report her brows received compliments after using the brow serum on her thinning brows.
"GRO Brow Serum has made my eyebrows grow back stronger and longer," she said. "My brows are filling back in quickly and I couldn't be happier. I've received many compliments on my eyebrows since using GRO Brow Serum and will never go back." 
GRO+ Advanced Brow Serum
Take brows to the next level using GRO+ Advanced Brow Serum infused with the same microencapsulated, broad-spectrum CBD found in all GRO+ Advanced products, which are designed to work together to build a brow, lash and hair wellness routine. 
Here's a rundown of the brow-boosting benefits:
Nourishes naturally: It includes all the same great natural ingredients of the original serum, plus the addition of microencapsulated, broad-spectrum CBD.
Enhances increased efficacy: This concentrated cannabidiol works in tandem with other phyto-actives in the formula to support the appearance of longer, denser, thicker and healthier-looking brows.
Targets brow hair at the root: It's formulated to quickly penetrate, making it time-efficient and easier for the brow serum to reach the hair follicle.
Calms and soothes: Hemp oil included in the serum has the ability to calm and soothe the skin.
Visible results: See visible results in as soon as 30 days. Additionally, in clinical trials, some subjects saw a 94% greater increase in the density and volume of their brows after four months of consistent use. 
Customer Jennifer S. said the brow serum helped her regain her confidence.
"I have trichotillomania and have tried different products to help them, [but] this is the only one that has actually worked!" she said. " I think because they use ingredients to de-stress the hair follicles instead of shocking them with excess blood supply. My left eyebrow is growing in nicely, my right is not as much but still more than before. This in conjunction with micro-blading and biotin has helped my self-consciousness so much about my extremely sparse brows." 
GRO Lash and Brow Kit
Now that you've got your best brows yet, don't forget your eyelashes are likely in need of love, too! The GRO Lash & Brow Kit is the perfect pair, including the brow serum along with lash-amplifying GRO Lash Serum. 
Bolster both brows and lashes with the dynamic duo, which is:
Powered by plants: Formulated with plant actives including plant stem cells from mung bean, red clover (trifolium pratense) and proven peptide acetyl tetrapeptide-3.
Fortifying and safe: The lash serum is prostaglandin-free and hypoallergenic, making it ideal even for the most sensitive eyes.
Proven to provide lash-tastic results: It's clinically shown to deliver visibly fuller, thicker and more lush-looking lashes. 
Customer Sushma K. said she saw a boost in volume after using the two products together.
"My eyelashes increased in volume," she said. "My brows showed significant growth, too. I will continue using these every day! Love it." 
Read More: How to Grow (or Regrow) Your Eyebrows 
GRO+ Advanced Lash and Brow Kit
For next-level lashes and brows, look no further than the GRO+ Advanced Lash and Brow Kit. It pairs the GRO+ Advanced Brow Serum with the GRO+ Advanced Lash Serum, which are both enhanced with microencapsulated, broad-spectrum hemp oil. 
Treat lashes and brows with extra TLC with this plant-based pairing, which features the same broad-spectrum hemp oil that's in VEGAMOUR's original best-selling serums. Formulated to penetrate even more effectively, this concentrated cannabidiol works in tandem with phyto-actives to create a healthy environment for fuller, longer-looking lashes you'll love to flutter. 
Customer Bernadette R. called the serum "life-changing" and said it helped with her confidence.
"I am SO thankful to Vegamour for making such a life-changing natural product!" she stated. "I've always had super long natural thick lashes, but as I'm inching closer to the big 4-0 they started to thin and fall out! I was absolutely horrified. As a woman, this really made me take a hit to my confidence and I was actually depressed. Thank God I gave this product a try! It has been a little over a week and my lashes have already started to come back in length and thicken the way they used to be! This product has totally boosted my confidence and made me feel like myself again! Now I don't feel so bad about the big b-day approaching. Seriously life-changing product! Highly recommend. Thank you Vegamour!!" 
GRO Ultimate Lash and Brow Kit
Finally, amp up your whole body wellness with the GRO Ultimate Lash & Brow Kit, which includes the best-selling original GRO Brow Serum, GRO Lash Serum and GRO Biotin Gummies. The gummies in this kit help support healthy-looking hair in a delicious daily supplement that's also:
Nutrient-dense: The gummies are packed with good-for-you ingredients, including 16,666% of your daily value of biotin, or 5000 mcg, along with folic acid, vitamins A, B-5, -6 and -12, C and E, zinc and more key minerals to neutralize free radicals. The combination supports and nourishes the scalp and hair, including lashes and brows. 
Supportive for plant-based diets: The gummies are gelatin-free, gluten-free and 100% vegan.
Travel-friendly: Each heart-shaped, natural strawberry flavor (no artificial flavors) is a tasty way to get in a daily dose of vitamins — even if you're on the go. Plus, they can be taken without water!
Customer Susie said she replaced her old multi-vitamin with GRO Biotin Gummies and saw great results within the first 90 days.
"These biotin hair gummies from VEGAMOUR are so yummy and from what I can tell really effective!" she said. "I've been taking them for about 3-4 months now and my hair is growing like a weed. It's hard to tell if it's the gummies, the serum or just other things I'm doing in my life that are making my hair grow but something is working so I'm not stopping. These biotin gummies also have a ton of other nutrients in them so they've replaced my old multi-vitamin at this point." 
Opt for Healthy Habits Each Day
Consistency when it comes to healthy habits is the key to keeping up a daily wellness routine. The brow and lash serums are simple, straightforward and virtually foolproof to apply. For best results, keep the following application tips in mind:
Establish a regular daily routine. It's recommended to apply the brow serum twice daily for the first two months. After that, switch to once a day — morning or evening — to maintain your results.
Keep it clean: Make sure brows and the surrounding skin are clean and free of any makeup. Oil-based products can interfere with absorption, which may impact the efficacy of the brow serum.
Apply to clean skin: In the morning, use the serum before using brow powder, pencils or gels. In the evening, apply the serum after washing your face and completing your skincare routine.
Be gentle: Holding the wand vertically allows you to reach the entire arch area, softly and evenly covering each individual hair with the serum.
Whether you want accentuated arches or bold brows, VEGAMOUR's best-selling brow products can help boost your brows for optimal whole-body wellness!
More from VEGAMOUR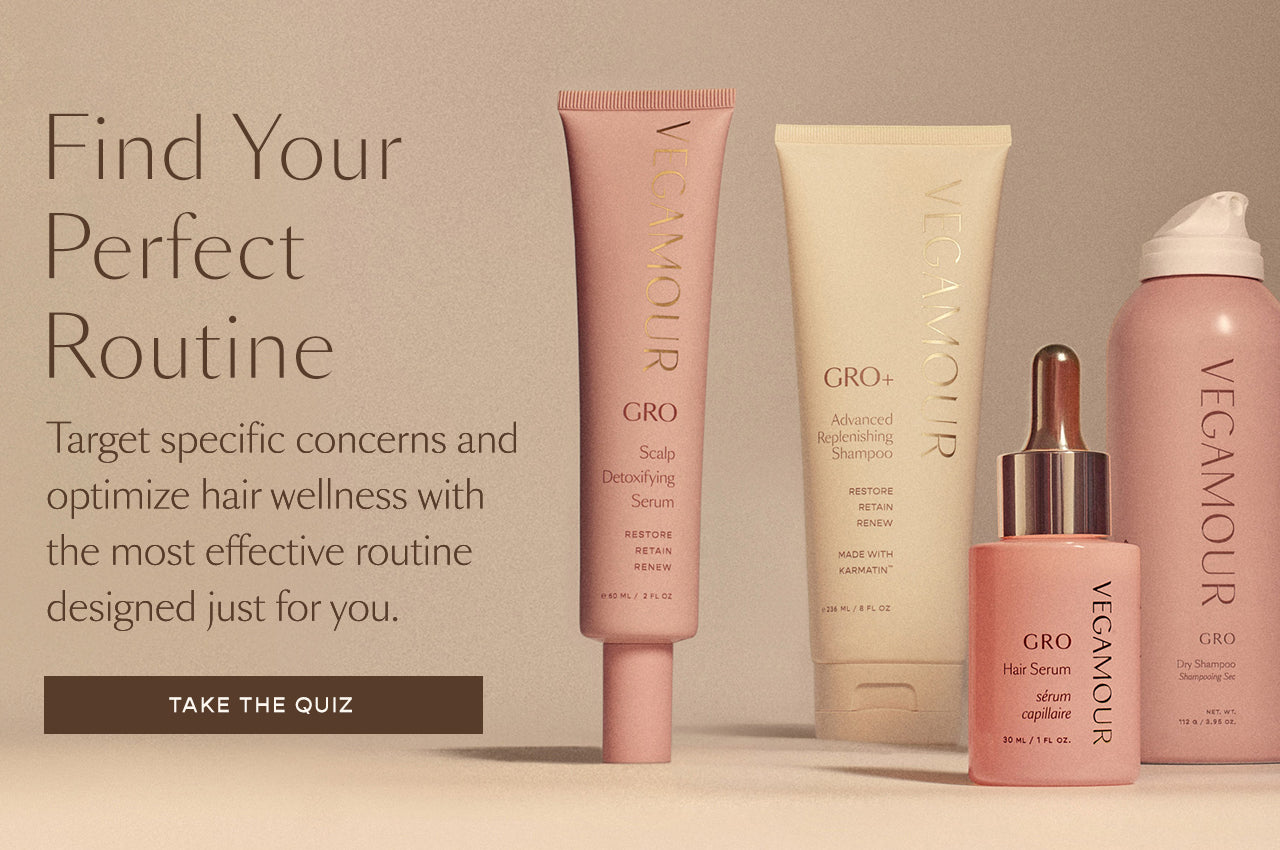 Disclaimer: Information in this article is intended for general informational and entertainment purposes only. It is not intended to constitute medical advice, diagnosis, or treatment. Always seek professional medical advice from your physician.