Why You Should Avoid Hot Tools When Growing Out Your Hair
When you're trying to grow out your hair, it can be tempting to reach for heat-styling tools like a blow dryer, curling iron or flat iron to help it look its best. However, using hot tools may cause more hair damage than you might think — damage that can affect how well your hair grows or potentially lead to hair loss. Here's expert advice on why you should avoid hot tools. Plus, what products you really should be using to encourage thicker, fuller looking hair. 
Hot Styling Tools and Your Hair
Although your beloved curling irons, flat irons and blow dryers can make your hair look as if you just stepped out of a salon, there's a downside.
"Excessive heat styling will dry out the natural luster in the hair and make it brittle," said Ona Diaz-Santi, celebrity hairstylist, curl expert and owner of 5 Salon & Spa in Fort Lee, New Jersey. "And, if you are trying to grow out your hair, it will make matters difficult because of the breakage you will be experiencing, and this will make the overall hair look thinner!"
So, do hot tools cause hair loss? They can. Not only can heat-styling damage result in hair breakage, split ends and other hair damage, it's also possible that extreme heat and twisting from hot rollers or curling irons can lead to hair thinning or hair falling out, which is known as traction alopecia.
Plus, too much heat can be especially harmful if you're already experiencing thinning hair, split ends or bald patches — or if you use chemical relaxers on a regular basis.
"Overuse of these tools (especially if they do not have intelligent heat technology) will result in heat damage, dullness, elasticity damage, color fade, and so much more because it is breaking down the bonds in the hair," said Diaz-Santi. "Once this happens, the hair structure weakens and is susceptible to damage."
Shop: The GRO Collection from VEGAMOUR
Should You Avoid Hot Tools?
Before you set that hair dryer or flat iron on a higher heat setting, consider the impact of how a temporary style may potentially cause permanent damage. But don't hit panic mode just yet; you don't have to give up the heat styling tools entirely unless your hair is already extremely damaged to the point of breaking and thinning.
If your hair can take it, using heat styling tools more sparingly and applying heat protectants can help prevent, or at least minimize, damaged hair that can result from styling with a blow dryer, curling iron or flat iron. This is especially important after washing your hair, as the hair shaft is altered when it becomes wet, making wet hair more prone to breakage.
Other Ways to Protect Your Hair From Heat Damage
While you can help shield your hair from heat damage by using a heat protectant and minimizing the use of hot tools, here are some other ways you can protect your hair while growing it out
Set Up Your Tresses for Success
When trying to encourage hair length and growth (or prevent hair loss), targeted hair care products can help your hair bear the brunt of applying heat styling tools.
When you do plan on using hot tools, start in the shower by choosing a shampoo and conditioner designed to promote healthy hair growth. GRO Revitalizing Shampoo and Conditioner can help you score the salon-worthy results of a keratin treatment without harsh chemicals. The clean, color-safe, cruelty-free duo includes the first-of-its-kind vegan alternative to keratin, Karmatin™, which works by filling in small cracks and spaces within the cuticle of the hair shaft and leaves your mane looking smooth and shiny.
There's also microencapsulated vegan b-SILK™ protein, which physically bonds to the hair follicles. Because of this bond, it remains attached to hair strands even after rinsing and helps protect your hair even after it dries. 
Shop: Susan Yara's Top VEGAMOUR Picks
Opt for Heatless Styling
Everything needs a reset now and then, including your hair care routine. Give your tresses a break from heat styling, and you just might find it helps you achieve your hair-growth goals.
"Keep in mind that one must heat style within moderation! Too much of anything is never good," said Diaz-Santi. "Braiding, twisting, knots [and] wrapping are some ways you can change the appearance of the hair without using heat. This will help with the health of the hair itself." Just make sure to avoid tight hairstyles, which can damage the hair further and even cause hair loss.
Along with these heatless styling ideas, try treating your hair and scalp to a weekly self-care ritual that includes a scalp detoxifying treatment. GRO Scalp Detoxifying Serum combines phyto-actives, vegan silk proteins and minerals to remove buildup, balance, hydrate and soothe using willowherb, wild-harvested baobab and marula oils, and omega 6 and 9 fatty acids.
The Takeaway
When growing out your hair, hold off on the heat as much as possible and integrate hair-wellness habits and products into your daily lifestyle. Your hair will be much healthier for it!
More from VEGAMOUR
Photo credit: Adam Winger/Unsplash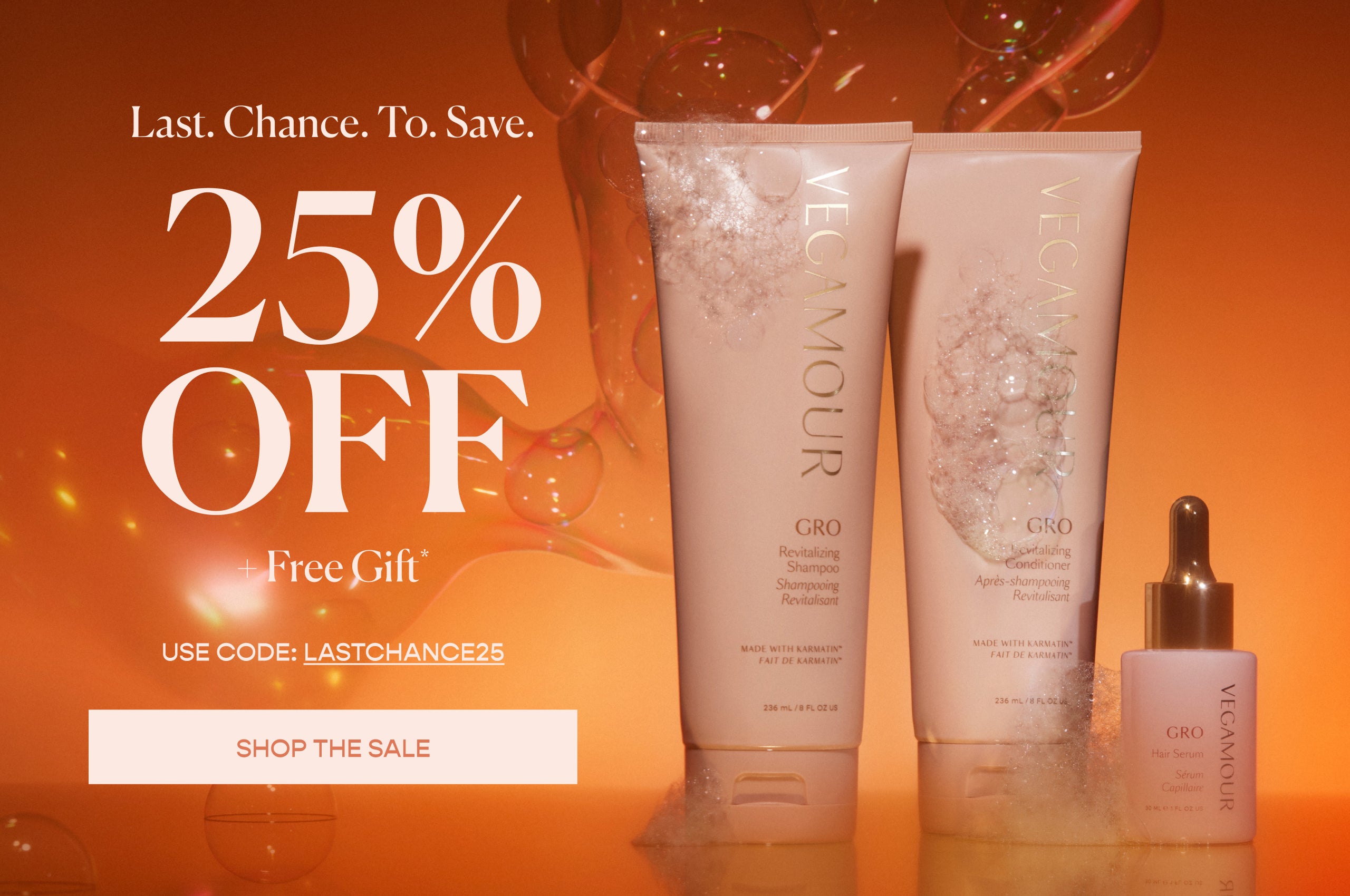 Disclaimer: Information in this article is intended for general informational and entertainment purposes only. It is not intended to constitute medical advice, diagnosis, or treatment. Always seek professional medical advice from your physician.