A Beauty Editor's Sleep Hair Routine With VEGAMOUR
Sleep is a self-care priority to me — so much so that I even wrote a book on sleep wellness! Your overall health relies on the quality of your sleep, which impacts how the body functions, including your skin and hair. That's exactly why you need to get your beauty rest: If your sleep habits aren't the best, you (and your hair!) lose the opportunity to reset, renew and recharge overnight.
Fortunately, there are immediate changes you can make in your routine to maximize the quality and efficiency of your sleep. Read on for my editor-approved nightly hair habits that pamper, protect and prevent bedhead. Plus, see what calming hair wellness products you should use as you snooze to wake up to healthier, fuller-looking beautiful hair!
PM Hair Habit 1: Build a Better Routine
Establishing a nightly self-care ritual is essential for your head-to-toe wellness. By taking a holistic approach, you can program your brain and body to relax and unwind with restorative rituals. 
A good place to start: I treat the hour or so before bedtime as "me time." Creating a space and time to release the day with a calming self-care practice (think meditation or stress-relieving yoga) allows me to reset. Then, I follow by intentionally applying my skin and hair care products. Taking the time before bed to focus on mindful self-care rituals is a great way to set yourself up for sleep success.
Shop: GRO+ Advanced Stress Release Kit
PM Hair Habit 2: Be Mindful to Minimize Stress 
Our bodies are a system of constantly moving parts that require working in tandem to ensure optimal functionality. When stress gets in the way, it manifests physically. Stress activates the sympathetic nervous system, putting the physical body in "fight-or-flight" mode and causing an increase in cortisol, the catalyst for pro-inflammatory cytokines. 
Cytokines, proteins that act as messengers between cells, regulate functions such as inflammatory responses by stimulating or suppressing them. Stress-induced inflammation and irritation may trigger issues within your scalp, hinder healthy hair growth or lead to thinning or hair loss. As you get ready for sleep, make it a point to use this time to avoid thinking about things that stress you out. Instead, focus on enjoying your self-care rituals and relaxing.
PM Hair Habit 3: Do a Stress-Soothing Nightly Reset
Try a relaxing routine that ends each day on a positive note while pampering your hair, body and mind at the same time. I always shower before bed, but I alternate the days I wash my hair. On those in-between nights, I loosely gather my long hair into a bun and protect it with a satin-lined shower cap. 
Once I'm out of the shower, I use GRO+ Advanced Lash and Brow Kit on my brows and lashes. Next, I apply GRO+ Advanced Hair Foam throughout my roots, working it into my scalp with my fingertips. Not only is this mousse-like foam formulated with powerful phyto-actives and micro-encapsulated, broad-spectrum CBD, but it also provides volume and texture to my hair. Plus, the soothing scent of eucalyptus, lemon verbena and hyacinth essential oils is perfect for unwinding before bed!
PM Hair Habit 4: Transform Your Shower Into a Zen Den
On those hair-wash nights, I like to envision my shower as a transformative, meditative experience. I practice this visualization technique: Envisioning any nagging to-do lists and worries washing away down the drain as I cleanse, condition and recalibrate with GRO+ Advanced Replenishing Shampoo & Conditioner.
The pair are the perfect pre-sleep solution to wake up to silky, soft-as-satin strands. The formulas utilize Karmatin™️, a micro-encapsulated vegan b-SILK™️ protein, which bonds and remains attached to hair, even after rinsing. Plus, broad-spectrum, micro-encapsulated CBD is included to further the scalp- and strand-soothing results that last until the next time I wash my hair. 
PM Hair Habit 5: Create a Sacred Sleep Space
Ease into more efficient sleep by creating a peaceful environment. First, declutter the areas surrounding your bed to clear the clutter from your mind and relax your energy. Next, assess your bedding. I started using a satin or vegan silk pillowcase years ago; I even keep one in my travel beauty bag. They're soft and gentle, which means they don't create friction, flyaways, frizz or abrasion as you get your beauty rest, which helps preserve hair volume and prevent damage.
Then, I loosely braid my hair and secure it with satin or bamboo scrunchies to prevent any snags or tangles while I sleep. Bonus tip: In the morning, I gently unravel and wake up to perfectly-imperfect waves — no damaging heat styling needed!
PM Hair Habit 6: Do a Weekly Reboot
Finally, scalp care is just as important as your skincare — after all, a healthy scalp means healthy hair! I use GRO+ Advanced Detox Scalp Serum once a week, usually on the same night I do an exfoliating, deep-cleansing face mask. Reap the benefits of using a weekly treatment to eliminate buildup, remove impurities and reduce irritation. It includes absorbent zinc PCA, micro-encapsulated CBD to penetrate the scalp quickly and effectively, Omega 6 & 9 fatty acids to moisturize, along with wild-harvested baobab and marula oils that offer extra antioxidant support. Try pairing it with a scalp massager for the ultimate relaxation ritual to lull you into sleep. 
A Good Hair Day Starts With a Good Night's Rest!
Cultivate the calm needed for a restful, peaceful night of sleep by establishing end-of-day rituals that help to de-stress each evening. Less stress equals better sleep — and hair! Create healthy habits by prioritizing self-care, which includes getting quality sleep, staying hydrated, daily movement, skincare and, as an extension, caring for your scalp and hair. Harness the healing power of nature with hemp-infused hair wellness products to wake up to your best hair yet! 
MORE From VEGAMOUR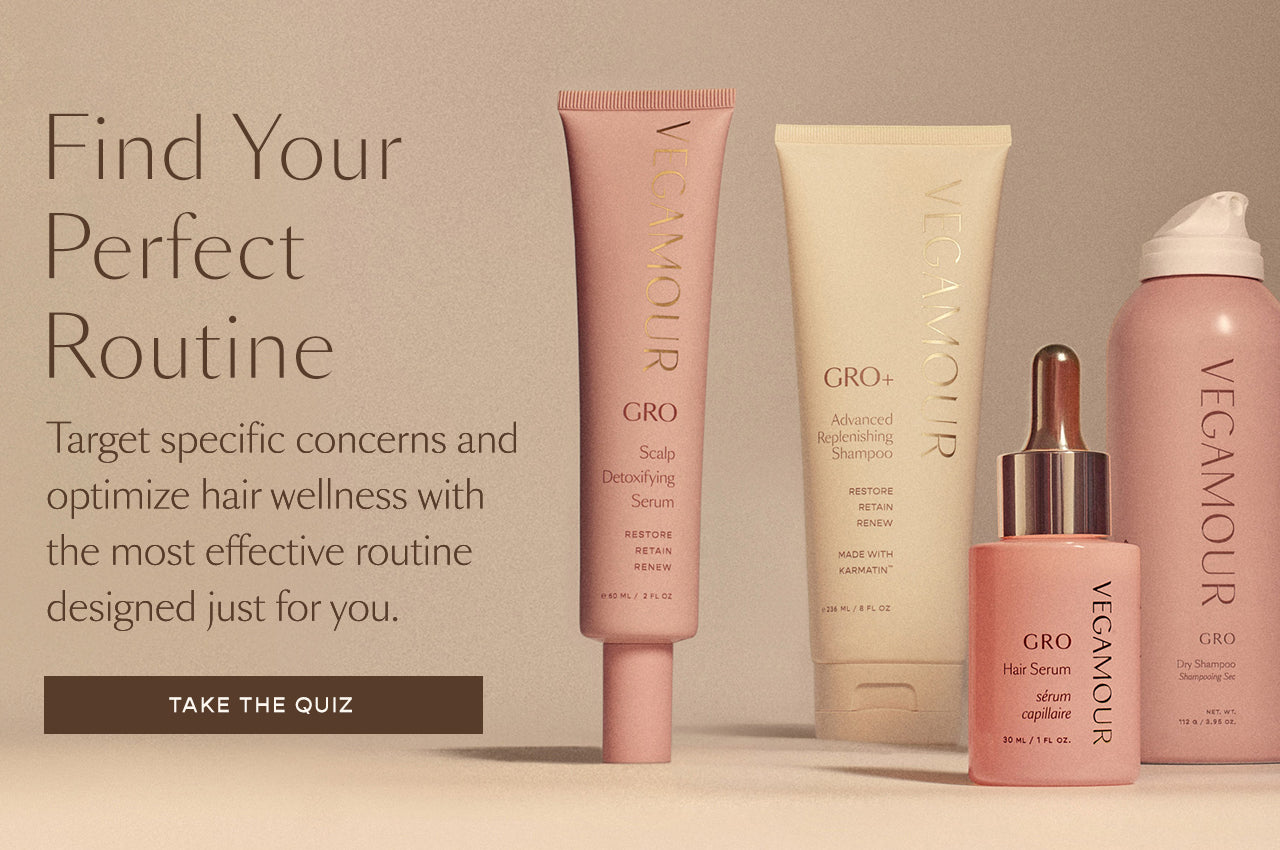 Disclaimer: Information in this article is intended for general informational and entertainment purposes only. It is not intended to constitute medical advice, diagnosis, or treatment. Always seek professional medical advice from your physician.