Losing Sleep and Hair: Could They Be Connected?
It's not a secret that sleep, or a lack of sleep, has a major impact on our overall health and well-being. A good night's rest is key to healthy immune and brain function, clear skin, improved energy levels and hair wellness. Conversely, poor sleep quality, sleep deprivation or chronic insomnia can lead to a slew of health issues, potentially including thinning hair or hair loss.
The connection between sleep and our hair — as well as hair loss — is largely dependent on our sleep quality, including any sleep deprivation involved. Read on to find out more. Plus, learn more about the best products for combatting thinning hair.
The Importance of Sleep 
During sleep, the restorative properties of a healthy sleep cycle include the protein synthesis of hair, along with the release of enzymes and other growth hormones. These processes are essential for healthy hair — and may even help prevent or minimize thinning hair and hair loss.
"There is a theoretical link between sleep deprivation and hair loss. Sleep deprivation, more commonly known as a poor night's sleep or lack of sleep, can interrupt the body's natural hormonal cycle," said Vanessa Coppola, FNP-BC, board-certified nurse practitioner, aesthetic specialist and owner of Bare Aesthetic Medical Spa. "In addition to having poor effects on the production of necessary hormones and antioxidants, a lack of sleep can affect the production of melatonin, used by the body to regulate our circadian rhythm otherwise known as our sleep-wake cycle."
Why Melatonin Is Key for Health
You've likely heard of melatonin, the hormone produced by your brain in response to darkness. Melatonin helps regulate your circadian clock, which includes the sleep-wake cycle.
Some studies suggest that melatonin also has an effect on sleep and hair growth. Topical melatonin has been shown to increase hair growth, which means that a decrease in melatonin could potentially lead to hair loss. The way that sleep affects the body's natural hormones, such as the human growth hormone (HGH), is likely an important component in the prevention of hair loss.
"As hair follicles have melatonin receptors within them, there's a chance that a disruption to the body's natural production of melatonin impacts the hair growth cycle," said Coppola. "This may possibly affect hair follicle proliferation, potentially causing thinning or loss of hair."
Coppola recommends some simple remedies you can employ to avert these effects. These include maintaining a regular sleep pattern, along with eating a protein-packed diet that is also rich in important nutrients such as vitamins B and C.  Also, assess any medications you take on a regular basis, as there are certain medications that can potentially contribute to the cause of hair loss.
Related: Medications That May Cause Hair Loss
Nix Stress for Better Sleep
"A lack of sleep will cause a decrease in melatonin levels throughout the body, which can certainly trigger hair loss. This lack of sleep can also cause stress, which again can cause hair loss or telogen effluvium," said Savannah St. Jean, Beauty Expert and Owner of Savannah Rae Beauty
To help prevent excess hair loss, correcting the trigger of telogen effluvium is a necessity. Implementing stress-busting techniques to your lifestyle can help you achieve healthier sleep patterns so that your body can get its proper rest.
Try these pre-bedtime ideas to reduce stress for a good night's sleep:
Set — and stick with — a routine schedule for going to be and waking up each day, including weekends.
Ditch the digital devices an hour before bed. Or, better yet, keep the bedroom a device-free zone.
Meditate to promote a calmer, more relaxed state.
Listen to a sound bath or soothing music to help you fall asleep.
Practice stress-minimizing yoga poses for hair growth, as well as yoga poses for better sleep.
Choose bedding and pillowcases that are soft and specifically designed with hair and skin in mind.
Wrap and/or braid hair before bedtime with soft scrunchies made to prevent hair breakage, tearing, pulling or snags.
Try giving yourself a gentle temple and scalp massage to promote healthy blood flow and circulation while simultaneously calming any scalp tension.
Keep a notebook on your nightstand to do a "brain dump" before bed. Jotting down all your stressors and to-dos gets it out of your mind and onto paper, allowing you to fully relax.
"In addition, you want to ensure you are eating a healthy diet and getting all the nutrients your body needs," said St. Jean. "A high-quality multivitamin before bed is a great way to ensure that your diet includes the nutrients it needs to promote healthy hair and skin. Of course, a multivitamin needs to go hand in hand with a healthy diet, so be sure to focus on creating a healthy lifestyle with limited stress."
Read: A Hairstylist Tells Us If It's Good to Sleep With Your Hair Up or Down 
Pro Tips To Get Your Beauty Sleep
"You also want to refrain from using as much heat as possible on your hair and limit as much friction and tension as possible, "said St. Jean. "Limit how often you are tying your hair in a ponytail, sleep on a satin pillowcase and be sure to very gently brush your hair."
If it's a hair wash night, use your shower as an opportunity for a calming, mindful, meditative experience. After shampooing, applying a strengthening hair conditioner or a conditioning hair mask from midshaft down to the ends. If you have thicker or damaged hair, add extra product on the ends. Comb through with a wet brush or wide-tooth comb and allow the product to set, deeply penetrating the hair for improved strength and to prevent breakage or split ends. When you rinse it off after several minutes, practice a visualization exercise by imagining the water as washing away the worries of the day so you can drift off to sleep in a relaxed state.
Relax With CBD
You might also want to consider applying other pre-bed products to help bolster hair growth, such as GRO Hair Serum or GRO+ Advanced Hair Serum or GRO+ Advanced Hair Foam with CBD. When applied topically, CBD can help soothe the skin and increase the efficacy of other ingredients giving your hair the extra boost it needs.
Additionally, when taken internally, like with GRO+ Advanced Hair Care Gummies, CBD can help you feel more relaxed, perfect for your bedtime routine. Plus, it is fortified with biotin, folic acid, zing and other vitamins and minerals that can help your hair flourish. 
Pillow Perfect
Picking the perfect pillowcase, one that is designed specifically with the health of both the hair and skin in mind, is another great idea. Silk, satin or bamboo pillowcases can help protect both your hair and skin from damage, including hair shedding, breakage or tangles. These types of pillowcases are also a good way to minimize indentations or wrinkles that can occur with materials that are harsh or rough.
Stylists agree that choosing more gentle pillowcase options is a good way to set the tone for a better night of beauty sleep.
Related: A Beauty Editor's Sleep Hair Routine With VEGAMOUR
Benefits of Protective Pillowcases
"Silk pillowcases reduce friction and are not as absorbent of moisture; therefore, they can reduce frizziness and help you maintain moisture throughout the night," said Joseph Maine, celebrity hair stylist and co-founder of Trademark Beauty. "They are particularly good for people looking to increase the life of their style, people with curly hair that becomes frizzy during the night, hair that is experiencing breakage and for hair that has become dry."
Shelly Aguirre, a stylist at Maxine Salon in Chicago, agrees that, in many cases, silk pillowcases are superior to cotton when it comes to caring for your locks. "The cotton ones will cause friction and breakage," she said. "Fine hair can really benefit from the silk pillowcases as can curly hair. Blonde hair tends to be more fragile, so the silk will help prevent more damage. Also, curly hair tends to get frizzy with the friction of cotton, so the silk will help the hair 'glide' instead. The only hair type that I wouldn't recommend the silk pillowcase for is oily hair. A cotton pillowcase will help absorb the oil."
Protect Hair Health With Quality Sleep
Adding these sleep-inducing ideas into your nightly routine can help you wind down and relax, and help keep sleep disturbances to a minimum. The result? You'll contribute to your hair's health and feel so well-rested you won't even want to hit the snooze button!
More From VEGAMOUR
Photo credit: lucas da miranda/Pexels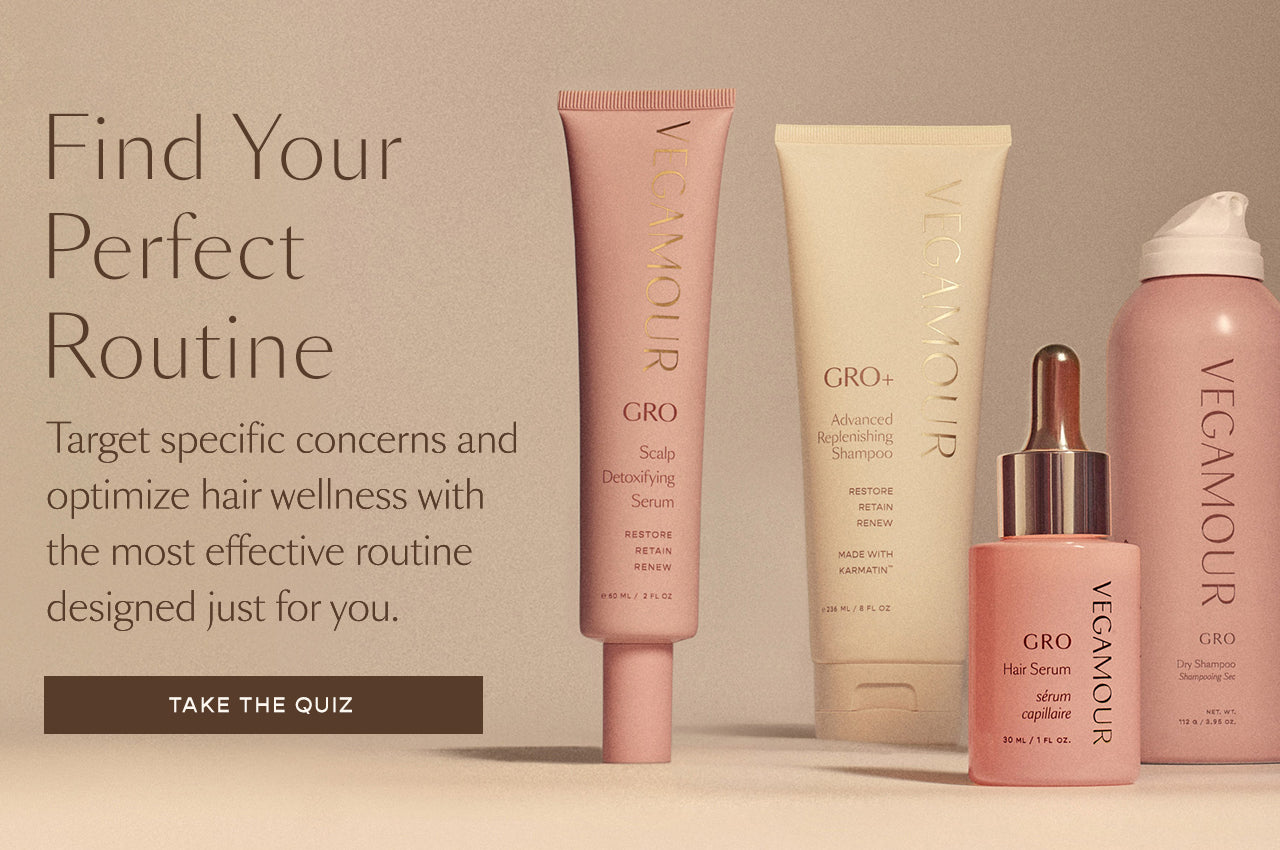 Disclaimer: Information in this article is intended for general informational and entertainment purposes only. It is not intended to constitute medical advice, diagnosis, or treatment. Always seek professional medical advice from your physician.