How to Sleep With Curly Hair
Every curly haired person has been there — and most people with wavy hair have too. You go to sleep on wash day with a head full of perfectly styled curls — and wake up with a knotted mess of hair, your perfect curl pattern thrown into chaos. You can't wash your hair fresh each morning without risking overwashing and overmoisturizing hair that damages cuticle strength, but going to bed on perfect curls seems to inevitably summon the frizz demons.
So what's a curly girl to do? Fortunately for you, we've done our research, and it turns out it's easy to sleep with curly hair if you have a good method in place used consistently. Plus, learn more about VEGAMOUR's best selling hair products.
Protective Sleeping Hairstyles for Curly Hair
In order to avoid waking up with a knotted mess, it's important that you protect your curls or waves while you sleep with a protective hair style and some accessories to help.
Here are some of our favorite ways approach the problem of how to sleep with curly hair, and wake up looking fabulous:
Prevent Friction With the Right Pillowcase
If you're figuring out how to sleep with curly hair for the first time, you might consider starting with a not so obvious beauty tool: the fabric of your pillowcase! Sleeping with vegan satin pillowcase is an increasingly popular solution to the problems of sleeping with curly hair, and there's a growing body of scientific evidence to show that this simple method really works. If you don't want to spring for a new pillowcase without trying out the effects of a smooth fiber on your hair, you can wrap a satin scarf or buff around your curls to test the effect of texture on your curls.
Sleeping with curly or wavy hair on a pillowcase designed for hair reduces bed head, damage and breakage because the fabrics have tightly woven, smooth fibers, meaning there's less texture to grip at (and potentially damage) your curls. And as a bonus, some dermatologists believe that the smooth texture of a vegean silk pillowcase actually works to protect your skin, as well as your hair. Talk about a dreamy deal.
Shop: GRO More Kit
Wear a Bonnet or Hair Wrap
For a more travel friendly approach to the vegan silk pillowcase approach, many curlies keep their curly hair in check with the help of a satin-lined bonnet. The classic satin bonnet is a gold standard of a curly hair sleep routine for a reason — they're comfortable to wear when you sleep, and the smooth fabric helps prevent curly hair from snagging or tangling the same way a pillowcase does. An added argument for bonnets is that they help seal in the products you apply before bed, preventing them from evaporating as you sleep, or getting rubbed all over your pillow and onto your face.
To put on your bonnet, simply flip your head upside down, hold the bonnet open with both hands, and hook it at the base of your neck as you stretch it down over the length of your curls, gathering them up as you pull the bonnet into place. If you have a tighter curl texture, a vegan silk buff can function as an easy bonnet alternative. Either way, you're free to leave your curls loose or style as desired with or without your favorite products. Any of the following curly hair sleep styles work even better with a vegan silk bonnet on top.
Also: 5 Super Simple Hairstyles for Curly Hair
Go for a Loose Bun
Gathering your curls into a loose bun at the top of your head is an easy place to start when figuring out the best way to sleep with your particular hair texture. The loose bun is ideal because it's a hair care solution that's easy to throw together in a jiffy, without the need to practice or track down a tutorial, and it works well for both dry and wet hair, working to keep curls from frizzing out as you sleep.
To try the loose bun method, apply your favorite leave in products to those curls. We recommend a leave-in conditioner and/or curl defining cream plus a mousse and/or gel to help keep your hair pattern in place while you sleep. Scrunch in your product, before flipping over your head and securing your curls with a hair tie at the top of your head. Loosely apply a scrunchie to encourage the bun to form a friction-free hold, and prevent your hair from denting where the hair tie grips it. The next morning, take down your hair and refresh your curls as desired.
Also: How the "Squish to Condish" Method Can Help Your Curls
Rock the Pineapple
Another simple method of keeping curly hair in check while you sleep is a high ponytail on the top of your head that many curlies call the "pineapple," so called because the curls spilling up from the top of your hair while you sleep look just like a delicious pineapple. There are a couple of different ways to form the pineapple, which starts with a base of post washday dry hair depending on the length and curl type of your hair. Both methods tend to work better for those with defined curls rather than lightly wavy hair, as wavy hair is too loose not to flow down from the pineapple and get tangled and frizz up on your pillowcase. Sleep just like this or top it off with a bonnet or protective pillowcase for double-duty action.
Try It: GRO Biotin Gummies for Hair
The Mono Pineapple
The mono pineapple works best for those with longer curls, because to form it effectively your curls need to be a relatively uniform length all over your head. To form this style, gather your curls into a very high, loose ponytail using a fabric covered hair tie to avoid denting or damaging the hair. Before lying down, separate the curls so that they're divided roughly in half across your head. The next morning, spritz your hair wet with a spray bottle full of plain water or your favorite curl refresher to banish any residual frizz and redefine your curls.
Read: Here's How to Keep Curls in Humidity
The Multi Pineapple
This method functions identically to the mono pineapple, except it's for shorter hair. If your hair is too short to form a single ponytail, split your curls into several sections all over your head, binding and reviving each section as described above.
Shop: GRO Revitalizing Scalp Massager
The Plop
If you consider yourself a curly hair expert, we bet you've plopped your wet curls with a cotton T-shirt before. It's an ideal way to encourage drying without your curls being dragged down by gravity, helping curls keep their shape. But what you might not know is that going to sleep with a plop is a great way to care for your hair at night — a method that works to keep your hair in place as you sleep, and encourage whatever products you use to seep in deep, banishing frizz.
To plop, all you need to do is apply your favorite leave-in conditioner and/or curl defining cream plus a mousse and/or gel to wet hair, and then lay down a microfiber towel or cotton T-shirt on a flat surface. Flip your hair over and allow it to settle into a pile, then tie both sides of your t-shirt or towel securely around the base of your neck before you go to sleep, and wake up to a frizz-free you.
Curly Girls Beware: Read This Before Getting a Brazilian Blowout
The Assist: Curly Hair Sleep Accessories
All of these methods are perfect if you're looking to preserve your natural curls. But sometimes, you need a little something extra — added pizazz to really make your curls pop. For special occasions, adding a sneaky assist to curly hair as you sleep can help increase curl definition and prevent you from waking up with the dreaded "cone head," where uniformly layered hair poofs out into the shape of a yield sign.
Here are our three favorite tools for heat free overnight styling:
Bobby Pins
To curl your hair with bobby pins, simply roll each section of hair into a little cinnamon roll swirl and secure with criss crossed pins. The size of the rolls will determine how big your curls are — smaller rolls will produce tighter curls, while big rolls create relaxed, beachy waves.
Related: How to Detangle Hair With Minimal Damage
Sock Curls
There's a reason sock curls are the latest curly hair craze: all you need to wake up with a head of perfect curls are a couple pairs of old socks. Start with a clean pair of socks approximately the same length of your hair, and wrap your strands around it in a loose braid, securing at the bottom. Wake up to soft waves you can secure with a little hair spray or dry shampoo to rock all day long.
Related: 10 Unexpected Ways to Use Dry Shampoo
Flex Rods
Flex rods are foam rollers that bend around your hair (and themselves!) to secure strands in place. They come in a variety of sizes, so chose your set of flex rods based on the diameter of your desired curls. To use, simply separate your hair into narrow sections, and wrap each section around a rod so your hair clings close to your head as you sleep.
Tuck any of these styling tools under a bonnet or buff to prevent them from coming unbound as you sleep.
Also: A Curly Girl's Review of VEGAMOUR's Shampoo & Conditioner
Sweet Dreams
Of course, all these methods work differently depending on your curl pattern and curl types, so we recommend trying out a few to see what works best for your particular variety of curly girl magic. Once you figure out your favorite method of sleeping with curly hair, your best hair day yet is just one good night's sleep away!
More From VEGAMOUR
Photo credit: Bruno Thethe/Pexels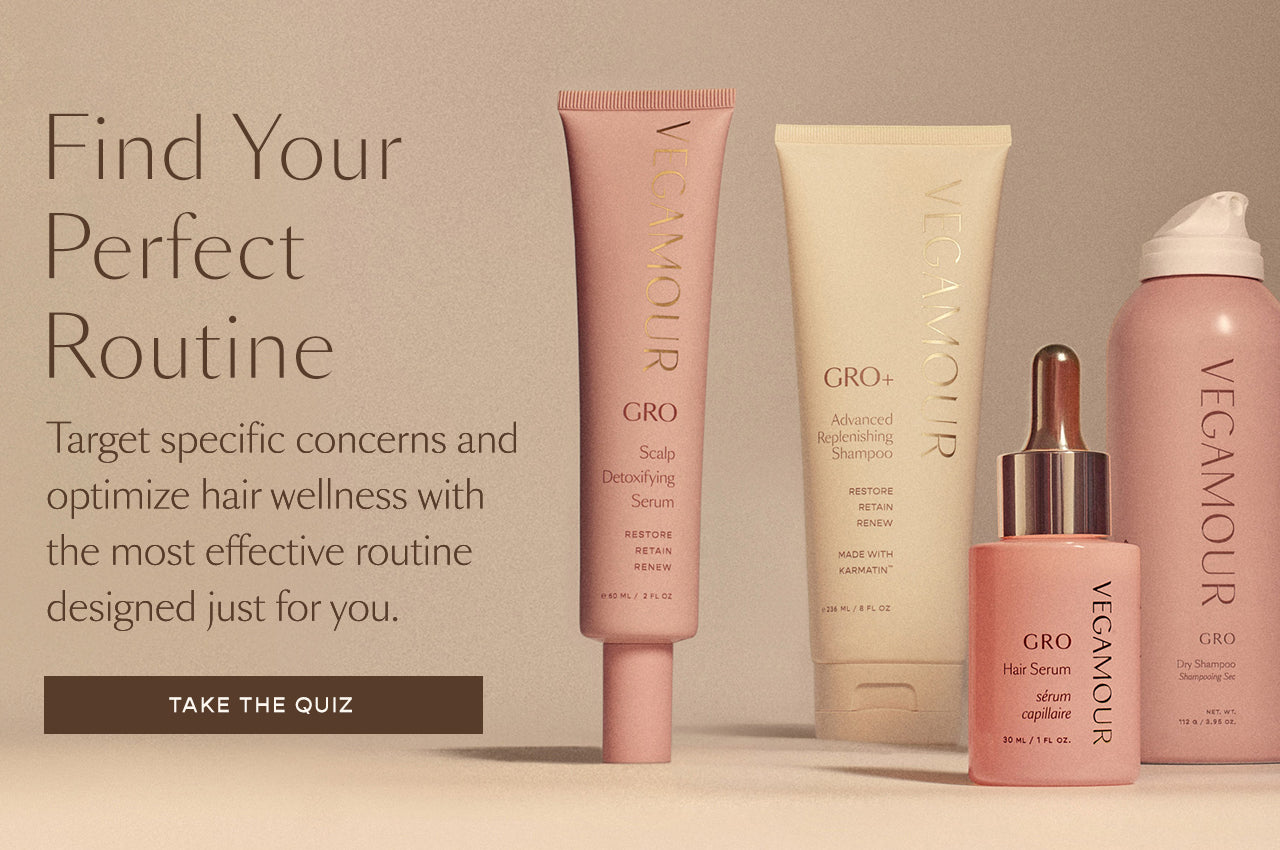 Disclaimer: Information in this article is intended for general informational and entertainment purposes only. It is not intended to constitute medical advice, diagnosis, or treatment. Always seek professional medical advice from your physician.