A Beauty Editor's Workout Hair Routine With VEGAMOUR
As a beauty editor and yoga instructor, my schedule revolves around routines. Prioritizing my personal care and workouts, along with teaching classes, are integral for my overall wellness — including that of my hair!
Read on for my favorite ways to make it a "good hair day" each day, even when there's a workout on the horizon. Wondering how? It starts by planning out a comprehensive workout hair care routine. Plus, discover what workout-approved products keep my hair feeling and looking its best.
My "Mane" Workout Priorities
Daily movement is a must for me. Yet, what that looks like varies from day to day. The brain craves change, and the body, skin and hair also get a much-needed boost from mixing things up. 
That means making the most of what you do for your hair before, during and after a workout so important. Strategizing is key — both when it comes to effective workouts and tress success! 
Mindful Movement Priority 1: Plan Ahead
Whether I have an early morning workout or am teaching a class, taking the time at night to prep saves precious time and means I can maintain my self-care rituals.
Each night, I lay out an outfit and pack my gym bag with all the essentials, including GRO Dry Shampoo. I also place my GRO Lash Serum and GRO+ Advanced Hair Serum right next to my bag so I can apply them before heading out the door.
Shop: GRO Entry to Hair Wellness Kit
Mindful Movement Priority 2: Make Dry Shampoo a Staple
Dry shampoo is great for reviving post-workout or day-old hair, but it also goes beyond acting only as an afterthought! I like to make GRO Dry Shampoo part of my pre-workout routine and while I exercise. Yes, you read that right!
First, I gently mist it all around my crown, concentrating on the oily areas such as the roots. Next, I either loosely braid or gather my long hair into a low, loose pony and secure it with a satin hair tie. If it's an especially sweaty cardio activity, I wrap a satin hair wrap around the entire style for extra protection. 
Formulated with the same proprietary blend of phyto-active ingredients found in GRO Hair Serum, this do-it-all dry shampoo absorbs excess oils, odors and sweat. It's also ultra-lightweight and free of synthetic fragrances. It's my secret weapon for refreshing, texturizing and volumizing, which is why I use it both before and during my workout!
Read: Why Exercise Should Be a Part of Your Hair Growth Routine
Mindful Movement Priority 3: Build Body After Your Workout 
When I have something planned post-workout and want my hair to look its voluminous best, I pair the dry shampoo with body-boosting GRO Hair Foam for a double dose of texturizing, volumizing benefits. Its mousse-like texture applies like a dream and never leaves a sticky buildup.
Mindful Movement Priority 4: Stress Your Hair & Scalp Less 
Repetitive stress or added weight can damage strands and irritate the skin. Rather than dealing with damage down the road, I nix any too-tight hairstyles, such as a high, slicked-back top knot or pony, that might lead to hair thinning or loss down the road. Instead, I opt for loose styles or braids.
Read: Is Sweat Good for Hair?
Mindful Movement Priority 5: Hydrate, Hydrate, Hydrate
Hydration is essential for whole-body wellness. I love to tuck a few individual packets of GRO WELL Hair Boost Supplement + Probiotic in my gym bag to mix into my water bottle while working out. They're jam-packed with essential nutrients such as Vitamins A, B, C, E and zinc to support scalp and hair health. Additionally, they contain a 50-billion CFU probiotic blend to support a healthy gut microbiome. This supplement contains only 1 gram of carbs and no added sugar, which are two things I try to be mindful of limiting.
Read: Yoga for Digestion: 12 Postures for Gut Health
Mindful Movement Priority 6: Reset With a Detox
Working up a sweat can help enhance blood circulation and oxygen within the scalp, which is a necessity for healthy hair follicles. Wellness begins from within, and healthy hair starts with a healthy scalp. I'm super diligent with my skincare routine and make an effort to use clean ingredients. That's why once a week, I like to use GRO Scalp Detoxifying Treatment to eliminate buildup, soothe my scalp and create the ideal environment to encourage fuller-looking, stronger hair.
Mindful Movement Priority 7: Recalibrate With Cleansing & Conditioning 
Finally, on those days when it's time to wash my hair, I lather, rinse and repeat with GRO Revitalizing Shampoo and Conditioner. Because I am vegan and have super-long, somewhat thick "hybrid" hair — a mix of my natural, multiracial strands combined with extensions — this cleansing and conditioning duo is the perfect vegan alternative to a harsh keratin treatment. 
The pair contains VEGAMOUR's proprietary Karmatin™️, a microencapsulated vegan b-SILK™️ protein, which bonds and remains attached to hair even after rinsing. Whenever I use these products, I always end up with satin-smooth and snarl-free hair until the next time I wash it. 
VEGAMOUR — An Essential Part of My Workout Hair Routine
Now that you know all about my workout hair routine using VEGAMOUR products, I urge you to try them for yourself. I promise that you can say goodbye to sweat-soaked strands and hello to that healthier, fuller-looking, freshly-washed feeling! These products not only allow me to wash my hair on my terms but they also help me build a hair wellness routine so my hair can look its very best. They can also do the same for you!
MORE From VEGAMOUR
Photo credit: Nathan Cowley/Pexels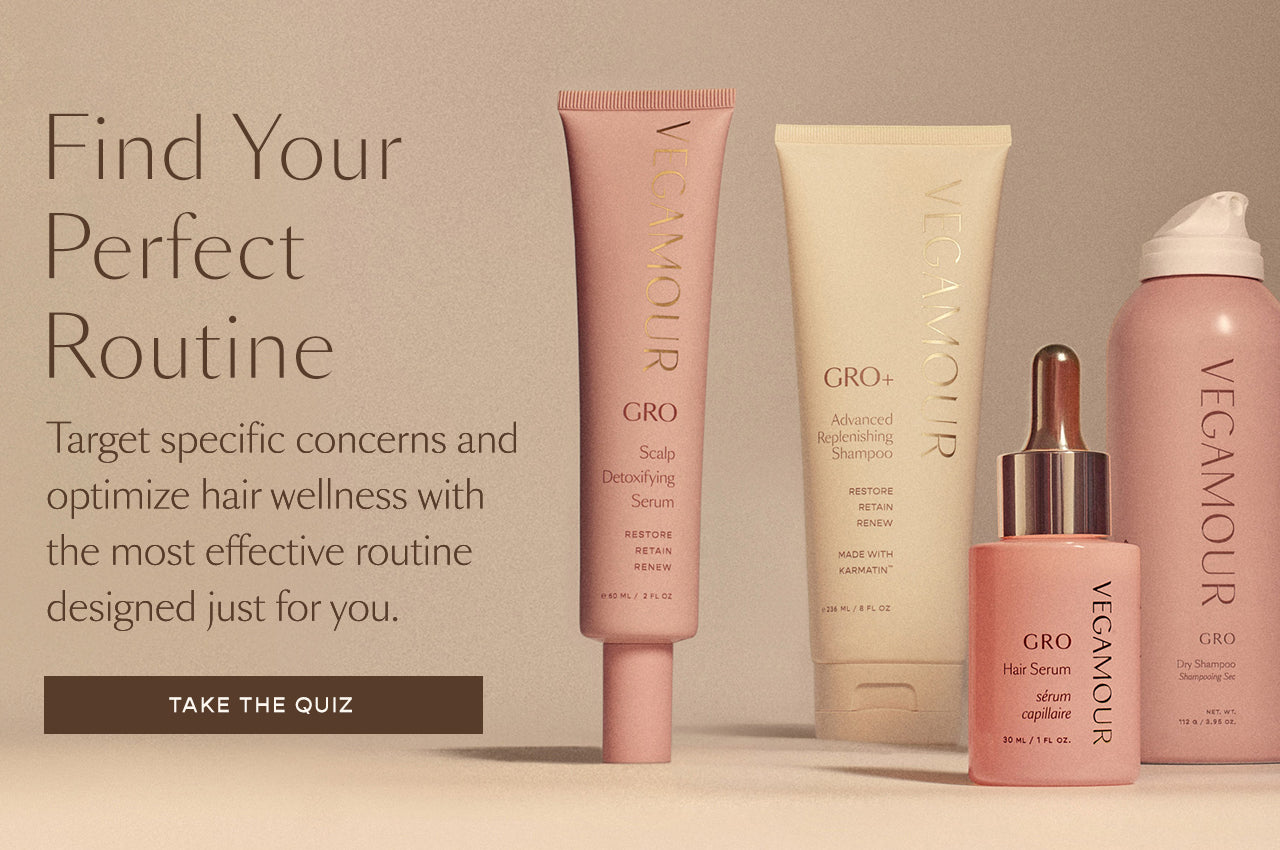 Disclaimer: Information in this article is intended for general informational and entertainment purposes only. It is not intended to constitute medical advice, diagnosis, or treatment. Always seek professional medical advice from your physician.