These Are the Best Scalp Treatments
Healthy hair starts with a healthy scalp. Why? Think of your scalp like the complex ecosystem we grow food in, also known as soil. Just like you need rich, healthy soil to grow delicious, nutritious food, you need a well-balanced, healthy scalp to grow strong, luxurious locks.
Not only that, but just like soil, our scalp also has a microbiome that can get a little out of whack when not tended to. This can lead to things like sensitive skin, including a dry, itchy, flaky scalp. Read on to uncover what you can do to remove buildup, promote a visible reduction of dandruff and create a healthy scalp microbiome.
The Best Scalp Treatments
For all the dry scalps, itchy scalps and flaky scalps out there—we got you. We know how important scalp health is in achieving gorgeous hair. That's why we developed 100% vegan dry scalp treatments that are packed with nourishing ingredients like powerful phyto-actives, minerals and proteins that work together to restore balance and optimize the follicular microbiome.
Both our GRO Scalp Detoxifying Serum and GRO+ Advanced Scalp Detoxifying Serum contain VEGAMOUR's proprietary vegan silk protein that helps to gently exfoliate and remove scalp buildup while providing a semi-permeable barrier that locks in moisture and protects from harmful environmental stressors.
Zinc PCA helps to absorb excess oil, reduce scalp irritation and support the skin's natural moisturizing factor. Willowherb extract will safely reduce the appearance of flakes, while wild-harvested marula and baobab oils provide an antioxidant boost that balances, moisturizes and protects.
Together, this proprietary blend of scalp-soothing ingredients has been shown to visibly reduce flakes in as little as three days while also reducing scalp buildup by 58%.
GRO vs. GRO+ Scalp Detoxifying Serum: What's the Difference?
So what differentiates GRO and GRO+ Scalp Detoxifying Serum from one another?
Our GRO+ Advanced Collection of products are formulated with the benefits of hemp-derived cannabidiol (CBD) to further enhance your scalp's health. CBD has well-established anti-inflammatory benefits that can soothe sensitive scalps and calm irritation. And to make sure your scalp reaps all the benefits CBD has to offer, we've microencapsulated it to enhance penetration and absorption, meaning your scalp gets what it needs, where it needs it.
To make the application of our serums as easy (and enjoyable) as possible, consider using the GRO Revitalizing Scalp Massager to distribute and work in your scalp treatment— or any of VEGAMOUR's topical products! Not only will the massager help stimulate the scalp and boost scalp health, but it will also feel wonderful and amp-up the relaxation in your hair routine.
Shop: GRO Ageless Daily Duo
Why Are Scalp Treatments Important? 
A scalp treatment is like a facial mask for your head. These treatments come in many different forms—foams, oils, scrubs and sprays—but many experts agree the best scalp products are designed to be left on in order for the ingredients to soak in and penetrate the scalp. Celebrity stylist Ashley Streicher states "I think building a hair wellness routine for your hair health should be treated the same way you would treat your body and skin. Similar to good eating habits and a daily skin care regime, hair health should be that third category."
These treatments also have a variety of benefits for your scalp health, like the following:
Increases Circulation
Most often, applying a scalp treatment will involve using your fingertips or the GRO Revitalizing Scalp Massager to gently work the topical into your scalp. While this definitely helps the active ingredients in the scalp treatment penetrate the skin, it has the added benefit of increasing blood flow to the scalp, too. Loss of blood supply to the follicles is associated with some forms of hair loss (like alopecia areata and androgenetic alopecia, for example). One study even suggested that daily scalp massage might help grow denser and thicker looking hair.
Promotes Relaxation
You know how good it feels to have your scalp massaged when you're at the salon for a trim, right? Scalp massages can feel like they are literally melting stress away, and science supports that massaging can have positive impacts on cortisol levels, heart rate and blood pressure. When applied with a massaging action, these treatments can do double duty by improving the health of your scalp and helping promote stress relief in the rest of your body.
Improves Skin Health
Since the scalp is an often overlooked part of our bodies, neglect can lead to imbalances, annoyances and even straight-up problems. That's why many scalp treatments are formulated with specific goals in mind, like soothing itchiness, adding moisture or controlling oiliness. Good treatments will also help to detoxify the scalp and remove harmful buildup that throws off the scalp's natural balance.
Shop: Scalp Scrubber
Provides Exfoliation
Scalp treatments might contain ingredients that help exfoliate the skin, which your scalp needs. An excess of dead skin cells on the scalp might be responsible for causing irritation, white flakes or even excess scalp oil. Exfoliation will remove the excess buildup of dead skin cells and sebum, freeing up hair follicles and encouraging cell turnover in the skin. It can help minimize flakes, too.
More: 6 Signs You Need a Scalp Detox Treatment (and How To Do It)
Harness The Full Power of Plants
Choose from VEGAMOUR's shampoo, conditioner, serum, supplements and more to level up your hair care routine and support your journey to thicker, fuller looking hair, including:
Overall, VEGAMOUR's carefully crafted, all-natural hair care products are designed to promote holistic hair health from the inside out. And when you add in GRO or GRO+ Scalp Detoxifying Serum to your hair care routine, it can help visibly reduce dandruff and promote a healthier, happier scalp.
More From VEGAMOUR
Photo credit: SanneBerg/iStock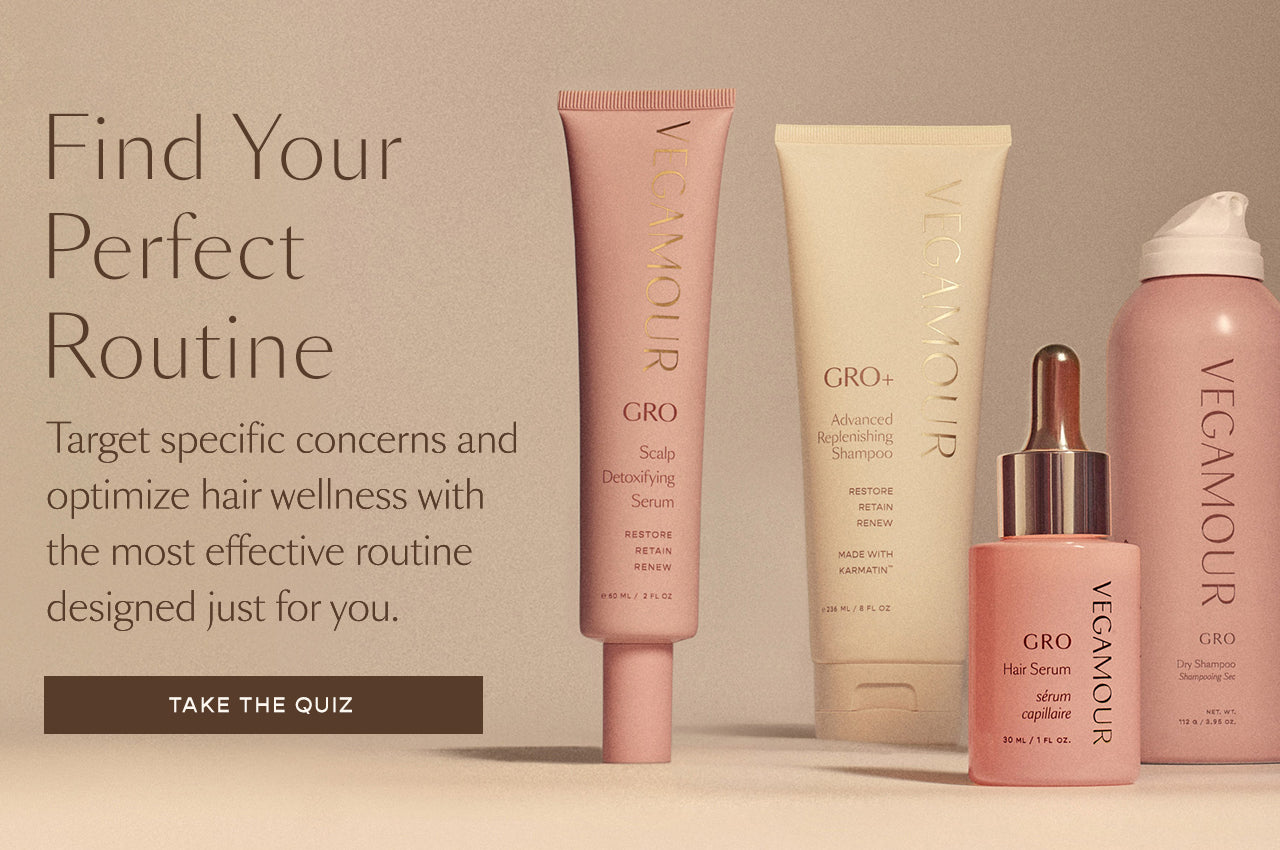 Disclaimer: Information in this article is intended for general informational and entertainment purposes only. It is not intended to constitute medical advice, diagnosis, or treatment. Always seek professional medical advice from your physician.