6 Ways to Tackle Scalp Buildup Today
Those white flakes you're shedding from your head may make you think dandruff's the culprit, but it also could be scalp buildup. While your scalp's natural oils play a key role in maintaining hydrated and shiny strands, sometimes too much of a good thing becomes a nuisance — especially when those oils are combined with sweat, dead cells and hair care products, which can equal buildup on your scalp. Here's everything you need to know to prevent scalp buildup, plus easy the best products you can use to combat scalp buildup.
What Causes Scalp Buildup?
To find the cause of buildup on the scalp, it's important to differentiate the two main types of scalp buildup that occur on all hair types: natural and product buildup. 
Natural Buildup
Natural buildup happens when the following factors start to accumulate on your scalp skin:
Dead skin cells
Dirt and debris
Excess sebum buildup
Sweat
This kind of scalp buildup occurs most commonly on oily hair types or hair that hasn't been washed frequently enough. Once your hair's precious natural oils are mixed with dirt, product buildup, dead skin and bacteria, they can accumulate on scalp skin and cause major annoyances like greasiness, scalp flaking, dandruff, unpleasant odors, breakage and even hair loss.
Washing your hair with scalding hot water also removes your natural oils, leading to a dry scalp and dry hair. This dryness then causes your glands to overcompensate by producing excess oil around your hair follicles, so be sure to use warm water that's never too hot to promote healthy hair and scalp.
Shop: Scalp Health Kits
Product Buildup
Product buildup, on the other hand, is when your hair care products gradually build up on your scalp, which can cause flaking, itchiness or irritation. Hair products that most commonly accumulate on your scalp and hair include:
Conditioners with silicones
Styling creams and gels
Shampoos with harsh ingredients or that aren't formulated for your hair type 
Another common cause of buildup is inflammatory scalp conditions like scalp psoriasis or seborrheic dermatitis. If left untreated, these conditions can cause chronic inflammation that gets in the way of healthy hair growth. They can also result in hair breakage, major flaking and an unbalanced oily scalp that makes it hard to keep hair clean.
Learn: Why a Healthy Scalp Is Important for Healthy Hair
How to Clear Up Buildup on Scalp
"Regardless of the cause of buildup, it really should be addressed," said board-certified dermatologist Erum N. Ilyas. "Any kind of buildup or scaling can result in [ongoing] problems. When there's a pileup of products, dirt and oil building up around your follicles, it can suffocate your hair roots, causing inflammation and hair loss."
Hair wellness expert Ashley Streicher says, "Treat your scalp. Whether that be stimulating it by brushing with a natural baor bristol brush, or not overwashing your scalp to let your sebum balance. That would be the most important." 
The good news is that buildup is an easy issue to treat at home. Here are some suggestions to help keep buildup at bay for good.
1. Do a Scalp Detox
A scalp detox is one of the most beneficial treatments you can do for a healthy scalp and hair. "For some, over time, there can be a buildup of residues from hair products, shampoos and conditioners as well as an accumulation of natural oils and dead skin cells," said Dr. Ilyas. "Exfoliating or treating this buildup does help return hair's natural luster and make the scalp less flaky or dry and hopefully, less itchy."
There are multiple ways to do a scalp detox:
Clarifying shampoo When you want to reduce excess oil production, a gentle everyday shampoo isn't going to cut it. Using a clarifying shampoo offers a more powerful cleansing experience that removes product buildup and excess oils. But be careful not to use this option too often as it can leave your scalp overstripped of all its natural oils. For regular use, add GRO Revitalizing Shampoo and Conditioner to your hair care routine. The formulas, which are enhanced with clinically proven plant actives, nourish and hydrate the scalp and hair without leaving behind any pore-blocking residue. 
Detoxifying scalp serum: You can also use a scalp serum, like GRO Scalp Detoxifying Serum, as a pre-shampoo treatment. The formula contains Zinc PCA, which works to absorb excess oils, and full-spectrum hemp to soothe scalp stress for a more balanced and healthy scalp microbiome. Whenever you notice scalp buildup, apply this on your scalp a few minutes (or hours) before washing your hair. The proprietary vegan silk in the serum will help gently rid your scalp of pore-clogging buildup, dirt and other impurities while creating a protective barrier that locks in moisture and protects the scalp from environmental pollutants. For an extra boost, try GRO+ Advanced Scalp Detoxifying Serum with full-spectrum hemp.
2. Use a Scalp Massager
There are so many benefits of using a scalp massager (including gently exfoliating your scalp), and the best part is that they're incredibly simple to use. All you have to do is take your scalp massager and knead your scalp in a gentle, circular motion. Use this handy tool while you shampoo to get a deeper clean and improve blood flow, which can work to prevent a dry scalp. Even five minutes of massage a day on dry hair — or to work in a hair serum or scalp detox treatment — can result in long-lasting benefits for your scalp and mane. 
3. Minimize the Use of Hair Care Products
Less is more, and streamlining your use of hair care products can go a long way in preventing scalp buildup and promoting scalp health. Unfortunately, using too many hair care products like sprays, gels and creams can cause scalp buildup and clog your hair follicles, leaving you dealing with major buildup, hair loss and noticeably greasy strands. Instead, stick to a minimal haircare routine featuring a few targeted products that are actually good for your scalp, such as GRO Revitalizing Shampoo and Conditioner, which not only nourish the scalp and hair but also visibly increase hair density thanks to phyto-active ingredients like red clover.
Learn More: Scalp Yeast Infections Explained
4. Try an Apple Cider Vinegar Rinse
According to Dr. Ilyas, an apple cider vinegar rinse is one of the easiest and simplest natural remedies to remove buildup on your scalp. Here's why: "Apple cider vinegar contains acetic acid and alpha-hydroxy acids, which can help degrease and cleanse the skin," Dr. Ilyas said. "[What's more], ACV has anti-yeast properties, and it can often be added to scalp exfoliators to help address the underlying yeast that triggers inflammation resulting in scaling."
But don't go full-strength. Instead, dilute it with this golden ratio: Combine half a tablespoon of apple cider vinegar and 1 cup of cold water; then mix it together to form your solution. Be sure to rinse well to avoid an unpleasant odor sticking on your strands. (Bonus points if you end the rinse with cold water for shiny hair).
Also: How to Get Rid of Dandruff Once and for All
5. Consider Tea Tree Oil
"[Tea tree oil] is known for its antimicrobial and antiseptic properties in its activity against bacteria, viruses, fungus, mites, etc.," said Dr. Ilyas. "When added to scalp exfoliators, it's likely addressing some of the underlying triggers for scalp inflammation that result in scaling and itching."
However, it's important to note that tea tree is not always an ideal option for those with super sensitive scalp skin who want to reduce scalp buildup. If your scalp's itching and flaking are getting worse, it's important to take tea tree out of the equation to rule it out as a trigger. And to avoid irritation, Dr. Ilyas recommends diluting the solution with a carrier oil — jojoba, grapeseed, avocado — because tea tree oil is very potent.
Shop the Kit: GRO Balance & Boost
6. See a Dermatologist
A person living with scalp buildup can take steps to treat and prevent the problem at home, but if the problem persists or worsens, make an appointment with a dermatologist because it's likely there's an underlying cause.
Dr. Ilyas pointed out that most people who continue to struggle with scalp buildup have underlying seborrheic dermatitis or psoriasis. "If your dry, flaky scalp is the result of inflammation, then the underlying cause of the inflammation should be treated or addressed," she said. "If the inflammation becomes chronic, then it can interfere with hair growth and become a source for discomfort as well."
Scalp Buildup Takeaways
Sticking to a good scalp care routine — using the right shampoo and conditioner, practicing scalp massage and using a scalp detox serum — should be all you need to remove scalp buildup for good and maintain healthy hair follicles that will promote healthier hair growth. If your scalp buildup problem persists, however, it's best to make an appointment with a dermatologist to find out what's going on.
More From VEGAMOUR
Photo credit: Léa Dubedout/Unsplash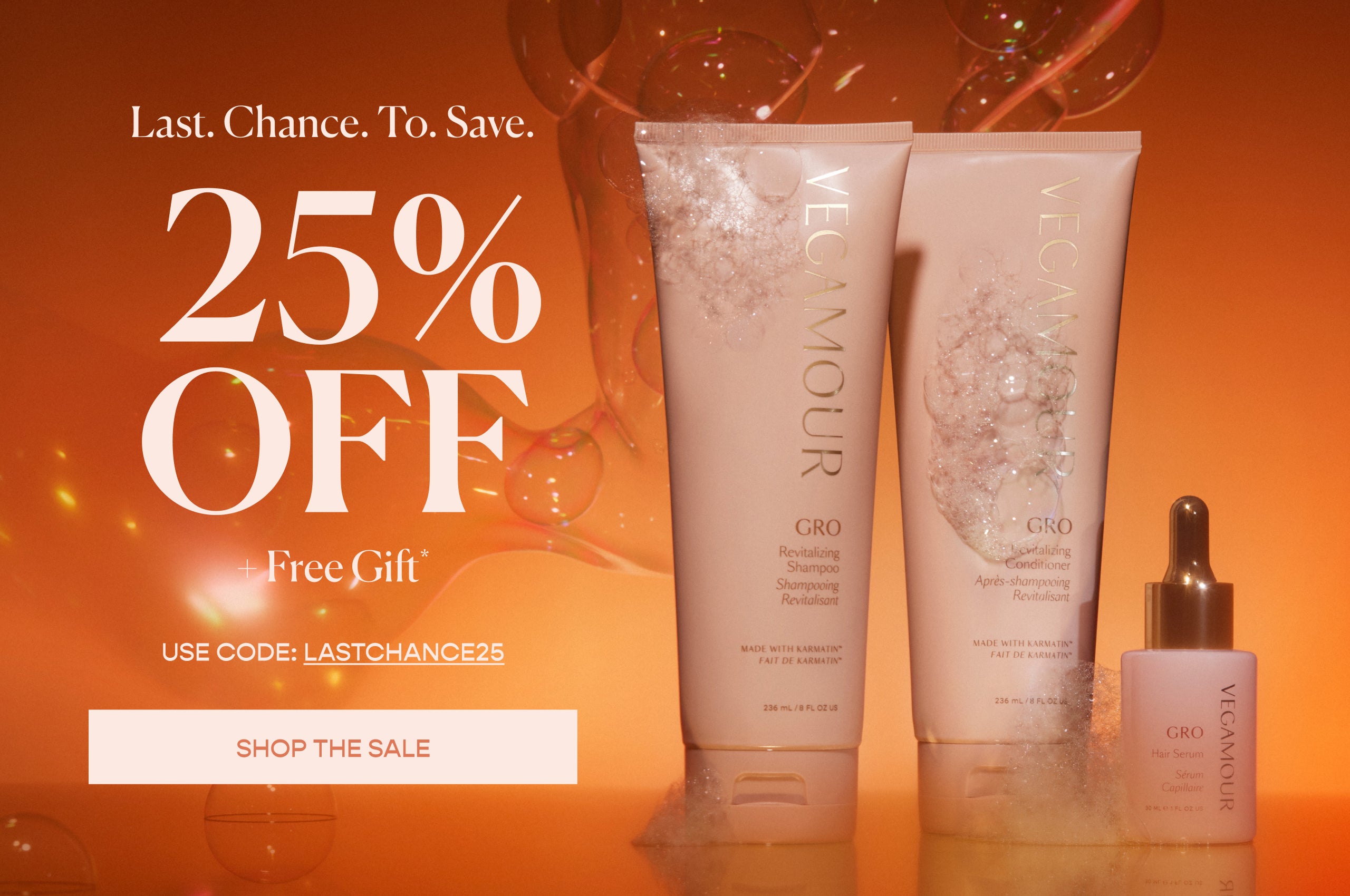 Disclaimer: Information in this article is intended for general informational and entertainment purposes only. It is not intended to constitute medical advice, diagnosis, or treatment. Always seek professional medical advice from your physician.