The 5 Best Hair Treatments for Damaged Hair
Whether it's split, dry, frizzy or just a bit frazzled, damaged, brittle hair is no one's favorite. But how can you prevent hair breakage and help bring your strands back to health?
If you're on the hunt for the best hair treatment for damaged hair, keep reading for tips and tricks to prevent breakage for all hair types — plus, find out what products you really should be using to give your hair ideal amounts of moisture, volume and protection.
What Is Damaged Hair and What Causes It?
The causes of dry, damaged hair can be as diverse as the symptoms themselves. If you have dry hair that's looking lackluster, you might be experiencing split ends, brittle strands, reduced hair growth, frizz and general dullness. Your hair fibers could be damaged, and your lengths and ends could need a deep conditioning treatment.
"Damaged hair is hair that has been weakened due to mechanical, chemical or environmental factors," explained licensed cosmetologist and beauty blogger Cecelia Waters. "This can look like breakage [and] split ends with hair brittle when dry and gummy when wet. It can also feel dry and straw-like and have no elasticity when dry.
"Mechanical processes would be brushing, combing, pulling, styling [and] heat styling. Chemical would be color, lightener, perms, relaxers and other chemical treatments. Environmental could be sun damage, wind, cold or dry climate, saltwater, etc. These can be prevented by being gentle on the hair, never overprocessing it chemically and always protecting it from the elements with good products and a good hair care routine."
If you've color-treated hair consistently or are addicted to the hot tools, here are some top tips to help reduce breakage and add moisture back into your locks.
Top Treatments To Help Restore Hair Damage
Damaged hair doesn't have to last forever. Try these treatments for damaged hair to get your hair looking healthy:
1. Get Your Hot Oil On
If you're on a mission to resuscitate bleached hair or strands that a flat iron has ravaged, a DIY hot oil could be a reviving treatment.
Whether you choose pure marula, coconut oil or even olive oil, the restorative treatment will nourish your hair to leave even parched ends softer and smoother. Olive oil and avocado oil are pretty heavy and will work best on extremely dry ends. Coconut oil or marula oil work well on all hair types. Jojoba has a similar texture to the sebum your scalp naturally produces, so it is excellent if your hair type is oily and needs extra protein.
How to make:
Add an inch of water to a small saucepan and place a heat-safe bowl over the top.
Add one tablespoon of oil to the bowl and heat until warm to the touch. Don't boil or heat to a boiling temperature.
Apply generously to damp hair and work through the lengths down to the ends.
Cover with a shower cap or warm towel for at least 30 minutes.
Rinse the oil out, and wash your hair twice with a restorative shampoo.
Condition as normal.
Read: Is Salt Water Good for Your Hair?
2. Rinse With Apple Cider Vinegar
Though naturally dry hair tends to damage faster, oily hair can become tangled quickly, prompting you to brush through strands with potentially damaging vigor. An apple cider vinegar rinse works beautifully as a natural detangler to protect the hair structure (for fine hair especially).
It can clear a clogged scalp of debris and act as a hair treatment, closing the hair cuticle and further protecting color-treated hair. Simply pour a little apple cider vinegar into a spray bottle and spritz over your mane. Leave for approximately 10 minutes and rinse with warm water.
Shop: GRO Ageless Daily Duo
3. Try an Overnight Hair Mask
There are so many hair treatments you can try, but none work as well as a clinically-proven overnight hair mask. Try a deep conditioning hair mask, which is a leave-in treatment that transforms in just a few minutes or hours. VEGAMOUR's hair mask is the first of its kind and adapts to the unique needs of damaged, frizzy hair. It contains an abundance of moisturizing ingredients, plus our proprietary vegan keratin to leave frail strands plump and healthy, and smells amazing when applied! Additionally, the conditioner is completely cruelty-free and is ideal for hair that's color-treated or heat-damaged.
4. Indulge in a Nutritious Diet
When your hair lacks moisture and looks less than its best, it's easy to focus solely on external factors. Pollution, hot tools and excessive sun exposure all play a part, but if your diet lacks substance, your frail strands will show the signs.
Read: A Nutritionist's 5 Must-Have Pantry Items for Healthy Hair
5. Tackle Dandruff with a Super Sweet Solution
A dry, itchy scalp can feel frustrating — especially if telltale white flakes appear. Though it sounds more like a baking recipe, brown sugar and coconut oil treatment could help clear your scalp of irritation.
Coconut oil can soothe the scalp, and brown sugar acts as a natural (but gentle) exfoliant. The coconut oil will also maintain shine by adding moisture to the strands. Simply mix one tablespoon of coconut oil with two tablespoons of brown sugar and gently massage the scalp. Then wash your hair with shampoo and conditioner as usual.
The Takeaway
If your hair is dry or damaged (or both), it will benefit from a 360° hair wellness routine. Help add shine and minimize split ends with weekly hair masks. Avoid heat styling and harsh chemical products, eat a nutritious diet, drink plenty of water, stick to a regular sleep schedule and actively reduce stress. All of these actions combined will help encourage thicker, fuller, healthier hair!
More From VEGAMOUR
Photo credit: Joel Mott/Unsplash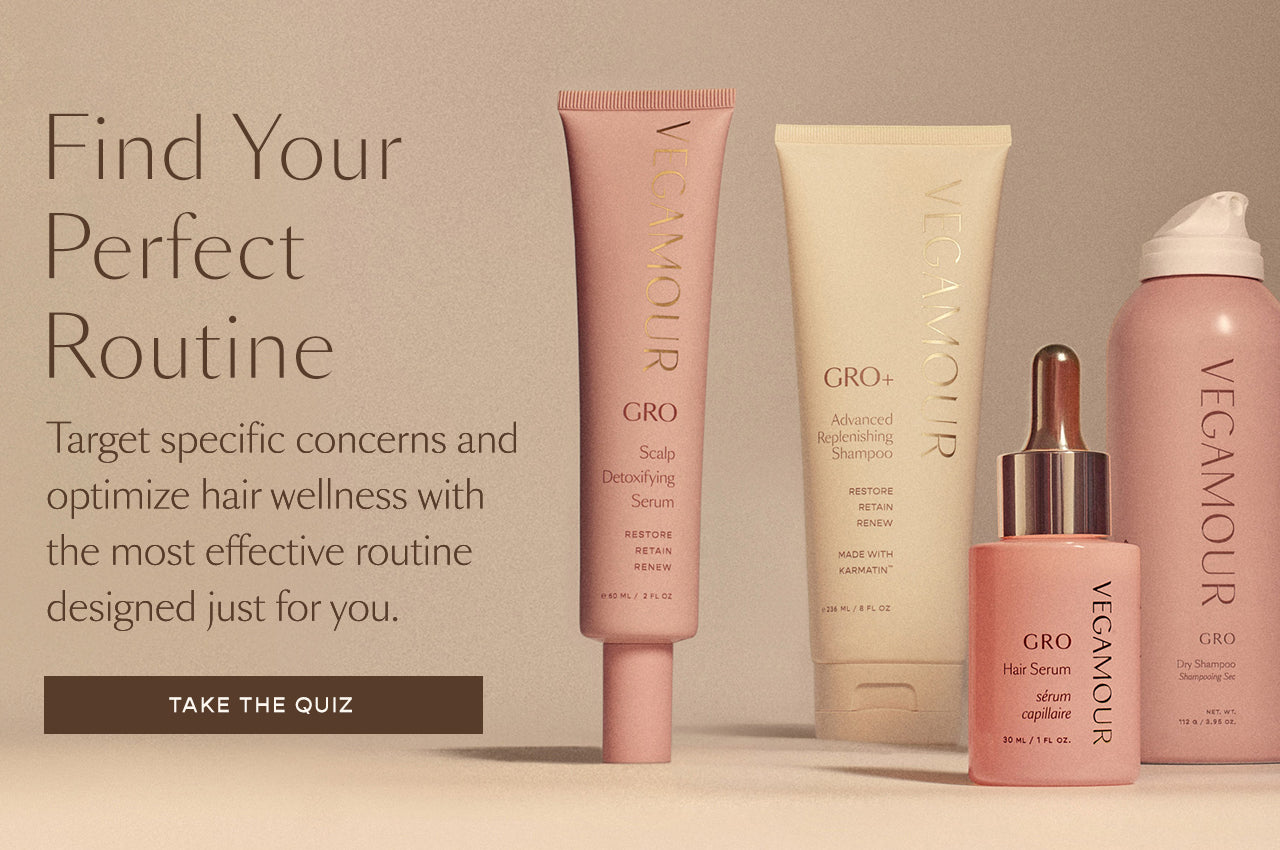 Disclaimer: Information in this article is intended for general informational and entertainment purposes only. It is not intended to constitute medical advice, diagnosis, or treatment. Always seek professional medical advice from your physician.