Can Olive Oil Impact Hair Growth?
Olive oil is an essential kitchen staple with many nutritional benefits when consumed, but it is also frequently used in home remedies for hair, skin and nails. Italian grandmothers will tell you that their best beauty secret is using olive oil on their hair, but is there any truth to the old wives' tale that olive oil can stimulate hair growth?
To find out the truth when it comes to olive oil impacting hair growth, VEGAMOUR spoke to an expert to see if those olive oil health benefits translate to hair benefits. Read on to uncover the truth about olive oil stimulating hair growth — plus, find out what products you should add to your hair care routine to encourage thicker, fuller looking hair.
Olive Oil Basics
Olive oil is oil pressed from olives, the fruit of the olive tree. Its history dates back 6,000 years, originating in what is now modern-day Turkey. Historically, ancient peoples used olive oil not just for consumption and cooking but also in religious rituals, oil lamps, medicine, soaps and skin care applications.
Olive trees are believed to have been introduced to the Americas in the 16th century AD by Spanish missionaries who started planting olive trees in places that had a climate similar to the Mediterranean, namely California. By the mid-19th century, there was a thriving olive oil industry in the golden state. And today California is home to 600+ olive growers, spanning over 41,000 acres, producing millions of gallons of olive oil per year.
The highest quality olive oil is extra-virgin olive oil, which is loaded with antioxidants — some of which have powerful biological effects. For an oil to be called extra-virgin olive oil, it must be comprised of at least 55% oleic acid, which is a monounsaturated omega-9 fatty acid found in many healthy high-fat foods.
Olive oil also contains omega-3 and omega-6 fatty acids, which provide anti-inflammatory benefits and are associated with a lower risk for diseases such as heart disease, stroke and cancer. The body needs these fatty acids but cannot produce them on its own, so it is important to get them by consuming ingredients such as olive oil.
Shop: GRO Collection for Thicker, Fuller Hair
Benefits of Olive Oil For Hair Growth
Olive oil, like other oils, helps seal and moisturize your hair strands, which keeps strands hydrated and reduces hair breakage. Extra-virgin olive oil contains large amounts of antioxidants from vitamins E and K, which might help protect the hair follicle from free radical damage and oxidative stress that can cause scalp inflammation and breakage.
"Breakage occurs from dryness, and olive oil is moisturizing, so in that case, yes, [olive oil] can help with hair growth," said Kristin Aboumrad, a holistic hairstylist based in Ohio.
Hair oils rich in fatty acids are believed to help improve hair strength and reduce hair fallout. This is because the oils lubricate the hair shaft and reduce friction when you comb the hair, which can potentially lead to healthier hair that grows longer and faster. Also, like coconut oil, extra-virgin olive oil can penetrate the hair cuticle, making the hair feel softer.
Unfortunately, there hasn't been a lot of research on the effects of olive oil on hair growth. But that hasn't stopped generations of people across different ethnicities and regions from using olive oil for hair growth in natural home remedies. Many people swear by olive oil masks as a hair treatment for dull, dry hair. And even if you don't apply olive oil topically to encourage hair growth, the potential health benefits of ingesting the oil might also improve hair health.
"Olive oil is an incredibly healthy option for our diet in general, so the more essential nutrients, proteins and fatty acids we're putting into our bodies, the less our bodies need to pull from nonessential functions, like hair growth," said Aboumrad. "If our bodies are lacking, hair is the first thing our bodies neglect. It starts from within."
Shop: Shea Whitney's VEGAMOUR Picks
Is Olive Oil a Miracle Hair Growth Cure?
It depends on who you're asking. If you're asking an Italian grandmother, she might argue that olive oil can promote hair growth. If you're asking scientists, they might say that there's still more research that needs to be done to determine exactly how olive oil might affect hair growth and hair follicles, including its ability to promote hair growth.
One thing they can both agree on is that olive oil is safe to ingest and apply to your hair, even during pregnancy and while breastfeeding.
Adding Olive Oil to Your Hair Care Routine
If you decide to add olive oil to your hair care routine, the quality of the oil you use is very important to consider.
"Always make sure the olive oil is high quality — extra-virgin — whether applying it topically or ingesting it to get the full potential of benefits," said Aboumrad.
Extra-virgin olive oil has not been treated with heat or any other process that could alter the character of the olive oil or reduce its antioxidant levels. The fresher the olive oil is, the greater the benefits will be, so look for domestic products with clearly marked harvest dates to ensure the peak of freshness has not passed.
Olive oil is best applied as the last step in your routine — after applying other hydrating, water-based products. The oil locks in that moisture and keeps it from escaping into the air.
Here are a couple of ways to incorporate olive oil into your routine.
Use as part of a hair conditioning treatment: Mix three tablespoons of olive oil with your regular natural hair conditioner. Apply to sections of damp hair after shampooing. Put on a shower cap and wait 30-60 minutes before rinsing the mixture from your strands and styling your hair as usual. Olive oil works as an excellent carrier oil to deliver the moisture from the honey deep into the hair roots to hydrate. You can also leave this treatment in your hair overnight for better results.
Make a spray: Combine roughly two cups of water, one tablespoon of olive oil and a pinch of salt to create an olive oil hair spray that adds texture and shine. "You have to shake very, very well before and during use to keep the olive oil distributed in the water," said Aboumrad. "The salt gives it just the right amount of texture, and the olive oil softens it and counteracts the drying qualities of the salt."
Massage it into your scalp: Mix a few tablespoons of olive oil with your favorite essential oils and massage into the roots of your hair with your fingers for a few minutes for a relaxing scalp massage. Leave the mixture on for a half-hour before shampooing and conditioning. "A healthy scalp is key for a healthy hair growth cycle, so massaging olive oil into the scalp can help with that," said Aboumrad.
A Non-Greasy Hair Mask Alternative
People with kinky or curly hair, which is more porous and loses moisture faster, could find that the moisturizing properties of olive oil make their curls more defined and shiny. For those suffering from a dry scalp and damaged hair, olive oil might be a beneficial natural remedy to try. However, if you have naturally oily hair, you might not need the added moisture that olive oil provides.
A non-greasy alternative for dry, damaged hair is the deep conditioning hair mask, which instantly adjusts to your hair on contact. It reduces frizz and enhances color and shine to restore your hair's healthy appearance.
A Better Plant-Based Option for Thicker, Fuller Hair
If you're looking for natural, clinically-proven treatments to promote visibly thicker, fuller hair, explore the benefits of GRO Hair Serum. The serum uses a combination of clinically-tested, vegan phyto-actives shown in multiple clinical studies to increase the appearance of hair density while reducing signs of shedding. And it's safe for everyday use, with no known toxins, carcinogens or hormones.
These before-and-after photos from VEGAMOUR customers speak for themselves. In clinical trials, participants saw reduced shedding and visibly thicker, fuller hair in as little as three months.
Here's what one customer had to say after using GRO Hair Serum "I love this product. So easy to use and add to my morning routine. Within 3 months I have had noticeable new hair growth. I am a 53 year old woman and saw out of hair loss around my temples. This was the only product that made a difference [and] it was a game changer for me!"
Take a Holistic Approach to Hair Care
If you're looking to improve hair growth and hair thickness, a holistic approach to hair care can help you achieve your hair goals. Eating a nutritious diet, getting plenty of sleep, staying hydrated and reducing stress are all important when it comes to the health of your body and your hair.
Also, amplify your hair care routine by using natural hair wellness products that are toxin-free and have been clinically proven to promote thicker, fuller hair. By taking a full-circle approach, your hair can't help but flourish!
More From VEGAMOUR
Photo credit: Ron Lach/Pexels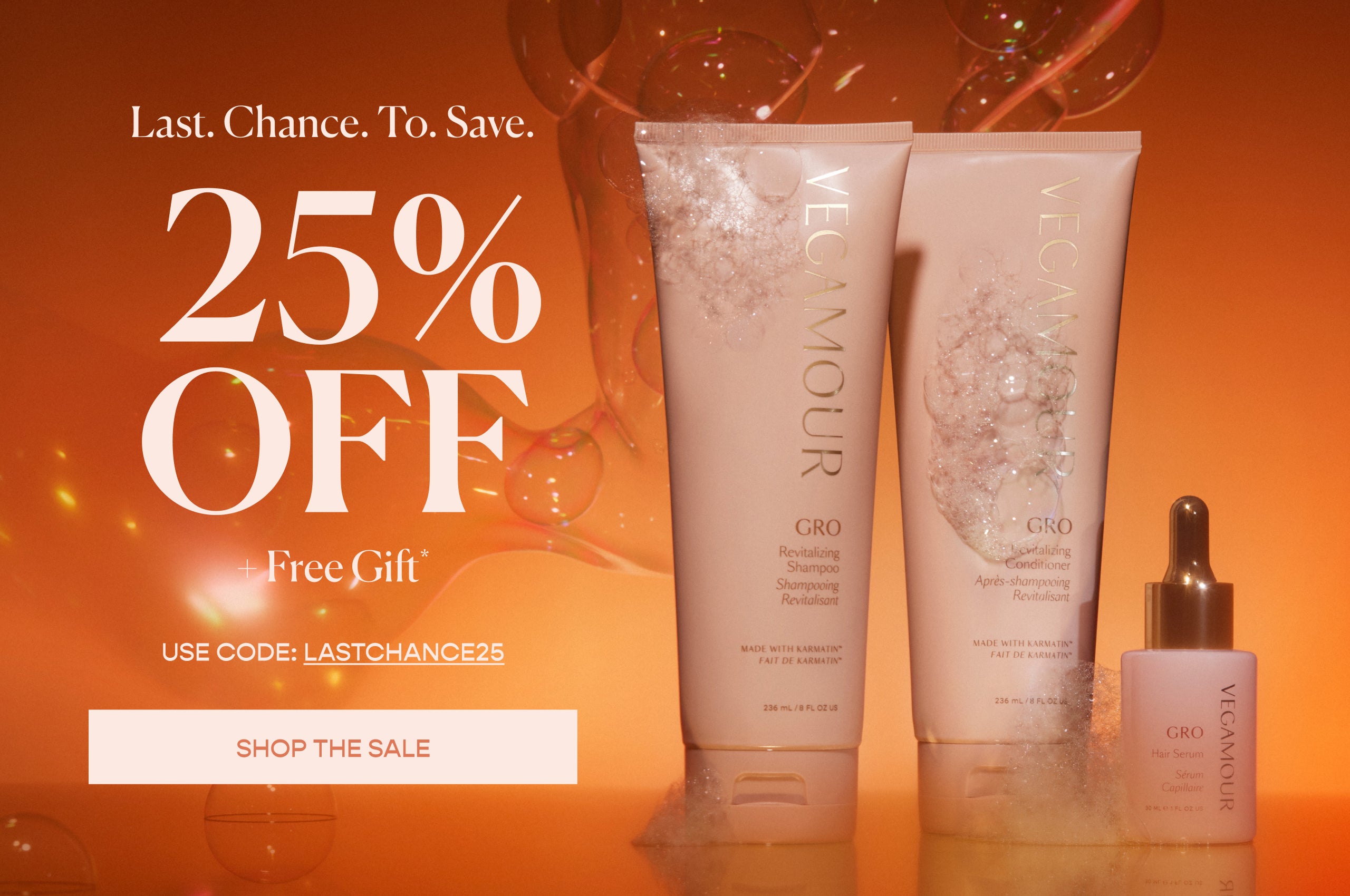 Disclaimer: Information in this article is intended for general informational and entertainment purposes only. It is not intended to constitute medical advice, diagnosis, or treatment. Always seek professional medical advice from your physician.