These Are the Best Ways to Cover Gray Hair on Dark Hair
If your hair is really dark, those first signs of gray can really stand out, catching the natural light with annoying precision. Where you once were able to hide gray hairs with some clever hair-parting, eventually the grays become too numerous for this to work. If you're looking for recommendations for handling grays on your dark hair — even stubborn ones around your hairline and part — you've come to the right place.
VEGAMOUR spoke with a hairstylist about their favorite gray-busting methods. Plus, find out how easy it is to turn back the clock for naturally radiant color.
Covering Up Gray Hair
Your hair color is the culmination of natural hair pigments produced by the melanocytes in your hair. As you age, so do these melanocytes. They slow down, producing less and less natural pigments. This dilutes your natural hair color, creating various shades of gray, which are essentially a blend of your natural shade plus the empty spaces where pigments used to be.
If the pigments aren't produced anymore at all, it creates white or silver strands.
On brunette hair, this graying process is far more noticeable. This makes it more challenging to cover gray strands without taking on a high-maintenance coloring regimen that forces you to make monthly visits to the salon.
Related Reading: Why Does Hair Turn Gray?
How to Cover Up Gray on Dark Hair
VEGAMOUR consulted hair stylist Ghanima Abdullah of The Right Hairstyles, who is a big fan of gray blending techniques.
"If you have dark hair with gray, gray blending is by far the best technique to camouflage your grays," said Abdullah. "Basically, it's giving you a really heightened salt-and-pepper look. This is helpful because grays tend to come in sporadically."
Gray blending is typically done with demi-permanent or permanent hair color, sometimes with a combination of highlights and lowlights.
"The low-lights are done at the nape of the neck and the highlights near the crown, primarily," Abdullah explained. Fewer highlights can be added through the rest of the hair to blend the highlights with the lowlights."
With this method of blending grays, you'll spend a little less time at the salon dealing with gray regrowth, as this look has multiple colors for blended looks. Gray areas are simply less prominent if they're blended into the hairstyles.
Gray blending also works well for those with thick hair or as a way to cover stubborn gray hair that doesn't "take" color well. However, you'll have to be okay with some gray roots, as this is not a method that covers gray hair entirely. Think of gray blending as a first-step coloring service for gray coverage.
Read More: Why You Should Consider Gray Blending for Your Next Hair Color Appointment
Temporary Gray Coverage Methods
Low-maintenance options to blend gray hair include non-permanent coloring solutions or masking your gray with hair accessories. The good thing about these methods is that you won't find yourself in the salon every 4-6 weeks to cover up those gray roots. The roots are noticeable, yes, but there's no line of demarcation between your natural color and the hair that's been treated with permanent hair dyes.
Semi-permanent color or demi-permanent color is like a "color wash" or a veil of color masking gray hair but not completely covering it. It softens the appearance of grays, but if you've got stubborn gray hair, this method won't give you ample gray coverage. Those grays will not take color without a color formula that uses hydrogen peroxide to soften and open the cuticle for color deposit. (This means you have to use permanent hair dyes for complete gray coverage, especially on stubborn or coarse grays.)
Want a fun lower-maintenance option? Hats and scarves work for anyone! Accessories are perfect for short hair that requires more salon trips to maintain hair colors or highlights. Simply hide gray hair (when you want to) with a pop of color and style!
Root touch-up sprays or hair color mascara can be a quick fix to cover grays if you have a special event and don't want those grays to catch the light in your photo ops. These work well for pretty much anyone, but if your hair's really light or fine, it could appear more unnatural on you.
Permanent Hair Coloring Options
With permanent hair colors, the possibilities are endless with a wide variety of light and dark colors to hide gray hair altogether. Note: Colored hair means you'll need to cover gray roots with a root touch-up every few weeks.
You can also get highlights as a lighter and brighter way of blending gray hair. Use a silvery tone to add a little salt to your pepper. Note: You'll still see some gray at your hairline and roots with this method, but they are less prominent.
Or, as Abdullah recommends, go with a gray-blending technique to give your dark hair a little more pizazz and less emphasis on those gray streaks. If you're looking for the best way to embrace your natural grays while still looking and feeling your best, try a combination of gray blending and gray delay-ing.
Read More: Hair Loss After 50? Here's What You Should Know
The Latest and Greatest Gray Delay Technology
Brown hair never had so many options now that GRO AGELESS has hit the mainstream. Along with your trendy gray-blending color, you can now use a product at home that delays your grays. Even better — it can turn back the clock on some graying!
Remember the melanocytes from earlier? Gray hair becomes gray hair because those melanocytes, deep in the hair bulb nestled in each hair follicle, stop producing color pigments called melanin and eumelanin. But there's a hair care solution that helps to improve what's going on in your hair follicles, rushing supportive nutrition and advanced technology right to the source of the problem so you can keep your color longer.

Whether you have color-treated hair or all-natural locks, GRO AGELESS is a two-part program that's super easy to do right at home.
Step 1: Use GRO AGELESS Anti-Gray Hair Serum each day. A few drops on the scalp feeds the roots and hair structures that create your hair color in the first place. This lightweight serum (so it's good even for those with super-fine hair!) reduces the appearance of gray hair on new hair growth. It also renews color and adds shine without leaving any residue on your hair.
Step 2: Use GRO AGELESS Gray Delay™ Hair Supplement each day, which contain essential minerals and nutrients that are necessary to prevent premature hair graying: Vitamins B6, B12, folic acid, PABA and essential minerals like iron and zinc. Fight premature graying with free-radical busters like selenium and copper. Support collagen-rich shine and your hair's most natural thickness with GABA, L-Theanine, Venetron® and 5-HTP.
Read More: Why Does Hair Turn Gray?
Caring for Grays
Now that you've updated your look at the salon and started feeding your scalp and hair, how should you care for your aging hair? Gray hair is just that — a sign of aging and an indication that your hair now needs specialized care.
Nutrition: Use GRO AGELESS Gray Delay™ Hair Supplement and step up your well-balanced diet to get in the vitamins and antioxidants you need as you age.
Protection: It's a good idea to cover your hair anytime you're out in the sun, as gray hair is more prone to damage when exposed to UVA and UVB radiation.
Conditioning: Conditioning your hair is even more important as you age as sebum production slows. Nourish and hydrate with a conditioner that supplies ample moisture and care for your aging hair.
Embrace Your Gray Your Way
Whether you choose the more natural method of delaying your gray with GRO AGELESS or go with hair color gray coverage, your relationship to your graying and aging is a personal experience. So, before you head to the salon for help, consider embracing the aging process as simply one more way you're evolving and growing more beautiful, year by radiant year. Because the first step in handling gray hair is to focus on your confidence — and that's truly ageless.
More From VEGAMOUR
Photo credit: Leah Kelley/Pexels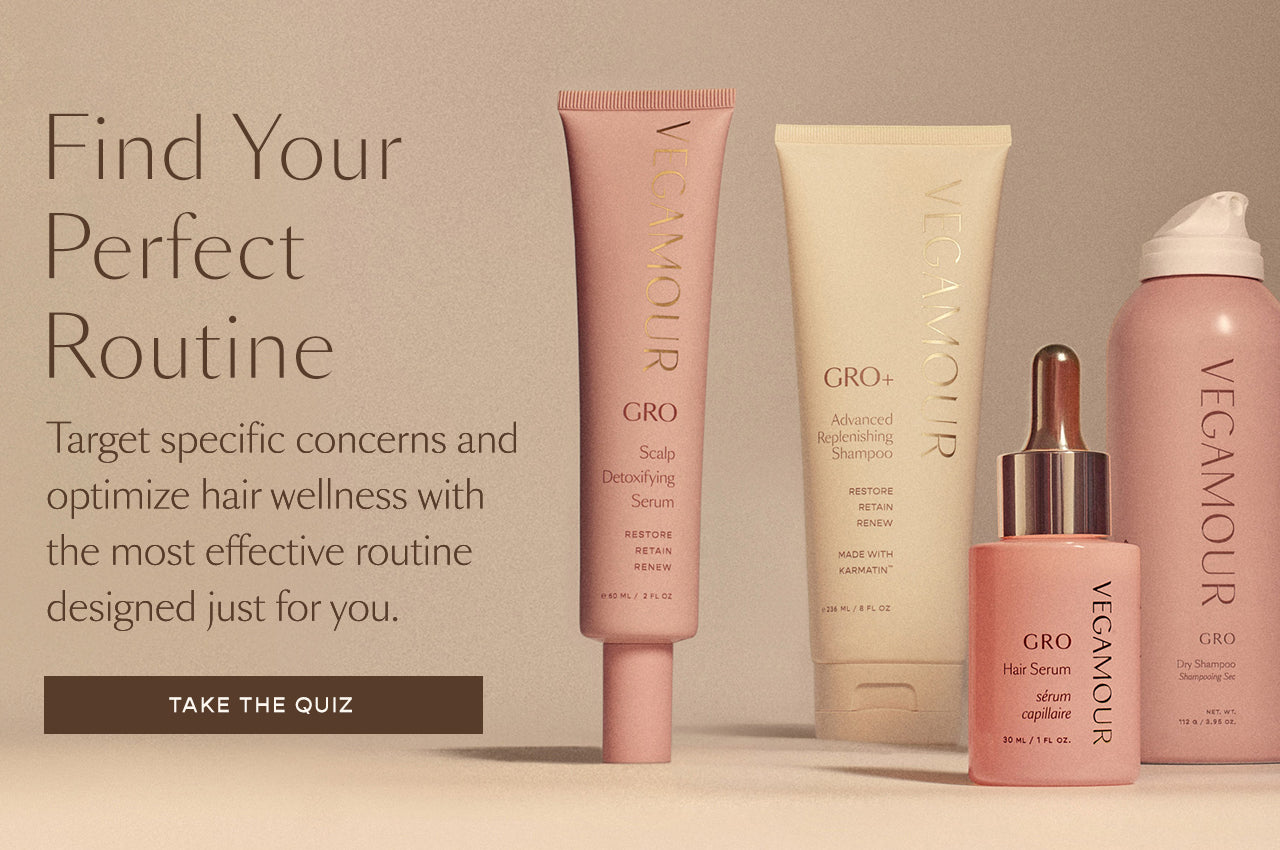 Disclaimer: Information in this article is intended for general informational and entertainment purposes only. It is not intended to constitute medical advice, diagnosis, or treatment. Always seek professional medical advice from your physician.