These Are the Characteristics of Aging Hair
Your face isn't the only part of your body that needs TLC as you age. As you combat crow's feet and fine lines, it's also important to address the needs of your aging hair.
VEGAMOUR spoke with an expert stylist on how to best care for your hair as it ages — plus, find out what products you really should be using to control grays.
What Happens to Your Hair as You Age?
As you age, hair pigments are produced more slowly, which causes graying of your natural hair color. You also might notice thinner hair. Other hair changes you might note are dry, coarse hair with a dull appearance.
These changes to aging hair can happen for a number of reasons, including the following:
Natural hair aging process
Endocrine disorders
Declining overall health
Dietary deficiencies
Genetics or hereditary traits
Smoking
Shortened hair life cycle
Changes in hormones, i.e., menopause
Loss of moisture
Overwashing habits
The good news is that if you are aware of what is happening with your hair, you can make some changes to lessen the effects of aging on your hair and scalp.
Shop: GRO AGELESS Collection for Graying Hair
Characteristics of Aging Hair and Scalp
Just like any other part of your body, your hair and scalp have their own signs of aging. Here's what occurs:
Graying
One of the first signs of age affecting your hair and scalp is hair graying. Graying can occur quite early in life, such as when you're a teenager or in your early 20s, but it's not common. According to one study, graying typically begins in the mid-30s for Caucasians, late-30s for Asians and mid-40s for Africans. But how quickly does it progress?
Maybe you've heard of the 50-50-50 rule that states for about half the population, grays are about 50% dominant by the age of 50. This generalization, however, is likely incorrect. Globally, according to the study, it's more like 6%-23% of the world's population are 50% gray by the age of 50.
The same study also shows a difference between the graying patterns of men and women, revealing that men gray more than women and more quickly. Graying can also be influenced one's ethnic or geographical origin. If you happen to be born female of Asian and African descent, for example, you may experience less hair graying because of your ethnicity and gender.
Though it does happen more or less quickly for some, everyone experiences the effects of aging hair, which often begins with those first signs of gray. Gray hairs appear as they do because of reduced pigment production in the hair's melanocytes.
Shop: GRO AGELESS Gray Delay Hair Supplement
Loss of Moisture
Natural oils are produced by the sebaceous glands on the scalp and travel down the hair shaft to hydrate your hair. However, as you age, these sebaceous glands become less active. Also, graying hair can take on a dull appearance or have yellow tones, so people often wash their hair more often, which can impact hair's ability to retain its natural moisture.
VEGAMOUR spoke with hairstylist Faviana Cano of Salon Faviana for her expert opinion on how to best care for your hair as it ages. Cano said, "Well-moisturized hair that has movement/undulates, is regularly trimmed, and is nourished with professional products always looks younger."
To combat age-related moisture loss, switch your regular shampoo and conditioner to gentle, nourishing formulas and shampoo your hair a little less frequently. Additionally, avoid heat styling as this can make your hair more dry and brittle. These simple changes can improve your hair health, bring balance to your scalp and help counteract the hair dryness that accompanies aging.
Related: How to Keep Your Hair Healthy as You Age
Hair Thinning or Slower Growth
As you age, your hair might grow more slowly or show signs of thinning. Fortunately, you can help your thinning hair with some TLC and targeted hair wellness products. Here are some quick tips, no matter your hair type.
Avoid overshampooing and heat styling, which can dry out or damage hair.
Take hair supplements; a biotin supplement can be especially helpful.
Eat a well-balanced diet that provides plenty of vitamins and Omega-3s.
Reduce stress.
Stimulate blood flow to the scalp with gentle massage and regular hair brushing.
Introducing the GRO Ageless Collection
New and exciting technology in VEGAMOUR's GRO AGELESS collection, featuring GRO AGELESS Anti-Gray Hair Serum and GRO AGELESS Gray Delay™ Hair Supplement, is offering hope for those who want to control when and how they go gray — naturally. Here's more about these products, which work well when used together.
GRO AGELESS Anti-Gray Hair Serum
GRO AGELESS Anti-Gray Hair Serum is a clean, non-greasy, plant-based serum that has been clinically proven to reduce the appearance of gray hair on new growth while revitalizing color and shine.
This revolutionary serum controls grays naturally with the help of the following ingredients:
Caffeine counteracts damage to hair from oxidative stress and provides nourishment to the hair and scalp.
Peptides boost and renew hair color in new hair growth suffering from oxidative stress.
Vitamins B3, B5, B6 and E help reduce the appearance of graying hair.
Fo-Ti provides nourishment to the scalp and hair follicles.
Glycoproteins enhance shine and banish grays in a non-damaging way.
GRO AGELESS Gray Delay™ Hair Supplement
GRO AGELESS Gray Delay™ Hair Supplement is designed to delay gray hair naturally and deliver a collagen-rich shine. It also supports healthy hair roots and thickness, reduces shedding, diminishes stress and supports healthy sleep.
This daily supplement contains the following ingredients:
Vitamin Blend of B6, B12, folic acid and PABA, plus minerals (iron and zinc), help to prevent premature graying.
Selenium, Copper, Keranat™Antioxidants and minerals combat free radicals, support hair health and help reduce shedding.
GABA, L-Thealine, Venetron®and 5-HTP are botanicals known to help alleviate stress, encourage sleep, and increase serotonin production.
Styling Tips to Handle Textural Changes
Aging hair might also go through texture changes that make it more brittle or prone to breakage. To help improve the look and feel of your hair and reduce breakage, follow these hair care tips:
Keep the hair well-hydrated with humectants or deep conditioning treatments. Also, drink lots of water.
Avoid using gels and hair sprays that contain drying alcohols and can harden on the hair.
Avoid using hot tools which can singe the outer layer of the hair and encourage breakage.
Don't overwash your hair.
Use a daily hair serum and a regular hair mask to restore your hair's healthy appearance.
Avoid tight hairstyles.
Get regular hair trims to avoid split ends.
Have Healthy Hair at Any Age
No matter what your age, your hair can be radiant and lovely, and it can grow better. Eat a healthy diet, stay hydrated, take care of your body and mind and manage your stress. Also, think about swapping out your hair products for ones that better serve the needs of your aging hair and scalp. VEGAMOUR GRO AGELESS hair products are vegan, toxin-free and clinically proven to target the needs of your aging hair and provide unmatchable results you'll love! Try them, and see for yourself!
More From VEGAMOUR
Photo credit: Nati/Pexels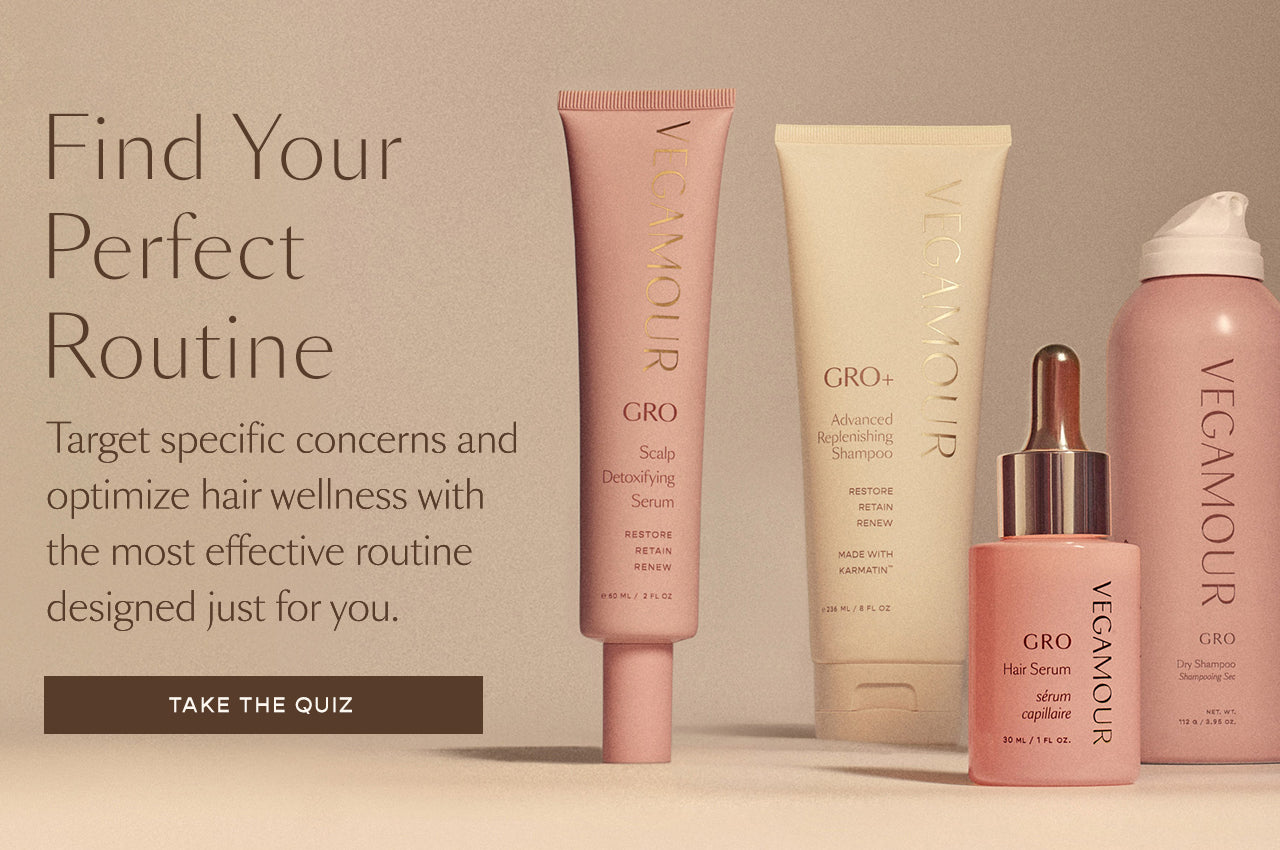 Disclaimer: Information in this article is intended for general informational and entertainment purposes only. It is not intended to constitute medical advice, diagnosis, or treatment. Always seek professional medical advice from your physician.