Can Hair Dye Cause Hair Loss?
Whether you're seeing your colorist regularly or using DIY hair dye, the coloring process can be harsh on your hair. You might've even noticed stray strands in the shower drain or more hair shedding than before you began coloring it.
Are you curious if hair dye could be causing more damage than good — and if your beloved color is connected to hair loss? Read on for expert advice on how hair dye products impact your hair, along with what you can do about it. Plus, discover which products you should be using to keep your hair feeling and looking healthy, strong and vibrant.
Are Hair Dye and Hair Loss Related?
Understandably, experiencing any thinning hair can sound your internal alarm, especially when you have color-treated hair. Yet, there's good news: Hair dye likely will not cause permanent hair loss or other forms of alopecia. In fact, significant hair loss resulting from the coloring process is rare, according to experts.
"It is highly unlikely that people would experience significant hair loss from coloring their hair," said Dr. Gary Goldenberg, a board-certified dermatologist.
Read: How Often Can You Dye Your Hair?
How Hair Dye Might Impact Your Hair
While hair loss isn't a "mane" concern, there are other potential pitfalls that can happen when using hair dyes. Both semi-permanent color and permanent hair color alter the state of the hair cortex, possibly stripping its protective layer. In turn, damage to the hair shaft can also create added stress in otherwise healthy hair, interfering with how hair grows.
Color is a chemical process, meaning it might also lead to additional unwanted effects, including:
Skin or scalp irritation
Broken hair, split ends or other hair breakage and damage
Damage to hair follicles and hair shafts, hindering the hair growth phase
Hair cuticle disruption or stalling the hair growth cycle
An acute allergic reaction or an increased risk of developing allergies over time
Related: Hair Shedding vs. Hair Loss — How to Tell the Difference?
The Color Process Explained
Still contemplating a color change? The dyeing procedure comes in a variety of formats, depending on what exactly you're going for, along with the type of color treatments being utilized.
Here are a few things to remember when swapping out your natural hair color for another hue:
Let your natural color be your guide: Your natural hair color will affect how permanent hair dyes and semi-permanent colors turn out.
Application matters: Non-permanent color coats each strand with color, while permanent color penetrates each hair cuticle, enters the hair cortex and bonds with hair.
All hair color is temporary: Non-permanent hair color can eventually be shampooed out over time, while permanent color stays put. However, as hair constantly grows, the color will ultimately grow out.
The difference between keratin and melanin: Keratin is the protein that makes up your hair, skin and nails, while melanin is the natural pigment that gives your hair its unique color. Other factors such as stress or aging can also alter your hair.
"The coloring of hair is related to the melanin in your body," said Carrie Capalbo, hairstylist at Salon YOSHIKO. "As you age, your hair can change its texture, its color and even its shedding patterns."
Help support aging hair by delaying graying with VEGAMOUR's GRO AGELESS Collection. Combine the nutrient-rich supplement with the nourishing serum to help reduce the appearance of grays on new hair growth. 
Color Cues: What to Watch For When Coloring Your Hair
If you do opt to continue with color, there are things to consider when caring for your hair pre- and post-dye. Taking the right prep steps and practicing proper aftercare will keep your hair and new hue fresh, strong and in optimal shape. Keep your color without compromising your hair's integrity by paying attention to the following signs and suggestions.
Color Cue #1: Scalp and tress stress
Damage-wise, you might want to prepare yourself for the potential of increased breakage, fall out, scalp irritation and inflammation, or even some degree of temporary, stress-related hair loss (also known as telogen effluvium). Luckily, this should resolve itself with time or when the stressor is removed.
Color Cue #2: Stay aware of allergic reactions
According to Dr. Goldenberg, there's "absolutely" a chance that you could develop an allergy or have an allergic reaction to certain compounds found in hair dyes.
"Many patients can become allergic to hair dye," said Dr. Goldenberg. "A specific ingredient called paraphenylenediamine (PPD) is found in some hair dyes and is a common allergen. Even the slightest bit can cause irritation, itching, redness and even scalp scarring if severe. Hair thinning and some loss can happen as well."
Read: How to Transition to Gray Hair With Highlights
Color Cue #3: Be cautious with bleach
For those with a darker natural color, bleaching or lightening often requires pigment to be left on for longer. Brunettes looking to lighten up might need multiple applications of lightening products containing bleaching agents such as ammonia and hydrogen peroxide.
These chemicals can strip strands, opening up the inner layer, middle layer and outer layer, making hair all the more vulnerable. The weakened state of the innermost layer might also lead to increased hair breakage or damage.
"Bleached hair is also extremely harsh and drying to the hair," said Georges Rues, colorist at Salon YOSKHIKO. "Use a leave-in conditioner or a hair oil before styling to keep hair healthy and the color vibrant." 
Read: How to Prepare Hair for Bleaching
Color Cue #4: Choose color-safe shampoo & conditioner
Lather, rinse and repeat! Proper care for colored hair starts in the shower. Opt for a shampoo and conditioner with naturally hydrating, color-safe, clean ingredients, like VEGAMOUR's GRO Revitalizing Shampoo and Conditioner. The pair is a vegan-friendly alternative to keratin, leaving hair smooth as silk. Both formulas are powered by Karmatin™, including micro-encapsulated vegan b-silk™ protein, which bonds to and remains attached to your hair even after rinsing. Your hair will be silky-soft, radiant, stronger and more vibrant, lasting until the next time you wash your hair.
Color Cue #5: Prevent dye damage before it starts
The best advice: Derail damage before it even begins! Ensure your hair is healthy enough to withstand color processing before reaching for that hair dye. Then, assess your hair habits and adjust your care routine accordingly to match the needs of your hair color, type and texture.
Find Out: Does Hair Dye Expire?
Take a Proactive Approach to Hair Loss Through Holistic Hair Wellness
Yes, you can have beautiful, vibrant color without sacrificing your hair health! Implement these expert ideas and utilize natural products designed with the wellness of your hair and its color in mind and watch your hair look its vibrant, healthy best!
More From VEGAMOUR
Photo credit: Maria Geller/Pexels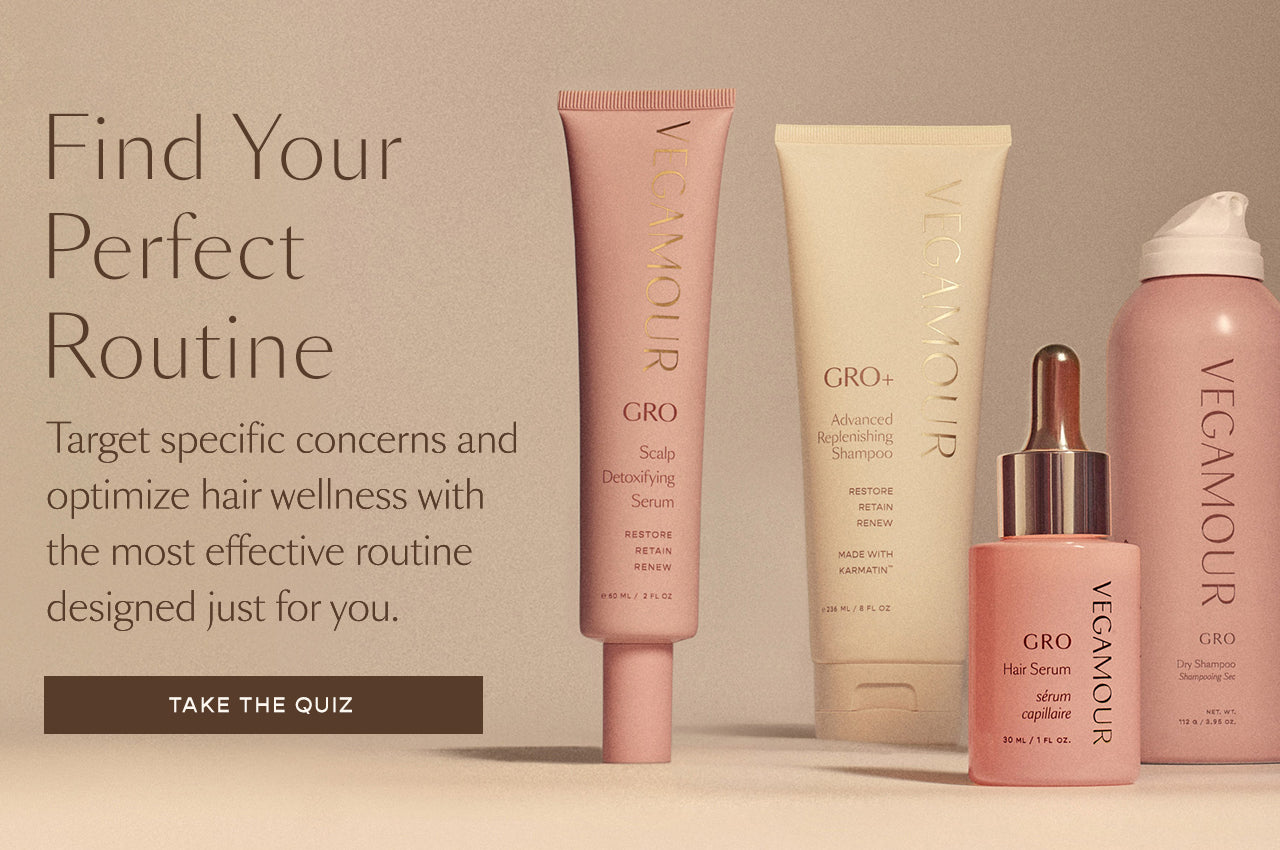 Disclaimer: Information in this article is intended for general informational and entertainment purposes only. It is not intended to constitute medical advice, diagnosis, or treatment. Always seek professional medical advice from your physician.