How Often Can You Dye Your Hair?
If you've neglected to see your colorist for a few months, those grown-out roots may be getting to you. While your peek-a-boo roots are likely your "mane" concern, you may have noticed that your hair feels the healthiest it has in years, courtesy of missing out on dyeing sessions.
So, now you're left wondering, how often is it actually safe to color your hair? Here, VEGAeMOUR spoke with experts to find out how to make a color change without compromising hair health. Integrate this expert advice into your hair care routine for stronger and more vibrant strands. Plus, learn more about the products you should use to amp up your hair health.
How Often Should You Color Your Hair?
First, consider the type — rather than timing — of hair dye being used. While there can be too much of a good thing when it comes to coloring your hair, the dye is far more important than the time in between applications.
"You can dye your hair darker and/or refresh it as often as you like; as long as you are using demi or a semi-permanent hair color, no damage will occur to your hair," said Michael Duenas, celebrity hairstylist. "While using a permanent color typically does not damage, over time, ammonia can weaken the cuticle of your hair and cause color loss. If used repeatedly too often in the same area, hair will also get gradually darker from too much color deposit. You may also notice the texture changes slightly. So, if you want to dye it often, reach for a semi or demi."
As opposed to permanent color or bleach, these options can protect the integrity of hair; however, how often to wait between color application varies from person to person.
"It all depends on what you're coloring hair with, texture and hair history," said Emily Boulin, hair colorist and Sally Crew Ambassador. "Doing a personal inventory of your own hair, then researching and creating a plan based on that is key for best results. When coloring your hair safely, it's always important to pay attention to any quick or radical changes in temperature or irritation to the scalp. Be sure to do a strand and skin test before applying; read instructions completely beforehand."
Shop: Color-Safe Shampoos & Conditioners
Time Your Hair Color Application Accordingly
"The frequency in which color can safely be done will depend on what type of color your colorist is using," said Lisa Marshall, creative color director at Davide Hair Studio in New York City. "A semi- or demi-permanent color can be done all over for vibrancy and shine every four weeks; lightening services can be done on new growth only every four to 12 weeks. Always see a professional for these services to ensure it is done as thoroughly and as safely as possible."
For those wanting to color more frequently, she recommends utilizing professional-brand hair color products that include:
Conditioning agents
Anti-fade ingredients
Sun and UV protectant
Properly balanced pH levels
If color or hair loss is a concern, begin by building a healthy hair foundation with the Good to GRO Kit. It includes GRO Scalp Detoxifying Serum to soothe scalp damage and remove scalp buildup, impurities and dirt. Its semi-permeable barrier locks in moisture, creating the ideal environment for GRO Hair Serum to penetrate the scalp, help inhibit DHT production, extend the hair life cycle and protect and strengthen roots. The kit has shown an increase in hair density up to 50% while reducing loss from combing and washing by up to 76% in as quick as four months. 
Read: Thinking of Going from Brunette to Blonde?
Hair Color Cues: Do's and Don'ts
"If you're trying to lift your hair too light or using too high of a strength of developer, this will cause hair to feel damaged and/or gummy, as the cuticle can get "blown out" (will not close back down)," said Duenas. "Semi and demi are typically much healthier for hair and contain more conditioning agents than permanent color. Semi lives on top of the cuticle, and demi lives between the cuticle and the surface, so ammonia is not necessary."
These do's and don't can keep color on track without compromising hair health.
Do: Keep an eye on the timer. Overlapping color can have a darker effect than anticipated if left on for too long. 
Don't: Try not to overlap old and new color. Depending on the color used, be careful with application; avoid getting it on your skin as it can stain easily. Overlapping lighteners over previously lightened hair can cause damage and breakage.
Do: Prime hair before coloring to even out the porosity in hair, smooth the cuticle, enhance shine and help color last longer.
Don't: Forget to use a post-color protectant. "This will help neutralize any residual peroxide left after rinsing, close the hair cuticle and restore hair to its natural pH — all in all, making color last much longer," said Duenas.
Do: If you have a sensitive scalp, try to avoid full scalp application.
Add silicone scalp massager into your hair care routine to stimulate and boost scalp health. This hand-held massager is ideal for any hair type or style; it can be used on a dry scalp or paired with products.
Read: The 5 Benefits of Scalp Massage (Including Hair Growth!)
How To Protect Hair When Coloring
It's important to take steps to protect your hair when coloring. To that end, here's some helpful insight from the experts.
Use the Proper Developer for Your Hair
According to Duenas, the proper developer will go a long way in preventing unnecessary strain on your hair. Steer clear of harsher processes, such as bleaching, to further minimize hair damage or breakage.
"If available, use a demi or semi-permanent color to help condition the hair and make it softer," said Duenas. "If you are lightening, it is important to keep the bonds intact, especially if you have porous hair — this is essential. Porous hair tends to absorb more color, looking darker, but then will fade faster due to holes in the hair."
Also: How to Make Your Hair Color Last Longer
Only Allow a Trusted Professional to Color Your Hair
Protect your hair by picking a pro you trust. Marshall's advice is to head to a salon and heed your colorist's advice that is curated for your hair's specific needs.
"The best way to minimize damage is to get your services done by a professional," said Marshall. Each formula a colorist uses is customized to your individual needs. Improper formulation and application are the biggest culprits of damaged hair. Semi-permanent [color] will feel softer and look shinier because it is acidic based, which levels the pH in your hair, sealing the cuticle down. Permanent is alkaline, which opens up the cuticle. I always recommend using demi only on the ends of the hair. It will appear healthier and shinier. Hair is the hat you never take off, so treat it with care!"
Related: Can Hard Water in Your Shower Head to Hair Loss?
Prep, Prime and Protect Colored Hair With Products
Once you've invested in color, use high-quality products to maintain hair health. Choose wisely; pick hair products that suit the unique needs of your hair. Use a cleanser that won't strip strands of color by taking note of which shampoo ingredients to avoid.
"Always use what your stylist recommends," said Marshall. "They know best! Most lightening services require moisture and repair products, while most other services require color-preserving shampoo and conditioner."
Here are some additional tips to help keep your color-treated tresses in tip-top shape:
Use a deep-conditioning hair gloss after color treatments to seal in the shade as well as the shine.
Keep color consistent by skipping the daily hair wash. Instead, use GRO Dry Shampoo on in-between days to cleanse as it promotes healthy hair growth.
When heat styling, always use a heat protectant; you can also use a root spray if you want to touch up areas around the crown.
To enhance overall fullness, apply GRO Hair Foam on damp hair.
By making these color cues a part of your regular hair wellness routine, you'll transform your tresses into strong, radiant, lush locks you'll want to showcase.
More From VEGAMOUR
Photo credit: FotoDuets/iStock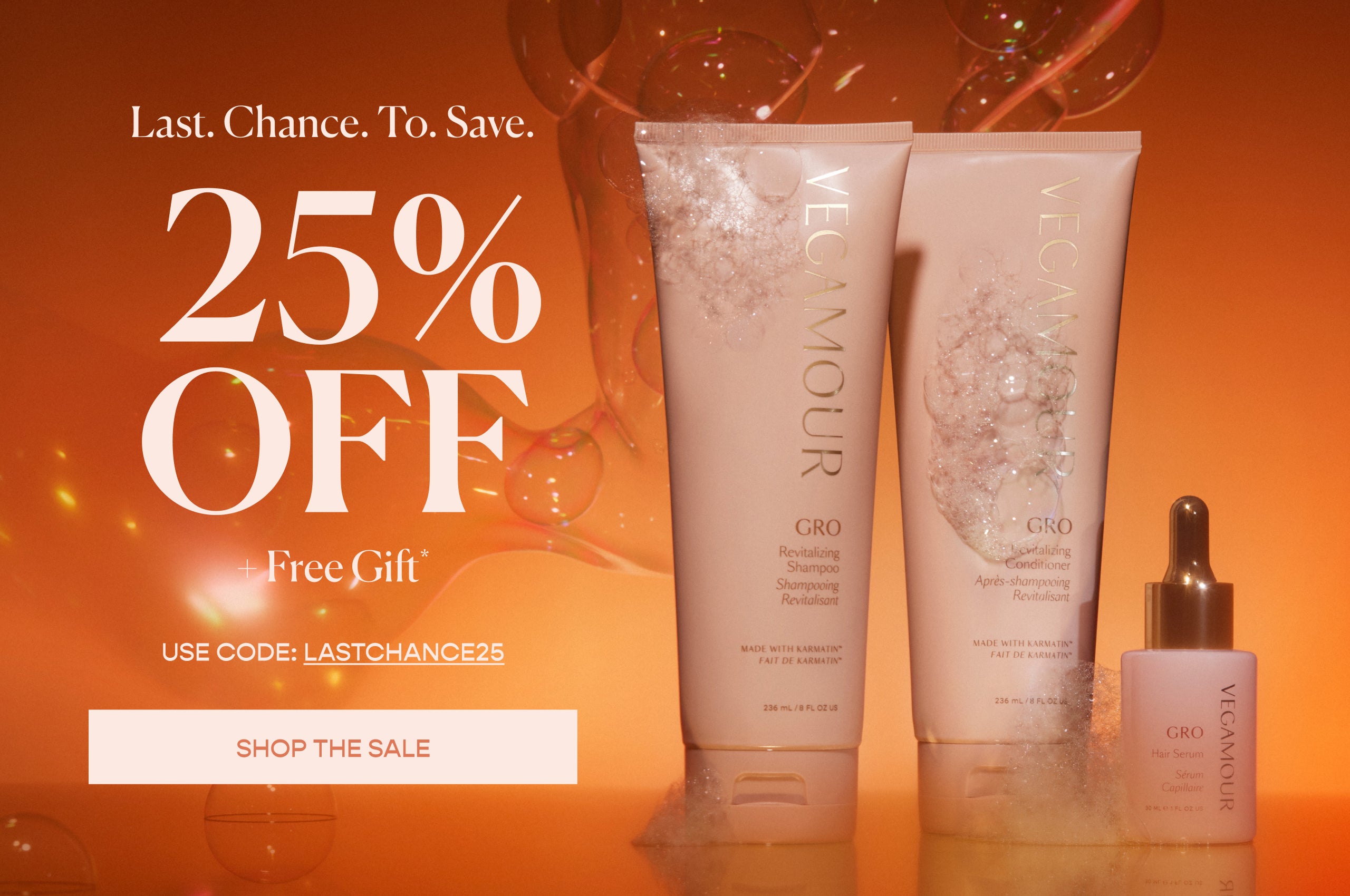 Disclaimer: Information in this article is intended for general informational and entertainment purposes only. It is not intended to constitute medical advice, diagnosis, or treatment. Always seek professional medical advice from your physician.