7 Benefits of Cayenne Pepper Fruit Extract for Hair
If you've ever drizzled hot sauce on a burrito or walked through a grocery store spice aisle, chances are you've come across cayenne pepper at some point. You might not have thought to add it to your hair care routine, but emerging research shows that cayenne pepper fruit extract has the potential to provide health benefits that can soothe skin, encourage healthy hair follicles and stimulate hair growth.
Keep reading to learn how to spice up your daily self-care routine with cayenne pepper far beyond the kitchen. Plus, find the right supplements you should be using for optimum hair wellness.
Why Cayenne Pepper?
It might not seem intuitive that cayenne pepper would have anything to do with hair growth—when you think of cayenne, you probably think of hot sauce or the jars of powdered spice you'll find in the grocery store. And you're not wrong: cayenne pepper is a type of chili (it's the fruit of the plant Capsicum annum), and it gets its signature heat thanks to a chemical compound called capsaicin.
While limited clinical research exists on whether cayenne pepper can address autoimmune hair loss issues, such as alopecia, capsaicin has been linked to an array of benefits that may help address other causes of hair loss. Among other things, capsaicin may:
Read: A Nutritionist's 6 Hair Wellness Habits That Start in the Kitchen
How Can Cayenne Pepper Support Hair Health?
So, what does all this have to do with hair? VEGAMOUR spoke to the experts to reveal how cayenne pepper fruit extract might play a part in hair and scalp health.
1. Cayenne Pepper Is a Multitasking Healer
The active ingredient in cayenne pepper fruit extract—again, that's capsaicin—has multiple healing properties and has been used in recent years as a hair loss treatment.
"Due to [its] active ingredient, capsaicin, cayenne red pepper may have anti-inflammatory benefits. It has also been used to help relieve neuropathic pain," nutritionist Dr. Kelly Ann Petrucci told VEGAMOUR.
But that's not all—Dr. Petrucci also added that "cayenne pepper can support healthy circulation and even ease digestion."
So what else can cayenne pepper do? Keep reading to learn more about its benefits for hair and body health and wellness in detail.
Shop: Total Body Wellness Collection
2. It Kickstarts Digestive Function & Gut Health
It's no secret that your microbiome impacts your body across the board, and studies have drawn a connection between hair loss (including alopecia) and gut health. Since cayenne pepper supports digestion, it may thereby serve a purpose in hair health.
"[Capsaicin supports] increases in the production of digestive fluid by sending enzymes to the stomach [to] aid in digestion, which results in providing extra protection to the stomach against infections," said Wendy Jules, RN, BSN and Carla Nelson, RN, LE, cofounders of Fleur De Lis Beauty & Esthetics.
3. It Acts As an Anti-Inflammatory
While some inflammation is a normal part of the body's self-healing process, inflammation can also damage hair follicles and inhibit hair growth (and even exacerbate hair loss). Luckily, cayenne can play a supportive role here as well.
"The capsaicin compound in cayenne pepper contributes [to] neuron stimulation, [which] reduces inflammation, stimulating hair growth and healing," said Sarah Koszyk, MA, RDN, leading registered dietitian nutritionist and chief formulator at MIJA. "[This] may indicate that it's good for increasing new hair density."
Related: Foods & Eating Habits That Can Contribute to Hair Loss
4. It Can Improve Circulation
Healthy hair follicles and hair growth begin at the scalp, making healthy circulation key to minimizing hair loss. Cayenne pepper fruit extract can play a part here as well.
"Cayenne pepper stimulates blood circulation," Koszyk said. "Improved blood circulation can nourish the scalp while stimulating the hair follicle."
Preliminary research has shown that scalp massages can improve blood flow to the scalp, supporting hair growth. To boost your own circulation, try a scalp massage with the GRO Revitalizing Scalp Massager, promoting more blood flow and oxygen to the hair follicles.
Learn more: The 5 Benefits of a Scalp Massage (including Hair Growth!)
5. It's Heart-Healthy
Part of supporting healthy hair is ensuring whole-body health, including heart health—and research shows that the natural properties of cayenne pepper can provides benefits in this arena.
"Cayenne pepper fruit extract exerts several beneficial effects on the cardiovascular system," said Dr. Michael T. Murray, chief scientific officer at iHerb and author of The Encyclopedia of Natural Medicine. "Cultures consuming large amounts of cayenne pepper have much lower rates of cardiovascular disease."
Why is this important? Because cardiovascular disease has been linked to hair loss.
And capsaicin can also address the potential root causes of heart health issues: "[It] has shown the capability to help to reduce high blood pressure, which [in turn] reduces the risk of developing heart disease," said Jules and Nelson of Fleur De Lis.
Similarly, "cayenne pepper reduces the likelihood of developing atherosclerosis [plaque-clogged arteries] by lowering blood cholesterol and triglyceride levels," Dr. Murray said. "[This] reduces the possibility of blood clot formation [which could lead] to a stroke or heart attack."
6. It's Rich in Antioxidants
Most of us know that antioxidants are good for us. But research has also indicated that in some cases, applying antioxidants to the scalp prevents hair shedding. Capsaicin pepper—no surprise here—is a powerful antioxidant. This may explain the recent trend of creating a hair mask with cayenne and olive oil.
But before you go rushing to your spice cabinet to pour powdered cayenne pepper on your head, consider choosing an immunity-boosting probiotic that makes use of cayenne pepper fruit extract. For an extra boost, pair it with vitamin-packed GRO Biotin Gummies, which contain biotin, folic acid, zinc, and vitamins A, B, C and E. Or, opt for GRO+ Advanced Gummies with added hemp oil for healing.
7. It Can Reduce Pain to Soothe Skin & Scalp Irritation
When you think of cayenne, "pain relief" might not seem like an intuitive connection. But surprisingly, capsaicin can over time help reduce pain signals sent by the body. It can even be applied as a topical cream for minor pain relief. In short: if your scalp is stressed, cayenne can help.
"Products with capsaicin may offer significant benefits in several conditions, including ... pain. When topically applied, capsaicin stimulates and then blocks small-diameter pain fibers," Dr. Murray explained. What that means is that capsaicin might make pain feel more intense at first, but pain will decrease after continued use.
"In addition, capsaicin may be helpful in psoriasis," Murray added. Psoriasis can occur anywhere on the body, but when it happens on the scalp, it can be particularly itchy and bothersome. If that discomfort triggers excess scratching, it can even exacerbate hair loss issues, according to the American Academy of Dermatology Association.
If you find yourself tempted by the thought of itching your scalp, capsaicin could help — but you might also benefit from a clarifying application of GRO Scalp Detoxifying Serum. The plant-based formula removes even the most stubborn scalp buildup and soothes irritation and inflammation, making use of baobab and marula tree oils for additional antioxidant support, as well as omega-6 and -9 fatty acids to moisturize and prevent damage.
Spice Up Your Hair Health
When it comes to hair, information is always progressing, but cayenne pepper fruit extract is here to stay as an exciting new evolution in hair growth and hair loss prevention. However your own hair care routine evolves over time, you can stay up to date with the VEGAMOUR blog for the latest in hair care innovation.
More From VEGAMOUR
Photo credit: Tamanna Rumee/Pexels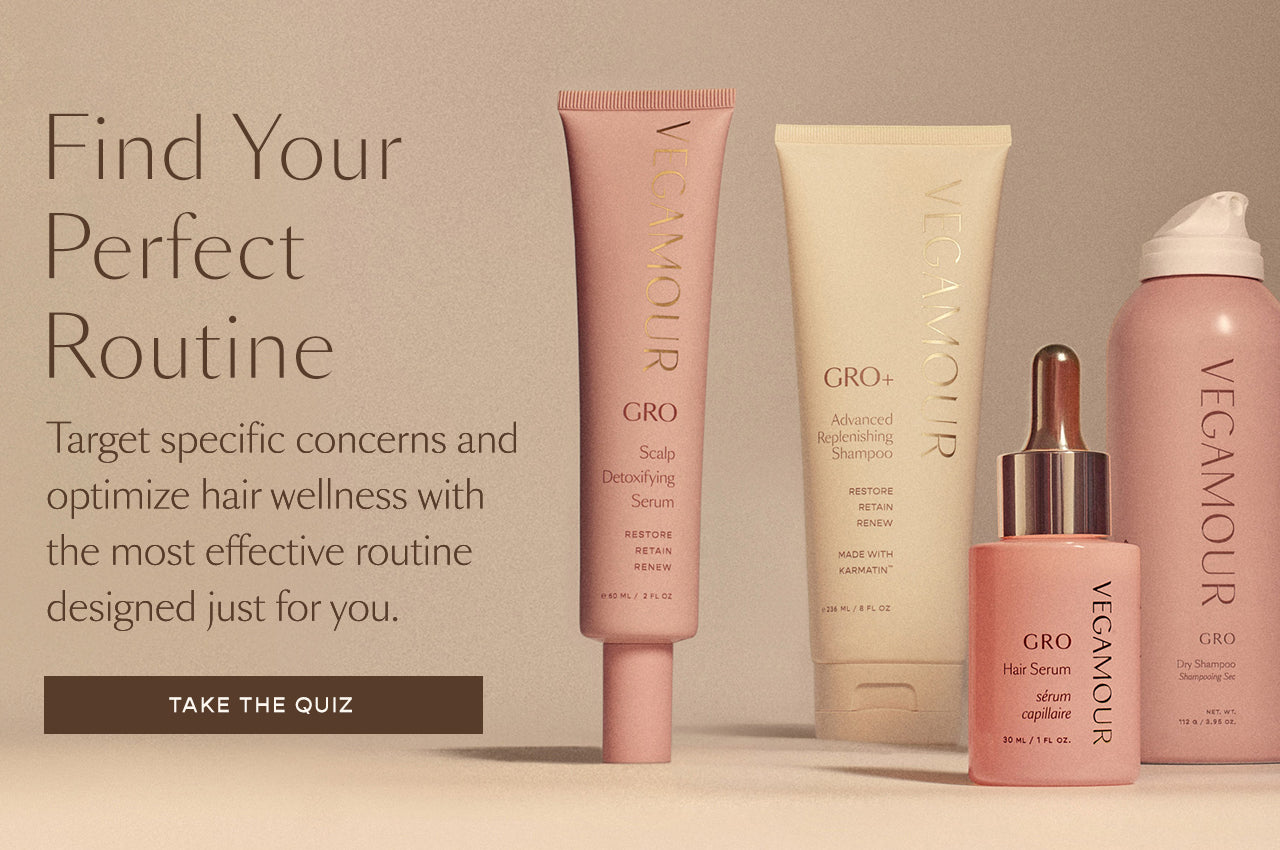 Disclaimer: Information in this article is intended for general informational and entertainment purposes only. It is not intended to constitute medical advice, diagnosis, or treatment. Always seek professional medical advice from your physician.