Does Onion Juice Really Help With Hair Growth?
If you suffer from hair loss, you're likely no stranger to the many DIY remedies out there to encourage hair growth and minimize hair thinning. But do they work?
Unlike medical treatments that undergo extensive research and testing, the research in support of natural remedies can be sparse with most information coming from individuals with anecdotal evidence. If you think natural hair remedies could work for you, the good news is they have minimal side effects and are often far less costly than medical treatments.
Find out if a natural home remedy, like using onion juice for hair growth, is worth a try. Plus, learn more about the products you should actually use to encourage thicker, fuller looking hair (that actually smell good). 
The Benefits of Onion Juice for Hair Growth
Onions offer a wide spectrum of health benefits. They contain sulfur compounds and flavonoids. The flavonoids, namely quercetin, exhibit anti-inflammatory, antioxidant, antibacterial and antifungal, properties among other medicinal benefits.
Why does this matter? San Francisco hairstylist Brooke Shaw said that the sulfur content of onions improves blood circulation in the scalp. Plus, keratin (the main protein in hair) contains sulfur. "On top of that," she says, "thanks to its antibacterial properties, onion juice fights scalp infections that cause hair loss."
Seasoned hairdresser Essie Button adds, "When applied to your hair and scalp, [onion juice] is in effect treating any bacteria there may be present and boosting blood supply to your scalp and hair follicles." This creates better conditions for your hair to grow.
Other Natural Options for Thicker, Fuller Looking Hair
If making a hair mask from onion juice sounds like far too much fuss, remember there are other natural remedies to promote thicker, fuller looking hair.
Related: GRO Vs. GRO+ Advanced — Which VEGAMOUR Product Is Right for You?
Plant-Based Hair Serum
Looking for an effective product that is plant based? Check out GRO Hair Serum, which encourages thicker, fuller looking hair naturally. It's a 100% vegan and cruelty-free hair serum that is applied daily for visible results in as soon as 90 days.
Rheonna uses GRO Hair Serum 3-Pack and GRO Revitalizing Shampoo & Conditioner. 
VEGAMOUR hair serums are available in two options:
Apple Cider Vinegar
Maybe an all-natural, affordable treatment you can find in your kitchen sounds great, but the prep time isn't your thing. Try apple cider vinegar. It fights bacteria, exfoliates and balances the pH level on your scalp, which can set up conditions to stimulate hair growth. Plus, it's ready to apply. Just use one or two tablespoons as a hair rinse after washing with shampoo.
Read: What Are the Benefits of Washing Your Hair With Beer?
Plant-Based Hair Foam
If application is your concern, try GRO Hair Foam. The plant-based formula applies easily to cover the scalp, so it can go to work. This multipurpose foam boosts volume and visibly increases hair density for longer-looking strands.
Related: Take the VEGAMOUR Quiz
How To Make Onion Juice for Hair Growth
There are a few ways to make onion juice ready for your hair and scalp. Use onion juice straight from the bulb or create a mixture with olive oil, castor oil or coconut oil. Then try your treatment daily for the best results.
Go Raw: Lady Alopecia recommends cutting a red onion in half. (Red onions have more flavanols than white onions, so they are the preferred variety to boost hair growth.) Rub the onion on bald patches for up to a minute, then gently massage the scalp with your hands for another minute. If you can, leave the residue on your scalp overnight. Then rinse with cool water in the morning.
Blend It: Pop a couple of red onions in the blender, then strain out the juice. You can use cotton wool to apply the juice to the scalp. Again, it's best to leave onion juice on the scalp overnight but aim for a minimum of 30 minutes. Afterward, wash your hair with a mild shampoo.
Mix It Up: To combat the smell, you can combine onion juice with other oils you may already have in your kitchen, like coconut oil, olive oil or castor oil. Lady Alopecia points out that diluting the onion juice with a carrier oil will make it less sticky and improve the smell. Win, win! You can even incorporate additional ingredients, like tea tree oil, to fight off other hair problems and combat dandruff. Recipes and treatment times vary, so you may need to experiment to find the perfect mixture for you.
No matter what approach you choose, the pros recommend wearing a shower cap, especially if you leave the treatment in overnight. This will help the mixture do its work for skin cells and keep the onion juice off your pillow.
Related: Does Rice Water Really Help With Hair Growth?
Should I Use Onion Juice on My Hair for Growth?
As mentioned, there's limited research on the benefits of using onion juice for natural hair growth. However, that hasn't prevented hair experts from adding this ingredient to their hair care routines. And their results have been encouraging.
Lady Alopecia shared her personal experience with using the natural alternative for hair growth. "I found onion juice to be extremely effective, and fast too! After just a couple days of rubbing half a fresh onion on my bald patches, I noticed redness and tingling on the area — the blood circulation increasing." Two weeks later, she saw vellus hairs growing for the first time in years!
The best part? Onion juice didn't cause the bad reactions that came along with other treatments, like injections and steroid creams. And no drug interactions have been documented either. What's more, it's easy to use and costs less than an over-the-counter topical treatment.
If you want to know for sure if onion juice will boost hair growth, try it for yourself.
Learn: How Much Hair Loss Is Considered Normal?
Using Onion Juice to Treat Alopecia Areata
Alopecia areata is an autoimmune skin disease that affects 6.8 million people in the U.S. alone, according to the National Alopecia Areata Foundation. The condition causes the immune system to attack healthy hair follicles. This makes them smaller than normal and can cause hair growth to slow down or stop altogether. Most commonly, the condition makes hair fall out in patches on the scalp, face or other parts of the body.
Even though there isn't a cure for alopecia areata, there is hope. AA is a non-scarring type of hair loss, meaning hair follicles remain alive and able to grow hair, even if they're not currently doing so. And patients can try different treatments to encourage hair to regrow.
One study in the early 2000s tested the use of crude onion juice to do just that. Researchers instructed participants with alopecia areata to apply onion juice to the scalp two times a day for two months. After two weeks, patients began to see results. Nearly 74% of participants reported hair regrowth after four weeks, and nearly 87% saw regrowth in six weeks. Therefore, researchers concluded that the topical application of crude onion juice onto your scalp was an effective therapy for patchy alopecia areata.
One important discovery to note: the study found this treatment to be more effective for men than women, with nearly 94% of male participants seeing hair regrowth compared to only 71% of women.
See: Why You Need a Daily Biotin Supplement
Are There Downsides to Using Onion Juice for Hair Growth?
First, if you have an onion allergy, do not use this treatment. While natural treatments do not come with the sometimes scary reactions of prescription medications, you can still have allergic reactions to them. If you cannot eat onions without an allergic reaction, do not apply them to your scalp. Also, if you have sensitive skin, onion juice might cause irritation. Proceed with caution.
Second, be sure to avoid contact with your eyes. Onions contain an enzyme called alliinase, which is the thing that makes you tear up when you cut them. Getting onion juice in your eyes can (as far too many of us know) cause itching and burning. Apply with care.
Now, for the big one: smell. Onions smell great in cooking but aren't really something people desire when comes to hair and body applications. Fortunately, hair experts have found ways to make onion juice smell more like shampoo — or at least less like onion. If you want to enjoy all the anti-inflammatory properties and other health benefits of onion juice without the undesirable scent, try one of these tips.
Mix the onion juice with a few drops of lemon.
Add two drops of an essential oil to the mixture before you apply it.
After your treatment, wash your hair (or do a double hair wash) with a mild shampoo, then follow it up with a rinse of vinegar and water if the onion smell lingers.
Read This: 16 Best Foods to Grow Your Healthiest Hair Ever
Get Growing
Whichever approach you choose to help hair grow, make sure to consider your overall hair health. You don't have to compromise your hair with harsh treatments. By using natural treatments, you can address hair problems — from dandruff to pattern baldness — and minimize negative effects along the way. Whether you use onion juice or another natural remedy, treat your tresses with the care they — and you — deserve.
More From VEGAMOUR
Photo credit: K8/Unsplash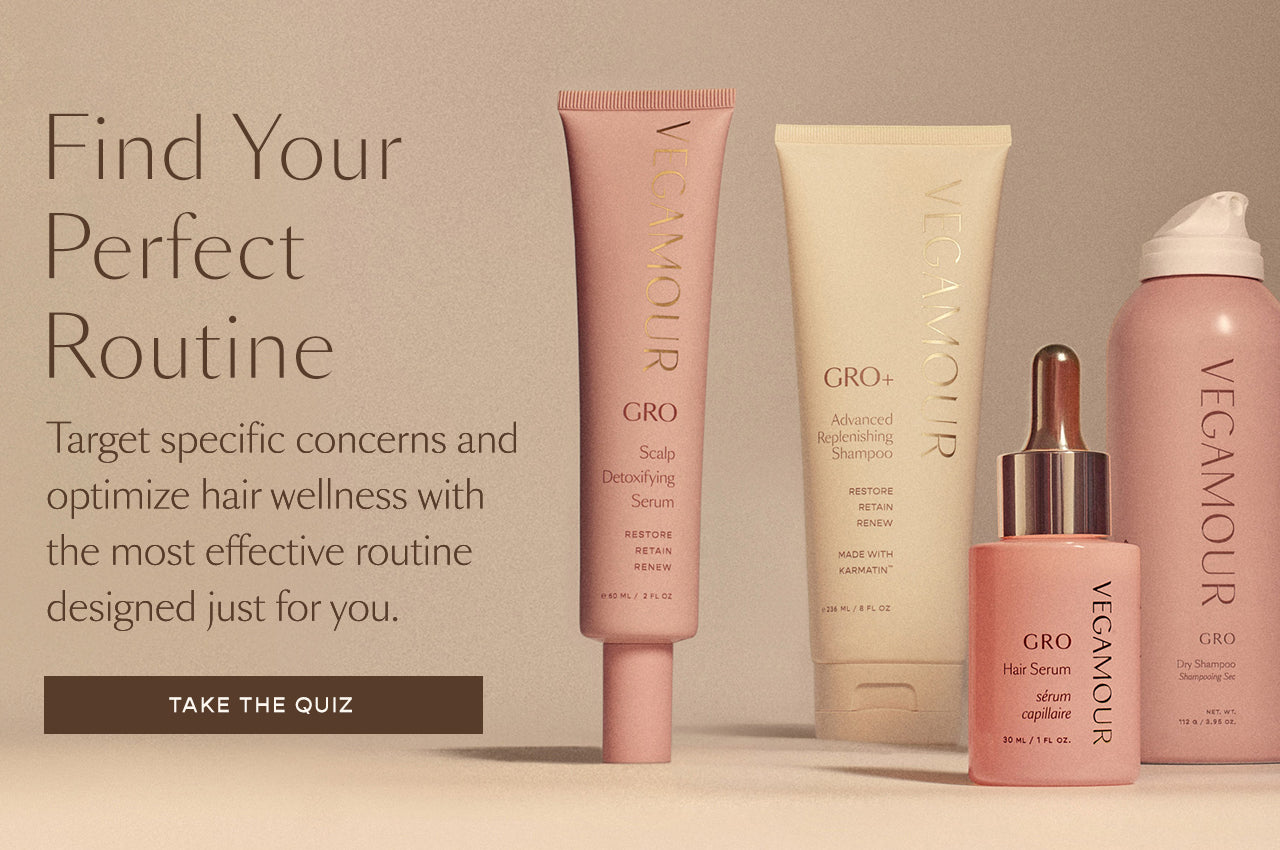 Disclaimer: Information in this article is intended for general informational and entertainment purposes only. It is not intended to constitute medical advice, diagnosis, or treatment. Always seek professional medical advice from your physician.