4 "Clean Girl Aesthetic" Hairstyles Trending Right Now
Scrolling through TikTok offers plenty of hair and makeup inspiration. If looking effortlessly chic and practicing self-care are your vibe, then you're in luck. The "clean girl" aesthetic is trending with no signs of slowing down.
So, what exactly does the trend look like? Less is more. Think pretty, natural, minimalist and streamlined. Read on to find out more about the "clean girl" aesthetic. Plus, discover which clean girl-approved and completely natural hair wellness products you should start using right now!
The "Clean Girl" Aesthetic
You've more than likely seen the "clean girl" trend all over your feed. Inspired by the minimalism of the off-duty model aesthetic look of "no makeup" makeup and natural hair, she's put together, polished and ultra-chic — all without effort, as if she just woke up looking perfect.
The "clean girl" trend, however, is about more than just appearance — it's a wellness lifestyle from tress-to-toe. Here, explore the "clean girl" commandments:
Prioritize self-care: The "clean girl" leads an active lifestyle wearing a matching set for her daily movement. She maintains a balanced diet, gets her daily dose of vitamin C, takes supplements on the regular and her home is just as tidy and pulled together as her appearance. 
Minimal makeup: The makeup look is essentially "no makeup" makeup, usually involving dewy skin, flushed cheeks, glossy lips, fluffed upward brows and lengthy, lush lashes.
Skincare is a ritual: Skincare reigns supreme. Seeing as the "clean girl" makeup look is one of minimalism that emphasizes radiant skin, maintaining diligent skincare rituals is a necessity.
Lush lashes and bold brows: Fluffy brows — preferably brushed upward — along with natural-looking, mile-long lush lashes are other elements in the "clean girl" aesthetic. Tame any straw eyebrow hairs using a clear brow gel and nourish brows and lashes using clean, cruelty-free brow and lash serums. 
Pretty neutral: Clean girl nails are sheer, neutral shades that might also be glowy or reflective. The finishing touches to the naturally polished effect are wearing a light, fresh fragrance, dressing in an easy-breezy wardrobe and accessorizing with gold jewelry such as gold hoops and a claw clip.
Natural hair: Finally, when it comes to "clean girl" hair, essential elements include freshly washed and completely natural hair with a no-muss, no-fuss feel.
Read: Is Hair Slugging the Next Big Trend? TikTok Users Think So
Get the Look: 4 "Clean Girl" Hair How-To's
Going natural — or at least looking that way — is the key to achieving "clean girl" hair and beyond! Popular hairstyles include a sleek bun with a center part, slicked-back hair and intentionally undone texture. The most important aspect of the trend? Looking as if you spent no time at all styling!
As an added bonus, the following styles are relatively simple to recreate and might even save you time when getting ready!
1. Sleek Bun With a Center Part
The quintessential "clean girl" style is a sleek bun with a center part. Some might prefer to leave a few wispy strands out to frame the face.
DIY Routine:
Use the tail end of a comb to create a center part.
Smooth back strands from the hairline and gather into a low ponytail at the nape of the neck.
Gently wrap the pony around its base until it becomes a bun and secure in place with a soft fabric scrunchie or pin in place using shade-matching bobby pins for an invisible effect.
Tame any rogue frizz or flyaways using a natural, nourishing hair oil. Try Pure Marula Oil for its multi-tasking trifecta: Use it to control strands, add a glow to your skin and moisturize cuticles.

Shop: GRO Dry Shampoo 3-Pack
2. Perfectly-Imperfect Texture
Opt for the intentionally undone texture effect (like you just rolled out of bed) by pairing back-combing with a mist of a volumizing, texturizing product.
DIY Routine:
"Back-comb sections of hair," said celebrity hairstylist Mirna Jose. "Use a medium hold hair spray or dry shampoo on each section."

Amp up the texture using GRO Dry Shampoo. It does it all: Maximizes volume, enhances texture, encourages a healthier scalp and hair, refreshes and revives strands and absorbs oils and impurities. Plus, its plant-based power works in tandem to help support a healthy hair ecosystem. 

"Use the product both before and after back-combing," said Jose. "This will make sure the hair stays the way you want for a longer period of time."
3. Polished Low Ponytail
Switch things up from the sleek bun with a polished pony worn low, right at the nape of the neck, that radiates glass-like shine.
DIY Routine:
Get the sleek-chic look starting in the shower with GRO Revitalizing Shampoo and Conditioner. The dynamic duo is a vegan-friendly alternative to keratin, leaving hair smooth as silk. Powered by plant-based Karmatin™️ microencapsulated vegan b-SILK™️ protein, which remains attached to strands even after rinsing, your hair will stay polished until your next shampoo. 
Post-shower, either allow hair to air dry or blow it out using a low heat setting.
Next, apply a shine-enhancing hair oil to smooth back strands, gathering into a low pony at the base of the neck.
Secure with a fabric hair tie in the same shade as your hair color. If desired, use the oil to polish the roots and add control.
4. Claw Clip Updo
Get the "clean girl" look by trading a traditional updo for a messy-on-purpose variation secured with a claw clip.
DIY Routine:
Gather your hair as if making a low ponytail.
Wrap your fingers all the way around the ponytail once.
Then, continue twisting until only the ends of your hair are visible from the bottom of the twist.
Secure the twist with your clip.
Tap The Trend With a Holistic Approach
Don't forget to combine these "clean girl" easy hairstyles with a dedicated daily self-care routine! Maintain a healthy, balanced lifestyle that includes a nutrient-rich diet, staying hydrated, daily movement, being mindful, practicing minimalism, prioritizing self-care and using clean products in your hair wellness routine for the ultimate "clean girl" aesthetic.
More From VEGAMOUR
Photo credit: Taylor Heery/Unsplash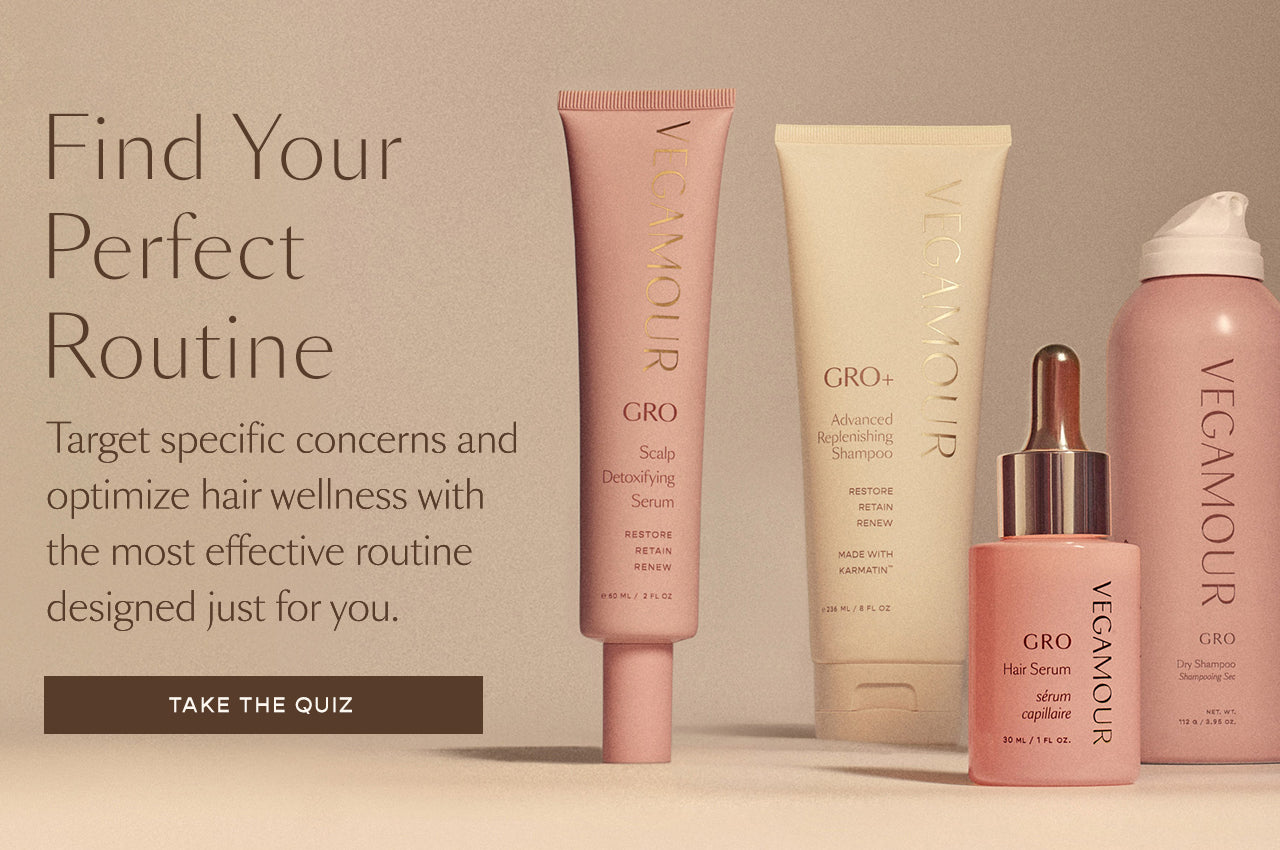 Disclaimer: Information in this article is intended for general informational and entertainment purposes only. It is not intended to constitute medical advice, diagnosis, or treatment. Always seek professional medical advice from your physician.