Did You Know Your Scalp Ages 6x Faster Than Your Face?
These days, it seems like most people have a dedicated skincare routine. Whether you're moisturizing with oils, using infrared lights or are all about the latest K-beauty obsessions, you're likely addressing the visible signs of aging on delicate facial skin by fighting off the wrinkles, crepiness and dark spots that can appear as you age.
But when it comes to anti-aging techniques, it's not all about your face. Just like the rest of your body, your scalp ages, too — and it might need even more TLC than your face does! According to a study by the L'Oreal Professional Academy, your scalp ages up to six times faster than your facial skin. However, most of us aren't doing anything to resist the signs of aging and support our fragile scalps. 
Here's what you need to know about how aging affects the scalp — plus, find out what you can start doing to support your scalp and keep your strands youthful for longer than ever before.
What Causes Scalp Aging?
So why does your scalp age so quickly? Experts say that much of the accelerated aging is due to environmental, health and lifestyle factors.
Lifestyle factors that impact scalp aging include a history of smoking, poor nutrition, exposure to chemicals, elevated stress levels and trauma — all of which can cause increased hair shed and breakage as well as damage to the skin of the scalp itself. 
Additionally, if you struggle with health factors, such as scalp-related inflammation, scalp infections or scalp dryness and dandruff, your scalp may experience advanced aging.
Finally, various environmental factors impact scalp health, including exposure to UV rays. Most people are good about remembering to wear sunscreen to protect their skin — especially sensitive facial areas — but the scalp often goes without any protection.
Aside from the sun, other factors that impact scalp health include overexposure to heat styling and the use of chemical treatments. 
All of these practices have a major impact on your scalp (and hair) health and can trigger an accelerated aging process.
Shop: Shea Whitney's Favorite VEGAMOUR Picks

How Scalp Aging Affects Hair
Our scalp ages quickly, but is that really something to worry about? No one can see your scalp, so why should you care?
To put it simply, scalp aging is a critical concern because scalp health has such a major impact on the health and wellness of your hair itself. As your scalp ages, it loses its ability to effectively retain the proper moisture levels that are necessary for maintaining healthy hair growth, leading to thinning and hair shed. Your scalp produces less sebum, the oily compound that naturally moisturizes and conditions growing strands, leading to itchiness and flakiness.
Aging can also cause the hair follicles themselves to shrink, which makes it harder for hair to grow and can result in thinner, weaker and shorter strands. 
And let's talk color because gray hair is one of the most well-known signs of age — a condition that most people aren't aware is directly linked to the health of the scalp itself. Aging also causes the production of melanin to slow, impacting your hair's ability to retain its natural color and causing premature graying of the strands.
Related: Why Does Hair Turn Gray?
How to Care for Your Scalp
The good news is that there are a few simple steps you can take to more effectively protect your fragile scalp skin from the ravages of time and exposure and also support aging hair.
The first step is sun protection. There are an increasing number of sunscreen brands that make hair and scalp spray; however, if you don't want to use yet another hair product, a hat with built-in SPF protection is a great way to make sure your scalp is protected from damaging rays.
Because diet has such a major impact on scalp health, experts say that one of the best things you can do to keep your scalp healthy is to make sure you're eating a rainbow of healthy fruits and veggies, trying to pack in as many servings as you can every day to make sure your scalp and strands are getting all the good stuff they need to thrive. Additionally, a hair health supplement that's specifically designed to address premature grays can be a gamechanger by delaying gray hair, reducing shedding, providing collagen-rich shine and supporting healthy hair roots and thickness.
Last but not least, adding an anti-gray hair serum designed to support scalp health to your daily routine is one of the best ways to make sure your scalp is getting the anti-aging support it needs and also help keep your strands youthful for longer. This serum, which is packed with hair health-supporting vegan phyto-actives and a vitamin blend, delivers a powerful dose of support to reduce the appearance of gray hair on new growth and renew color and shine. It also soothes the skin and nourishes the scalp. 
A Healthy Scalp Means Healthy Hair
Your scalp may age faster than the skin on your face, but that's no reason for alarm. Just like you protect your face with sunscreen, a healthy diet and a skincare routine, you should do the same to protect your scalp and hair from the visible signs of aging. Doing so will help ensure that your scalp will resist aging too quickly and your hair strands will maintain their color, thickness and shine for as long as possible!
More From VEGAMOUR
Photo credit: Brooke Cagle/Unsplash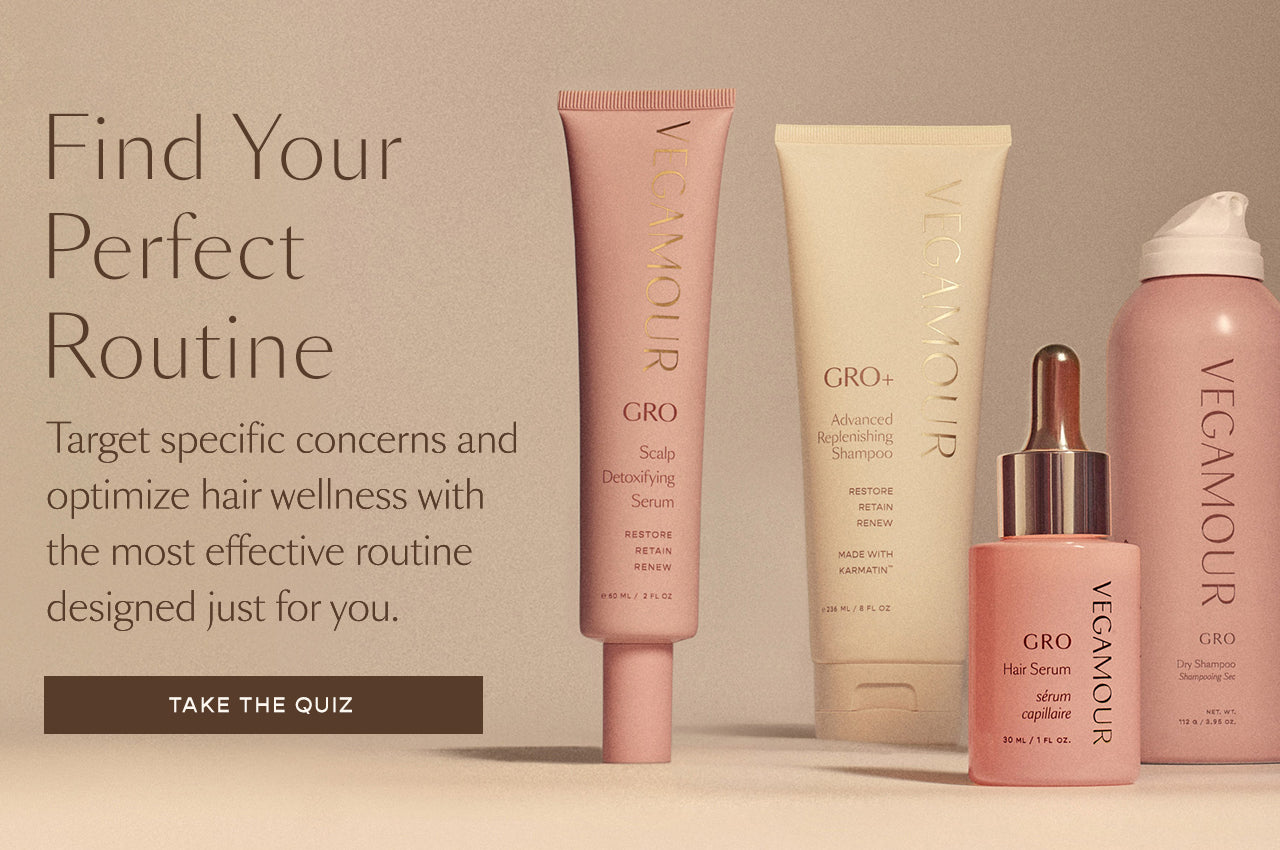 Disclaimer: Information in this article is intended for general informational and entertainment purposes only. It is not intended to constitute medical advice, diagnosis, or treatment. Always seek professional medical advice from your physician.