What Does a Healthy Scalp Look Like?
Scalp health goes far beyond just shampooing and rinsing out the day's pollution and product buildup, and we're here to break down the specifics. Keeping reading to discover what a healthy scalp looks and feels like — and how to care of your own scalp to create a healthy environment to grow healthy hair.
What Does a Healthy Scalp Look and Feel Like?
Photo via phshairscience 
It's very easy to overlook scalp issues, but underneath your tresses, there could be a host of dead skin cells, pollution and product build up. Toby Dash, founder of fivestarskincare.co told Vegamour, "A healthy scalp does not shed flakes when the hair is brushed. It's also well-hydrated and clear of redness and inflammation. The scalp should be free of itchiness and feel smooth and supple." A healthy scalp is also free from pain, sun damage, excessive hair loss and hair thinning.
A huge red flag is if your scalp feels dry to touch. But it's not just a dry, itchy scalp that signals problems. A clogged scalp with extra-oily skin needs some TLC too. 
An irritated scalp can promote dandruff flakes and excess shedding. Some people can experience scalp acne, psoriasis and small bumps throughout the scalp's surface, which requires the examination of a skincare expert. If you're worried about your scalp health and you're noticing a lot of hair loss, always check in with a trichologist and look for products that support scalp and hair health.
It's best not to ignore it if you notice any of these signs, especially if they stick around for a long time. A healthy scalp has natural oil production, meaning it's not too dry and not too oily. A trichologist can check your scalp's pH level, which should be between 4.2 and 6.5. Anything more or less than that can affect the skin's sebum production and trigger either dry or oily hair. 
Also: 6 Ways to Tackle Scalp Buildup
What Causes an Unhealthy Scalp?
Unfortunately, an unhealthy scalp can be triggered by us simply going about our daily routines. Stress, hormonal changes, stress, sweat, a bad diet, a chemical-laden conditioner, stubborn dead skin and general product buildup can quickly trigger issues. If any of these linger around the hair follicles for too long and the scalp isn't kept clear, the follicles can become clogged, which leads to dryness, breakage and, in extreme cases, serious hair loss.
Washing your hair regularly with a shampoo that's free from sulfates, parabens, mineral oil and alcohol is a great start. If you're someone who relies on dry shampoo between washes, use a formula that soaks up natural oils without any irritation-inducing chemicals. GRO Dry Shampoo is a plant-based formula that helps balance the scalp and gives limp weighed-down hair a light, refreshed look and feel. The formula is formulated without talc and the citrus scent leaves locks feeling clean — even on three-day-old hair. 
Step up Your Scalp Care Routine
Anything on your scalp that interferes with your hair follicles will eventually impact the look and feel of your hair. And if glossy, lock healthy hair is your goal, you need to add some nourishing hair and scalp products to cart quickly. Of course, it's important you wash hair regularly, but your precious scalp deserves a little more than that.
Related: Why a Healthy Scalp Is So Important
Identify the Issue
One of the first things you can do for your scalp is identify the root of the issue. From there, you can take appropriate action.
Dandruff and Dry Skin
If you're experiencing an abundance of little white flakes floating from your hair, scalp and eyebrows, you could be living with the dreaded dandruff. "Dandruff is itchy, inconvenient, and often embarrassing," said Dash. "To ease dandruff, using a non-comedogenic formula shampoo helps to fight folliculitis and dermatitis — common causes of dandruff."
The best way to tackle dandruff is with a medicated shampoo that contains ketoconazole. This will bind your hair's natural protein to help stop itchiness. If you have a severe scalp problem, such as seborrheic dermatitis, you may need to speak to your doctor for prescription medication.
If the idea of using chemicals on your unbalanced scalp turns you off, you could always try a natural blend. To soothe a scalp that's feeling the stress, use the GRO Revitalizing Shampoo and Conditioner Kit. The clean color-safe duo won't strip your strands of goodness. Gently massage the scalp with the shampoo to clarify and use the conditioner to leave hair touchably soft — without blocking pores. These nourishing formulas are the world's first chemical-free keratin hair treatment products.
Oily Buildup
If your roots feel a bit ... icky and you're constantly battling greasy locks, you might need something to help sweep away product buildup. Not washing your hair after working out and piling on the products day after day can encourage dead skin cells to linger and leave the hair looking limp and lifeless.
To refresh the scalp and give it a healthy look and feel, use the GRO Scalp Detoxifying Serum. This clever little product focuses its efforts on refreshing the scalp. It's formulated with a proprietary vegan silk protein that gently removes persistent scalp buildup and actively helps to soothe scalp damage while providing a semi-permeable barrier. The serum also locks in moisture and protects the scalp from harmful environmental pollutants. If scalp health is your goal, this product is a must-have.
More Scalp Tips and Tricks
If you're noticing any signs that indicate your scalp is more on the unhealthy side, don't panic. There are plenty of things you can do to help.
Natural Remedies
Apple cider vinegar is a common ingredient known for gently lifting excessive product buildup and flakes from the scalp. You can also apply tea tree oil directly onto the scalp whenever you feel any itchiness or uncomfortable dryness. Other treatments for dandruff include crushed and uncoated aspirin pills mixed with water, baking soda, peppermint oil, and coconut oil.
Natural Products
The GRO Hair Serum is plant-based and the formula promotes healthy hair, so it's very safe to apply directly onto the scalp. All of the ingredients are gentle on the scalp, and if you're growing your hair, you'll start to notice a difference over time. 
Scalp Massaging
Massaging your scalp is one of the kindest things you can do for this often unloved skin area. The GRO Revitalizing Scalp Massager can be used on either a wet scalp or a dry scalp and is suitable for all hair types. The bristles stimulate the scalp and boost scalp health while also giving the user a seriously relaxing experience. Use it alone or pair it with a serum or shampoo.
Diet
You don't need us to tell you that what you eat is reflected in how healthy you look. How you nourish your body will also impact the look of your hair and scalp, Dash noted, "A diet rich in vegetables and fruit also supports a healthy scalp. Taking a fish oil supplement and probiotics may also be beneficial."
Shop: Scalp Scrubber
Build Healthy Habits for a Healthy Scalp
The bottom line? If you want a healthy head of hair that gleams with health, you need to a) give your neglected scalp a little bit of loving attention and b) use products with gentle but effective ingredients that actively care for your scalp and hair. 
More From VEGAMOUR
Photo credit: Ezekixl Akinnewu/Pexels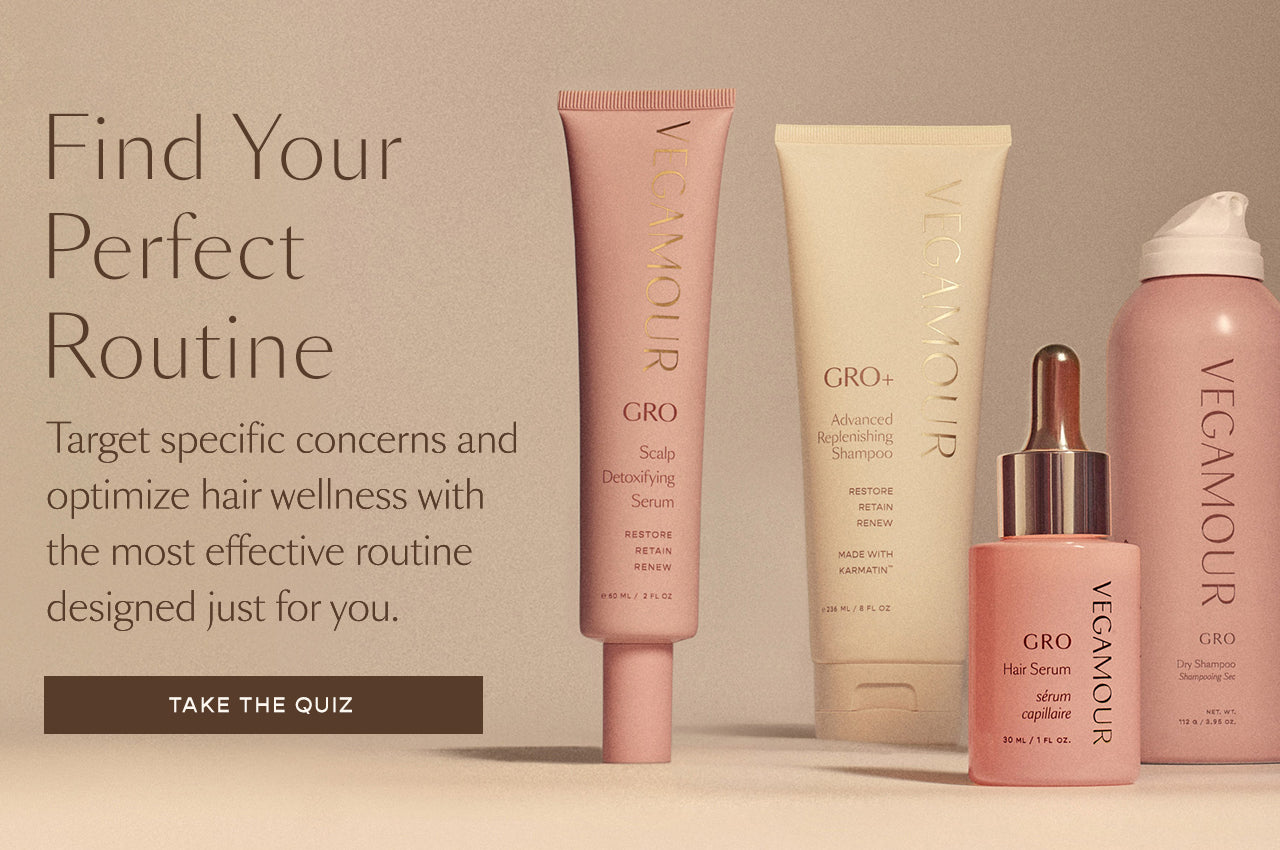 Disclaimer: Information in this article is intended for general informational and entertainment purposes only. It is not intended to constitute medical advice, diagnosis, or treatment. Always seek professional medical advice from your physician.