How to Protect Your Hair From Sun Damage
The summer months are full of cookouts, laying by the pool with a steamy summer read or taking leisurely strolls on the beach combing for sea glass. With the summer season fast approaching, it's time to stock up on sunscreen and swimwear.
But don't forget — all that sun-drenched fun can wreak havoc on your hair and scalp. Below, we'll share tips to protect your hair from the sun's UV rays and discover which products to use to nourish your dry hair and scalp all summer long.
Does Sun Damage Hair?
While you diligently pack your day bag with sunscreen and aloe for your skin, you might want to pack a floppy hat, a scarf or some hair products with sunscreen for your hair. Because, yes, the sun's UV rays can be especially harmful for your hair.
Sunlight consists of ultraviolet light (UV light). This invisible radiation is damaging to human cells, including the ones on your scalp and that make up the structure of your hair.
The CDC recommends using products that contain a Sun Protection Factor (SPF) anytime you're out in the sun. Use an ultraviolet protection factor of at least 15 to block out the damaging rays of the sun.
While you may be anxious to get out onto the beach to have some fun with the kiddos, do take a few moments to apply SPF to the entirety of your skin, including any parts of your scalp which may be exposed to the sun.
Effects of the Sun's UV Rays on Your Hair
The sun's impact on your scalp and hair begins at the cellular level. UV rays cause the cell structures to weaken or break down, which can create a noticeable difference in your hair.
Long days of fun in the sun could cause:
Loss of your hair's natural moisture from sun exposure or swimming in chlorinated water. This can be especially damaging to hair that's been color-treated.
Sunburn on your scalp or hairline
A bleaching effect on the hair
Damage of the hair's natural proteins or protein loss, which can make your hair weak and brittle.
A dry or frizzy appearance to the hair
Damage which could lead to split ends or even hair loss
Related: 9 Hair Wellness Tips for Healthier Hair This Summer
Tips to Prevent Sun Damage
Even small efforts to protect your hair and scalp from the sun can add up during the course of a season. If your hair is long, one careless summer soaking up the sun's rays without adequate protection from UV radiation could create hair damage that lasts for a long time.
Sun-damaged hair can take time to repair. Damaged hair needs reparative proteins to replenish your hair's moisture loss and regular trims to cut away damaged hair ends.
Protect Your Hair from Sun Damage
There are lots of ways you can avoid direct sunlight or protect your hair and scalp when you want to be out in the sun. VEGAMOUR spoke with Ghanima Abdullah, hair expert with TheRightHairstyles.com, to get her best hair care tips for protecting and nourishing your hair all summer long. Here are a few ways you can protect your hair from UV damage:
Use sunscreen for hair: Many products these days boast SPF ratings. If you like natural products, look for something with carrot seed oil, which has a high SPF.
Tropical oils: Apply one of the oils that are prevalent in tropical countries with lots of sun. Try coconut oil or palm kernel oil. 
Wear a protective hairstyle: Putting your hair into a bun helps prevent the sun from coming into contact with all of your hair. It also helps lock in moisture.
Cover up: Just like with your skin, using something to provide shade over your hair can help protect it from UV rays. An umbrella is a must-have when you're out in the sun for long periods of time, but on days that you don't want to carry one, plop on a hat or wear a scarf around your head.
Avoid the sun: Try not to go out at midday or between the hours of 10:00 a.m. - 2:00 p.m., when the sun is hottest.
Protect Your Scalp
Protecting your scalp from the harmful rays of the sun is crucial — but did you know all those summer days can also expose your scalp to toxins and free radicals? Remove impurities with a detoxifying scalp serum and then treat your scalp to our nourishing overnight hair mask.
Hair masks are a great way to restore moisture and soothe your scalp. For best results, apply liberal amounts of your favorite hair mask, wrap your head with a sleep scarf and allow the mask to restore your hair and scalp while you sleep. Shampoo it out with your morning shower.
Shop: Shea Whitney's VEGAMOUR Picks
Your Perfect Summer Styling Routine
Just like "bed head," "vacation head" is a real thing. That super stylish bun you wore on the beach takes on a mind of it's own once you start unpeeling it before a shower. After a long day in the sun, here's how to ensure your hair recovers quickly.
Refresh Your Summer Hair with These Tips
Start by taking down your hair and shaking loose any sand or other debris. (You might want to do this out on the patio to keep the sandy sprinkles off your bathroom floor.) Pre-treat your hair with a spray of dry shampoo to break down some of that chlorine or the lingering molecules of campfire smoke. Shake the hair loose or brush it gently with an ionized paddle brush.
In the shower, shampoo with a moisturizing shampoo and remove tangles with conditioner and a wide-tooth comb. Give yourself a pampering scalp massage while you give the conditioner a few minutes to soothe your thirsty summer strands.
Avoid brushing wet hair. This can damage hair cuticles or stretch the elasticity of your hair to its breaking point, causing the hair to snap. This could be especially hard on sun-damaged hair which has weakened proteins or damaged cuticles. Instead, gently detangle with a wide-tooth comb and squeeze out excess water with a soft towel.
For the these warmer months, skip the heat styling and opt for an air-dried style that's fresh and free-flowing. Afterall, it's the summer!
Your summer fun doesn't have to be cut short if you take the time to plan for sun protection and pack plenty of water for your outdoor fun. Stay hydrated and enjoy your summer!
More From VEGAMOUR
Photo credit: Sonnie Hiles/Unsplash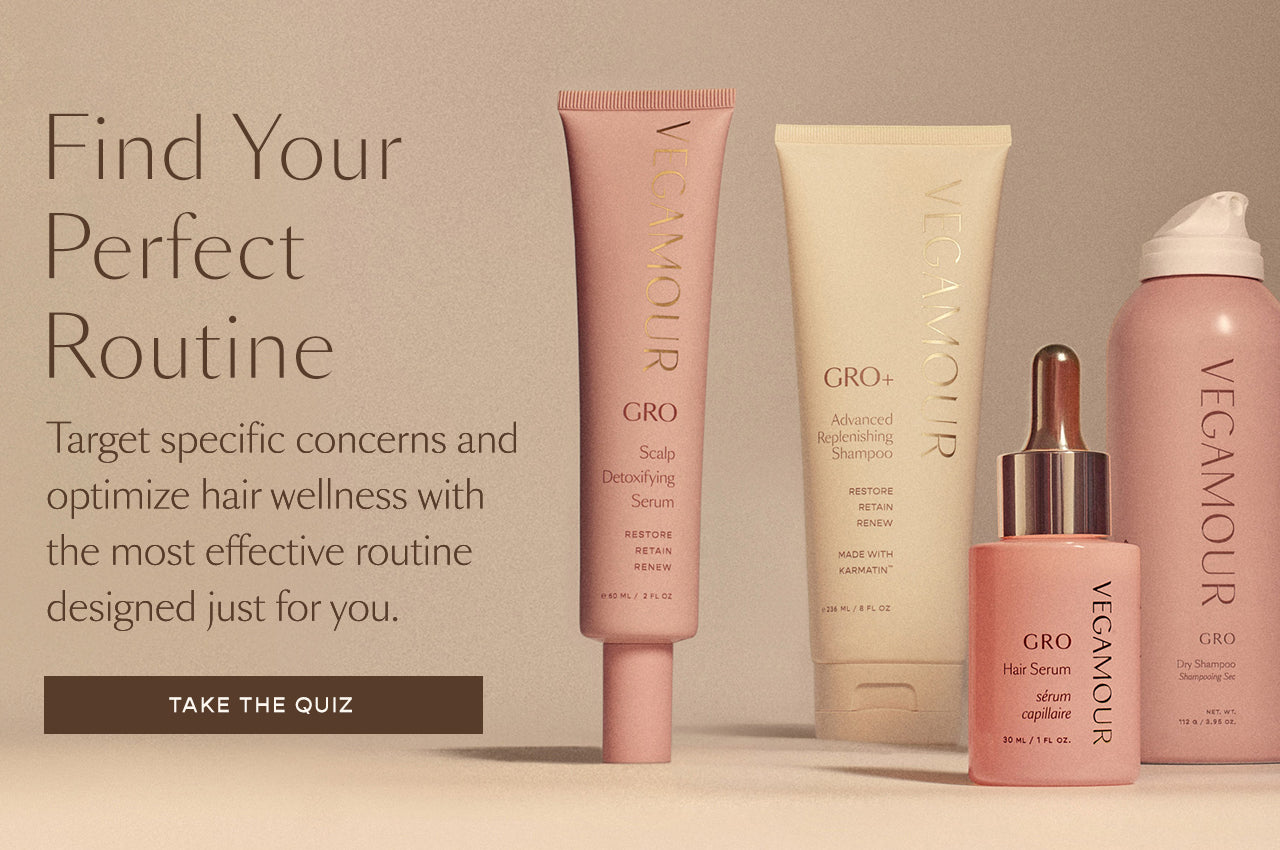 Disclaimer: Information in this article is intended for general informational and entertainment purposes only. It is not intended to constitute medical advice, diagnosis, or treatment. Always seek professional medical advice from your physician.