Dull Hair? Things You Can Do to Bring Your Hair Back to Life
Smooth and shiny hair is a picture of health and beauty, but it's not uncommon to struggle with dull or lifeless locks. And no matter what products you use or how you try to style your hair, it still lacks that luster and sheen you crave.
To achieve healthy-looking hair that's radiant and manageable, read on for the expert tips you need. Plus, find out what products you really should be using to bring your dull hair back to lustrous life ASAP.
What Is Dull Hair?
Hair has layers, including an outer layer called the hair cuticle. How we treat our hair often affects the hair cuticle and creates a dullness to the hair that's quite noticeable. Because these cuticle disturbances refract light rather than reflect light, what your eye sees is a flat-looking appearance to the hair strands.
When hair reflects light smoothly, the appearance is radiant with a natural light shine to it, giving the appearance of very healthy hair.
Shop: All Natural Hair Care Products
What Causes Dull Hair?
Dull hair doesn't just happen. It results from one or more of the following causes.
The hair lacks natural luster because it is dry or damaged hair.
Heat damage from styling tools can make the hair lack natural shine.
Highlighting and other chemical services can create overall dull-looking hair.
Overwashing your hair with products that contain sulfates can strip strands of much-needed moisture and leave them looking dry and dull.
Split ends refract light and can make the hair appear dull and frizzy.
Other common causes of dull hair could be an underlying medical condition or a poor diet.
Reviving Your Dull Hair
Dull hair also can be hard to style. To bring your dull hair back to life, you have to remove what's causing your hair to be less than its best and restore its vibrance.
Some of the best ways to revive your dull hair are fairly simple. Avoid bleaching your hair, use clean, sulfate-free shampoos and conditioners and treat weekly tresses with a hair mask. Additionally, avoid sun exposure, which can sap your hair of natural moisture. Get regular trims to remove any split ends or dry hair on the ends.
Here are some other ways to revive dull hair.
Address Health Problems
When hair appears lackluster or feels limp and lifeless, and you can't figure out the cause, consider paying a visit to your doctor. Hormonal changes, nutritional deficiencies and underlying medical issues are all common examples of how your health can directly impact your hair. Ask how you can make improvements to your overall health. Your doctor may also recommend that you add more antioxidant- and vitamin-rich fruits and veggies to your diet to meet your nutritional needs.
Shop: GRO Essentials Kit
Chemical Treatments
Chemical hair treatments lift the cuticle and alter the structure of the hair in order to change the shape or color of the hair. Harsh chemicals can also create brittle hair, which lacks the lovely shine of healthy hair. Your stylist can recommend more gentle coloring options or suggest that you limit chemical treatments until your hair is healthy.
Use Gentle Hair Care Products
VEGAMOUR spoke with hairstylist Ashlie Garner to see if the products you use on your hair could be causing your hair to look dull. Garner confirmed that, yes, what you put on your hair is a key factor in your hair's appearance, whether dull and lifeless or lively and reflective.
Garner explained, "To combat dull hair, the best thing is to bring it back to the science of
your hair first. Your hair is made up of two key things: protein and moisture. There needs to be a proper balance of both to have nice, healthy hair. Too much protein can cause breakage, and too much moisture can cause heaviness and buildup."
Here at VEGAMOUR, we practice this balance by opting for the more luster-friendly vegan proteins that won't cause the brittle hair effect of animal proteins. We also choose natural molecularly lightweight moisturizers so they'll work for even fine or thinning hair and are still moisturizing enough for more coarse hair types.
Like Garner, we believe that this natural balance is key for your hair to look and feel hydrated while also being strong and resilient.
Related Reading: VEGAMOUR's Approach to Hair Wellness
Blow Dry Your Hair Properly
The best way to protect the smoothness of your hair shafts and hair cuticles is to stop using heat styling altogether after you wash your hair. Allowing your hair to air dry ensures you won't ruffle the hair cuticle, creating a dull and uneven hair shaft that's noticeable in your finished style.
But there are ways you use styling tools more carefully to minimize cuticle disturbance for more shiny hair results.
For curly hair: Boost shine by using the lowest heat styling and airflow setting on your blow dryer with a diffuser attachment. Yes, it takes longer to dry, but with diffuse drying, you are blowing against the natural lay of the hair's cuticle. Too much heat or airflow can lift the cuticles causing hair shaft damage. This can create a frizzy, dry and dull hair appearance
For fine hair or very straight hair: Blow dry the hair on a low-heat setting with a smoothing brush. Place the airflow above or below the hair strands and point the directional tip down the hair lengths toward the tips. This can help to "lay down" the cuticle in the direction it naturally grows, thereby smoothing and improving the natural shine of the hair.
Use Weekly Deep Conditioning Treatments
But before you slather that drugstore hair mask all over your locks, consider that not all deep conditioning treatments are made equal. Thankfully, VEGAMOUR offers a smart mask, powered by Karmatin™, the brand's proprietary vegan protein, which instantly adjusts to your hair on contact to give it exactly what it needs.
Use a deep conditioning hair mask each week to keep hair hydrated, restore hair health and make your hair smooth and shiny. It hydrates and enhances color and shine, while reducing frizz and bringing out your hair's most healthy appearance. It's truly hair care made easy!
Why Some Solutions Might Not Work
Some home remedies might actually make your hair appear duller or add so much weight that you've created another problem altogether.
Hot oil treatments will hydrate the hair, yes, but at the cost of adding weight. Consider your hair type and texture and whether the extra weight on your hair will be manageable for you. Too many of these treatments could lead to product buildup, as well.
Mayonnaise, coconut oil or olive oil treatments with a shower cap are fun for a weekend girls' night activity, but these oily kitchen treatments don't really do anything to repair hair shaft damage. In the long run, you're better off choosing a good hair treatment mask or deep conditioning treatment designed for damaged hair.
Excellent Care Equals Shinier Hair!
You don't have to use hair shine spray when your tresses are naturally healthy and radiant. As long as your hair strands are smooth (not frizzy) and have a cuticle that's intact and undisturbed, your hair will catch and reflect the light as you move.
To restore and prevent dull hair, avoid doing things that damage it. You can also combat dull hair by using hair products designed to moisturize dry, dull hair and help it look its best, with a natural luster that catches the light beautifully!
More From VEGAMOUR
Photo credit: Prostock-Studio/iStock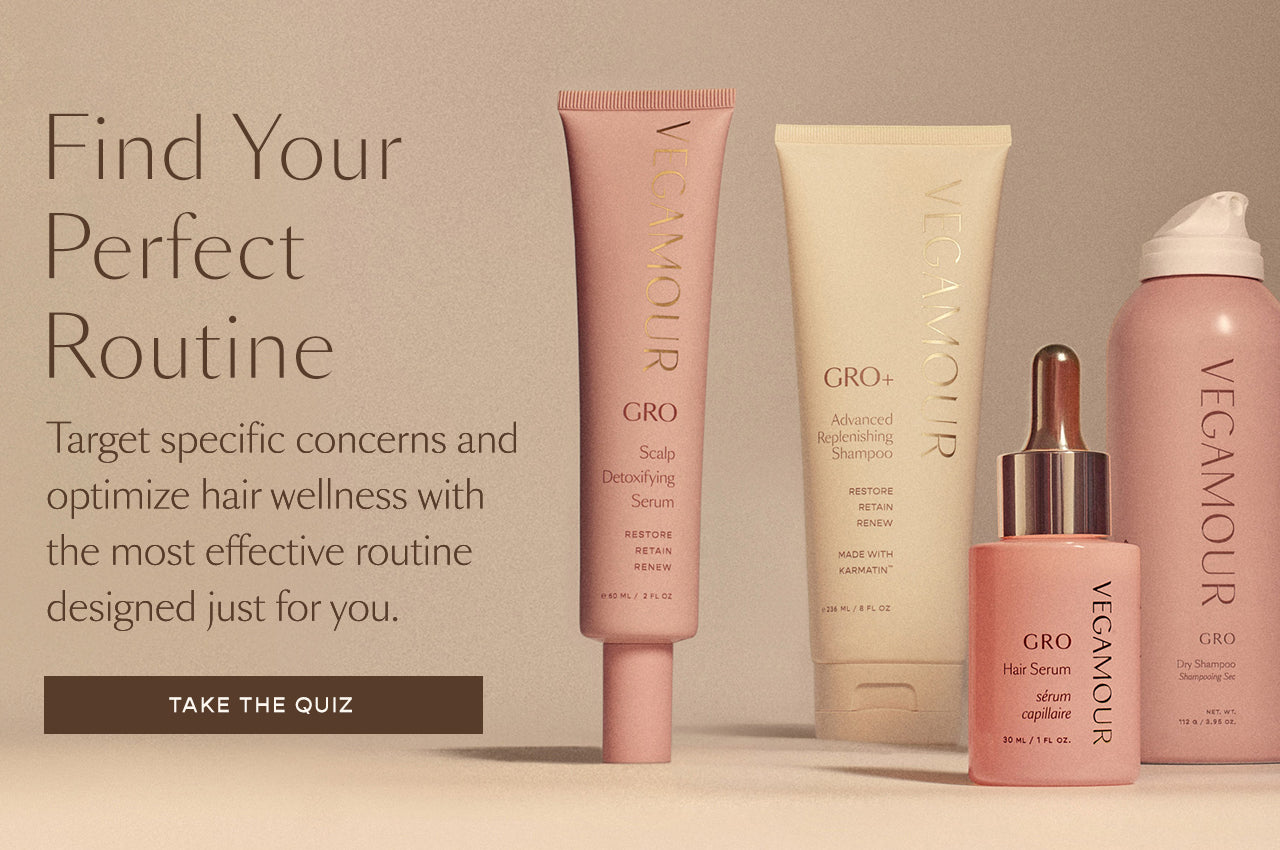 Disclaimer: Information in this article is intended for general informational and entertainment purposes only. It is not intended to constitute medical advice, diagnosis, or treatment. Always seek professional medical advice from your physician.