A good hair day with silky, soft strands can put you in great spirits from dawn until dusk. On the flip side, though, a bad hair day with frizzy, dry hair can be super frustrating and put a damper on your mood. When your hair is looking less than its best and feeling dry, it can make you want to pull it out in frustration.
Read on to find out the causes behind dry hair and what you need to refresh, renew and moisturize your strands. Plus, learn which products you need to restore moisture to your hair and proactively prevent dryness.
What Causes Dry Hair?
Many of us have dealt with dry hair, but it's not always a one-and-done fix. When you're dealing with dryness in the hair and scalp, chances are there's more than one issue at play.
"[Dry hair] is usually due to a number of things," explained New York City-based hairstylist Jasmine Anna Galazka.
Dry hair can stem from a slew of causes — but there are a few common issues to start with when determining what exactly is going on. Some of the main culprits behind dry or brittle hair include:
Heat styling: Incorrect use or overuse of heat styling tools
Many of us grew up learning to blow dry our hair right after showering, with no protective process beforehand. But hair is at its most fragile when wet, so it's important to be gentle. Heat styling with a blow dryer, curling iron or flat iron can lift the cuticle layer of the hair, stripping natural oils and moisture from the hair shaft and leaving it in a vulnerable state.
Using the wrong (or wrong amount of) hair care products: If you're using products with harsh detergents, such as a shampoo with sulfates, your hair may lose too much moisture and become dry. Similarly, using too much of a given product, such as putting too much coconut oil on your scalp, can clog your scalp, preventing natural oils from making their way down the hair strand.
Read More: Try This if Your Hair Feels Like Straw 
Chemical treatments: Bleached hair or other color chemical processes used on hair can strip the hair's protective sheath, leading to dry and brittle hair.
Roughness when brushing or washing: If you're not gentle enough when you brush or wash your hair, you may unknowingly damage or tear your strands, leading to breakage — a major culprit of dry hair.
Nutritional deficiencies: As your diet, lifestyle or body changes over time, you may develop deficiencies of certain vitamins and minerals, leading to fragile or dry hair or even hair loss.
Seasonal shifts and weather: Dry and cold weather, as well as excessive sun exposure, can strip moisture from hair, leading to dryness and potential breakage and other damage.
Needing a haircut: Even if you have oily hair near your scalp, you may experience dry hair further down the hair shaft. Sometimes, that can be your hair telling you that you're overdue for a trim.
What Can You Do to Fix Dry Hair?
Now, let's dive into what can be done for dry hair. Finding the solution to dry hair often involves a multi-pronged approach that includes examining how hair tools, treatments, products and even your own lifestyle can all play a role. Here are some of the basics to consider when you're trying to address hair dryness and retain moisture in your strands.
Read: How to Fix Dry Hair
Find the Right Hair Care Products
All of us who deal with dry hair have wondered at one time or another: "Why is my hair so dry, even with conditioner?" And while multiple factors are often at play, it's important to make sure you're using the right hair products and conditioners before you change up your entire routine.
Harsh products—or products that leave too much residue behind in your hair—can exacerbate other causes of dry hair and can leave you with split ends, an itchy scalp, loss of natural oils and dry hair strands, according to the stylist.
NEW: HYDR-8 Collection for Dry, Damaged Hair
Protect Your Hair from Heat Damage
It's not surprising that heat is harsh on your strands, but there are simple steps you can take to mitigate damage and prevent exacerbating dry hair. "Hair dryness is often due to overuse of heat styling," Galazka explains, "[but also to] not using the proper products to help seal and heat protect the shaft of the hair prior to using blow dryers or flat irons."
So while it's best to steer clear of heat styling when you can (and especially so when you're trying to grow out your hair), when you do use heat tools, it's important to make sure your hair is moisturized, use a heat protectant before styling and to keep your heat tools on the lowest setting.
Related: How to Fix Damaged Hair
Use an Overnight Hair Mask
The right conditioner is key, according to Galazka. Anytime you're using a deeper conditioning treatment or hair mask, especially when working to combat dryness, opt for a nourishing formula — and don't rinse immediately.
"Apply your conditioners from mid-shaft to ends, using extra product on split or damaged ends" explained Galazka. "Then, allow the product to sit for a bit before rinsing for deeper hydration."
When it comes to addressing dryness proactively, leave-in conditioners are a great solution that can help nourish your hair in order to prevent moisture loss. VEGAMOUR's deeply hydrating hair mask adds moisture to your strands while you get your beauty sleep.
Designed to adapt to the unique needs of damaged and dry hair, the hair mask uses Karmatin™, VEGAMOUR's signature vegan keratin alternative. While you rest, the mask works on your hair and scalp to:
Deep-condition strands to proactively help dry hair retain moisture
Help repair and protect the hair cuticle, especially for dry, color-treated or heat-damaged hair
Reduce frizz
Enhance color and shine
Using an hydrating hair mask is and easy and relaxing addition to your bedtime routine and can . To use the hair mask, follow these steps:
Apply a quarter-sized amount of the hair mask on gently towel-dried or wet hair, starting from the scalp and using your fingers to work it down toward the ends.
Sleep with the hair mask on for up to 10 hours, using a hair wrap if desired.
In the morning, thoroughly rinse out the mask and style your hair as usual.
For dry or damaged hair, use a mask can be used weekly or more often as needed.
Learn More: 5 Reasons You Should Use a Weekly Hair Mask
Be Cautious with Hair Color
When you color your hair, it's important to understand how dye affects your strands. And this is all the more true when you're trying to fix dry hair or hair damage, since your hair's integrity is already compromised.
Blondes are often most impacted by dryness. Wondering why? The increased chemical processing time and/or bleaching can be extra harsh on hair, potentially leading to fraying, breakage or brittle, dry strands. If you do choose to dye your hair, it's important to give your hair extra TLC, both to prevent damage and to maintain hair color. 
"Go with hair masks and color-safe formulas when selecting your shampoo and conditioner," said Galazka. Lather up with GRO Revitalizing Shampoo and Conditioner to cleanse, condition and recalibrate your hair. The color-safe, clean duo infuses hair with Karmatin™ microencapsulated vegan b-SILK™ protein, which physically bonds to hair follicles and remains attached to strands even after rinsing. Think: The high-shine, well-hydrated results of a keratin treatment without the chemicals!
Read: This Vegan Shampoo and Conditioner Changed My Hair
Brush and Style Hair Gently
Being as gentle as possible while brushing your hair to avoid snags and damage may help prevent dry, split ends. When it comes to using heat tools, avoid heat altogether when you can. When you do use heat styling, stick to the cool setting and always use a heat protection product before styling with hot tools.
Take Care of Your Skin
Scalp health is a huge part of hair health, and If your scalp is dry and irritated, you won't be able to fix dry hair without addressing your scalp first. So protect your scalp with sunscreen. In addition to your body, be sure to apply sunscreen to the scalp, especially when you know you'll be in the sun. If you do find your scalp is in need of refreshing, you can use a detoxifying hair serum and a scalp massager to gently clear away existing dead skin.
Consult a Professional and Trim Regularly
While you can try lots of things at home, it's also important to find a trusted hair care expert, especially when you're dealing with damaged or dry hair. "Be sure to see your hair professional regularly for trims and/or a pro deep conditioning treatment," said Galazka. "Plus, have them recommend the right routine for you and which moisturizing products you can use at home."
Shop: GRO Origins Kit
Amplify Your Daily Diet
Your hair needs essential nutrients in order to be healthy. Including supplements in your lifestyle can be an easy addition to your wellness routine.
GRO Biotin Gummies include 16,666% of your daily value of biotin, or 5000 mcg, along with folic acid, Vitamins A, B-5, -6 and -12, C and E, zinc and more key minerals to neutralize free radicals, supporting and nourishing the scalp and hair.
Find Whole-Body Wellness
Healthy hair begins from within, so it's important to take a holistic lifestyle approach to hair health. Include more movement and mindful moments in your day-to-day routine, maintain a balanced, nutrient-dense diet, stay hydrated, revel in nature and practice stress-reducing techniques. Finally — and, most importantly — treat yourself, including your skin, scalp and hair, with loving self-care!
Shop: Best Products for Dry Hair
The Takeaway
Dry hair can be frustrating at its best and debilitating at its worst, so it's important to find a routine with a few key elements that feels achievable for you. According to Galazka, "Stop dry hair before it starts by using the right products for your hair's needs, always use heat protection, try weekly mask treatments and leave-in conditioner, minimize stress and maintain a balanced, healthy lifestyle."
More From VEGAMOUR
Photo by Dziana Hasanbekava/Pexels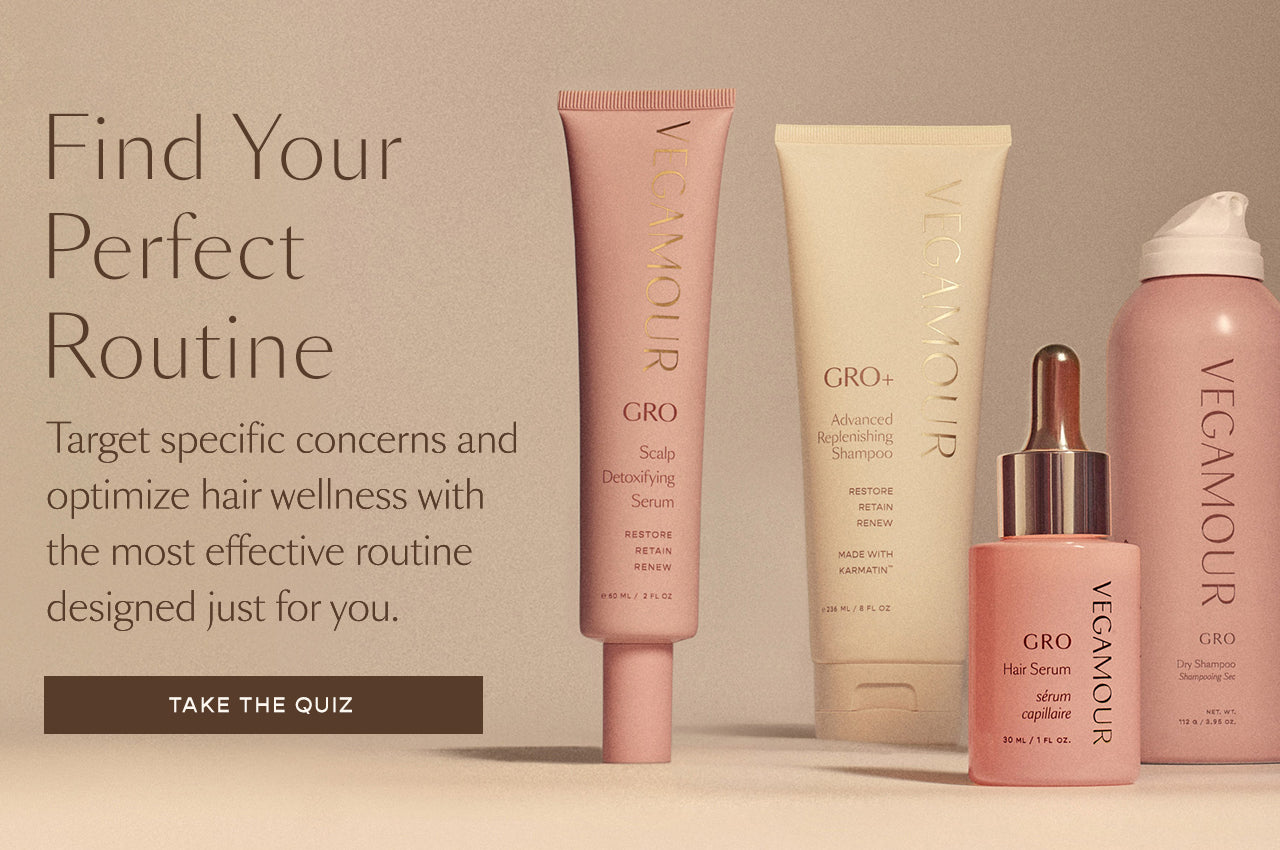 Disclaimer: Information in this article is intended for general informational and entertainment purposes only. It is not intended to constitute medical advice, diagnosis, or treatment. Always seek professional medical advice from your physician.