What to Do If Your Eyelashes Are Falling Out During Pregnancy or Postpartum
Pregnancy can be unpredictable. Thanks to the ever-flowing fluctuations of those influential and powerful chemical compounds known as hormones, being pregnant — along with giving birth and the months that follow — has its unique set of challenges. From morning sickness to weight gain to mood swings to cravings, these extreme ebbs and flows can do a number on the physical and emotional health of both postpartum and pregnant women alike.
And, along with this wild ride, some pregnant or postpartum women may experience changes in their hair and skin — or both  —including those that affect the eyebrows and eyelashes, which can be distressing. If you're pregnant or recently pregnant, here's what you can do if you're experiencing lash loss.
The Links Between Lash Loss and Life Changes
Pregnancy, postpartum and menopause — this trifecta of hormonal shifts represents the most significant physical changes women will go through in their lifetime. Along with these dramatic hormonal fluctuations, some women also go through physical changes while pregnant and afterward. Think body changes such as wider hips, morning sickness or shifts in the hair follicles, which can extend to sparse brows or lash loss. Hair loss, or increased shedding, is a result of hormones, including DHT and testosterone.
No need to worry, though. These physical changes are not abnormal and are associated with shifts in hormone levels. In fact, according to the American Academy of Dermatology, many women who have recently had a baby will see noticeable hair loss that peaks after a few months. This is both normal and relatively common — and not actual hair loss. Rather, this excessive shedding is caused by falling estrogen levels. Plus, it's probably only a temporary situation that will resolve itself when hormone levels balance themselves out. 
Related: Hair Story — My Experience With Postpartum Hair Loss
Expert Advice to Encourage Eyelash Growth
"Everyone experiences pregnancy differently. Some women find that their hair growth accelerates during pregnancy, while others suffer hair loss. This extends to eyebrows and eyelashes," said Ramy Gafni, celebrity eyebrow expert and makeup artist of Ramy Cosmetics. "The cause is due to the hormone fluctuations that women experience during pregnancy. It's fairly common."
Sparse lashes and/or brows are a more rare but possible complication of pregnancy-related hair loss. This is typically caused by fluctuations in thyroid function. The good news is that thyroid changes are usually also temporary symptoms. These changes within the thyroid glands should resolve once the pregnancy is complete and hormones responsible for hyperthyroidism — human chorionic gonadotropin and estrogen — return to normal levels.
The American Academy of Ophthalmology explains that eyelash loss can be linked with shifting thyroid levels. The thyroid is a gland in the neck that regulates the hormones within the body. In turn, lash, and other types of hair loss, can be caused by either/or hyperthyroidism (an overload of hormones) and hypothyroidism (too few hormones). Other common symptoms of a thyroid disorder include:
Weight gain
Weight loss
Changes in heart rate
Increased or decreased blood pressure 
Read: How to Grow (or Regrow) Your Eyelashes
Consider Supplementing With Serums
Before you start stressing — and it's definitely best to keep stress at bay when prepping for a baby — stop, pause and think about going the natural remedy route.
"Don't panic. Often the hair (or lash) loss is simply part of the cycle that may be accelerated due to hormonal fluctuations that occur during pregnancy," said Gafni. "A lash serum can help, as will making sure you're getting all your adequate nutrition with a well-rounded diet, daily vitamins and essential nutrients."
If you're looking to elevate your natural lashes and brows with botanical extracts rather than chemical compounds, you're in luck. Try GRO Lash Serum to promote visibly fuller, thicker lashes. The lash enhancer is free from the things you're trying to avoid while pregnant or caring for a newborn — hormones, carcinogens or side effects — and instead makes use of powerful plant actives. It's also 100% vegan, cruelty-free, safe, effective and clinically shown to deliver visible results in as little as 30 days.
Shop & Save: VEGAMOUR Lash & Brow Serum Kit
Elevate Eyelashes With Healing Hemp Oil
If you're looking to simultaneously stop eyelash loss while quelling pregnancy or postpartum stress, consider adding the therapeutic power of hemp oil with GRO+ Advanced Lash Serum. Be sure to check with your doctor first.
In addition to plant actives such as mung bean and red clover to promote fuller, thicker-looking lashes, it also includes the power of microencapsulated CBD. This ingredient works to soothe skin, creating the ideal environment to support denser, healthier lashes. For best results, apply the serum twice a day to both the upper and lower lash line. Allow your lashes to dry completely before applying any lash-lengthening mascaras or other eye makeup.
GRO+ Advanced Lash Serum is safe for daily use, free of known toxins and is formulated to quickly penetrate and soothe skin.
Read: The Benefits of Coconut Oil for Eyelashes
Prioritize Pregnancy and Postpartum Nutrition
Maintaining a balanced diet with adequate levels of essential nutrients is always important for your health — and all the more so when you're eating for two! Those experiencing eyelashes falling out during pregnancy or postpartum could be connected with nutritional deficiencies.
While some pregnant women reap the benefits of lush locks related to high levels of estrogen flooding the body and increased circulation, others can find themselves losing hair — and eyelashes — in the postpartum months.
To potentially help counteract this, opt to include healthy choices full of essential nutrient-dense dietary sources and high protein levels in your daily diet. Some examples include:
A high protein diet
Essential fatty acids
Vitamin C
Vitamin D
Vitamin E
Whole grains
Sweet potatoes
Iron
Biotin
Folic acid
Zinc
Check With Your Doctor
"Always check with your doctor first before starting to take any supplements," said Gafni. "Some women have had success by continuing to take prenatal vitamins, which contain iron and folic acid —both key ingredients for healthy hair growth. Biotin supplements and zinc can also help. As well as what I've mentioned already, also be sure to eat more protein, the building block for hair."
If you're looking for safe remedies with no side effects, try integrating a supplement that's formulated with natural, clean ingredients. Strawberry flavored GRO Biotin Gummies are also free from sugar, gluten and gelatin. In addition to biotin, they also contain the following dietary sources:
Zinc
Folic acid
Vitamin A
Vitamin C
Vitamin E
Vitamins B-5, 6 and 12
"Be sure to check with your doctor to be sure there's not a medical cause for your lash loss. For example, losing the outer half of your eyebrows is a classic symptom of a thyroid problem," said Gafni. "If your lash loss is severe, avoid lash extensions until your lash situation has improved. Lash extensions, while a quick fix, can damage existing lashes and cause even more lash loss."
Finally, continue regular appointments with your medical professionals throughout the duration of your pregnancy as well as in the months immediately following birth. Your doctor can help determine what's normal — and what could be an indicator of a more serious condition — when it comes to your pre- and post-pregnancy hair and lashes.
Adopt healthy, holistic habits to treat yourself — and your soon-to-be newborn — with extra TLC!
More from VEGAMOUR
Photo credit: Fascinadora/iStock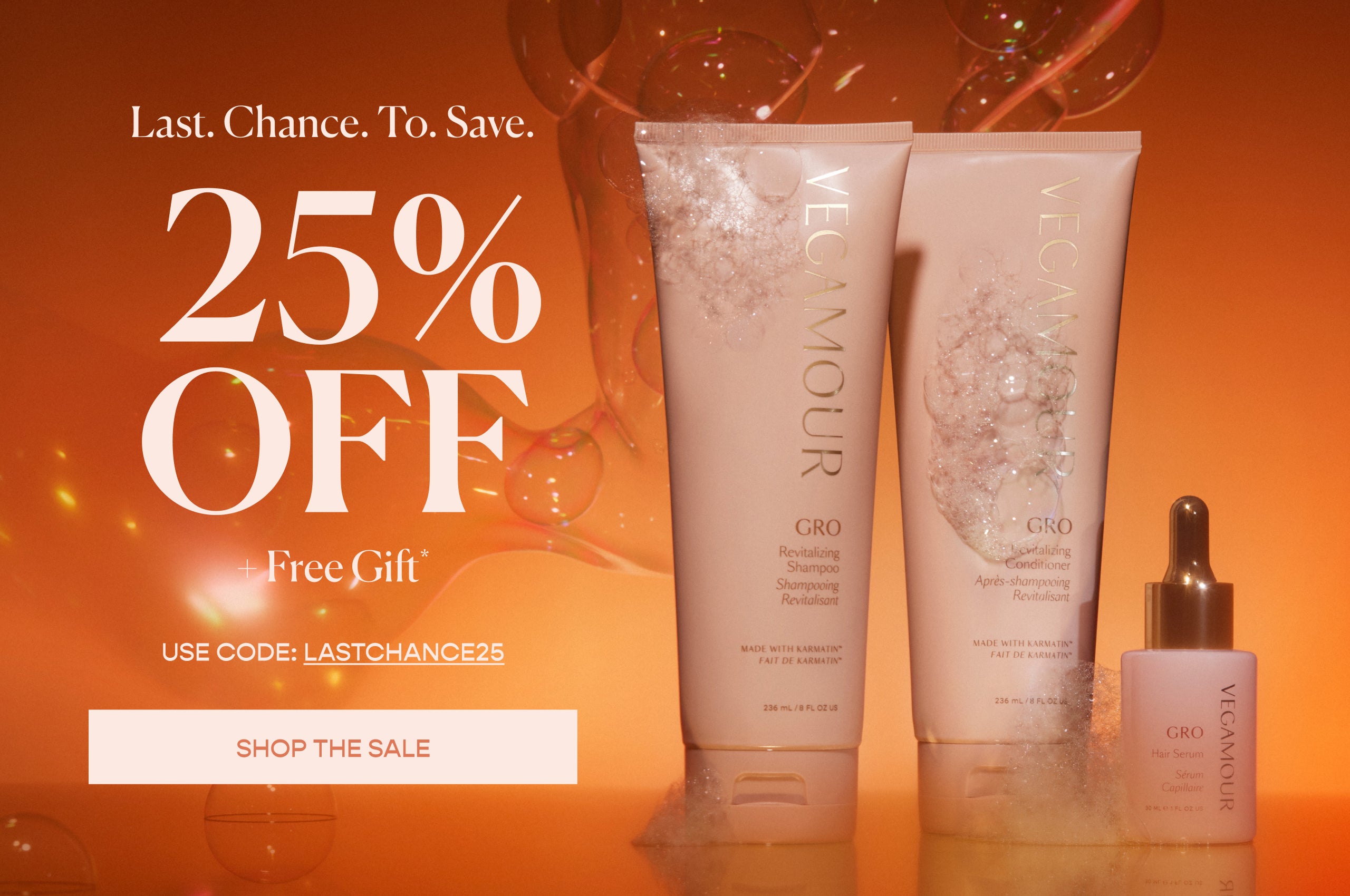 Disclaimer: Information in this article is intended for general informational and entertainment purposes only. It is not intended to constitute medical advice, diagnosis, or treatment. Always seek professional medical advice from your physician.