These Celebrities Have Gotten Real About Hair Loss
Female hair loss isn't actually uncommon at all — it's just not talked about. Thankfully, more women than ever before are coming together, sharing their hair loss stories more openly and sharing go-to hair products with one another. These leading women from the entertainment industry talk about their hair loss journeys to help you feel inspired and seen. Plus, find out what products you should use combat thinning hair.
Jada Pinkett Smith
On an episode of her hit Facebook Watch Show, Red Table Talk, Jada Pinkett Smith spoke out about her struggle with alopecia. In May of last year, the actress admitted that she noticed she was losing "handfuls of hair" every single time she stepped into the shower. A lot of women can relate to this, and the shower is also the first place that many of us notice hair loss. She also said that was what first inspired her to cut her hair a lot shorter and why she continues to cut it. "When my hair is wrapped, I feel like a queen," she said.
Read: Jada Pinkett Smith Shares an Update on Her Alopecia Journey
Selma Blair
If you follow Selma Blair online, then you've also been following her journey of living with Multiple Sclerosis (MS). The actress has been as raw and as honest as possible with her audience about her condition and hair loss is no exception. In fact, she says that this part of living with MS doesn't bother her at all and she's posed for photos sans hair on several occasions. Bravo! However, she did say she wouldn't be as calm about her eyebrows falling out we — totally get it.
Sara Sampaio
The Victoria's Secret model and fashion sensation actually suffers from trichotillomania. In an Instagram Q&A session, she admitted that the secret to her fuller brows is that she doesn't touch them. On the other hand, she says she does pull on them due to her trichotillomania, which has caused her to have a lot of gaps that she finds herself filling in all of the time. More than 10 million people in the US alone suffer from trichotillomania, so Sampaio is definitely not alone in this.
Read: Madie Wilkes' Picks for Thicker-Looking Hair
Tyra Banks
It's no secret that Tyra Banks has her foot in a lot of different ventures, so stress levels can be high. The model-turned-entrepreneur told the Wall Street Journal that while writing her book, Modelland, she suffered from alopecia. "I got a little alopecia from the stress," she said. While undergoing stress, your body's immune system essentially targets your hair follicles, which in turn causes hair loss. Once your body recovers from said stress, your hair usually grows back to normal.
Sarah Hyland
The Modern Family star has undergone multiple surgeries to treat her kidney dysplasia, and has suffered from hair loss as a result. "With medications and stuff, it can make your hair fall out," she told Refinery29. She wore hair extensions to play her character, but saw a change in the natural texture of her natural, curly hair. "My hair that's growing back now is much curlier than what it used to be. It's like I'm four years old now, I guess." she said.
Keira Knightley
Dyeing your hair can be taxing on the follicles, and you may have seen the effects yourself during the pastel color trend. Actress Keira Knightley experienced such damaging hair loss that she wore a wig for years until hers finally grew back. "I have dyed my hair virtually every color imaginable for different films. It got so bad that my hair literally began to fall out of my head!" 
Try This: GRO+ Advanced Hair Serum
Viola Davis
Viola Davis experienced stress-induced hair loss. After wearing wigs, she learned to embrace her story and share it publicly. "I am telling you, I have spent so much of my life not feeling comfortable in my skin. I am just so not there anymore."
Also: The Best Celebrity Eyebrow Transformations
Alyssa Milano 
The newest phenomenon in hair loss has been noticed in recently recovered COVID-19 patients. With support groups of women and men sharing their hair loss stories after surviving COVID-19, research has shown the source can come from a combination of stress or elevated immune molecules related to alopecia leading to a temporary lack of hair wellness.
Alyssa Milano, a COVID-19 survivor, showed the world her hair loss experience on twitter with a candid photo and the caption, "Thought I'd show you what #Covid19 does to your hair. Please take this seriously. #WearADamnMask #LongHauler." 
A Better Way to GRO
Dealing with hair loss, especially as a woman, can feel lonely. Beyond these celebrities that have opened up, there are thousands of women who are also on a hair wellness journey.
You're not alone in your pursuit of hair growth and confidence. We invite you to join our private Facebook group if you do want to share in a safe space or want to learn from women who have been through it already. You can share tips on the best way to grow hair, check out before and after photos from women who have found ways to regrow their hair or just talk to other likeminded people.
Are you ready to GRO? Check out these VEGAMOUR coupon codes to save on your next purchase.
More From VEGAMOUR
 Photo credit: Jake Blucker/Unsplash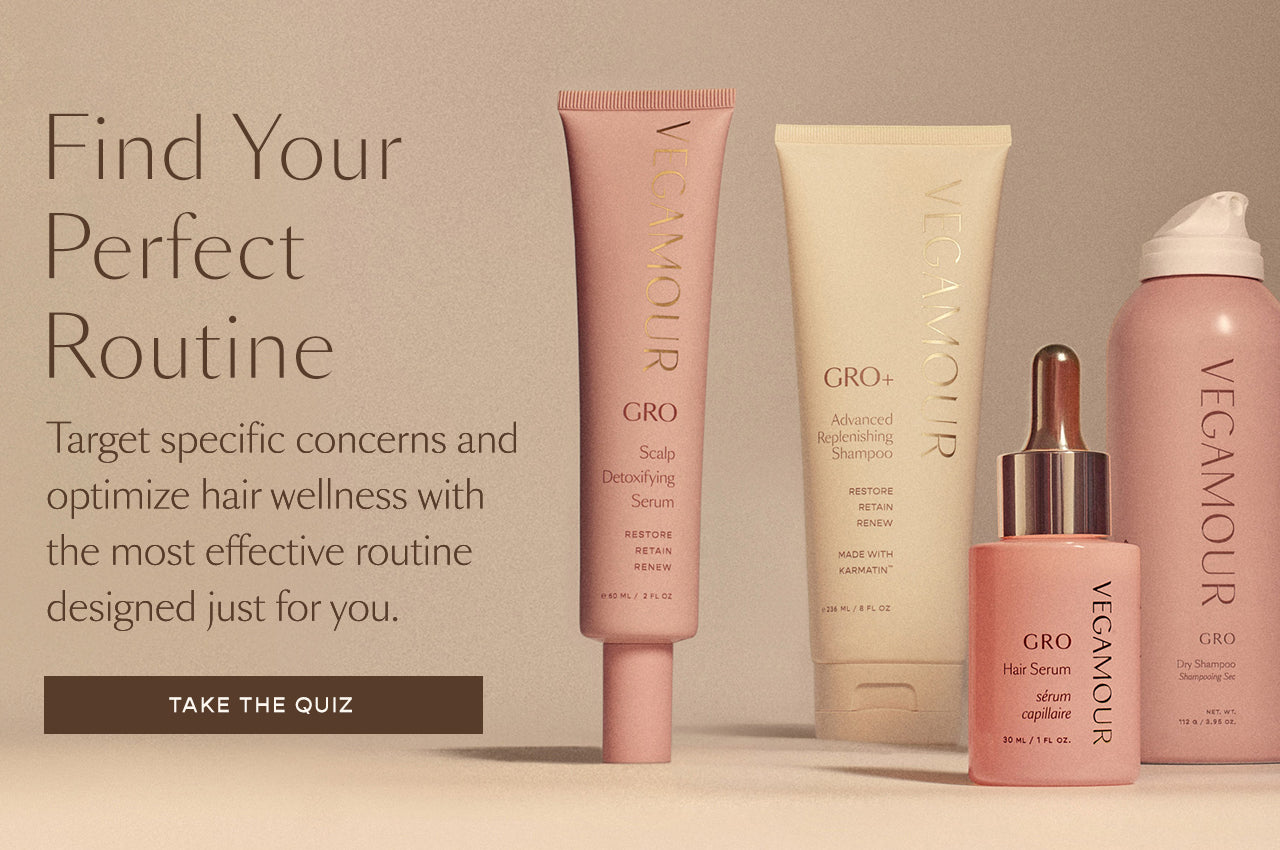 Disclaimer: Information in this article is intended for general informational and entertainment purposes only. It is not intended to constitute medical advice, diagnosis, or treatment. Always seek professional medical advice from your physician.