5 Reasons Start With VEGAMOUR's GRO More Kit
If you've been wondering what you can do to boost your scalp, hair and whole body wellness, you're in the right place! There's no better time than right now to take the first step in making healthier choices by treating yourself to a new self-care ritual. 
The GRO More Kit is the perfect initial purchase on your journey to optimal hair wellness. Read on to learn all about the reasons why the plant-powered pair included in this kit should be the first priority on your scalp and hair wellness checklist. Best of all, the much-loved duo, like all VEGAMOUR products, utilizes 100% vegan, clean and natural ingredients so you can care for your hair without compromise. Plus, discover what products you can use to support stronger, fuller, healthier looking hair.
Reason #1: Your Hair Reflects Your Overall Health
Wellness begins from within and your hair is an external mirror of what's happening inside. Fortunately, the GRO More Kit addresses both the internal and the external for the best results! 
The kit includes two of VEGAMOUR's most popular best-sellers: GRO Biotin Gummies and GRO Hair Serum. Both are formulated to address hair issues such as shedding and thinning by tapping into the power of all-natural plant-powered ingredients. The vegan gummies used in tandem with the hair serum are a powerful duo that fortifies your natural hair with vegan proteins to keep it strong and healthy. 
Reason #2: Your Daily Diet Could Use a Boost
If you're having hair troubles, consider assessing your everyday diet. Could it be lacking in essential vitamins and minerals or does it simply require a little extra help? If the answer is yes, adding a daily supplement such as vegan hair vitamins into your daily routine can help fill in any nutritional gaps in your diet.
GRO Biotin Gummies include plenty of good-for-you nutrients, such as biotin, folic acid, vitamins A, B-5, -6, -12, C and E, as well as zinc and more key minerals that neutralize free radicals, supporting and nourishing your scalp and hair. 
Plus, they're a tasty way to get in a daily dose of vitamins — no water required! — making it easy to fit into busy schedules. Bring these gummies to the gym, work or on your next trip. The pink, heart-shaped, strawberry-flavored vegan gummies will brighten your day.
Reason #3: Serums Are Superior in Your Wellness Routine
Rethink your routine and remember that serums are as essential in your hair care as in your skincare! Now that you've started using supplements, the next step is to combine these supplements with a topical hair serum that works effectively and quickly to support scalp and hair health. 
Reconsider your hair care routine by treating it with the same diligent care you do your skin. Make GRO Hair Serum a go-to in your daily routine. This best-seller is popular for a good reason: It works to help reduce the signs of shedding and increases the appearance of visibly thicker, fuller-looking hair in as soon as 90 days.
This safe and effective hair serum is powered by phyto-active ingredients that are 100% vegan, clean and cruelty-free, so you can rest assured that your skin, scalp and hair won't be irritated. Best of all, it's so easy to integrate into your morning or evening routine. Here's how to apply the hair serum each day or night:
Apply a dropperful of the hair serum directly to the scalp on dry or towel-dried hair.
Evenly disperse the hair serum and massage it into the scalp with your fingertips. (Bonus: A relaxing scalp massage is an excellent exercise in daily mindfulness as it's equal parts relaxing and energizing!)
It can be applied morning or night to suit your schedule best.
GRO Hair Serum is a leave-in product so you can style your hair normally after your daily application.
Reason #4: Small Steps Each Day Yield Big Results 
Establishing the foundation for healthier, stronger, thicker-looking hair starts with small steps.
Keeping consistent is key to creating change and maintaining sustainable, lasting results. Be sure to include both GRO Biotin Gummies and GRO Hair Serum into your daily self-care ritual for the best results. 
Reason #5: Prioritize Self-care as a Daily Necessity
Finally, transforming your daily rituals into mindful moments of self-care will help boost your mind, body and spirit! Your hair will look as good as you feel on the inside, knowing you're utilizing natural, nourishing, clean ingredients such as those found in the GRO More Kit to soothe, strengthen and support hair wellness.
Get Gorgeous, Healthy Looking Hair With VEGAMOUR
No matter your hair type or texture, you can achieve your hair wellness goal with a VEGAMOUR Kit that addresses your hair and its unique needs. When you provide your hair with all the nutrients it needs to thrive, you can feel and see the difference. Treat your whole body to consistent and targeted self-care, and your skin, scalp and hair will thank you!
More From VEGAMOUR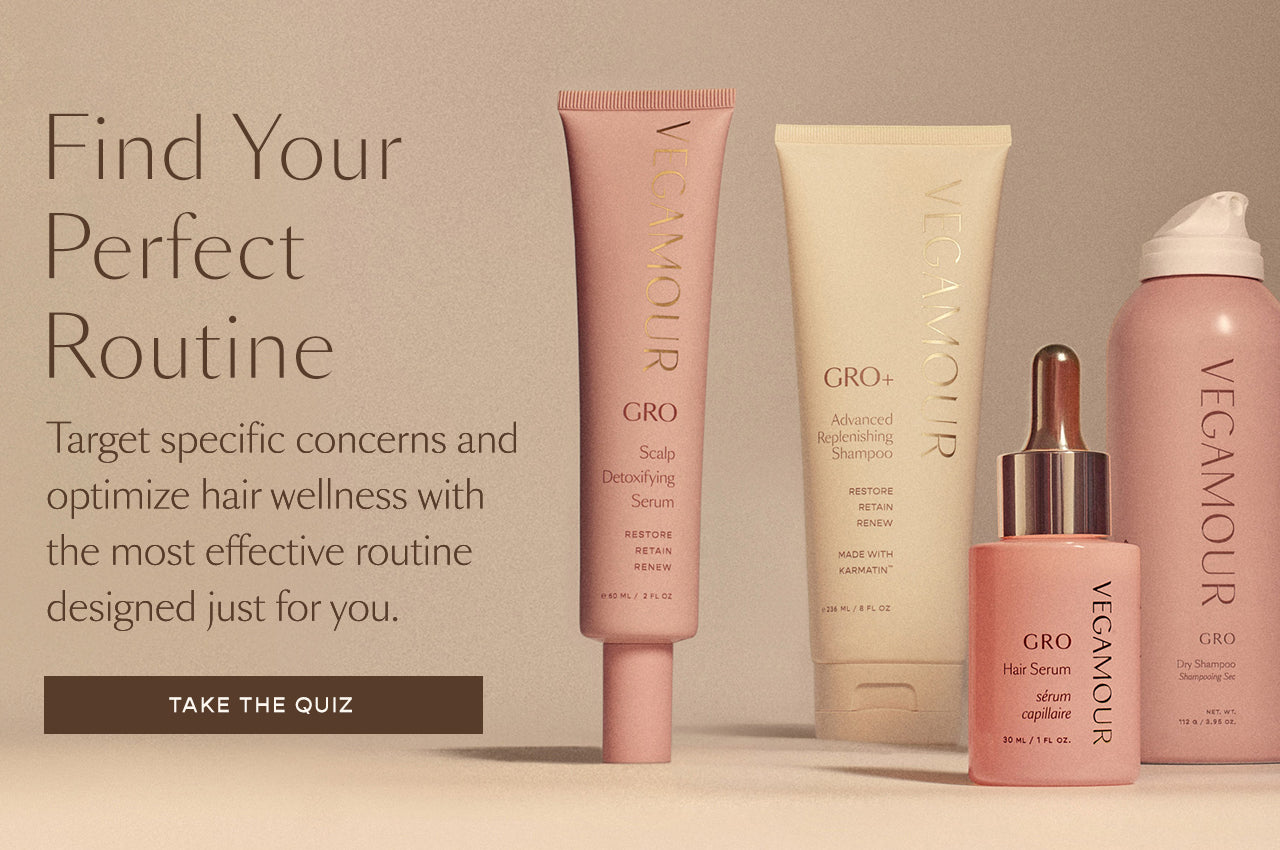 Disclaimer: Information in this article is intended for general informational and entertainment purposes only. It is not intended to constitute medical advice, diagnosis, or treatment. Always seek professional medical advice from your physician.