5 Ways I Combine VEGAMOUR Products for Best Results
Your hair wellness routine doesn't have to be complicated. Instead, work smarter (not harder) by rethinking how and what you use in your daily hair habits to make each day a good hair day!
I like to combine my favorite VEGAMOUR products for best results. Read on to see how I curate a custom care plan to address my hair's unique needs in the same way I combine my skincare products. Plus, discover what clean, natural, nourishing products you should start using to encourage your shiniest, strongest, healthiest looking hair yet.
1. Morning Combo
I prioritize my morning routine to set the tone for the day ahead. And that extends to taking care of my whole body wellness, including my lashes and hair, too! I start each morning with supplements, including probiotics and GRO Biotin Gummies. Each vegan gummy contains biotin, folic acid, vitamins A, C, E and B-5, -6 and -12, zinc — plus, more key nutrients to neutralize free radicals, supporting and nourishing the scalp and hair. Plus, they don't require water, so they're a tasty, easy way to get in a daily dose of vitamins, even while on the go or for travel!
Next, I tackle my skincare routine, which includes using both GRO Lash Serum and GRO+ Advanced Hair Serum. I apply the lash serum along both my lower and upper lash lines. Before I use the hair serum, I part my hair and clip it back. Then, I apply the hair serum into the parted sections and massage it gently throughout the scalp with my fingertips.
2. Evening Combo
I'm a big multitasker — anything I can do to maximize my sleep wellness is an important part of each evening. First, I like to unwind at night with a soothing scalp massage using the GRO Revitalizing Scalp Massager. It can be used wet or dry, so you can also use it on hair wash night while in the shower to treat your scalp to a circulation-boosting, relaxing massage.
I usually do a light spritz of GRO Dry Shampoo around my roots for a boost of subtle texture and volume, as well as to refresh my hair on those in-between hair wash days. Formulated without benzene or talc, I love that it's super lightweight — plus, it doesn't leave any telltale white streaks on my brunette hair, making it equally great to use day or night. 
Finally, the ultimate way to multitask while you get your beauty sleep is to try my pre-sleep styling trick: Beat bedhead with braids! I loosely braid my hair into two pigtails and secure them with gentle fabric hair ties. I also sleep on a vegan silk pillowcase to protect my hair from friction, frizz, flyaways and abrasion. Braiding your hair before bed can also help in preventing tangles. And, as an added bonus: In the morning, I wake up to unravel beautiful loose waves — no heat styling required!
3. Hair Wash Day or Night
I try to only wash my hair every few days, so when hair wash night comes along, I like to make it count! Depending on my hair's current needs, I combine my cleansing and conditioning with a few different products in my rotation, similar to the manner in which I layer my skincare. 
The GRO and Repair Kit is what I most typically reach for, as it includes GRO Revitalizing Shampoo and Conditioner, HYDR-8 Deep Moisture Repair Mask and GRO Hair Serum. I lather up with the shampoo, really working into my roots, which can be oily, and make sure to cleanse the entire length, all the way down to the ends (I have long hair). 
Next, I rinse with lukewarm water, followed by applying the conditioner from the mid-shaft, working downward, and using extra to thoroughly coat the ends. I prefer to let the conditioner sit for a few minutes while I do the rest of my shower routine. After I rinse it out, I use a microfiber hair towel to soak up the extra moisture in my hair before blow-drying it on the lowest heat setting possible. 
Read: What Does Conditioner Do for Your Hair?
4. Weekly Reboot
At least once a week (sometimes twice), I switch up my hair wash routine by using ultra-hydrating HYDR-8 Shampoo and Conditioner, followed by the HYDR-8 Deep Moisture Repair Mask, which is powered by Karmatin™, a vegan alternative to keratin and silicone. I find this combo is a great weekly reset, infusing my hair with deep moisture, leaving my long hair silky-soft and with radiant, glass-like shine. They're perfect for giving my hair extra TLC on self-care Sunday, especially when I combine them with a soothing scalp massager! 
Explore: VEGAMOUR Hair Serum Reviews
5. Brush Up Your Styling Routine
Finally, using the right styling techniques and tools is essential for keeping my hair in top shape. Wet hair is at its most vulnerable state, so I like to use a wide-tooth comb to evenly distribute the conditioner or the hair mask while in the shower. I also use it to detangle my hair gently afterward. 
If I blow-dry my hair, I take a gentle approach using a low-heat setting and, starting at the top of the head, I dry my hair in a downward motion to avoid roughing up or abrasion to the hair cuticle. 
I also add an extra layer of nourishing, protective, shine-enhancing Pure Marula Oil. Powered by antioxidants, omega fatty acids and oleic acid, the naturally nourishing oil is perfect for adding lightweight control to your hair, and it can also be used to moisturize cuticles, nails and skin. I'm also a fan of GRO+ Advanced Hair Foam on those days when my hair needs a boost of body or to revive my roots in-between hair wash days. 
No matter your hair type or texture, you, too, can curate the perfect kit to suit your hair's unique needs. Best of all, VEGAMOUR's non-toxic hair wellness products are designed to work in tandem, so you can mix and match to help your scalp and hair look and feel better than ever.
More From VEGAMOUR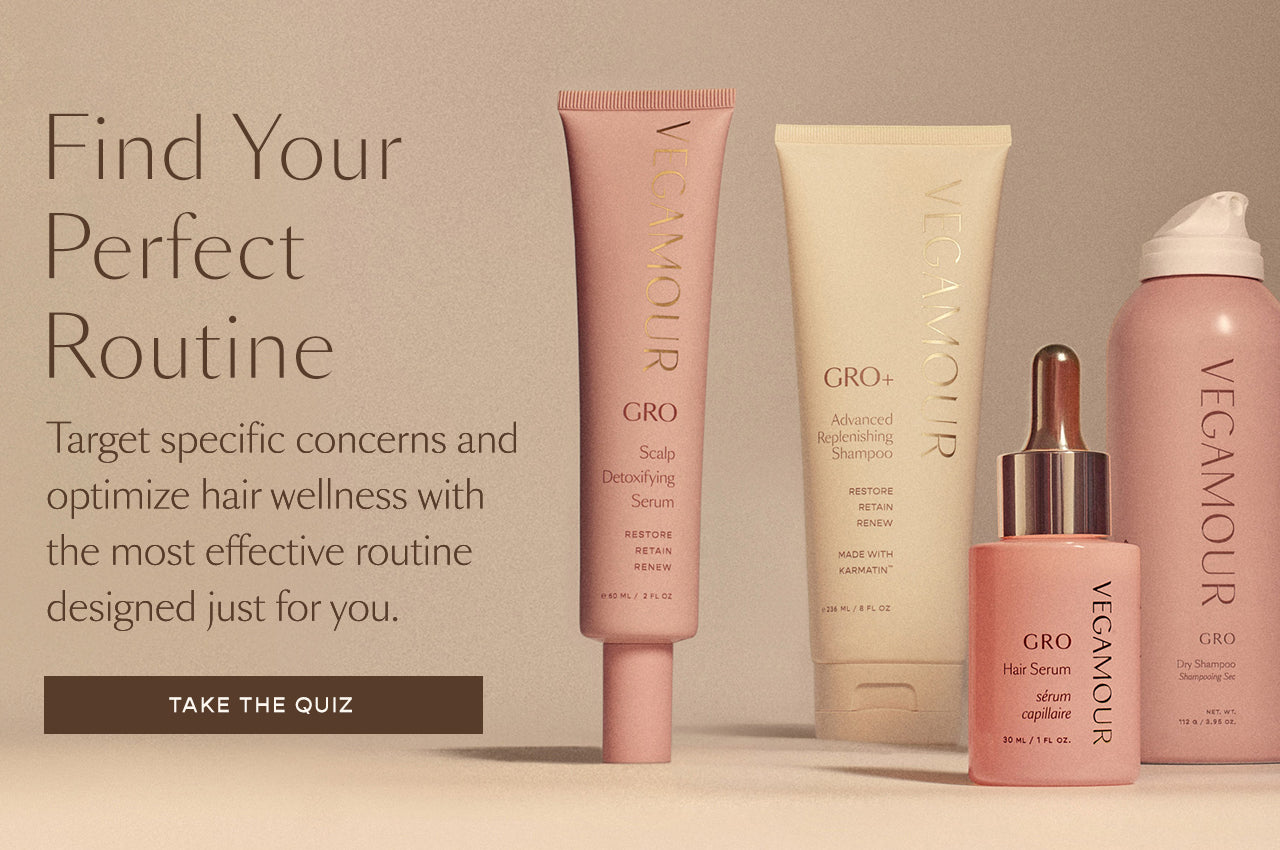 Disclaimer: Information in this article is intended for general informational and entertainment purposes only. It is not intended to constitute medical advice, diagnosis, or treatment. Always seek professional medical advice from your physician.