10 Hair Loss and Growth Statistics That'll Change How You View Your Hair
Facing up to hair loss can be a frightening prospect. Discovering that your once luscious hair is beginning to thin is always stressful — an experience that can be intensified by the sheer volume of misinformation related to hair loss that's available online.
To help, here are 10 hair loss and growth statistics that show you the truth behind hair loss — plus, find out what products you really should be using to decrease shedding and encourage thicker, fuller looking hair.
1. More Than 80% of Men and Nearly 50% of Women Experience Hair Loss
While it's difficult to pin down exactly how many people experience hair loss worldwide, NYU's Langone Medical Center estimates that more than 80% of men and nearly 50% of women will experience "significant" hair loss in their lifetime. These losses can be caused by factors such as hormonal changes, nutritional deficiencies, stress, medications, genetics, health conditions or lifestyle. 
Shop: GRO Collection for Thinning Hair
2. It's Normal to Shed 50-100 Hairs Per Day
Believe it or not, some level of hair shedding is a normal part of your hair's growth cycle. Hair sheds when it has reached the end of its growth potential, falling away to make room for new growth to come. The average person sheds between 50-150 hairs per day, as hair that has reached the end of its growth potential and entered the telogen phase naturally falls from the scalp. This might seem like a lot until you consider how many hair follicles you actually have.
3. There Are Over 100,000 Follicles On Your Head
Experts estimate that the human body has around 5 million follicles, including 100,000 on the head alone. However, the number of follicles that are present doesn't indicate how many of them are functioning and producing new growth. You're born with all the follicles you'll ever have, and as you age, some follicles stop producing hair, resulting in shedding or even balding.
Shop: Nicole Franzel's Healthy Hair Product Picks
4. High-Stress Hairstyles Increase Your Hair Loss Risk
While the exact impact high ponytails, tight braids and other restrictive hairstyles have on strands varies based on genetic and lifestyle factors, as well as how long the hairstyle is worn for, we know that restrictive hairstyles are bad news for your strands. One representative study found that 31.7% of women with relaxed or chemically straightened hair and 48% of women who paired their relaxed hair with extensions suffered from traction alopecia — percentages that were significantly higher than study particpants who used low-impact styling techniques.
5. Approximately 50% of Women Experience Hair Loss By Age 50
Even if you're letting your strands flow free and easy, you might still be at risk for hair loss. The American Hair Research Society estimates that around 50% of all women will experience hair loss by age 50. This loss might be caused by genetic or lifestyle factors and generally expresses itself as a reduction in hair density on top of the scalp.
Read: What Causes Hair Loss in Women?
6. 8% of People Lost More Hair During the Pandemic
According to experts, COVID has been a "major hair loss event," increasing hair loss issues on a population-wide scale. So if you're experiencing post-2020 shed, know you're not alone! Searches for hair loss-related terms jumped by 8% during the Covid lockdown.
There are a number of reasons why this might be the case, but the most common theory is that stress-induced telogen effluvium, or hair shed, is (at least partly) to blame. Increased stress means increased shedding, which is just what happened during the pandemic.
7. Your Hair Grows an Average of 6 Inches Per Year
New growth can seem impossible if you're the victim of an unfortunate pixie cut, but don't stress! The American Academy of Dermatology estimates that most healthy people are able to grow about 6 inches of hair per year.
8. One in Four American Women Are Living With Pattern Hair Loss
When many of us think of pattern hair loss, we picture a balding middle-aged man with a receding hairline and a combover. But in fact, both genders can experience pattern hair loss. It's estimated that one in four American women suffer from the ailment, which causes thinning at the top and crown of the head, and may result in a widened part that lets your scalp shine through.
Explore: The Best Thinning Hair Products for Women
9. Around 30% of the Global Population Has an Iron Deficiency 
According to researchers, the most common dietary deficiency is iron. And studies show there could be a relationship between low iron and hair loss. 
Researchers don't understand exactly the mechanism that links iron absorption and hair loss, but they do recommend that an initial screening of iron levels could be helpful for hair loss patients.
10. GRO Hair Serum Can Boost Apparent Density and Reduce Shedding
If all this reading about hair loss has you tearing your hair out, we're here with an answer: investing in a hair serum that's clinically proven to work. 
In a double-blind, in-vivo clinical study involving 40 subjects over 150 days, researchers found that regularly using VEGAMOUR's best-selling serum increased the appearance of hair density by up to 52% in some subjects. In another double-bind, in-vivo clinical study involving 20 subjects over 150 days, they found that the serum was able to reduce shedding by up to 76% in some subjects. So if you're suffering from hair loss, it's worth giving VEGAMOUR a shot.  
More From VEGAMOUR
Photo credit: Lucas Queiroz/Pexels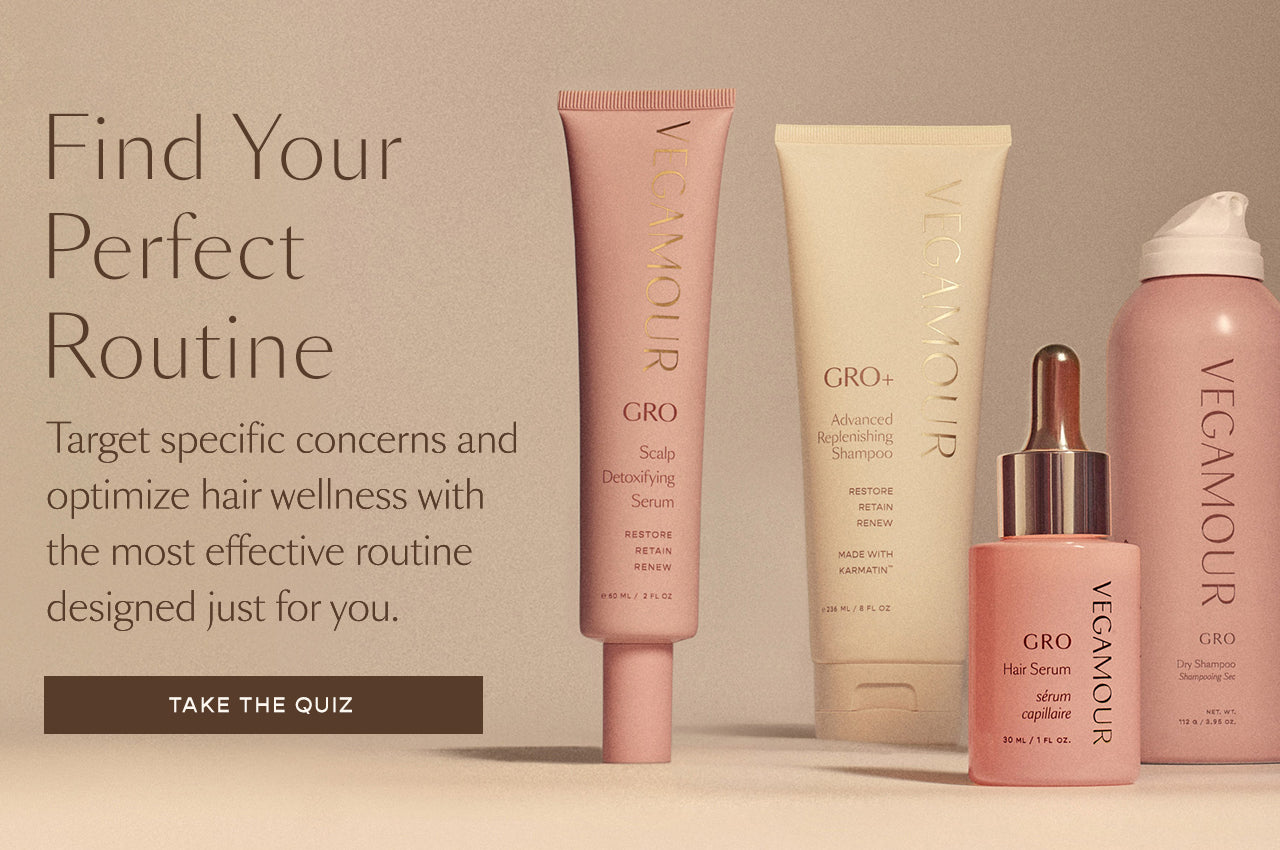 Disclaimer: Information in this article is intended for general informational and entertainment purposes only. It is not intended to constitute medical advice, diagnosis, or treatment. Always seek professional medical advice from your physician.