10 Ways to Add More Volume to Your Hair
The struggle is real when you have flat, thin, limp hair. Hair can quickly lose volume due to stress, age or lifestyle factors. And unfortunately, regaining hair density doesn't happen overnight; it takes time.
To help bridge the gap, we've put together our top 10 favorite tips for adding volume to flat hair fast! Plus, what you can start doing to combat thinning hair now.
10 Ways to Increase Your Hair's Volume
Big hair is just a few steps away. With a few techniques, the right products and some styling, you can get voluminous hair in no time. Here are 10 ways to add volume to your hair: 
1. Change Your Part
The quickest, easiest way to boost your hair's volume? Simply switch up your part! Parting your hair along the same lines each time you wash it leads the strands to become accustomed to laying a certain way. This means that the longer you part your hair the same way, the flatter it will lie. Moving your part adds an instant and effortless volume boost to your roots. 
2. Detox Your Scalp
People with fine hair are prone to oily scalps, and GRO Scalp Detoxifying Serum can help. It contains Zinc PCA, which helps absorbs excess oils while supporting your scalp's natural moisturizing factor. Plus, our proprietary vegan silk protein will gently cleanse away scalp buildup, soothe any scalp damage and leave behind a semi-permeable barrier to lock in moisture while shielding your scalp from environmental pollutants. 
For a full scalp routine, try the GRO Foundation Kit, which includes GRO Revitalizing Shampoo & Conditioner and GRO Scalp Detoxifying Serum at a discount.
Also: How to Care for Fine Hair
3. Trim Excess Length
The shorter your hair is, the more body it will have. It's as simple as that! So if your hair-growth journey is more oriented toward volume rather than length, trimming the excess is a great way to get a boost. Even if you love those long locks, your stylist can help you add body and movement by clipping your hair into layers. Less weight equals more volume!
4. Use Color to Create Volume
We know it sounds like cheating, but when it comes to adding volume, a little color can go a long way. Some dyes bind to the hair shaft, actively working to make individual strands more voluminous. Your colorist can also work with you to add body via highlights or use a balayage technique.
5. Volumize Your Roots
From soaking up excess oil to adding volume at the roots, the right dry shampoo can be a serious game-changer for the thin-haired — with bonus points if it benefits your tresses! Our GRO Dry Shampoo does it all. This clean formula absorbs oil, delivers volume and contains powerful plant-based ingredients to support healthy hair. Plus, it smells great! Just spritz it onto your roots and massage it in. For an extra boost of volume after spritzing your roots, flip your head upside down and work the product in with your fingertips. 
6. Switch Up Your Drying Technique
Once you've got your wash-day routine figured out, you'll want to develop a drying method that adds volume without harming your hair. First, remove excess water with a T-shirt or microfiber towel to reduce the stress on your strands. Next, try switching your routine to incorporate the extra time needed to air dry (instead of blow-drying) because hair can be damaged when exposed repeatedly to heat. 
7. Add (Just a Little) Heat 
While air drying is definitely your best bet for long-term hair health, there are days when you want a little extra boost! Here are a few great heat techniques for adding volume:
Blow-dry upside down while lifting up and fluffing your roots.
Pull your hair into a loose updo, and dry from underneath. 
Use a curling or crimping iron to boost texture.
Try a vented metal round brush to create curls.
Caution! Before you try any of these tricks, make sure you've applied a heat-protectant to your strands. Using a heat tool with a temperature gauge is another great way to reduce damage.
8. Brush With Care
Nylon bristle brushes are considered the gold standard of brushes for fine hair. Fine hair tends to be delicate, and bristles are gentle as they distribute scalp oils along the strands, creating a protective coating while adding sheen. Nylon bristles help detangle strands without snagging and help you style hair. 
Also: When to Use a Brush or a Comb
9. Continuously Nurture Hair Thickness
The best thing you can do to add sustainable volume to thin strands is make sure you're nurturing your hair wellness, within and without. Our GRO More Kit combines GRO Hair Serum designed to stimulate hair follicles and visibly increase hair density, plus GRO Biotin Gummies packed with essential nutrients like folic acid, biotin and zinc.
10. Play With Extensions 
While leaving in extensions long-term can cause damage to thin strands, they can't be beat for adding instant, dramatic volume on a special occasion! Make sure to find a stylist who specializes in hair extensions and understands how to work with thin hair. They'll be able to dye clip-ins to perfectly match your hair's natural hue and show you how to effectively create fullness without damaging strands. 
Improved Hair Health Equals Improved Volume
Whatever method you choose to boost your volume, remember that your long game is just as important as your short-term style. Investing in a hair care system that supports long-term, holistic hair wellness, including shampoos, conditioners, foams, serums and supplements, is the key to adding volume that won't quit, no matter how you choose to wear your hair!
More From VEGAMOUR
Photo credit: Taylor Deas-Melesh/Unsplash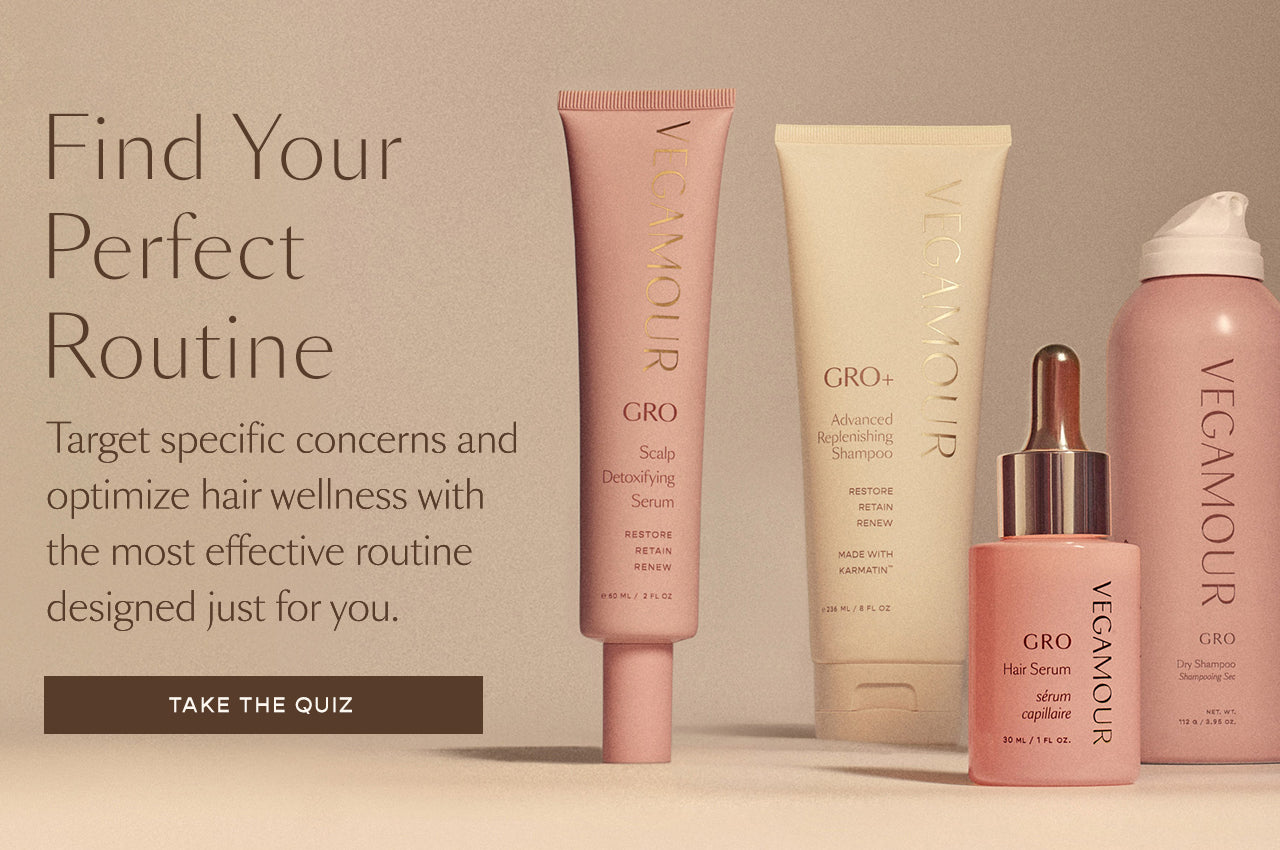 Disclaimer: Information in this article is intended for general informational and entertainment purposes only. It is not intended to constitute medical advice, diagnosis, or treatment. Always seek professional medical advice from your physician.