Comb vs. Brush: When and How To Use Each
Whether you're a hairbrush devotee or a loyal comb lover, do you which one will help you maintain a healthy head of hair and cause less damage?
If you're torn between brushes and combs, VEGAMOUR has spoken to experts and dug into the research to find out what will help keep your hair in the very best condition. Plus, learn more about the best products to get your healthiest hair ever.
When Is It Best to Use a Comb?
A wide-tooth comb is an excellent tool for your hair care kit and works best when used on wet hair. Robert Reed, the owner of ERGO Styling Tools, a provider of hair styling tools to the salon industry and consumers, explained, "Hair is most fragile and hyperelastic when it's wet. This means that hair can stretch over 50% more when wet — it's in its most fragile state. A wide-tooth comb is most suitable when hair is in this condition, but the user should begin at the ends and work gradually upward to the head and scalp."
How To Use a Comb Without Damaging Your Hair
If your hair gets particularly knotty, carefully run your fingers through your tresses before you pick up a styling tool or hair comb. This will gently ease out knots without tugging out your strands.
If you're focusing your hair care efforts on growth and thickness, add a nourishing hair serum into your routine. This will boost the look of your tresses and prep the hair properly before you comb it. Reed continued, "It's good to keep in mind that any agitation (from using a towel to dry the hair) will also create tangles." But a serum can help with that too.
Always comb through the ends before taking your comb through the root. And for fine, colored hair, pick a wider comb as the hair will be more sensitized from color.
You can also use a comb in the shower — just make sure you apply a hydrating and super nourishing conditioner like the GRO Revitalizing Conditioner. The proprietary Karmatin in the formula will help restore your hair's natural beauty with a glossy, silky, soft shine. 
When Is It a Good Idea To Use a Brush?
Hairbrushes have been gracing our vanity tables for years and serve as an undeniably useful tool that can help tease out tangles and keep your mane looking healthy.
Apart from smoothing your tresses after a night of tossing and turning, hair brushing can actually help your hair maintain its natural shine. When you're in between washes, brushing your mane can redistribute your natural oils and help give your hair a glossy finish. And did you know that good hair brushes can help increase blood flow to your scalp and draw oxygen and nutrients to your hair?
So while brushing your hair seems like a pretty safe bet, if you're prone to frizz, avoid the poof by detangling with a comb or your fingers first. Tom Berry, master stylist and color director at Blushes Hair & Beauty, said, "Use a brush after detangling and once hair has been rough dried with a blow dryer to about 80% dry. Never use a brush to detangle the hair, especially when wet, as this can cause damage to the cuticle — unless you're using a specific detangling brush." Damaging the hair during the drying process can accelerate frizz.
Just like you do with a comb, start using your hairbrush at the ends and work your way up to the roots; this will help you avoid unnecessary knot-inducing damage.
Also: Are Baby Hairs New Growth or Breakage?
What Brush Will Suit Your Hair Type?
A brush is a staple in the quest for tangle-free hairs, and there seems to be one to suit every hair type. Ghanima Abdullah, the cosmetologist and hair expert at The Right Hairstyles, explained, "If you've got thick curly hair or coils, a wide comb might be all you need. But if that doesn't quite get the job done, detangling brushes might be better."
It's not just curly hair that needs a little care and attention when it comes to brushing. Depending on your hair type, you'll want to invest in different products and tools — especially if you're heat styling. If your big question is whether you should go with round or comb, this breakdown will help.
Bristle Brushes
A brush with a good selection of bristles is the ideal brush for anyone with fine-to-medium hair. Creating a polished look, brushing with bristles is a gentle but effective way to have a good hair day. For a vegan-friendly alternative, move toward a synthetic solution, like a nylon bristle brush.
If you have extra-fine or thinning hair, brush with very soft bristles. This will stimulate the scalp and increase the circulation to the hair follicle. Combine with the Good to GRO Kit and a well-balanced diet to really amp up your hair's health.
Round Brushes
Perfect for helping you achieve a soft, bouncy blow-dried effect, a round brush, especially when combined with smoothing products such as Pure Marula Oil, can style and straighten nearly all hair types. Wrap your locks around the top of the brush when blow-drying to create helpful tension and a sleeker look. If you have extremely coarse-textured hair, opt for a paddle brush instead of a round brush.
Paddle Brushes
A large, rectangular paddle brush is a great styling tool if you're working with long, thick hair. If blow-drying your mane seems to take an eon, a paddle brush can whip through tangles and cut drying time by approximately 50%.
Reed explained, "Depending on the desired outcome, a paddle brush or comb will gently remove tangles without disrupting the curl."
Also: How to Protect Curly Hair While You Sleep
Nylon Bristle Brushes
If you want a vegan hairbrush that you're going to keep forever (as long as you wash it regularly, of course), then you might opt for a nylon bristle brush. These are a great option if you have very thick hair that's difficult to manage and penetrate. They work in the same way as their natural alternative, but they offer more control because they're stiffer.
Metal Prong Brushes
While brushes with metal prongs might seem like a good idea (especially if you're struggling with very thick hair or dense curls or coils), the harsh approach could create a mountain of unmanageable frizz. Brushing with nylon bristles, a wide comb or a paddle brush will help arrange your hairstyle, plus you'll avoid any damage to the scalp that metal prongs might cause.
Shop: VEGAMOUR Best Sellers
Brush vs. Comb: Both Have Their Strong Points
Brushes and combs are useful for anyone with long or short hair. Both can help you look polished and avoid a torrent of tangles. For best results, have both a comb and brush in your hair care arsenal — a wide-tooth comb to glide through wet hair and a brush that's designed especially for your hair type.
More From VEGAMOUR
Photo credit: Jaspereology/Pexels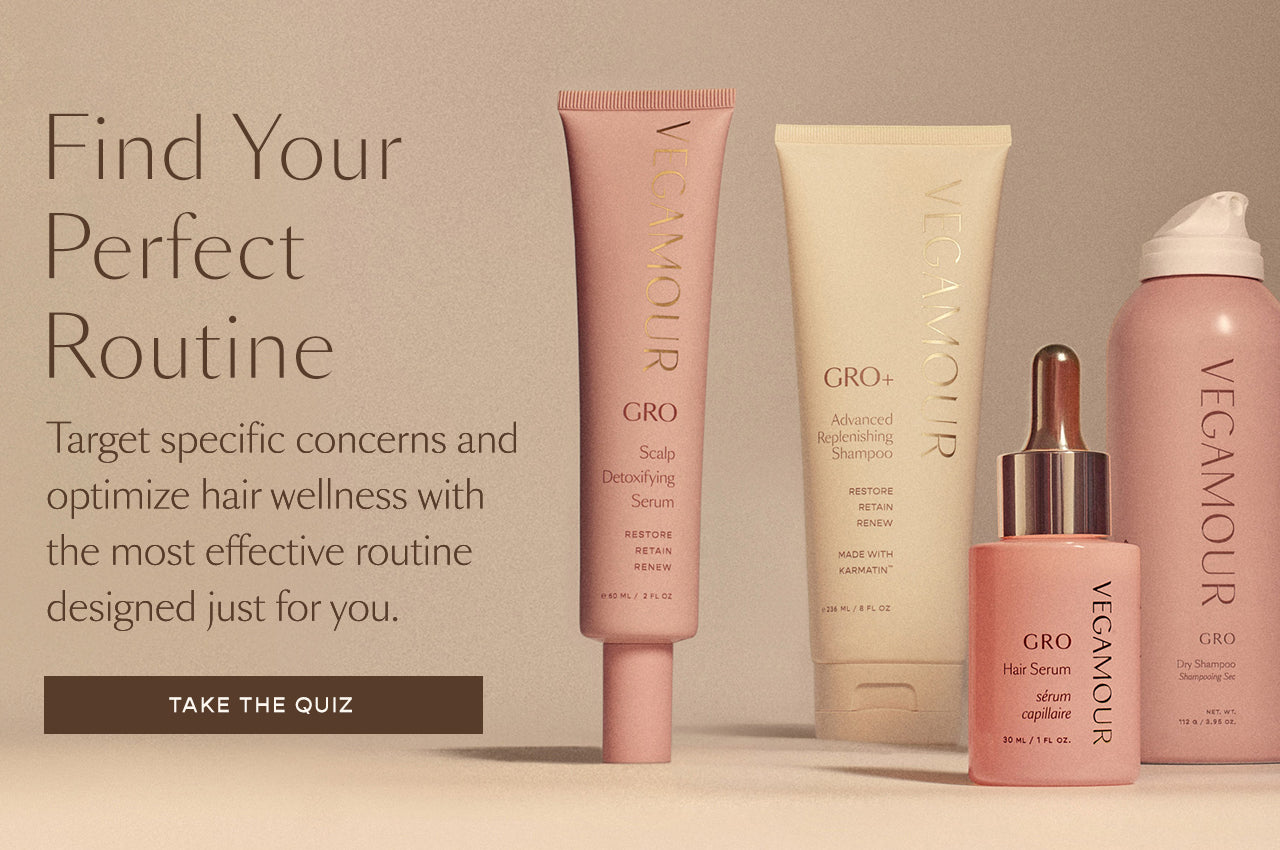 Disclaimer: Information in this article is intended for general informational and entertainment purposes only. It is not intended to constitute medical advice, diagnosis, or treatment. Always seek professional medical advice from your physician.