How to Add Volume to Fine Hair
Ever feel like you're fighting a battle with your own hair? Fine hair can fall flat in no time — in spite of your best efforts. How frustrating! Those with fine hair know the struggle of trying to add volume to limp tresses and have tried every hack and holy grail product under the sun.
VEGAMOUR spoke with an expert stylist for some inside tips and tricks to add extra volume to your fine tresses. Plus, discover the power trio that will turn things around for your dull, fine hair!
Characteristics of Fine Hair
Fine hair will go limp and flat very quickly. So, what makes your fine hair so flat? And how can you get more voluminous hair and add volume to fine strands without damaging your hair? Adding volume is as easy as a few changes to your hair care routine.
Firstly, how do you know if have fine hair? Fine hair is small in diameter, per strand, and may have a lighter density (strands per square inch). However, you can have a very thick head of hair and it still be fine in texture.
Thinning hair, on the other hand, can be any hair type. It sheds more than normal, hence the term thinning.
Common characteristics of fine hair include:
Hair appears thin.
If you can see the scalp.
Hair falls flat easily, creating a limp hair look.
Frequent flyaways or static.
Susceptibility to product build-up, which can weigh hair down.
Generally lacks volume.
Normal levels of scalp oil or excess oil produced by the sebaceous glands can create an oily hair look.
May require more frequent washing.
Wet hair may be more prone to breakage than other hair types.
Also: This Is the Best Hair Mask for Fine Hair
Shampooing and Conditioning Fine Hair
What you do in the shower will make or break your style, regardless of your haircut. Luckily, VEGAMOUR's innovative shampoos and conditioners do the work for you. These products feature Karmatin™, a proprietary vegan keratin that bonds to hair and doesn't rinse out, leaving hair as smooth as glass. 
Try a deep conditioning hair mask so you don't have to skip on the nourishing hair self-care sessions. Not to worry — it won't leave your hair limp. Hair is soft, voluminous and so healthy looking that people will ask what you've been doing to look so good! Finally, you don't have to sacrifice moisture for volume on your thin hair strands.
Choose Hair Care Products for Finer Hair Textures
Avoid products with volume-destroying ingredients like silicones. Your hair is far too fine to handle large-diameter hair shaft clingers like these.
As a side note, all of VEGAMOUR's hair care products for thinning hair of any type are silicone-free. VEGAMOUR also utilizes vegan protein solutions so you can feel good about the hair products you are using for adding volume without adding hair stress to thin hair strands.
VEGAMOUR also created a dry shampoo that's perfect for a quick boost of volume. If you're dealing with flat hair at the office, for example, and you want a pick-me-up before your afternoon presentation, just pop into the bathroom, give the roots of your hair a quick spray of dry shampoo, fluff and go!
Shop: GRO Origins Kit
How to Blow Dry Fine Hair
On one hand, blow drying your hair gives it more volume. On the other hand, heat styling can damage your hair. The best way to blow dry your hair is sparingly and with intention: protect the hair, allow most of it to air dry and then go in with a quick warm blast at the root area to add volume.
Start by gently towel-drying damp hair and allowing it to air dry a little before blow drying. This can reduce stress on your hair. Use heat styling at the end of the drying time to give hair that extra volume where you need it. Create volume by using the directional attachment on your blow dryer to give a boost at the roots.
If you blow dry your hair simply to perk it up and add volume, do this on dry hair. Don't brush it while it's warm or you'll brush the volume right back out. Hold your head upside down and allow the hair to completely cool before you tussle those tresses.
For voluminous curls, blow dry the hair upside down and use a diffuser attachment for long-lasting volume. Use heat protection but don't apply tons of it. A little goes a long way.
More Styling Tips to Add Texture and Volume
Have you been having trouble adding texture and volume to fine hair? Check out this hit-list of expert styling tips to transform thin strands:
A gentle tease at the roots can add lift to your crown.
Volumizing shampoos often work by roughing up the outer scales of your hair shafts. This can be damaging over time. Instead, add more body by using a gentler shampoo that's made for fine hair without damaging your delicate hair cuticle.
Get a more volumizing haircut by adding a few layers.
Apply shampoo lightly to the scalp but concentrate more on the ends. One quick shampoo should suffice. Apply conditioner to the ends only so the hair does not fall flat from weight at the roots.
Do a gentle tease at the root area with a wide tooth comb or a finer teasing comb to give the appearance of more full hair where you want it.
Also: This Is the Best Conditioner for Fine Hair
Haircuts for Fine or Thin Hair
If you're using all the right products and trying all the thin hair styling tips and your hair's still a mess, it could be you've got the wrong haircut for fine hair. Some light layers to remove weight will help to add volume and lift right where you need it. This works especially well for short hair cuts but can also perk up medium and long hair looks.
One-length hair may be far too heavy for your hair type. Adding some layers is good but too many layers will remove the structure of your cut. Work with a knowledgeable stylist that understands how to cut fine hair for more volume. Also, use texturizing techniques sparingly. Too much texturizing will have a negative effect and possibly flatten hair — or worse, make it frizzy and unmanageable.
VEGAMOUR spoke with Cindy Marcus, hairstylist and editor of LatestHairstyles.com to get the tea on styling your fine tresses.
According to Marcus, it's super important to have a cut that removes weight while leaving enough hair to style to "voluminous perfection." She explained that you could get a little help around the hairline by adding some bangs, like side swept bangs or face-framing curtain bangs.
"Side, curtain or traditional bangs can hide thinning hair in the front and give the illusion of more fullness," said Marcus.
Shop: The Best Sulfate-Free Shampoos for Fine Hair
Try this Trick for Your Roots
Marcus also shared a cool trick for color-treated hair.
"Find a color spray meant to cover gray hair that best matches your hair. You can use this even if you do not have gray showing. Using this spray in the front and top of your head can give the appearance of more hair," said Marcus.
"This technique will add color which will look like thicker hair. You want to be careful not to use too much as it can end up looking too fake, therefore start off slow and add more as needed."
A coloring service could give your hair a bit of extra shine, color and volume. This, of course, is only if you want to change the color of your hair while adding texture to super-smooth strands.
More Tips for Your Best Hair Ever
Keep in touch with us here at VEGAMOUR, your new partner in the battle against limp locks. Our staff of experts is hard at work to provide all the info you need on the VEGAMOUR Blog to finally get your hair to cooperate — and look stunning!
More From VEGAMOUR
Photo credit: behrouz sasani/Pexels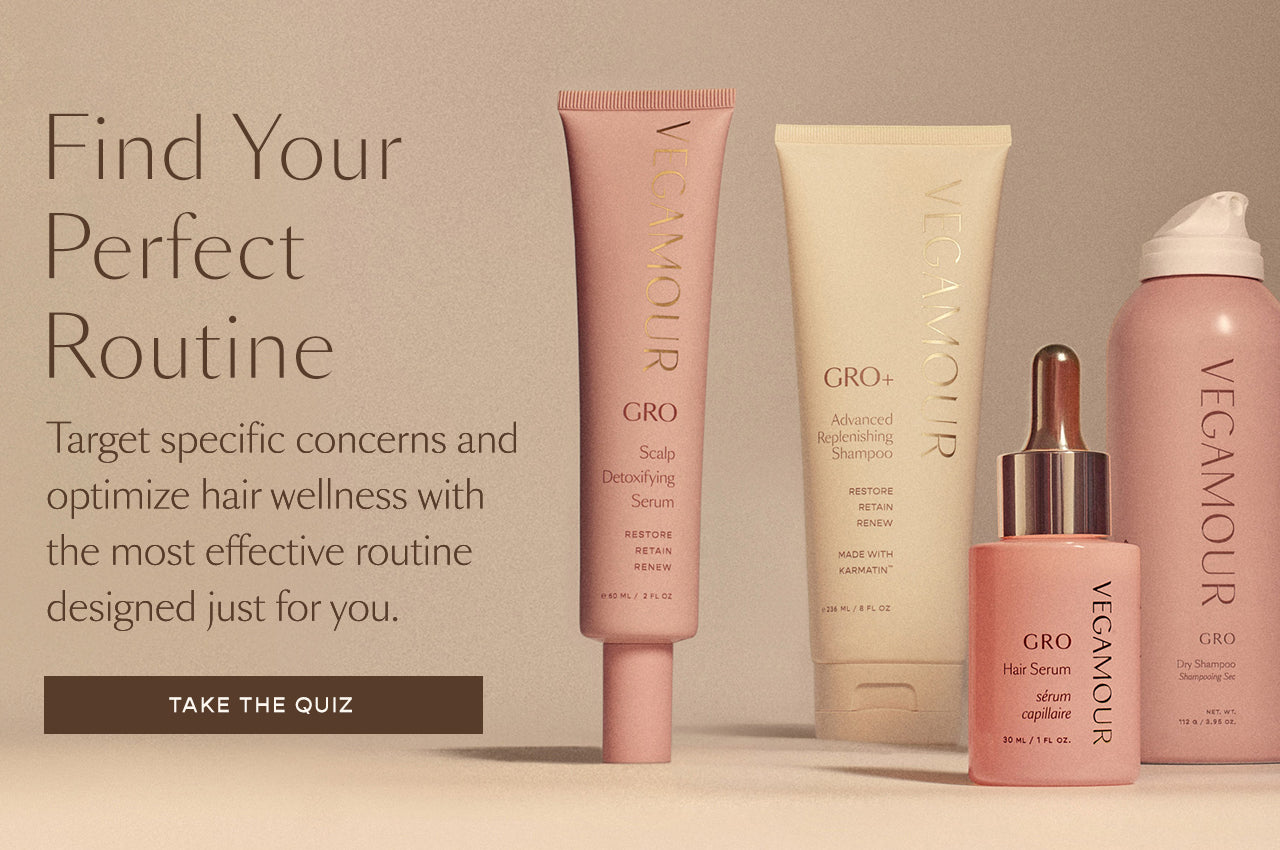 Disclaimer: Information in this article is intended for general informational and entertainment purposes only. It is not intended to constitute medical advice, diagnosis, or treatment. Always seek professional medical advice from your physician.