This Is the Best Hair Mask for Fine Hair
Chances are, if you've got fine hair, you're often concerned about it falling flat or looking lifeless, so you shy away from using a rich hair mask. After all, you don't want limp, greasy locks.
But what if your fine hair could benefit from a mask for dry and damaged hair? What should you do to get that instant moisture boost your hair craves?
Not to worry: The right hair mask will nourish thin, fine hair without weighing it down. Plus, a hydrating hair mask that protects and pampers is a perfect way to treat your tresses — and yourself — to a relaxation ritual. Read on for more about why using a hair mask is important, along with what products you should use to bring out your best hair yet!
Why You Should Use a Hair Mask If You Have Fine Hair
Happy, healthy hair needs moisture that might go beyond what natural hair oils or conditioners can provide, and that also applies if you have finer hair.
Fine hair is not a type of hair. Instead, it's a hair texture. And fine hair is characterized by individual hair strands that are smaller in diameter than other hair textures, such as medium or thick.
Fine hair also has a different structure than other hair textures. While thicker hair most often contains three layers: cuticle, cortex and medulla, fine hair usually does not have the innermost spongy core, which is the medulla.
The result? Out of all of the hair textures (fine, medium and thick), fine hair is especially vulnerable to damage that can result from coloring, bleaching, chemical relaxers and heat styling. That means incorporating a hydrating, restorative hair mask into your routine is vital!
But not just any hair mask will do. Instead, it's important to use the best hair mask for fine hair — one that not only hydrates, nourishes and smoothes but is also lightweight so it won't drag your fine hair down. But with so many masks on the market today, how do you choose one that's formulated for your fine hair's needs? Thankfully, VEGAMOUR has the perfect solution.
Discover the Benefits of HYDR-8 Deep Moisture Repair Hair Mask
Introducing a deep conditioning mask from VEGAMOUR — the first smart mask specifically designed to adjust to the unique needs of your hair. And while it sounds technical, it's actually very easy to use! All you have to do is apply it before you go to sleep and let it work its magic overnight. You'll wake up to fine hair that feels and looks better, thanks to the following:
Intuitive technology that instantly adjusts to fine hair on contact, offering the just-right balance of lightweight moisture while adding necessary volume to fine strands.
A lightweight formula that won't weigh down fine hair. It's not too heavy and also works for all hair textures, including fine, medium and thick hair, and it's also safe for color-treated hair.
Non-toxic, natural ingredients, including nourishing and hydrating marula oil, ximenia oil and murumuru butter, plus our proprietary vegan silk compound Karmatin™, which wraps around fine hair, protecting color and leaving strands smooth — even after rinsing the next morning!
The mask deep-conditions as you sleep, retaining moisture and repairing and protecting the cuticle, all while enhancing color and shine. It works for all hair types and textures, including chemically treated hair, brittle hair, bleached hair, dull hair, weak hair and fine, medium or coarse hair. 
The overnight mask helps protect the delicate structure of hair (and color-treated strands!) from damage inflicted by heat and environmental pollution.
It easily washes out the following day, so you can launch right into your regular styling routine.
4 Steps to Hair Mask Success 
So, you've decided it's time to start using a hair mask? Great! Now, pick a night that works best for your schedule (as it's an overnight treatment) and get ready for a fine hair reset. Follow these simple steps:
At night, apply a quarter-size amount to damp hair, from scalp to ends.
Leave on overnight for up to 10 hours.
Rinse and style as usual. 
Use the mask once weekly or as often as needed for dry or damaged hair.
It's More Than a Hair Mask
Sleep is your body's time to restore and replenish, and your hair is no exception. You can help restore moisture to your hair as you rest with our restoring hair mask. But that's not all VEGAMOUR has to offer. For best results, also use HYDR-8 Shampoo and Conditioner, which contains our proprietary Karmatin™ and is specifically formulated for fine hair. This lightweight, intuitive duo instantly adjusts to your hair on contact, providing ideal amounts of volume, moisture, repair and protection, while also enhancing color and shine. It's the perfect pairing to use with the hair mask!
Restore, Renew and Reset
Integrating an overnight treatment hair mask into your regular self-care routine is a mindful, relaxation ritual that paves the way for healthier-looking, well-hydrated hair all week long! The bottom line? A multitasking, smart hair mask that relaxes you while you sleep and provides the deep nourishment your fine hair needs is the perfect solution to restore and recalibrate your strands! Try it for yourself and see!
More From VEGAMOUR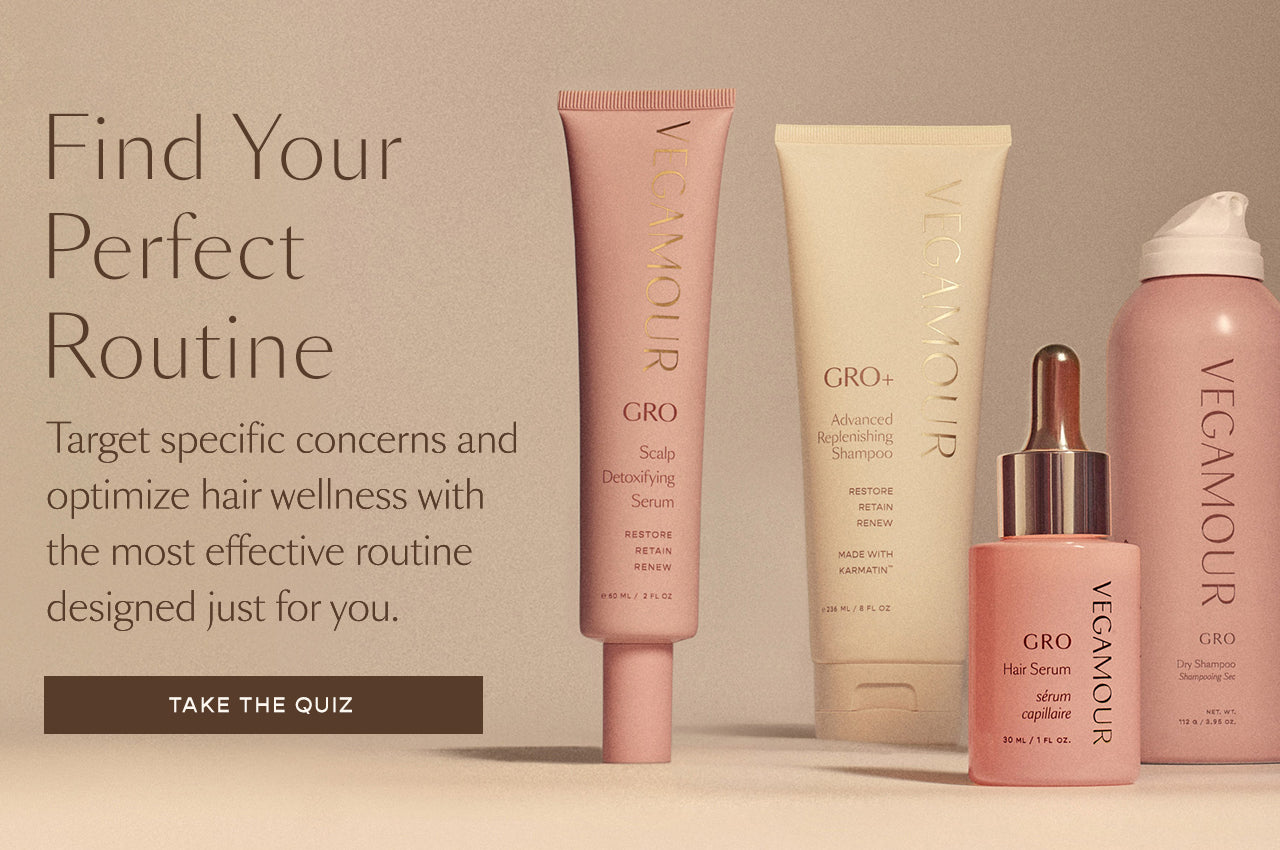 Disclaimer: Information in this article is intended for general informational and entertainment purposes only. It is not intended to constitute medical advice, diagnosis, or treatment. Always seek professional medical advice from your physician.