If your gray hair is bothering you, there's no shame whatsoever in covering it up. There are many gray coverage options, both with and without using hair dyes, to cover up or blend in your gray and silver strands.
VEGAMOUR spoke with an expert in hair coloring services about your options for covering gray hair. Plus, discover how one easy change at home can help preserve your hair's natural pigments for longer.
Gray Hair Coloring Options
There are plenty of at-home options and salon services to cover or disguise gray hair. "For coverage that looks more natural, choose a demi-permanent hair color," said celebrity hairstylist Danielle Keasling. "To really mask those grays, go for permanent hair color with full saturation."
Keasling also shared some of the downfalls of hair coloring. "Be prepared, though, that the more saturation and coverage, the stronger the line will show when it's growing out," she said.
Below, take a look at some gray hair coloring options — from the least to the most permanent.
Use a Color-Enhancing Hair Product
There are several temporary, deposit-only hair coloring options, including:
Purple shampoo or conditioner
Hair mascara
Root concealer products like root spray or root powder
With these temporary solutions, there is no re-growth to worry about and they work on all hair types. However, they only last until you wash your hair. Root sprays or root powders can also give the hair a "fake" appearance that looks unnatural.
For any type of hair color, temporary or permanent, it is advised to conduct a patch test to rule out any chemical sensitivities.
Semi-Permanent Color Glaze
Add a little dimension while letting some grays peek through with a demi-permanent or semi-permanent hair color. These last for a few weeks and up to 1-2 months, but be warned that they will not cover stubborn gray hair or lighten your natural color.
Add Lowlights
Lowlights are a great way to use hair dye to turn back the clock. Add in some streaks of dark hair to blend grays with the newly darkened strands for a more natural and youthful look.
Read More: Why You Should Consider Gray Blending
Complete Coverage
One go-to for resistant gray hair is to use permanent hair color over all of the hair. Gray strands might appear lighter in the end result so your stylist might opt to use a high-deposit color, a stronger developer or implement a scrubbing method with the applicator brush to help lift the cuticle and encourage the resistant grays to take the color.
Regular re-touches to cover gray roots will be required for this look, likely every month. One benefit of this method is that your stylist will brush the color dye right along the hairline, giving you full coverage of all your hair, not just the grays. So, you can select from various colors as your end result.
Balayage
Balayage is a hair dye technique that uses a mash-up of dyes blended on your hair. The natural shade (or base color if the natural hair color is completely covered up with hair color) is used as a starting point for selecting a few shades lighter and darker to create a blended look with lots of dimension. Previously-dyed hair strands would need to be bleached, just as you would with highlights on color-treated strands. That means your new look could take more than one trip to the salon.
Balayage will also cover the entire hairline for a full gray coverage look. This is a great way to stay on-trend but also get a seamless transition of colors in the end result. Root touch-ups will need to be done when the new growth becomes noticeable.
Add Highlights
One of the first go-tos for gray coverage is to add some highlights to create a lighter look with accents of lighter hair strands. Using bleaching powders, the hair is lightened and then treated with a hair colorant called a toner.
Highlighting is fairly stressful to the hair and might require more maintenance to keep the hair healthy and restore any protein lost in the process. As with other permanent hair coloring options, prepare for regular root touch-ups on the new growth to blend away that line of demarcation.
Add a Highlight and Lowlight Blend
A combination of highlights and lowlights will add dimension to your overall look. Both are done with permanent dyes, but the highlights might require a pre-dye bleaching step. How much coverage you do over the natural color will determine how frequently this look will need touch-ups.
Non-Chemical Options for Covering Your Gray
You don't have to opt for hair coloring dyes or bleach to cover up your grays if you'd prefer your hair simply go through the natural process of aging. Tuck your gray locks under a lovely scarf, use a head wrap or simply stock up your wardrobe with various hats. Update your wardrobe to colors that don't clash with your gray hair and you might find you'll cover it up less often. Graying with Grace recommends a wardrobe of black, beige, purples, greens, reds and blues, while avoiding drab colors like brown or whites that could wash you out.
Related Reading: These Are the Characteristics of Aging Hair
Natural Gray Delay Options
Another way to disguise those silver strands is to use a gray-delay hair enhancement program like VEGAMOUR's GRO AGELESS products, which gives you healthy hair that looks more youthful and radiant. This vegan option ensures the health of your hair by reducing oxidative stress on your hair, so it grays less rapidly. Nourishing the hair follicles with nutrients can help keep your melanocytes healthy and functional for longer.
Many users experience a gradual reversal of gray hair as evidenced by some pretty stunning before and after photos.
Caring for Your Graying Hair
Caring for your gray hair is easy with GRO AGELESS, but what else can you do to ensure your gray hair is healthy and beautiful? To encourage healthy hair, try the following tips:
Eat a well-balanced diet with plenty of B vitamins and folic acid.
Ingest more collagen (or a hair supplement that is collagen-rich).
Sleep on a silk pillowcase to reduce frizz and promote shine.
Protect your hair from harmful UV rays, environmental pollutants and cigarette smoke.
Animal protein treatments like keratin can make your gray hair feel brittle and dry. Instead, use plant proteins like Karmatin™ b-SILK™ protein which penetrates and bonds with your hair for lasting strength and softness.
Read More: How to Keep Your Hair Healthy as You Age
Encourage Healthy Hair At Any Age
Cover your gray or embrace it — whichever you choose to do, GRO AGELESS technology can help minimize the appearance of grays at the roots, feed your hair strands the moisture it needs as it ages and promote a silky appearance that makes all hair colors shine.
More From VEGAMOUR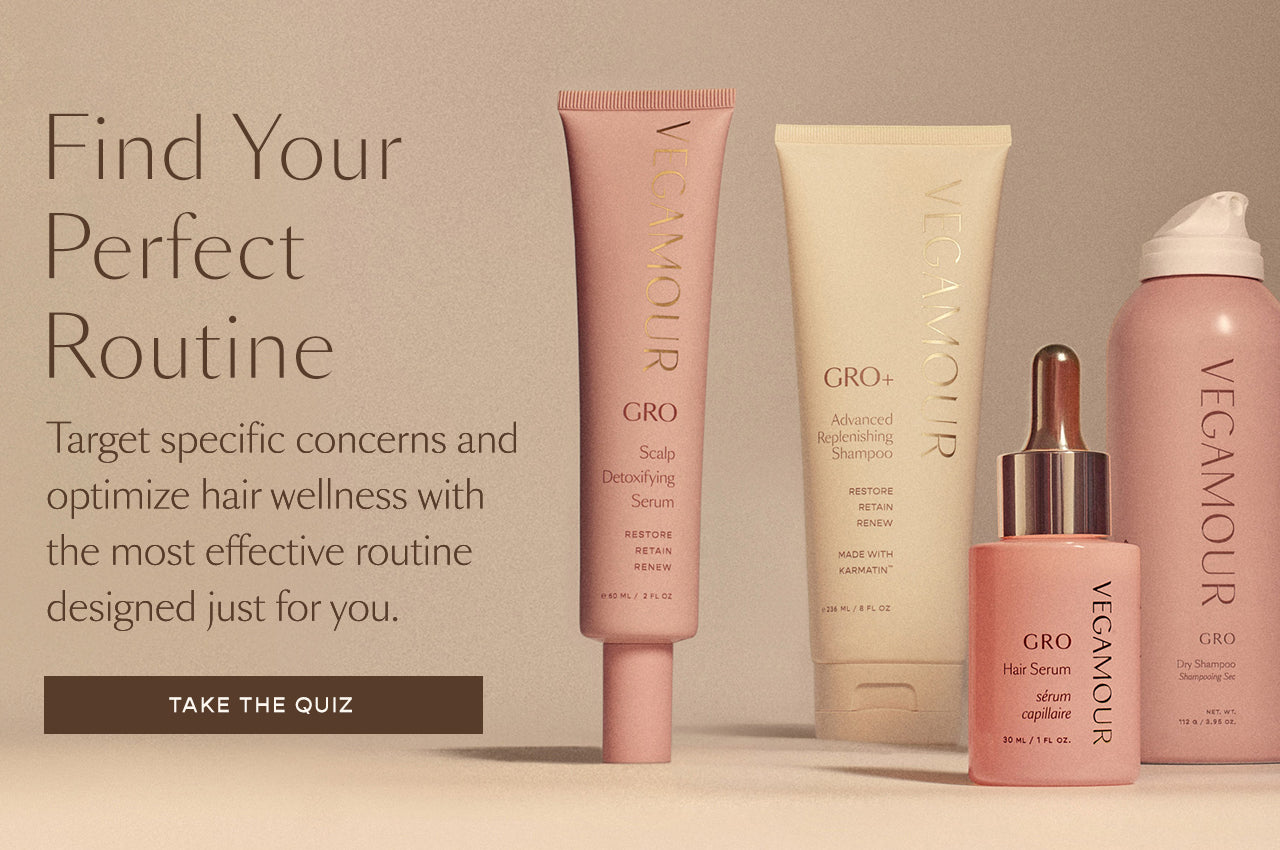 Disclaimer: Information in this article is intended for general informational and entertainment purposes only. It is not intended to constitute medical advice, diagnosis, or treatment. Always seek professional medical advice from your physician.