How to Do a Messy Bun With Thin Hair
Some days you have the time to wash your hair and blow it out to perfection. On other days — not so much. Whether you're short on time, need your hair out of your face or want to stretch your hairstyle another day before washing, a messy bun can be a great option.
But what if your hair is thin? Will a messy bun work for you? Read on to find out how to do a messy bun with thin hair — plus, find out what products you should use to encourage thicker, fuller looking hair.
Your Haircare Routine Plays a Role
When it comes to learning how to do a messy bun with thin hair, it's important to note that your haircare routine plays a critical role in if your hair is thinning.
Hair expert and chief editor at Hairdo Hairstyle, Alice Rawling, explained, "When dealing with thin hair, turn to a lightweight, volumizing shampoo and conditioner with some moisturizing ingredients." She explained that some shampoos are more drying, which can lead to breakage or other problems like the scalp overproducing oils to make up for it.
To add extra volume to hair, add a bit of texture spray and then place it in a loose topknot overnight, or even two twisted buns (a la Princess Leia). When you wake up, take the hair down and fluff it before creating your messy bun.
Shop: Best Hair Volumizing Products
How to Do a Messy Bun with Thinner Hair
When creating a messy bun with thinner hair, there are a few ways to adjust the hair so that it appears more voluminous. However, if your hair was previously thicker or you're styling thinner hair for someone else, just know that the traditional twist bun doesn't work as well for thin hair.
To find out what does work well for thin hair, VEGAMOUR spoke with hair expert and owner of Hairbro UK, Chris Pitt. Here are his tips for doing a messy bun for thin hair.
"Brush your hair, then tie it into a high ponytail," he said. "Wrap a hair tie around the ponytail a few times to lift it and set it higher away from the head." Pitt recommended that you rough up your hair a bit at the front and around the rubber band. For a bun to appear messy, you want all of the hair to look messy.
Next, Pitt said to gently tease or backcomb your ponytail thoroughly to give it a bit of volume. "Be gentle because thin hair is prone to damage," he said. "If your hair is clean and free of grease, use dry shampoo to improve the grip. You'll soon have a messy and fluffy ponytail. Take sections of your teased hair and pin them to the base."

Pitt explained that there is no need to add any more twists or knots to the style as the goal is to have the teased hair pinned on all sides with bobby pins in the shape of a bun. So rather than twisting and wrapping hair around in a coil like you would with thick hair, a messy bun with thinner hair is achieved by simply pinning sections of strands of the teased ponytail to the base in the shape of a bun. He also warns against trying to tame baby hairs and flyaways. "You want the whole look to be messy."
Finally, you'll want to set the style with hairspray to keep it in place.
Related: 8 Best Hairstyles for Thin Hair
What About If You Have Hair Extensions?
If you have hair extensions, Pitt said that the best technique is to separate the hair into two sections — kind of like a half-up, half-down hairstyle. Pin the front section in a loose way, or secure it with elastic, creating a base. Then, bring the extensions into a twist ponytail, wrap it around the base and pin it to secure it. Finally, use your fingers to tug gently at the twist giving it a messier look.
Also: Thin Hair? Try Ghost Layers at Your Next Haircut Appointment
Other Tricks to Style Thin Hair
Rawling explained that regular haircuts could help hair grow healthier and fuller.
"Consistent trims are not only important for hair growth, but they will also help your hair appear fuller and healthier," she said. "Always stick with a strong shape and ask for more direct lines in your haircut. The direct lines give hair more dimension and depth, naturally making it look fuller. After your cut, taking care of your hair is also key to keeping its full look."
Short hairstyles tend to naturally have more volume since the roots of the hair are not being pulled down by the weight of long hair. Another hack for creating volume in your hair is to wash your hair a bit less and use dry shampoo a bit more. Dry shampoo can stretch out the time between wash days by soaking up oil and adding volume to your hair.
Also: 10 Unexpected Ways to Use Dry Shampoo
Use Quality Hair Products
Multiple factors can contribute to hair thinning or fallout. Some of those include stress, poor sleep hygiene, vitamin deficiencies, hormonal changes, or aging. Poor circulation or poor scalp health can also contribute. More often than not, it's a combination of two or more of these issues, and the best way to hack this is to use a holistic approach to hair care.
Plant-based GRO Hair Serum contains a combination of plant-based,  vegan, clinically-tested vegan phyto-actives that work together to help facilitate a balanced and healthy follicular ecosystem while also soothing the scalp and revitalizing hair so it can appear thicker and fuller in as soon as 90 days.
Make the Most of Your Hair
Remember having thinner hair doesn't mean you can't style it to make it appear more voluminous. Adding high-quality, natural products to encourage thicker, fuller looking hair can also help to boost your hair's overall appearance too.
Try the messy bun trick to see how it makes you feel. With a few tweaks here and there, you'll have a go-to hairstyle in no time!
More From VEGAMOUR
Photo credit: Yanapi Senaud/Unsplash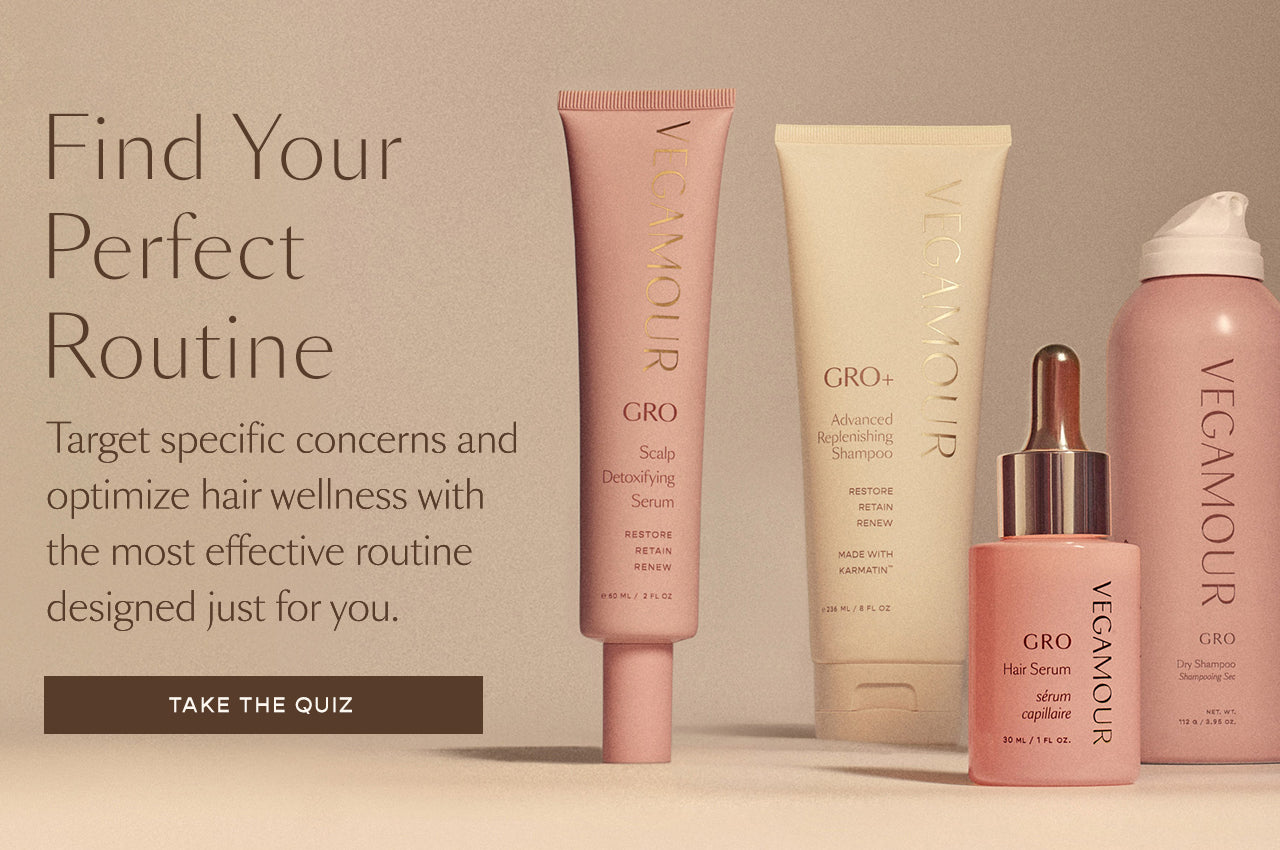 Disclaimer: Information in this article is intended for general informational and entertainment purposes only. It is not intended to constitute medical advice, diagnosis, or treatment. Always seek professional medical advice from your physician.