How to Grow Out a Pixie Cut in No Time
Pixie cuts can be great news for growing healthier hair. Undergoing a "big chop"can be a great way to let hair recover from years of harsh chemicals or heat treatments, letting you start fresh with untreated, virgin hair. Or maybe you've been enjoying the ease of short hair but are considering trying out a new look. Whatever your reasons for adding length, growing out a pixie cut can be a frustrating process.
From struggling with slow hair growth to figuring out the best styling products, there are many questions to grapple with as you work on growing out a pixie. But with some hair wellness tips, cute hair accessories and the right hair products, you'll be on your way towards longer hair. Plus, find out what products to add to your routine to get thicker, fuller looking hair.
How Long Does it Take to Grow Out a Pixie Cut?
There are many factors that impact how long growing out your pixie might take, including a complex interaction of many different chemical and hormonal factors that impact hair growth. Every body is different meaning that the time it takes to grow out hair to a longer length varies considerably from one person to another, depending on a variety of factors including genetics, environment and lifestyle, much of which is out of your control.
If you want to set a goal date to reach a certain length on your calendar, you might base it on statistically average rates of hair growth. Based on these numbers, you can typically expect the timeline for growing out a pixie cut to take between three to six weeks. This number is based on the average rates of human hair growth over time. Remember that this rate is not exact for every single person on the planet, so the time it takes you to grow out your pixie cut will depend on your individual physiology. Whatever your hair's natural growth rate, there are a few steps you can consider to help encourage your hair to grow as rapidly as possible while maintaining optimal health.
Shop: VEGAMOUR Best Sellers
How to Make Your Pixie Cut Look Thicker and Fuller
There's no way to grow out a pixie overnight, but that doesn't mean you can't encourage your hair to look thicker and fuler. If you're officially sick of having short hair, the good news is there's something you can do about it.
Here are a few simple steps you can take to help you get your pixie looking better:
1. Make Sure Your Hair is Healthy
Just like all forms of beauty, longer, healthy hair starts from within! The first step to growing longer, healthier hair is making sure that you're eating a diet rich in foods that encourage your hair to grow. Adding an extra scoop of peanut butter to your smoothie or adding sliced avocado to your sandwich at lunch can be a quick and easy way to help support your hair as you grow it out. Additionally, be kind to the hair you do have, staying away from harsh styling products and heat treatments that may damage your hair follicles and reduce growth.
Read: Do You Know What Your Hair Porosity Is?
2. Get Regular Trims
It sounds counterintuitive, but you should be getting your hair cut regularly as you grow it out from a pixie style or short haircut to your desired length. Getting your hair shaped and cut will make styling easier as you move from a pixie to a bob and beyond and help make sure that your hair takes on your desired shape as it grows. It also helps eliminate split ends, which makes your hair look healthier and more full. Regular trims also gives you a chance to check in with a trusted hair professional about your progress and get any personalized tips or products from them.
Find Out: The Ultimate Guide to Hair Growth Cycles
3. Oil Up!
A number of oils have been found to promote hair growth. Especially if you tend to have dry hair, applying a few drops of your favorite oil or using an oil-based spray or treatment helps encourage hair to grow to your desired length by reducing dry hair and supporting your scalp's production of natural sebum or oil. Dry hair can be harder to manage, so making sure your hair is adequately oiled is essential to both encouraging length and keeping shorter hair sleek and styled while also avoiding frizz. Remember, oil is an occlusive so if you spend lots of time, money and products moisturizing your hair, be sure to seal all that moisture in with an oil as your last step in your styling routine.
Related: 10 Benefits of Marula Oil for Hair, Skin and Nails
4. Take Supplements
Adding supplements that encourage hair health and strength, like a daily biotin gummy, to your regular beauty routine is a great way to support your growing length. A supplement is a great way to encourage scalp and hair health and make sure your hair gets the support it needs.
Check out these VEGAMOUR coupon codes to help you save on your next purchase.
5. Deep Condition
Regular conditioning and occasional deep conditioning growing hair with a nourishing conditioner hydrates and promotes healthy looking hair, altering the surface of strands to promote visibly thicker, fuller and stronger hair as you work to grow that pixie cut into your desired length and style. Hair grows best when it's well nourished, so conditioning is an essential part of any weekly regime — yes, even with short hair.
Also: 12 Steps to Thicker Hair
6. Give Yourself a Scalp Massage
There's a growing body of clinical evidence suggesting that scalp massage promotes hair health. You'll need your hair to be healthy if you hope to achieve your desired length. Giving your scalp an exfoliating massage every time you shampoo (try a handheld scalp massager for deeper impact) not only helps your products penetrate more deeply, it may stimulate the scalp and encourage hair to grow.
Related: Your Guide to Scalp Exfoliation
How to Style Your Hair When It's in an Awkward Phase
Even if you speed up hair growth, you're still going to go through an inevitable awkward phase or two as you grow out your short haircut. Regular trims will help keep your hair in optimum shape, and you can style your hair between appointments to help it look like you're rocking a purposeful look. Here are a few tips to get you through the awkward phase and onto the other side:
Accessorize
When it comes to styling short hair, accessories are your friend. Use a colorful headband to clear the flyaways (or awkward half grown out bangs) off your face or chose clips or bobby pins to help hold back those growing layers. Accessorizing effectively makes your hair look like a style statement instead of an awkward phase. If you prefer a more natural look, use neutral toned bobby pins hidden throughout your hair to smooth down your 'do as it grows. And if you're really sick of rocking a short hair look, you can always copy the popular red carpet move of clipping in some extensions or a wig for easy added length.
Try It Yourself: GRO+ Advanced Hair Foam With CBD
Style With Purpose
Styling spray or mousse is an essential when growing out your pixie. A slicked back, sleek hairstyle creates a more put together look, and can help hide the flyaways and cowlicks that can develop between trims as you grow out your hair. For an added boost, consider using a product like GRO Hair Foam, which gives hair instant body and texture while natural actives like mung bean, red clover and curcumin penetrate the scalp deeply to support visibly fuller looking hair.
Also: 5 Ways to Make Your Hair Look Thicker
Layer Up
When you go in for your regular trim, check in with your stylist to make sure they're adding layers. Blunt cuts can look sleek for longer hair or bangs, but for short hair they can create a uniformity that makes it difficult to style. As your pixie continues to grow, you may notice your hair taking on a spherical shape, getting puffy curling up and at the front. This is a normal part of the process of growing long hair, but your stylist can help shape your burgeoning bob or lob into a more appealing hair style. Layers create dimensionality and can help add texture in front to effectively frame your face.
Learn: How Inflammation Affects Your Hair
Growing Out a Pixie Cut Take Patience
You can follow every single tip there is to grow out your pixie cut and there's still one factor you can't change: time. Growing out your hair takes time so there's an element of patience that is needed. Enjoy the journey of different hair lengths as you grow out your hair — it won't be short for long.
More From VEGAMOUR
Photo credit: Karolina Grabowska/Pexels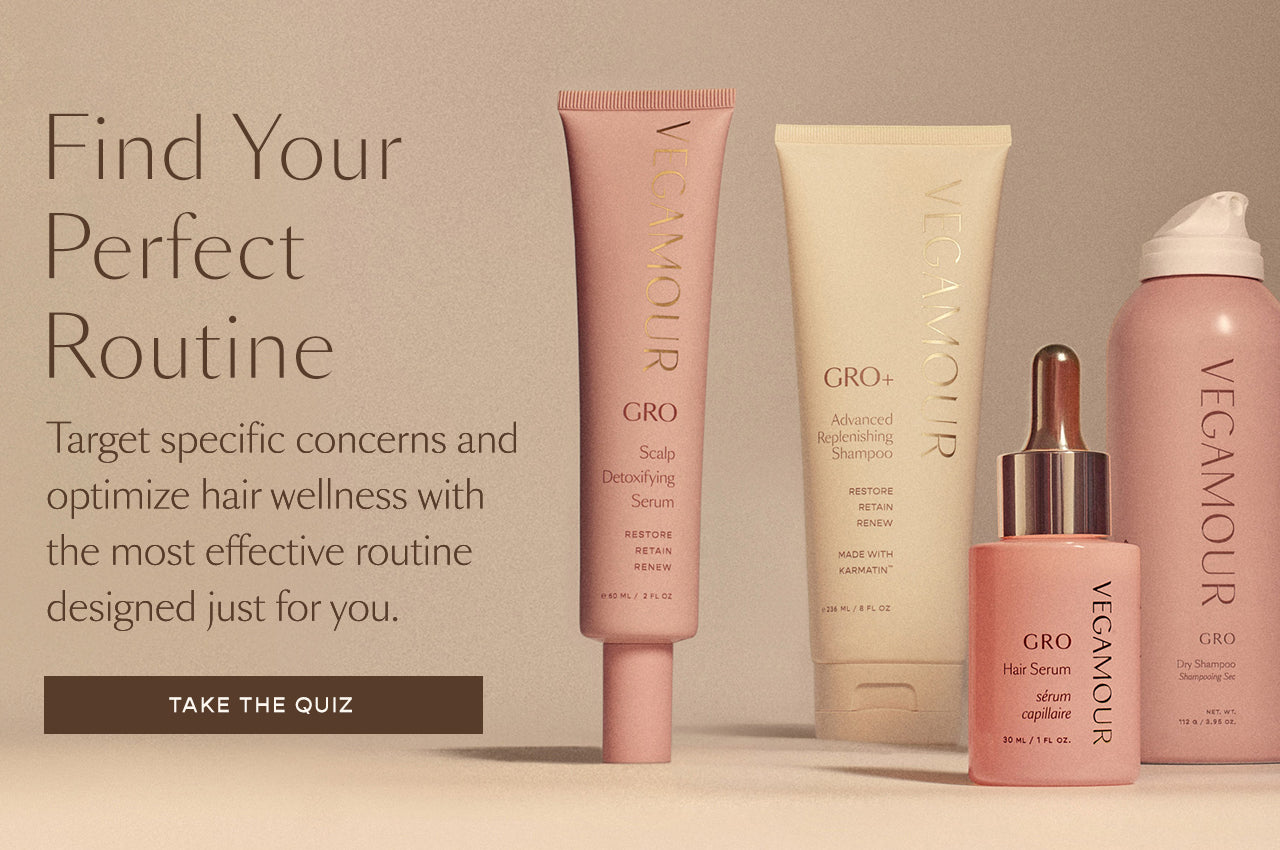 Disclaimer: Information in this article is intended for general informational and entertainment purposes only. It is not intended to constitute medical advice, diagnosis, or treatment. Always seek professional medical advice from your physician.