Over Your Bangs? 9 Tips to Hide and Grow Them Out
So, you went ahead and made the big snip. And now, those super-short bangs have you longing for the rest of your bang-free, face-framing layers back. Unfortunately, bangs are front and center, which means they can be hard to hide. If you're wondering what to do and how to hide bangs in that awkward in-between stage, look no further! Here, you'll find expert tips on how to style your bangs during the grow-out process, along with what products you really should be using to encourage thicker, fuller looking hair.
Pro Tips for When You're Over Your Bangs
No matter what type of bangs you have — blunt bangs, side bangs or short fringe — hairstyles exist that can help in hiding bangs (or at least minimizing their appearance) while waiting for the rest of your hair to grow.
We interviewed New York City-based hairstylist Jasmine Anna Galazka to get her pro tips and tricks to style bangs gone awry. Here's her take on how to hide bangs and integrate them with the rest of your hair during that awkward in-between time. Plus, info on the products that can help you make the most of your hair — from bangs to ends.
Best Seller: GRO More Kit
Tip 1: First of All, Stop Stressing!
First of all, quit stressing over regrets. Stress will only make things worse and potentially even hinder growing out your bangs.
Stress-related hair loss is one culprit that can stunt how hair grows, making it all the more difficult to hide your bangs. Rather than fixating on what has already been done, start focusing on what you can control — being mindful of what products you use to treat and style your hair for improved hair wellness.
While you can't speed up the cycles of hair growth or instantly create more hair, you can kick-start the process by adding the right supplements and/or products into your daily routine, like GRO Biotin Gummies, which are packed with hair-healthy vitamins and minerals or GRO WELL Hair Boost Supplement Powder + Probiotic, an adaptogen/probiotic drink mix that comes in four delicious flavors and promotes thicker, fuller looking hair and a healthy gut microbiome.
Shop: Compare GRO vs GRO+ Advanced 
Tip 2: Make Hair Accessories Your New BFF
Hair accessories can play up the rest of your hair while hiding bad bangs or ultrashort bangs. Bobby pins, hair clips, headscarves, hats or headbands can all work. Plus, as an added bonus, they're all currently trending.
Sweep strands back with a headband to hold bangs back and in place, making them appear as if they've virtually disappeared. This trick works with even really short bangs. Or, try using a fun, sparkling hair clip or bobby pin to tuck bangs back or to the sides. Another option is to wear a hat. Pro tip: Mist hairspray on the inside of a hat to prevent static, flyaways or frizz.
Tip 3: Try a Top Knot
Speaking of accessories to hide bangs, next up is securing either a top knot or a pair of mini ones with soft, snag-free hair ties. To fix bangs, try creating either a pair of two mini top knots on each side of your face or one top knot as a half-up, half-down mini bun. Use gentle hair ties that won't cause damage, friction or breakage to those sensitive baby hairs around the hairline or hurt bangs during their grow-out phase.
Shop: The Hair Collection
Tip 4: Do the Twist
Another option is to incorporate hair ties or bobby pins. Create mini twists on each side that hide bangs and make them look as if they're part of an overall hairstyle. Prep bangs for styling by lightly misting with hairspray or GRO Dry Shampoo to refresh fringe, balance the scalp and boost both volume and texture.
Create any part of your choosing — a middle part or center part works best for dual twists — and begin to take a small piece of fringe from each side closest to the part. Try gently twisting bangs to the sides, gathering more strands as you progress back. Once you reach all the way to the sides, incorporate some of the longer pieces of your hair into the twist. Secure with bobby pins, hairpins or clips.
Tip 5: Try Braids
Braided hair is another option and works especially well for those with long bangs. Baby braids are also a great idea for making bangs look as if they're part of the rest of your hair. Start braiding from the hairline on each side; or, opt for one center braid that extends from a middle part.
For those looking to elevate the look even further, you can style fringe into French braids along the hairline to create a headband or crown-like effect. Secure plaits in place with bobby pins in the same color as your hair to make braiding along the bangs almost invisible. Pro tip: Bobby pins are actually meant to be inserted with the wavy side closest to the scalp to secure hair with added grip.
Shop: VEGAMOUR Best Sellers
Tip 6: Fake It Till They Make It
Go faux by making long bangs look like "curtain bangs" or face-framing layers. Or shift the shape, volume or texture of your fringe to reshape them into an entirely new look.
Sometimes even the most choppy fringe or bangs can benefit from a shapeshift. Consider using a curling iron to boost volume and body. Or, opt for a flat iron to sleeken them into a side-swept look.
Tip 7: Do a Slick-Back
Go for a wet, slicked-back look or slightly pumped-up and then swept-back pompadour. For a wet-look slicked-back style, generously coat bangs and hair all along the crown with a combination of GRO Hair Serum to promote healthier hair, plus a gel for long-lasting hold. Use the same product combination for a pompadour, which boasts boosted volume on top.
The hormone- and toxin-free serum utilizes plant-powered phyto-actives to encourage fuller, thicker-looking hair. Use the dropper to apply the serum directly to the scalp, and distribute it evenly by massaging it directly into the scalp and hairline. It works best on towel-dried or dry hair and is a leave-in product.
Tip 8: Switch Up Your Part
Swapping your standard part is another way to hide your bangs. Do a deep side part to your preferred side. For example, if your left side is your "good" side, use a comb to part your hair as far to that side as possible, pin bangs in place and pull longer layers over the hide the fringe and pin.
Tip 9: Be Patient and Practice Wellness Habits
Finally, because you can't turn back the hands of time and stop the clock on having your bangs cut, having patience in your hair growth journey is a "mane" must. Treat your scalp and strands with TLC, use products created with their integrity and include mindful wellness habits into your daily lifestyle. And before you know it, your bangs will be all grown out!
More From VEGAMOUR
Photo credit: Vinicius Wiesehofer/Unsplash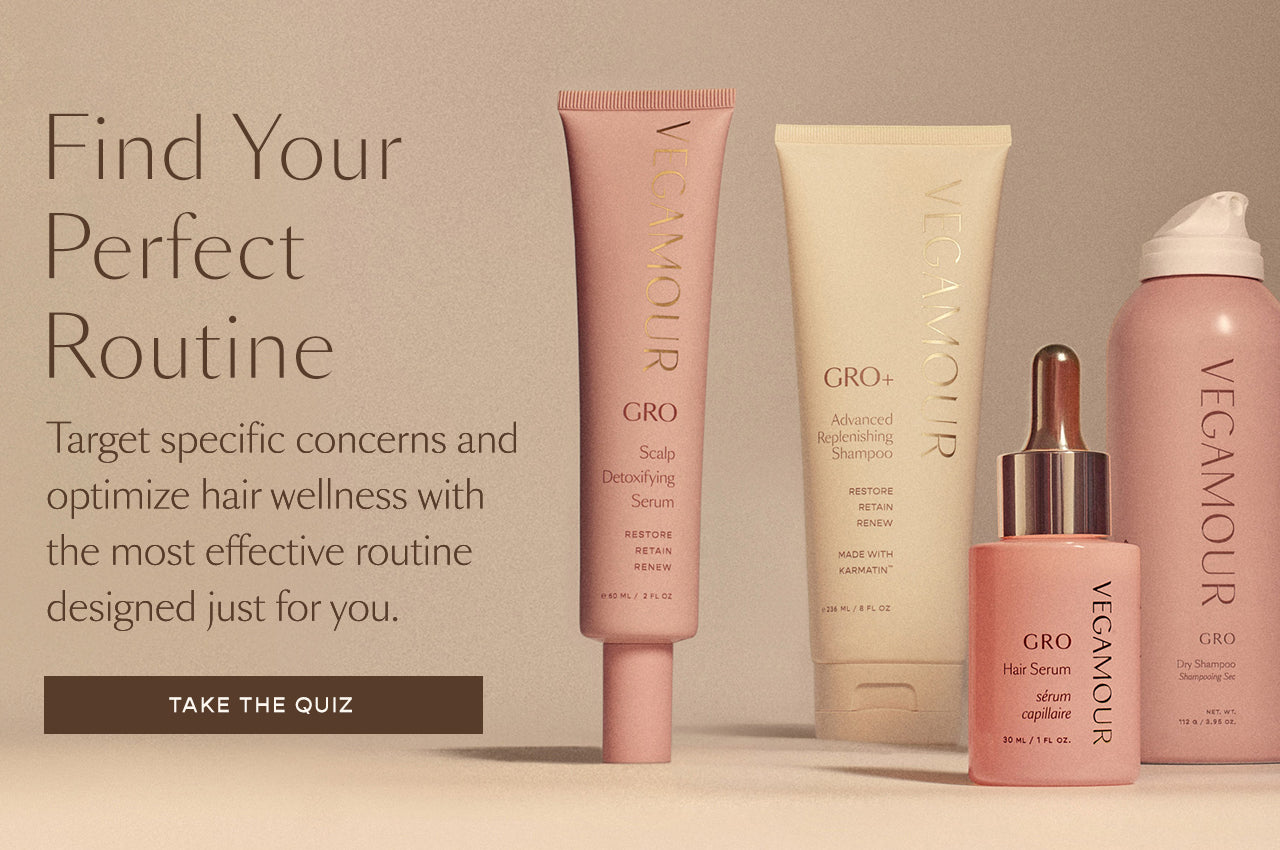 Disclaimer: Information in this article is intended for general informational and entertainment purposes only. It is not intended to constitute medical advice, diagnosis, or treatment. Always seek professional medical advice from your physician.