How to Grow Out Your Hair Faster
Does this scenario sound familiar? You spent the past months growing out your long hair — whether due to pandemic restrictions or just because you were going for that perfectly-imperfect, long, lush look — and suddenly, you were dying for a change. So, you decided to go for it with a dramatic chop — only to realize that your new 'do doesn't quite complement your face shape as much as you thought it would.
If you're left shorn and wondering if there's anything that will make your hair grow, multiple options exist that may help you get the hair you want. To help, VEGAMOUR rounded up expert ideas and info on products you can use to support thicker, fuller looking hair.
How Hair Grows
The good news for those trying to grow out their hair is that it does grow relatively quickly. The average rate of how fast hair grows per year is 6 inches for most people, which translates to half an inch per month. All the hair follicles we will have in our lifetime — approximately 100,000 on the scalp — are already in place when we are born, according to The American Academy of Dermatology.
If you're contemplating how to get your hair to grow and/or wishing for your long hair to reappear, first assess all the head-to-toe factors that play into hair wellness. The health of our hair and scalp mirrors what is going on within the body. With this in mind, it makes sense that to make your hair grow faster, a holistic approach to your overall health is the right move.
There are many other elements that play a role in just how fast hair grows, including:
Age
Hormones
Stress
Diet
Hydration
Sleep
Protein intake
Vitamin deficiencies
Heat styling
Scalp and hair oils
Damage or breakage
8 Ways To Help Encourage Thicker Looking Hair
While there is no quick fix, here are some pro tips and tricks that can help encourage thicker looking hair.
1. Trim Your Tresses
While it may sound counterintuitive, committing to a regular routine of haircuts can actually help promote hair growth. Setting — and sticking with — a schedule may improve your hair growth and bolster healthier hair. Aim to head to your hairstylist for a haircut every six to eight weeks, though you can wait a bit longer if you're growing out a pixie cut.
Longer hair is more prone to split ends, breakage and is often more brittle. In turn, these types of hair damage may prevent your hair from reaching its desired longer length. Getting regular trims prevents further damage, potential hair loss, split ends and breakage, which can help your strands grow longer and stronger.
Related: How Often Should You Cut Your Hair?
2. Less Shampoo, More Dry Shampoo
Yes, there can be too much of a good thing. Some hair experts agree that washing your hair with shampoo too frequently can potentially leave it dry, more susceptible to damage or breakage and eliminate the necessary natural oils in the scalp that help foster hair health.
To minimize damage, try to keep shampooing down to two to three times per week, especially if you already have damaged hair or a dry scalp. Luckily, there are other hair-cleansing options that don't require a typical water-based lather. Consider alternating hair wash days with ones in which you use a dry shampoo to soak up excess oil while adding texture and volume.
On those days that you do shampoo, opt to use a sulfate-free shampoo designed with your needs in mind. Wash your hair with warm — rather than hot — water. Work shampoo throughout the hair with fingertips; a circular action scalp massage can also help increase circulation for a healthier hair and scalp. Finish by following with a cool water rinse. This will help seal the hair shaft, creating the look of smooth, shiny strands. Follow with a revitalizing conditioner and style! 
Related: How to Use Dry Shampoo to Avoid Overwashing Your Hair
3. Treat Wet Hair With TLC
Wet hair is also more prone to breakage, making it necessary to be more mindful of your post-shower hair care routine. One common mistake is to vigorously rub wet hair with a regular towel. The texture of the towel can rough up the surface of hair by lifting up the cuticle layer of the hair, leading to frizz, flyaways and damage.
Instead, choose to softly pat dry and wrap hair with a microfiber hair towel. These super-absorbent towels are designed with the needs of hair in mind, removing as much water as possible from your hair.
When brushing your hair, use a wide-tooth comb or wet brush, rather than a standard hairbrush, to detangle wet strands. Go easy when working through wet hair. Brushing too vigorously when detangling your hair can actually make knots worse and cause breakage.
4. Minimize Heat Styling
Heat styling tools such as blowdryers, curling or flat irons can cause hair damage when used excessively. As heat causes the water in the cortex of your hair shaft to expand, heat styling tools lift the cuticle layer, stripping natural oils and moisture from the hair shaft, which then leaves hair in a vulnerable state.
Avoid heat styling when possible to further minimize heat damage. Or, if heat styling is unavoidable, treat your tresses post shampoo to deep conditioning, moisture-rich hair masks that also include heat protectant ingredients. After partially drying your hair with a microfiber towel — or a microfiber scrunchie — mist on a heat-protectant spray before heat styling.
Also: Yes, You Should Wash Your Scrunchies — Here's How
5. Eat a Protein-Rich, Balanced Diet
The appearance and health of our hair, skin and nails is a reflection of our overall health. Maintain a balanced, nutrient-dense diet that includes omega-3 fatty acids, adequate protein intake and essential minerals and vitamins, like vitamin E.
These nutrients can help stimulate the natural production of natural oils on both the hair and scalp; they may also aid in preventing or reducing split ends and hair damage. Reduce the consumption of inflammatory ingredients such as excess sugar, which can hinder the absorption of protein, ultimately leading to hair thinning, hair loss, damage and breakage.
Related: The Best Foods for Hair Growth
6. Consider a Healthy-Hair Supplement
Hair supplements, especially those with biotin and other ingredients such as CBD, are having a major moment right now — and for good reason. Aside from enhancing your overall health and promoting shiny hair and glowing skin, hair supplements have other benefits.
Incorporate the use of supplements such as a daily gummy vitamin containing folic acid, zinc, selenium, biotin and vitamin D into your regular routine. These supplements nourish hair, providing hair follicles with the nutrients needed to support healthy looking hair
Shop: GRO Biotin Gummies 5-Month Supply
7. Get Thicker Looking Hair With a Hair Serum
Length isn't the only thing you need to consider when growing out your hair — density is equally important. Lush hair starts with healthy hair follicles — and hair serums can help you achieve that. But not all hair serums are created equal.
The phyto-actives found in VEGAMOUR GRO Hair Serum visibly increases encourages thicker, fuller-looking hair. But you don't have to take our word for it — check out what our customers have to say.
8. If All Else Fails, Seek an Expert
Medications, hormones and health problems can impact hair growth and regrowth, so if you have sudden or unexplained hair loss, or if your hair doesn't seem to be growing, seek medical attention to make sure it's not something more serious.
"When it comes to our hair in the pregnancy and postpartum stage, you can both thank and curse hormones. In pregnancy, the hormones estrogen and progesterone skyrocket to make your uterus a home for your baby [and] increase your blood volume by about 33%. And they help you feel beautiful in pregnancy by prolonging the anagen (growth) stage of hair growth, giving you some of your best hair days with thicker, longer, and shinier hair," said Wendy Colson, RN, IBCLC, Founder & CEO of Boobie Superfoods.
"Unfortunately, these same hormones suddenly decline after the birth of the placenta and are to blame for the 90% of the mothers who experience excessive hair shedding (telogen effluvium) 2-4 months postpartum, leaving you with a skinnier ponytail or even balding patches near the temples of your forehead. To assure your body is at its optimal to maintain or speed up postnatal hair growth, take an inventory of your overall health and wellness."
Shop: GRO+ Advanced Hair Foam 3 Month Supply
Good Things Come With Effort and Patience
The good news is that this extra hair shedding phase isn't permanent. Taking supplements can help get that pre-hormonal hair back in as little as three months. Supplements and superfoods that are rich in restorative adaptogens such as moringa, turmeric and cinnamon, which are used to promote healthy hair, as well as including extra biotin (Vitamin B-7) and zinc.
Achieving gorgeous, lush hair is all about keeping your strands healthy from root to tips. With a little patience and following these pro tips, you'll be on the path to healthy hair.
More From VEGAMOUR
Photo credit: Vlada Karpovich/Pexels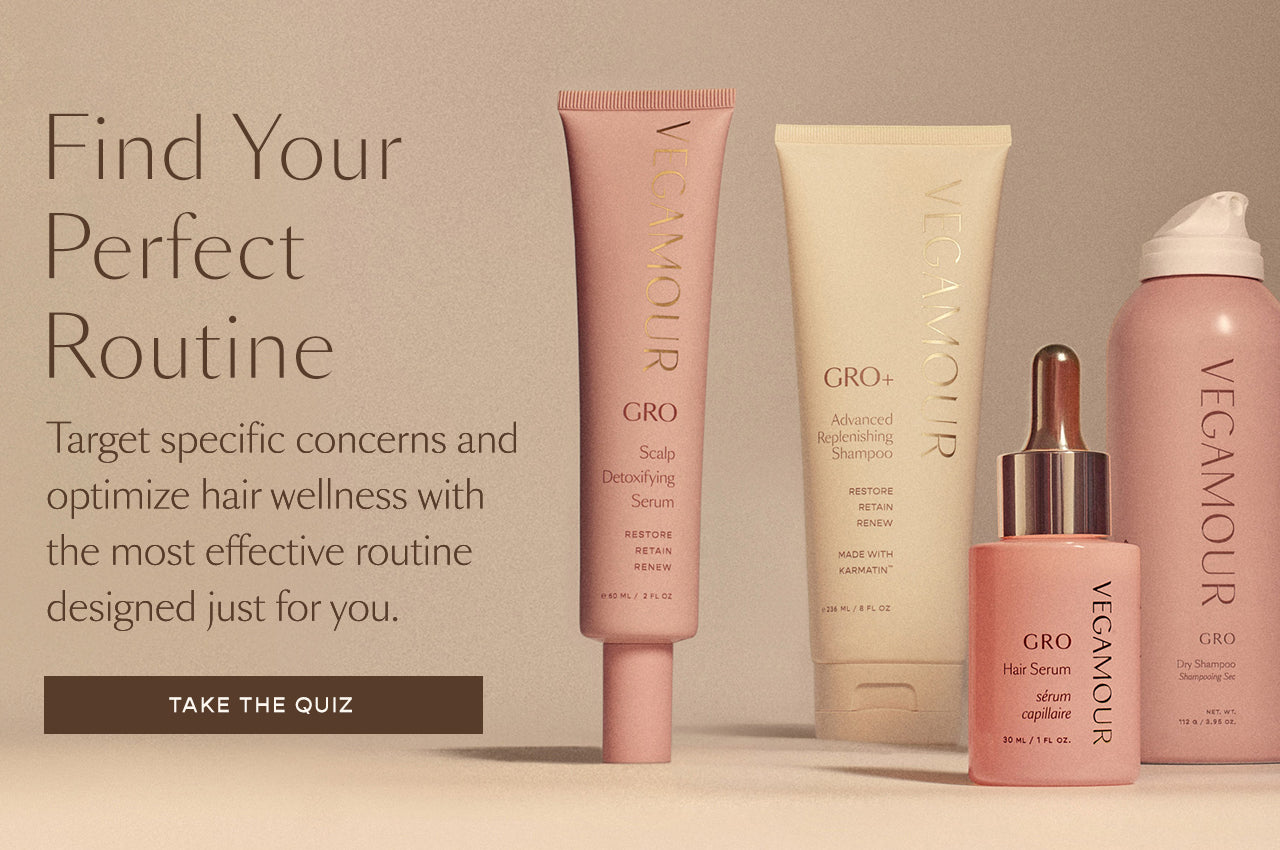 Disclaimer: Information in this article is intended for general informational and entertainment purposes only. It is not intended to constitute medical advice, diagnosis, or treatment. Always seek professional medical advice from your physician.