How to Hide Greasy Hair in a Pinch
We've all been there. Maybe you've lingered a little too long after your last wash day, or your hair has especially oily roots. Whatever the cause, all that oil buildup at the top of your head can lead to the need to hide dirty hair, even if your strands are otherwise perfectly clean.
Read on to learn the best ways to fix greasy hair and hide oily roots — plus, find out what plant-powered dry shampoo you really should be using to give your hair a healthy and clean lift between wash days.
How Greasy Hair Gets Depends on Texture and Type
Certain hair textures and types are especially prone to looking greasy.
"Fine hair is the most prone to getting greasy, unlike thick and coarse hair, which needs moisture and gets it from the natural sebum produced by our scalp," said natural haircare expert Sylwia Obuchowicz, "Those with oily skin are especially prone to suffering from greasy-looking strands."
So if you have fine strands, that telltale greasiness might be a sign of second-day hair, whereas if your strands are denser, you might be able to keep greasy roots at bay for three days or beyond. As a general rule of thumb, the denser, coarser and dryer your strands are, the easier it is to conceal greasy hair.
Shop: Sulfate-Free Shampoos for Oily Hair
Other Reasons Hair Gets Greasy
Hair texture and type aren't the only reasons some people's hair gets greasier faster than others. For example, as you age, your scalp produces less sebum, so you might notice less oily or greasy hair.
Obuchowicz also pointed out that there are lifestyle factors that can cause any hair type to look greasier than normal.
What You Eat
"There are a couple of reasons why your hair looks like it needs a wash after one day," she said. "One of them would be a diet high in saturated fats, sugars and processed foods."
For example, one study based on the relationship between diet and acne showed that Western diets are often full of high-glycemic foods that result in insulin resistance, which could potentially increase sebum production, as well as inflammation and acne.
High Humidity
If your diet is in balance, your environment might be to blame for those lackluster locks. "Another factor that could cause greasy hair is living in a high-humidity environment," said Obuchowicz.
Too Many (or the Wrong) Hair Products
The products you use on your strands can also exacerbate excess oil problems. "Using hair products that are not right for your hair type or putting conditioners, masks or oils that are meant to protect and smooth the ends too close to the roots can make hair appear greasier," said Obuchowicz.
How You Wash Your Hair
Obuchowicz also pointed out that the way you wash your hair could affect how quickly your hair gets greasy. "Make sure you follow the instructions on the package or even watch a video on YouTube on how to wash your hair correctly," she said. "Sometimes, those simple, everyday activities, like washing your hair, seem easy, but we have been doing them wrong for many years without ever realizing it."
If you've addressed these issues and you still have oily hair, Obuchowicz recommends you consult a professional. "If none of these reasons relate to your life, try checking for underlying health conditions that might cause the overproduction of sebum," she advised.
Related: Why Is My Hair Greasy After I Wash It?
Hairstyles to Hide Greasy Hair
Sometimes, you don't have time to wash your hair but you still need to hide your greasy locks. Here are some hairstyle ideas to help.
"Putting your hair in a slick high ponytail or a bun would be the best idea when your hair starts looking greasy," said Obouchowicz. "This hairdo will make you look chic if you spend some time perfecting each bump and flyaway with a fine-toothed comb. You can even use some hairspray to keep all the strands at bay."
All sleek hairstyles designed to keep your loose hair in check are especially good for corralling long greasy hair. Try a sleek ponytail, dutch braid, double-dutch low bun, french braid, halo braid, crown braid or side braid to tuck strands away, securing with a hair elastic or claw clip for extra hold.
If sleek isn't your style, a messy bun, low ponytail or messy topknot are both great options. Those with shorter hair or greasy bangs can secure flyaways using a headband, miniature claw clips, bobby pins, or a silk scarf for a dose of European chic.
Hair Products to Prevent Greasy Hair
You can also lend extra volume to flat, oily strands by using hair products designed to reduce greasiness.
Dry Shampoo
"Using dry shampoo on the second day after washing your hair to extend the life of your hairstyle is a great way to cover the greasy look," she said. "Although, it is not recommended to use dry shampoo on delicate or damaged hair if you're planning to wash your hair the next day. Sleeping with dry shampoo-covered hair can result in breakage, split ends and hair loss."
To be on the safe side, opt for a dry shampoo that builds hair health. Our GRO Dry Shampoo contains a formula based on powerful phyto-actives, like mung bean and red clover, which has been clinically proven to increase the appearance of hair density by up to 52% and reduce signs of shedding by up to 76%. Plus, it's formulated without benzene or talc, like many dry shampoos on the market.
Scalp-Balancing Treatments
If your hair is prone to greasiness, Obuchowicz says a scalp-balancing treatment can help.
"I recommend using another great product from your kitchen that balances the pH of our scalp and prevents excessive oil production — apple cider vinegar," said Obuchowicz. "Make a rinse, mixing one tablespoon of APV in 500 ml of water. When you wash your hair, finish with the rinse. Don't worry about the smell. It will go away in 10-15 minutes."
You might also want to try a scalp serum. Our GRO Scalp Detoxifying Serum contains proprietary phyto-actives, vegan proteins and minerals for optimal scalp and hair wellness. Not only does it gently remove persistent scalp buildup and protect the scalp from environmental pollutants, but it also absorbs excess oils while supporting the skin's natural moisturizing factor. Goodbye greasy roots!
See: Oily Scalp But Dry Ends? Try This
Banish Greasy Roots and Hair With a Holistic Approach
Greasy hair doesn't have to ruin your day if you take a holistic approach to hair wellness. Besides eating well, getting plenty of sleep and reducing stress, add some of our plant-based hair wellness products to the mix to banish oily roots and hair and encourage your healthiest strands yet!
More From VEGAMOUR
Photo credit: Masha Raymers/Pexels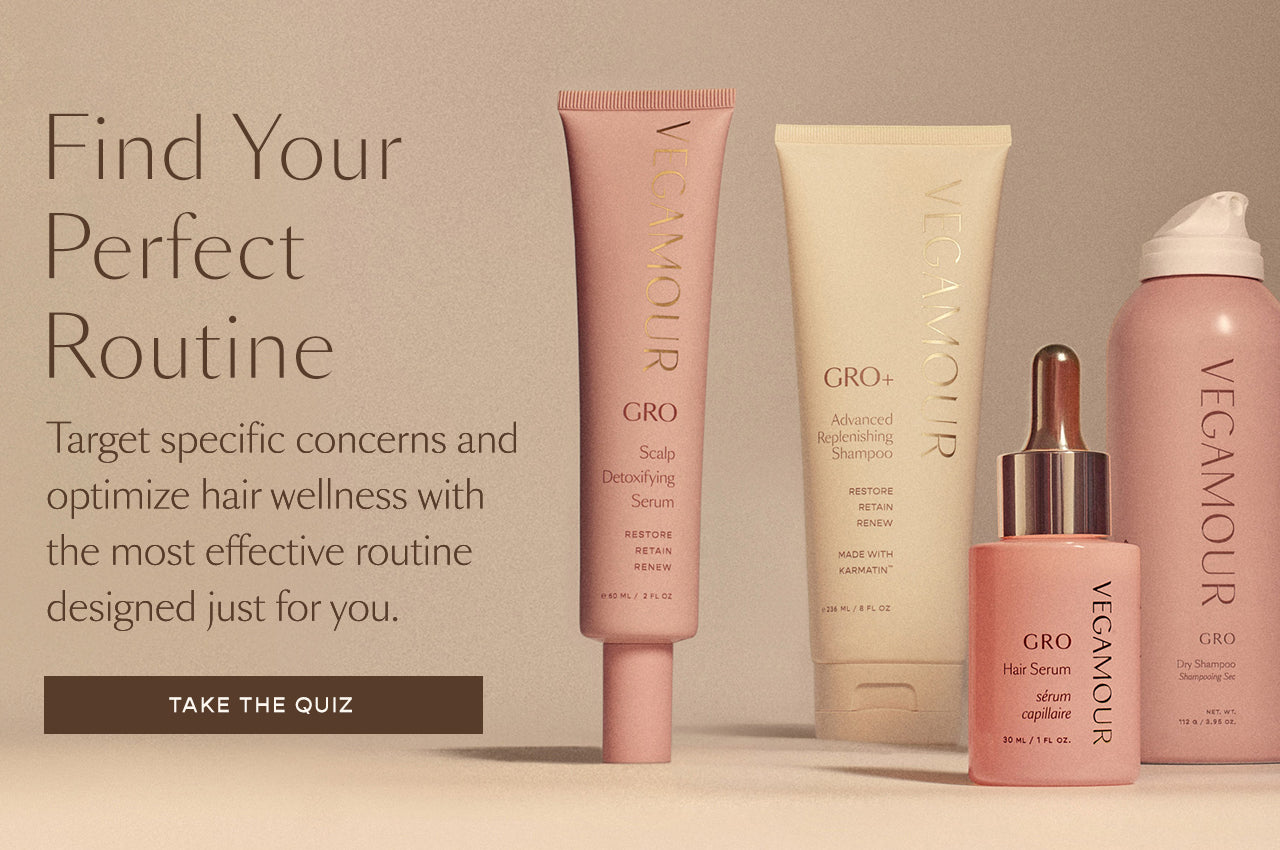 Disclaimer: Information in this article is intended for general informational and entertainment purposes only. It is not intended to constitute medical advice, diagnosis, or treatment. Always seek professional medical advice from your physician.