These Are The Times You Should Use Dry Shampoo
How did people even live without dry shampoo? The game-changing hair product has completely revolutionized how often people wash their hair, giving them the gift of time back in their lives to use it however they please.
Dry shampoo allows people to space out hair wash days by temporarily spritzing away oily roots and adding texture to tired strands. But is there such a thing as too much dry shampoo? And what's the best dry shampoo for your hair type? Read on to discover tips and tricks from a hair pro. Plus, explore the hair products made to refresh and revive your locks from root to tip.
What Exactly Is Dry Shampoo?
"Dry shampoo is used as a staple product by those with oily hair and people who work out a lot," said cosmetologist and hair expert Ghamina Abdullah. "It absorbs excess oil and sweat from the hair. It also refreshes the smell of the hair without washing."
Unlike most shampoos, dry shampoo can be sprayed directly onto dry hair and helps achieve a clean look when there's no time to wash. Even if you have dry hair, hair follicles in the scalp produce sebum, which is a natural oil to help soften the scalp and give the hair its texture.
Healthy sebum production is vital to gorgeous glossy locks because it helps protect the skin and keep hair feeling beautiful. However, oil build-up can occur and become more visible as you go about your day — especially if you complete a sweaty workout, are constantly rushing around, love to touch your hair or have a hot and sticky commute. Dry shampoo is also a helpful styling product for those who are differently abled and struggle to take showers without assistance.
An oily scalp can become a problem because it often creates a greasy appearance. If you have fine natural hair, you might be tempted to wash your hair daily, which, if you're not using a sulfate-free and gently effective formula, could lead to damage. Instead, dry shampoo gets to work and absorbs oil via starch-based or alcohol ingredients that sweep away sebum, leaving hair with a fresher and cleaner look.
"The main ingredients of dry shampoo are SD alcohol, propane or butane and some sort of starch — usually rice starch. These ingredients work together to make a formula that's easy to spray on the roots (propane/butane), dries quickly (alcohol) and absorbs oil and sweat (starch)," said Abdullah.
Are There Any Drawbacks?
Dry shampoos mostly come in spray form and the best dry shampoos absorb sebum in just a few spritzes. A foam dry shampoo or a paste will also help soak up grease and add volume. However, it's worth noting that dry shampoo won't clean hair. Instead, it gives the appearance of clean hair — it won't remove product build-up the way a regular shampoo will. And while dry shampoo will leave you feeling cleaner, overusing dry shampoo could create problems. Here are a few potential adverse side effects of relying too heavily on dry shampoo:
Potential Breakage
Any product that contains alcohol can potentially dry out your hair. And when the hair is dry, strands can snag and the fibers can crack, leading to breakage.
Could Trigger Dandruff for Some People
There's little evidence to confirm it, but the Mayo Clinic suggests that an oily scalp can trigger dandruff, so if you're relying on dry shampoo only, you're essentially leaving the oils on your scalp, too.
Could Clog Hair Follicles
Relying on dry shampoo for too many days or consistently not washing hair can create product build-up on the scalp — especially if you're using other styling products in conjunction with dry shampoo. This white residue can make the scalp itch and potentially lead to an uncomfortable fungal or bacterial infection.
Might Encourage Hair Loss
There's no scientific evidence linking dry shampoo to hair loss, but studies suggest that poor scalp health triggers hair fall and delays hair growth. If the scalp isn't nurtured, the hair follicles can differ, which means hair doesn't grow as it should.
The Right Dry Shampoo Can Support Fuller Looking Hair
The GRO Dry Shampoo balances the scalp with a blend of hair-boosting, all-natural, vegan phyto-actives. The plant-based ingredients clear the appearance of oil without drying out strands and the lightweight formula won't weigh you down. Made with USDA organic certified rice hulls, mung bean, red clover and kaolin clay, the dry shampoo gives hair a clean and healthy life without damage. Plus, the bergamot scent is so good you'll want to keep spraying! It also contains the same actives as VEGAMOUR's best-selling GRO Hair Serum, so it supports thicker, fuller looking hair even in the form of dry shampoo!
Dry Shampoo Tips for Every Hair Type
Dry shampoo, when used correctly, is a lifesaver for most hair types. But remember, using it daily might create an itchy build-up and give you chalk-white roots.
Dark Hair 
If you have dark hair, a traditional dry shampoo with a heavy white formula might give you dull-looking roots and an unflattering white cast. Instead, reach for lightweight formulas or those with a brown tint to avoid a patchy look.
Blonde Hair 
Bottle blonds and natural blondes can wear dry shampoo with a heavy white formula relatively easily. Simply spray and then massage your head to disguise the grease further.
Greasy Hair
This is where dry shampoo can really shine. Hair that holds a lot of oil will benefit from a quick spritz of dry shampoo. Just remember to keep washing oily hair regularly to avoid too much product build-up.
Fine Hair
Strands will look limp and unhealthy if you douse fine hair in a heavy dry shampoo. Just a couple of sprays from a lightweight formula will help. As an added benefit, dry shampoo can add volume to limp strands quickly.
Thick Hair
Generally, thick hair can take a lot of dry shampoo before it becomes an issue. But that doesn't mean you should delay washing with shampoo and water for too long. Target only the areas you need to achieve the best results.
Shop: HYDR-8 Collection for Dry, Damaged Hair
Curly Hair
Don't brush or comb through strands after applying to freshen up curly locks. Instead, massage the head to avoid curls looking frizzy or dry instead of light and bouncy.
Color-Treated Hair
If you spend hours at the salon to achieve the perfect color for your hair, the last thing you'll want to do is have a dry shampoo interfere with that. Pick lightweight formulas and apply a hair mask weekly to keep strands in the best condition.
Read More: The No-Poo Method of Washing Hair: Does It Work?
How to Apply Dry Shampoo
How you apply and use dry shampoo depends on your hair type, texture, oiliness and length. But generally speaking, this process will maximize results:
Remove any bobby pins and let down your messy bun.
Give the can a good shake to help evenly distribute the product.
Hold the shampoo approximately six inches away from your head, directing it at the roots.
Start small. Use a sweeping motion to spray dry shampoo across the head. Don't forget the nape of the neck, which is an area that can quickly get sweaty.
Massage the scalp to build volume and further soak up any grease.
To maximize volume further, blast hair with a blow dryer on a cool setting to leave locks with a natural bounce.
Freshen Up Your Strands With All-Natural Hair Care
Dry shampoo is a great hair care product that will give dirty strands a new lease of life. But on the flip side, it's worth remembering that dry shampoo cannot replace a good water-activated shampoo. Overusing dry shampoo can negatively impact strands and leave hair looking dry rather than glossy. "Dry shampoo is better when used as an occasional product," said Abdullah. "It shouldn't be used more than once between washes." Keep your strands in the best condition with conscious and all-natural products and spritz with dry shampoo only when and where you need it.
More From VEGAMOUR
Photo credit: MART PRODUCTION/Pexels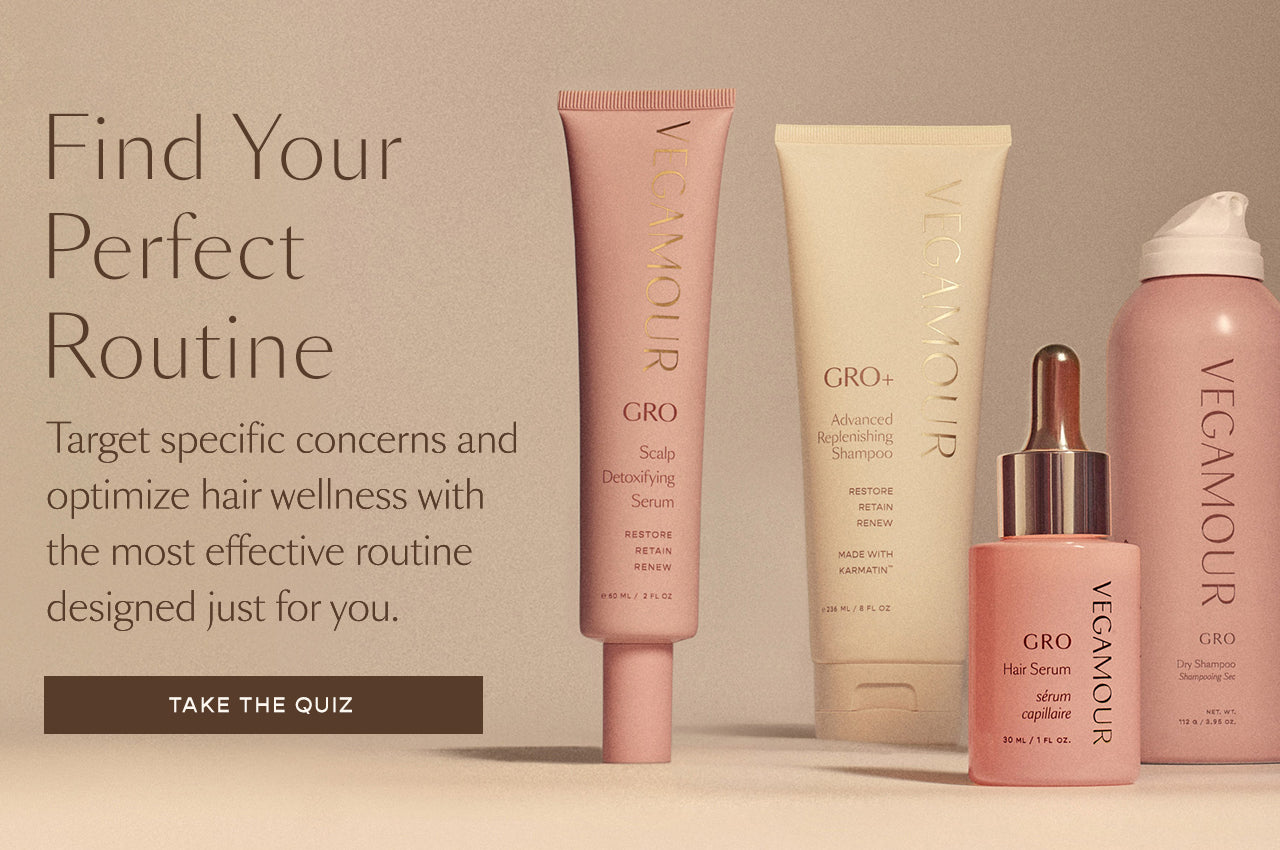 Disclaimer: Information in this article is intended for general informational and entertainment purposes only. It is not intended to constitute medical advice, diagnosis, or treatment. Always seek professional medical advice from your physician.