When your hair is properly moisturized, it can feel like running your fingers through silk. However, when your hair is dry and dehydrated, that silky feeling can turn into something akin to straw.
Read on to find out why hair gets dehydrated and how you can best hydrate dry hair based on your specific hair type — plus, find out what products you should use to moisturize, hydrate and protect your hair naturally.
Why Hair Needs Hydration
We know that water is critical for human beings to exist. After all, the human body is composed of roughly 60% water, and your hair is no exception. Hairstylist and expert Edna Ferber of Shampoos Hub explained. "Water accounts for a quarter of a healthy strand of hair," she said. "[With] insufficient hydration, your hair loses both strength and volume, resulting in dull, lifeless, dry, rough, brittle hair that breaks easily."
Although you might think that drinking more water will sufficiently hydrate your hair, it won't. But how does hair get dehydrated in the first place?
Shop: HYDR-8 Collection
Causes of Dry or Damaged Hair
There are several reasons why you might need to moisturize dry hair. Some of the reasons are based on poor haircare habits, while others relate more to the products and tools you're using. "Many factors may cause your hair to dry," Ferber explained. The following are some examples:
Overwashing your hair
Frequent use of heat-styling tools
Using poor-quality hair products
Using the wrong hair products
Chemical styling
"Washing your hair too frequently might reduce its natural oils," she said. "Using heat-styling products too frequently may strip your hair of its natural moisture."
Using the wrong haircare products or poor-quality products is another surefire way to zap your hair of much-needed moisture. "Avoid products containing sulfates, which can deplete your hair of its natural oils and hydration," said Ferber.
Feber explained that when sulfates come into contact with the scalp, they can break down the top layer of your skin, which can lead to dryness, irritation and, ultimately, poor scalp health. "Chemical styling puts a lot of strain on [hair], resulting in dry hair and further damage," said Ferber.
Read: 9 Ingredients in Shampoo To Avoid (And What to Look for Instead)
How to Hydrate Your Hair
Hydration procedures vary depending on hair type and texture. For example, some hair types and textures are naturally more oily or porous than others, so you want to keep that in mind when focusing on moisturizing and hydrating your strands.
Straight Hair Type
Straight hair tends to get greasy and oily faster because the hair's natural oil (sebum) has a straight path to coating the strand from root to tip. In contrast, a curly hair strand has longer to travel and a windier road, so to speak. Ferber explains that those with fine hair texture or a straight hair type who experience dry hair might be guilty of overwashing their hair.
"Because moisture loss in fine hair is mainly caused by external causes such as over-washing, invest in moisturizing oils such as jojoba, and choose protein-infused shampoo and conditioners," Ferber said.
See: How to Care for Fine Hair
Curly and Coily Hair Type
Because a curly strand or coil is a more circuitous route for sebum to travel from the scalp to the tip of the hair, it's naturally more prone to dryness. For this reason, it's important to use products that will impart moisture. "Curly hair is naturally drier than straight hair, so utilize natural shampoos and conditioners that are rich in moisturizing oils and leave-in products," Ferber advised.
Also, try VEGAMOUR's HYDR-8 Shampoo and Conditioner Kit. This all-natural, vegan, color-safe duo is perfect for all hair types and will cleanse and hydrate hair without stripping it of its protective oils or drying it out. This duo is also enhanced with Karmatin™ (the first-of-its-kind vegan keratin), which protectively bonds to hair strands even after rinsing. The formulas also include the following key ingredients:
Aloe vera: Provides a rush of hydration while conditioning and moisturizing hair strands
Magnolia bark extract: Calms and soothes the scalp
Marula oil & moringa seed oil: Nourish hair to help discourage frizz and promote shine
Murumuru seed butter: Seals in hydration, helping hair retain moisture and leaving it softer
Here's what users had to say about their experiences with HYDR-8 Shampoo & Conditioner during a three-day consumer study:
95% said their hair felt hydrated without feeling weighed down.
95% said their hair was more nourished.
94% said their hair was shiny.
Hair Texture Also Matters
Thick hair is naturally more dense and less porous than medium or fine hair textures, so hydrating can be a challenge. "Natural oils are hard to maintain in thick and tough hair," Ferber said. "So, employ a deep moisturizing treatment such as a shea butter hair mask."
You can create your own hair mask at home using natural ingredients and oils like coconut oil, aloe vera, argan oil, marula oil or even sweet almond oil. If you opt for an overnight hair treatment, wrap your hair or put it in a bonnet so that you don't ruin your pillowcases.
Also, consider using VEGAMOUR's HYDR-8 Deep Moisture Repair Mask containing Karmatin™, marula oil and moringa seed oil and milk thistle for an extra boost of hydration. Once or twice per week, skip your conditioner and use this mask instead. After shampooing, apply the mask to damp hair from roots to ends. Leave on for three to five minutes before rinsing.
An Ideal Haircare Routine for Hydration
The best thing that you can do for your hair is to make sure that the products it comes into contact with daily are high quality and all-natural whenever possible.
"For an ideal hair care routine for dry hair, I would recommend starting with nourishing shampoo and conditioner," Ferber said. "After that, apply a leave-in conditioner to moisturize your hair and avoid frizz as your hair dries. Finally, go for a natural hair oil to seal in all of the nutrients from the leave-in conditioner."
All-natural hair oils, like marula oil, are perfect for sealing in all the hydrating and moisturizing ingredients you're using in your haircare routine. It's a clean, luxurious oil that is naturally packed with antioxidants, omega fatty acids and oleic acid that deliver a wealth of beauty benefits, including giving dry, frizzy locks some TLC. Apply a few drops of the oil into your palm and work it through damp or dried hair to smooth hair and provide a glossy finish.
The Wrap Up
Hair can become dehydrated for a variety of reasons, so if you're experiencing dry or damaged hair, it's important to first determine why. It might be due to poor hair styling habits or a need for high-quality, natural products that will hydrate, nourish and protect your hair. It also might be due to overwashing, too much heat-styling or even a lack of understanding about your specific hair type and texture. Armed with the information you now possess, you can take the first steps forward to having healthier, better-hydrated hair!
More From VEGAMOUR
Photo credit: Ryanniel Masucol/Pexels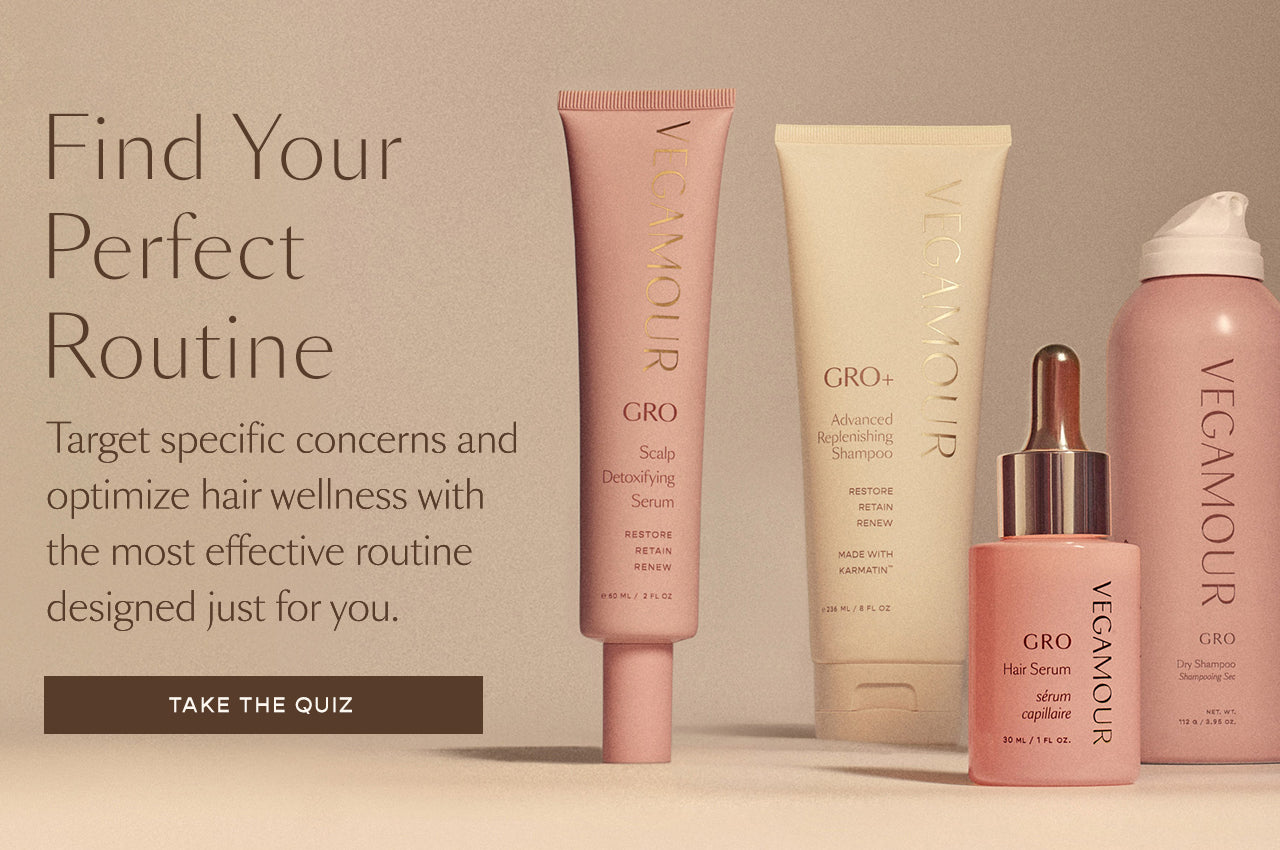 Disclaimer: Information in this article is intended for general informational and entertainment purposes only. It is not intended to constitute medical advice, diagnosis, or treatment. Always seek professional medical advice from your physician.