5 Vegan DIY Hair Masks You Need to Try
Some of our favorite vegan hair masks can be easily made in the comfort of your own kitchen with ingredients you may already have. Keep reading to learn how to whip up these hydrating and nourishing recipes that can be done alone or get enhanced results by pairing them with the best vegan hair products. 
Rejuvenating Mask
This blend made from avocado, banana and lemon is the perfect umbrella mask, meaning that it suits all hair types and will help nourish compromised roots from the inside out.
Start by peeling 1 ripe banana and ½ avocado.
Blend or mix together well and follow by squeezing in some fresh lemon juice.
Continue to blend until smooth and apply to your hair in sections.
Listen to a podcast or read a book while your mask sits for 30 minutes.
Rinse with cool water and let your hair air dry for best results.
Try It Yourself: The Best Vegan Shampoo and Conditioner
Frizz Eliminating Mask
We all have bananas that tend to go ripe too quickly. Instead of whipping up another batch of baked goods (no judging here!) consider mashing that overly ripe banana into a rich and creamy hair mask.
After mashing up 1 banana, add in 3-5 drops of our ultra hydrating, cult-favorite pure marula oil and 1 tablespoon olive oil to the mixture.
Apply to hair and cover with a shower cap.
Leave it in for 30 minutes before washing it out in the shower.
Bananas are rich in potassium, natural oils, and vitamins, all of which can be used to help lock in moisture, enhance shine, and tame unruly frizz, especially when combined with olive oil and marula oil.
Related: 10 Amazing Benefits of Marula Oil
Scalp Calming Mask 
If you suffer from a dry, itchy scalp, this mask made from oats, almond milk and coconut oil should be first on your list of DIY masks to try. Oats are great for providing light scalp exfoliation and are full of B-vitamins that help draw water in, penetrating deep within the hair shaft to moisturize and repair from the inside out. Oats are natural humectants which means they'll help prevent frizz, ensuring both your hair and scalp are smooth and shiny.
To make this make, simply combine ½ cup of oats and 1 tablespoon of almond milk and 1 tablespoon coconut oil.
Mix it, mask it, rinse it out after 20-30 minutes.
Use this mask whenever your scalp starts to feel dry and itchy.
Related: Why a Healthy Scalp Matters
Deep Cleansing Agave Mask
If you live in an area with hard water, chances are your hair is suffering the consequences. Minerals dissolved in hard water create a film on the hair strand, which prevents moisture from penetrating the hair shaft. This results in dry, dull and tangly hair. The best way to combat texture issues related to hard water is to incorporate a deep cleansing mask once a week to eliminate build up.
Combine 1½ tablespoons apple cider vinegar, 2 tablespoons agave nectar (vegan-friendly substitute for honey) and 1 teaspoon of olive oil.
Apply the mixture to damp hair from ends to scalp, combing thoroughly.
Pull hair back and allow the mask work its magic for 10-15 minutes.
Rinse out completely with cool water, no shampoo or conditioner is necessary unless oily residue remains.
Learn: How to Figure Out Your Hair Porosity (And Why It Matters)
Overnight Sleeping Mask 
Coconut oil is one of the most effective and easiest treatments to do on your hair at home. Coconut oil promotes scalp health, adds luster, shine and softness to the hair. Coconut oil prevents hair breakage and split ends which in turn contributes to hair length.
Apply coconut oil to wet or dry hair, apply it from the roots to ends and comb through generously.
Be sure to warm the oil before applying and massage it into the scalp.
Use your fingertips or a handheld scalp massager to rub the mixture into your roots and stimulate blood flow to the scalp.
Leave the hydrating oil overnight and wash out in the morning with your favorite vegan shampoo.
Also: Does Aloe Vera Help With Hair Growth?
Finally, Vegan Keratin Is Here
DIY hair care can be fun, but it can also be messy (and let's be real, sometimes it smells weird). On the days when you eat your groceries instead, you can turn to VEGAMOUR's GRO Revitalizing Shampoo and Conditioner for a vegan keratin treatment that'll leave your hair shiny, smooth and smelling amazing.
And you don't have to sacrifice your vegan values either. Unlike traditional keratin, this shampoo and conditioner set features Karmatin™, a microencapsulated b-silk™ protein that's the perfect vegan alternative to traditional keratin. It repairs damaged hair and deeply nourishes your stands. Win-win.
More from VEGAMOUR
Photo credits: 
Main Image: Erol Ahmed/Unsplash
Ready Made/Pexels
Any Lane/Pexels
Polina Tankilevitch/Pexels
Madison Inouye/Pexels
Dana Tentis/Pexels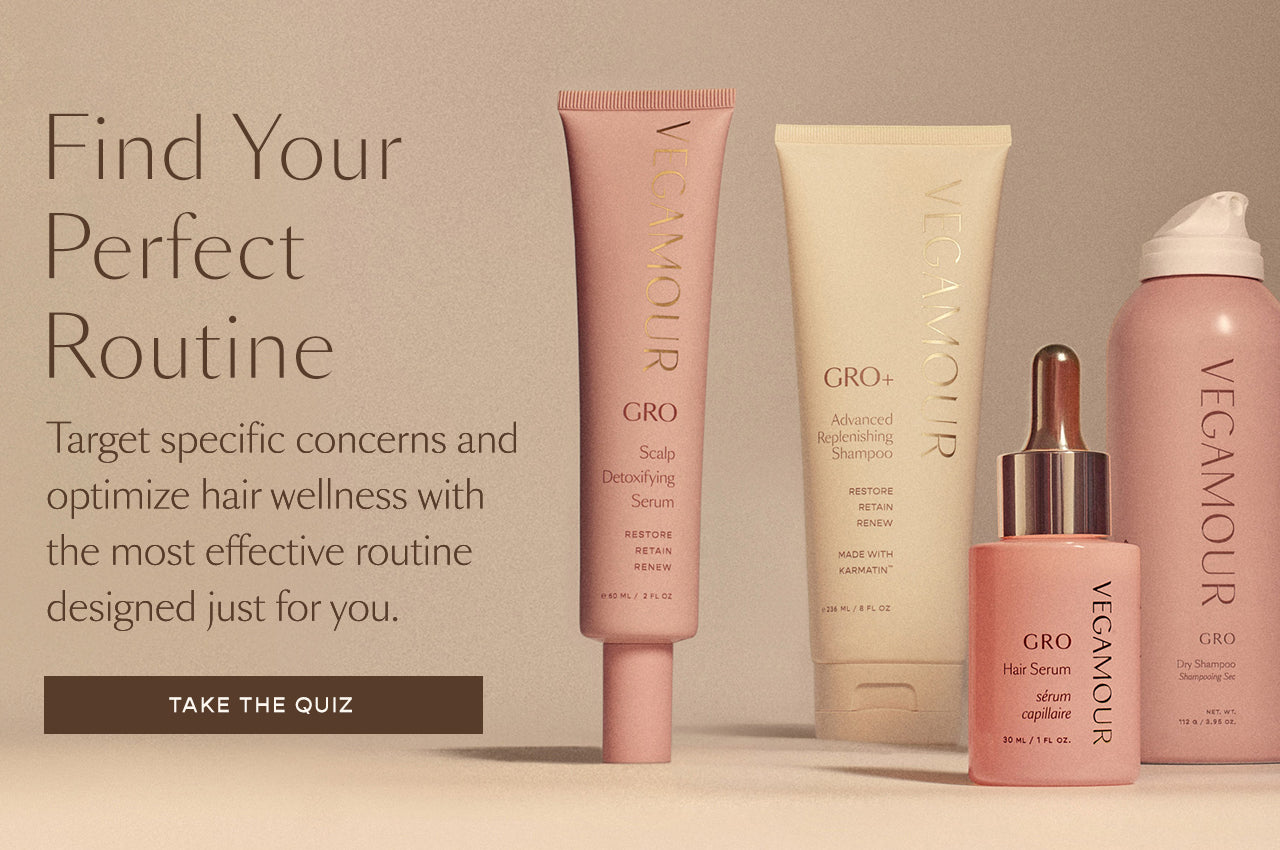 Disclaimer: Information in this article is intended for general informational and entertainment purposes only. It is not intended to constitute medical advice, diagnosis, or treatment. Always seek professional medical advice from your physician.