Is Blowdrying Your Hair Bad? A Hairstylist Tells Us the Truth
Sometimes you have to wash your hair and get out the door as soon as possible. Unless you have the type of hair that reliably air dries into a polished look, you might have to use a blow dryer to help style your hair before you head out into the world.
It's a well-known fact that too much heat isn't good for hair, but is blow drying hair bad? Read on to find out what a hairstylist and cosmetic dermatologist have to say, as well as the best products for nurturing your hair naturally.
Best Practices for Drying Hair
If you are going to blow-dry your hair, you don't want the hair to be sopping wet. If you blow dry sopping wet hair, you'll need to apply more heat to dry it. Instead, gently squeeze wet hair to remove excess water before towel drying your hair with a microfiber towel. It's best to use the blow dryer on damp hair to ensure you're not over-drying your hair.
"One should blow dry their hair when it is [slightly] wet. Blow drying dry hair causes brittleness, breakage and dryness," explained Alice Rawling, hairstylist and chief editor of Hairdo Hairstyle. "The best approach is to blow dry the hair using the right products." Using an ionic dryer, a good round brush and proper heat protectant are key.
Read More: How to Add Volume to Fine Hair
How to Blow Dry Your Hair
As for how to blow dry your hair, it's important that you are efficient with your approach. The shorter the amount of time you apply heat to the hair, the less heat damage you'll accrue.
Laura Geigaite, a cosmetic dermatologist, explained further. "Regardless of your hair type, part your hair in small sections and focus on each at a time to ensure your hair does not overheat," she said. "Avoid using too much heat since it may damage the hair strands."
Whenever you apply heat to your hair, you want to make sure that you are protecting the strands, especially if you are heat-styling damp hair which makes the hair cuticle more porous. "Ensure you have a high-quality blow dryer that gives off steady heat," Geigaite advised. "Use a ceramic brush to reduce frizzing and achieve a sleek look."
The position of your hair dryer and the heat setting also make a huge difference. While it might be tempting to blast hot air at your strands, it's often better to use medium heat to minimize damage.
"Any amount of heat damages the hair," said Rawling. "One should not blow dry the hair continuously. It should be done in intervals with the lowest temperatures and the positioning of the blow dryer should be six inches away from the hair."
How Frequently Should You Use a Blow Dryer?
Just like washing your hair too frequently, blow drying too often can also create dryness and cause damage to your hair. The less often you are air-drying hair, the better.
"I would advise blow drying your hair two to three times a week," Geigaite said. "Regular hair exposure to heat may strip its natural oils, cause excessive dryness and cause breakage and frizz."
If you are someone who is blow drying your hair frequently, it's even more important to take good care of your hair during the in-between times and on your wash days to reduce the likelihood of damaged hair. Using high-quality shampoo and conditioner that nurtures the hair shaft, hair follicles and scalp by adding moisture can make all the difference.
VEGAMOUR's GRO Revitalizing Shampoo and Conditioner duo is clean, color-safe and free of harsh chemicals. This cleansing and conditioning combo is enhanced with clinically proven plant actives as well as a proprietary Karmatin™ (the first-of-its-kind vegan keratin).

GRO Revitalizing Shampoo and Conditioner utilize a special micro-encapsulated vegan b-SILK™ protein that physically bonds to hair follicles and remains attached to strands even after rinsing. Wild harvested marula oil, organic murumuru butter and ximenia oil condition, moisturize and hydrate your hair to prevent breakage from overuse of tools like your curling iron and blow dryer.
Read More: Your Guide to Dealing With Hair Breakage
Why You Should Avoid Blow Drying Your Hair
Blow drying hair on the highest heat setting should be reserved for healthy hair that can handle heat exposure better than damaged hair. If you are dealing with hair conditions like dry hair, hair loss or hair that has been damaged from chemicals or heat damage, it might be wise to stick to air drying.
"Some hair conditions make it impossible to use heat since it interferes with moisture levels," Geigaite said. "Air drying is a good way to retain as much moisture as possible to prevent breakage."
Sometimes hair can be dry and damaged from using products that are harsh or contain too many chemicals. The best approach to overall hair health and wellness is a holistic 360-degree approach to your hair care. It's not just about the products you put on your hair, but often the nutrients you consume that can help strengthen and nurture your hair's microbiome.
True hair wellness starts from within and VEGAMOUR's GRO Biotin Gummies can help you achieve overall hair health. This vitamin gummy mix blends together vital vegan nutrients that have been clinically proven to help promote visibly healthier, thicker, fuller and longer-looking hair.
Read More: Ashwagandha Benefits for Hair: How It Helps Hair Growth

The Takeaway
Blow drying your hair isn't inherently bad — as long as you don't do it every day and as long as your hair is healthy enough to stand blow drying. The best thing you can do is to blow dry damp hair no more than two or three times a week. Use a good hair dryer, brush and heat-protectant product to prevent damage. Blow dry your hair on medium heat in small sections for as little an amount of time as possible. Be sure to nourish your hair with good supplements and high-quality shampoos and conditioners. If you take care of your hair from the inside out, adding blow drying to your styling routine is just fine.
More From VEGAMOUR
Photo credit: Nastasic/iStock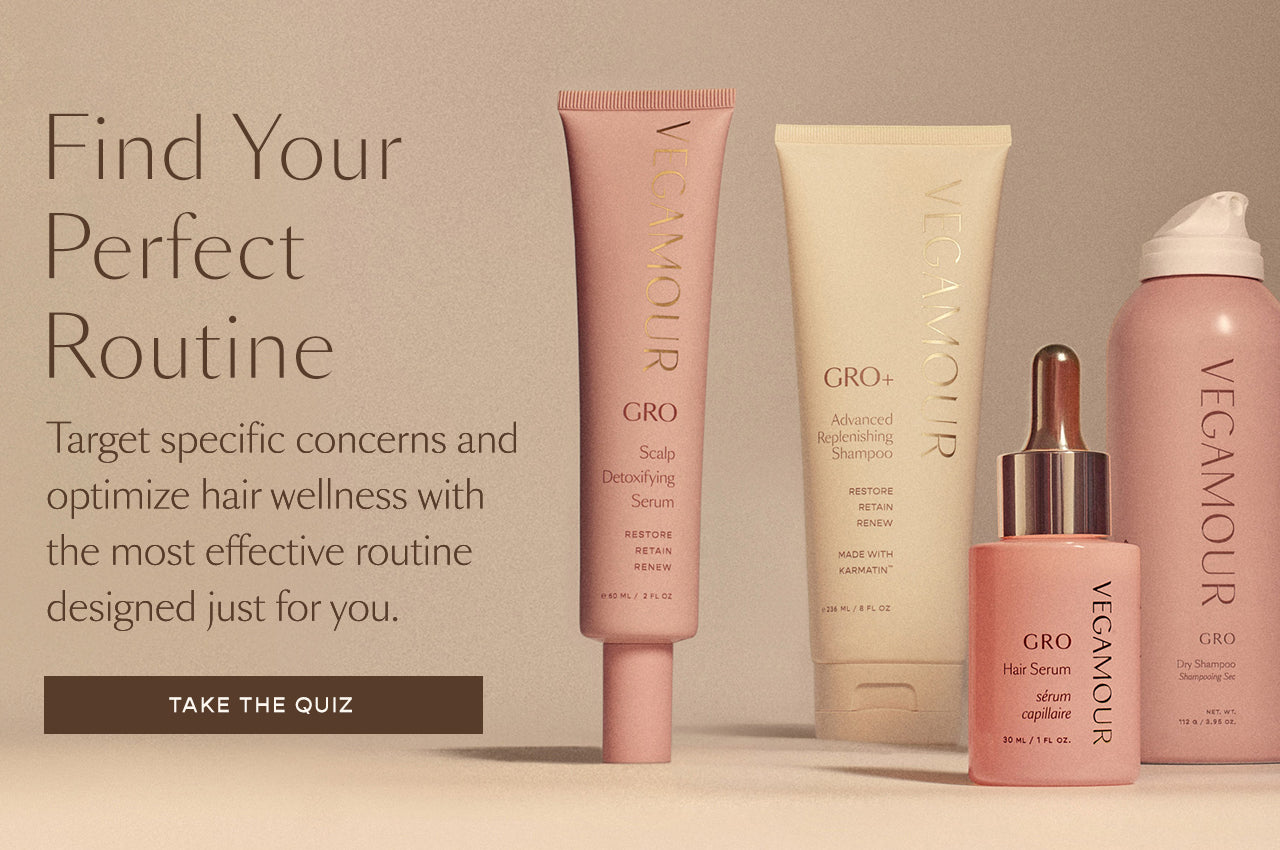 Disclaimer: Information in this article is intended for general informational and entertainment purposes only. It is not intended to constitute medical advice, diagnosis, or treatment. Always seek professional medical advice from your physician.