Keratin vs. Karmatin™: The Difference Is Huge
There's nothing quite like the feeling of a salon-fresh, picture-perfect blowout. Most of us love the silky-smoothness of professional services like keratin treatments, but what about those of us looking for a more affordable and/or animal-friendly option?
Picture this: Sleek-as-silk, frizz-free, lustrous locks without the harsh chemicals. If this sounds like a dream, think again. Meet Karmatin™. This animal-friendly, cruelty-free alternative to a keratin treatment could just be what your hair care routine is craving. Read on to learn more about this innovative ingredient and how you can use Karmatin™ to improve your hair's health.
What Is Keratin?
Before diving into the benefits of Karmatin™, here's what you need to know about its chemical counterpart: keratin.
Keratin proteins are the structural building blocks of our nails, skin and hair. Hair that has been damaged by repetitive heat styling, chemical processing and stress can have depleted keratin levels, which is why keratin is a favorite ingredient in strengthening hair products and salon treatments.
However, this powerful protein is typically derived from animals, which can make it problematic for those leading a plant-based, vegan lifestyle. It's also typically only available at salons and can potentially have harmful side effects.
Read: What Is Hair Made Of?
Potential Cons of Keratin Treatments
If you've ever experienced frizzy hair, you may have sought out the traditional keratin smoothing treatment found at salons. An in-salon keratin treatment — aka the Brazilian blowout — was previously the only way to get keratin proteins to actually bond with hair.
The potential dangers of a Brazilian blowout may, however, outweigh the shiny, silky-smooth strand benefits that you're seeking. The process typically involves the use of toxic chemicals, such as formaldehyde, to repair damaged hair and breakage. But, for those who are sensitive or have allergies, this chemical may also lead to further hair damage, hinder hair growth or even be a potential catalyst for hair loss.
And, whether you're vegan or simply trying to lead a more clean, sustainable lifestyle, you most likely don't want a formaldehyde formula anywhere near your hair or scalp where it can penetrate your skin.
Shop: The Karmatin™ Collection
Good Hair Karma Is Here With Karmatin™
From food to beauty to everything in between, vegan options are more abundant than ever. Yet, until recently, this wasn't always the case for keratin treatments. For those of us looking for options free of animal products and harsh chemicals, vegan keratin is what we've been waiting for — and so has our hair!
Enter plant-powered Karmatin™. This star ingredient is the first-of-its-kind vegan keratin alternative and unique to VEGAMOUR. Better yet, it's completely formaldehyde-free and, instead, formulated with the power of plant actives and natural botanicals. Karmatin™ offers a great alternative to protect hair with all the sleek, smoothing benefits — and none of the pricey salon visits or non-vegan ingredients. 
Here's a quick rundown of how this amazing, vegan hair treatment works: Karmatin™ utilizes micro-encapsulated b-Silk™ vegan protein, which bonds to the hair cuticle by filling in small cracks and spaces. Because of this bond, the Karmatin™ (unlike keratin) remains attached to your hair even after rinsing out, which helps protect your strands (even when you blow-dry) and leaves hair looking as smooth and shiny as (vegan) silk.
If you're vegan, you know silk isn't. And you might be wondering how VEGAMOUR's proprietary Karmatin™ measures up. Truth be told, it's a 100% synthesized version of keratin that perfectly mimics the silk of the wasp spider.
The bottom line? With VEGAMOUR's proprietary Karmatin™ products, you can bolster your hair with all the benefits of b-Silk™ vegan keratin minus unwanted animal products and chemicals. It's a win-win-win!
Cleanse and Condition, the Mindful Way
Start by swapping out your ho-hum at-home hair wash routine into a tress-transforming one using GRO Revitalizing Shampoo and Conditioner. This is the perfect pair for breathing new life into locks, thanks to its micro-encapsulated b-SILK™ protein, which physically bonds to the hair follicles, remaining attached to strands even after rinsing your hair.
The clean, color-safe, cruelty-free duo will give you all the results of a keratin hair treatment, minus the harsh chemicals or having to head to the salon. Plus, they are sulfate-free, suitable for all hair types and gentle enough for daily use.
Also, consider GRO+ Advanced Revitalizing Shampoo and Conditioner. This duo has an added boost of healing hemp oil in addition to the Karmatin™ in the original formulas. The relaxing eucalyptus, lemon verbena and hyacinth scents, plus the stress-relieving and anti-inflammatory powers of CBD will truly amp-up your hair wellness routine.
Related: The Best CBD Shampoo and Conditioner
DIY Detox the Plant-Powered Way
Everything needs a reset now and then, including your hair. Treat your scalp and hair to a weekly dose of TLC with GRO Scalp Detoxifying Serum. Apply and leave it on the scalp for 10-15 minutes before washing and conditioning. Or, for a deeper detox treatment, leave the scalp serum on overnight. 
For a complete routine, try the GRO Foundation Kit, which features GRO Revitalizing Shampoo & Conditioner plus GRO Scalp Detoxifying Serum so you can give your hair and scalp the full Karmatin™ treatment. 
Healthier hair begins with a healthy scalp. The trifecta of phyto-actives, Karmatin™ and minerals in this serum remove buildup, balance, hydrate and soothe. You'll see visibly reduced dandruff symptoms in as little as three days after initial use and up to a 58% reduction in just 15 days.
Prioritize making your hair wellness routine just as integral to your self-care as your skincare and your hair and scalp will thank you!

More From VEGAMOUR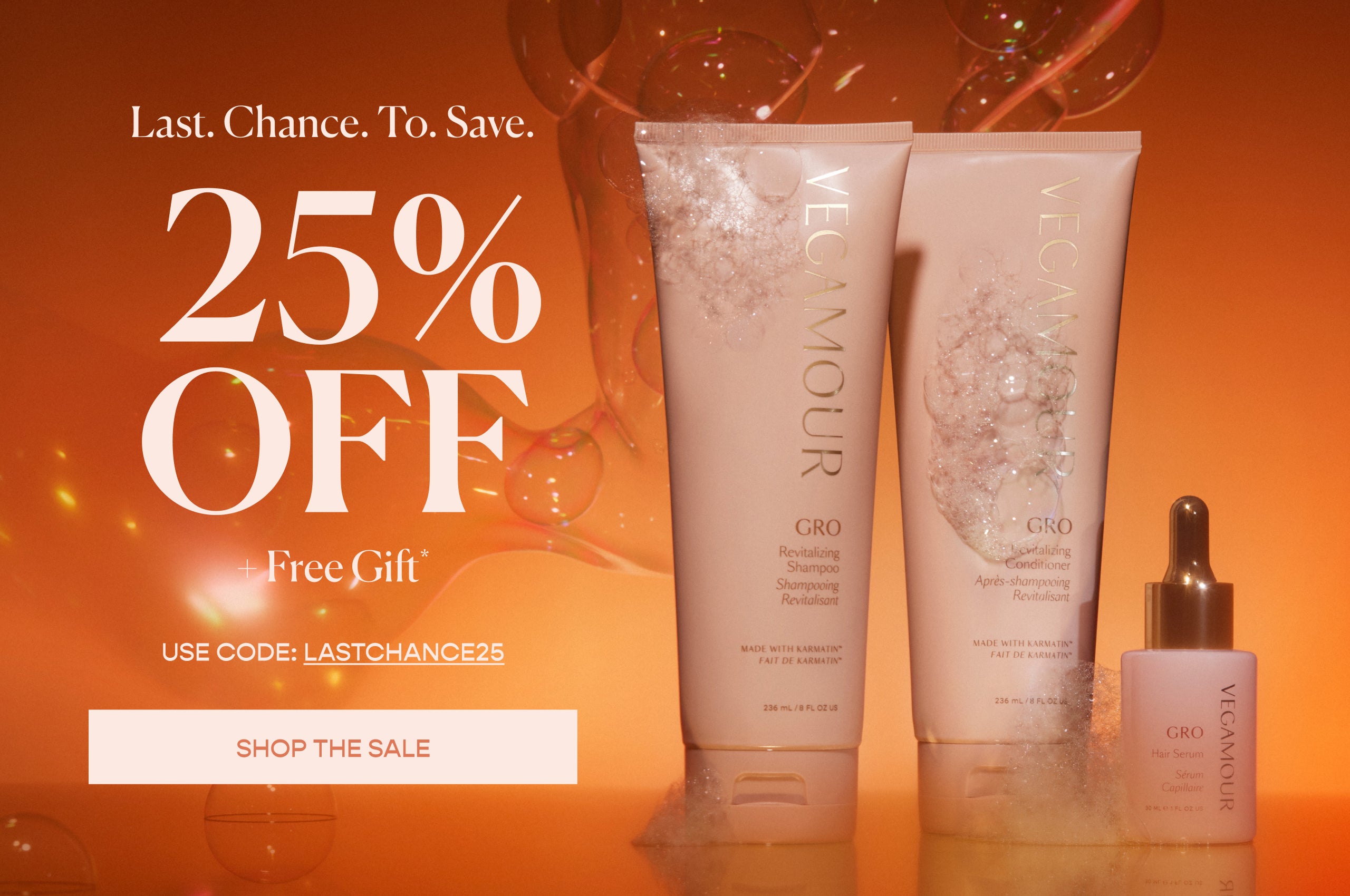 Disclaimer: Information in this article is intended for general informational and entertainment purposes only. It is not intended to constitute medical advice, diagnosis, or treatment. Always seek professional medical advice from your physician.