Do Split Ends Stop Hair Growth?
Hair is so much more than just the stuff that grows out of your head — it impacts how you feel and look. And because hair is so important, hundreds (if not thousands) of healthy hair truths and myths are constantly circulating, which can leave you wondering: "Is it important to trim split ends when growing out my hair?" or "Do split ends stop my hair from growing?"
To help separate truth from myth, VEGAMOUR dug into the research and spoke to the experts to find out what you should be doing to encourage healthy hair.
What Causes Split Ends?
While it would be nice to magically mend split, dry hair with styling products, hair breakage and split ends are a fact of life. But what causes frayed ends in the first place?
Generally, hair damage and split ends happen when long hair is overprocessed and exposed to heat. Hairdresser, former esthetician and avid hair expert Essie Button told us, "Exposing hair to chemicals, hot tools and certain environmental elements are all causes of split ends."
So, it's not just excessive heat exposure and a curling iron addiction that triggers split ends. Styling and environmental factors all play a part.
Hair Coloring
Adding color to your strands alters the structure of the hair to change its appearance. Unfortunately, the more often you color, the more likely the hair shaft is to crack. After coloring your locks, increase your hair's wellness by adding moisturizing and protective formulas to your routine.
Warning: Hair products that contain a slew of hard-to-pronounce chemical ingredients could further damage your hair's overall health. Essie Button explained, "Chemicals strip hair of lipids that hold hair fibers together."
A gentle shampoo and deep conditioner that contains only natural ingredients is a great place to kickstart hair health. Many shampoos strip the hair of its natural oils, and the pH level of your shampoo can also trigger hair breakage.
GRO Revitalizing Shampoo and Conditioner are enhanced with clinically proven plant actives and Karmatin™, a vegan b-SILK protein, which bonds to the hair follicles to nourish and protect them. Plus, this clean, color-safe duo has been clinically proven to increase the appearance of hair density by up to 52% and decrease shedding by up to 76% after four months of consistent use.
Heat Styling
No doubt, hot tools give the hair a smooth, sleek and polished finish, but if you're using them daily, you're going to struggle with length retention and split ends — especially if you're not using a heat protectant spray.
"Excessive heat-styling tools weaken the hair fibers," said Essie Button. Too much heat styling causes extreme damage, and high temperatures remove moisture and leave most hair types looking and feeling dry and brittle. Instead, let your hair air dry a couple of times a week, and you might notice fewer split ends.
Friction
If you're in the habit of rubbing and scrubbing your wet hair dry with a harsh, abrasive towel, you could encourage weaker hair follicles and, yep, you guessed it, split ends. You want to treat your hair with the same care and attention you do your skin. Invest in a gentle microfiber towel to wrap it up after washing, and avoid constantly wearing hats or headscarves that don't feel silky to touch.
Climate
If you live in an area of extreme weather, like constant heat or way too much wind, you could experience a damaged hair shaft or two. It's true that you can't control the weather. But you can help your hair retain its length and lessen split ends by plying the strands with natural, nourishing hair products that won't further drain moisture.
What's the Best Way to Prevent Split Ends?
Unfortunately, once the hair's shaft cracks and the split ends crop up, no product will fix them completely. So if having longer hair is your No. 1 hair goal, prevent split ends by avoiding harsh chemicals, reducing heat styling and using a hair-friendly pillowcase.
And remember, when hair is wet, it's at its weakest, so use a wide-tooth comb to combat knots rather than a regular bristle brush.
Will Cutting Off Split Ends Encourage Hair Growth?
The million-dollar question — will you speed up hair growth if you cut off all your split ends? Licensed cosmetologist and barber Madison Dufour explained, "Split ends do not cause your hair to stop growing. But they tend to limit the length, making it look like your hair growth has slowed. However, if you snip the frayed split ends more often, you are maintaining healthy ends, so you won't need as much cut off [as you would] if you were to go years without a haircut."
Dufour continued, "When my guests tell me that they are growing their hair out, I highly recommend they get regular trims (only the tiniest dusting of the ends) once every 12 weeks or so to prevent breakage. This way, they will be able to retain the length instead of the hair breaking off."
To further protect your hair tips and keep hair cuticles healthy, avoid practices like brushing too much, taking super hot showers and blow-drying your ends directly.
Can You Mask Split Ends?
If your ends look like they need a little bit of TLC while you're in-between hair cuts, you can mask the appearance of split ends with a natural and nourishing hair oil. Apply a few drops of your favorite hair nourishing oil (we love pure marula oil) to the ends and lengths of your hair to conceal splits. The nourishing formula will not only mask frayed ends, but it will keep your hair hydrated and shiny too.
Some clever styling tips will also help hide frayed edges. For example, you could tie your hair up into a low bun and keep the strands in place with a gentle hair tie. Or you could curl your hair inward to create a voluminous finish minus the obvious split ends.
Find Out: Want Thicker, Fuller Looking Hair? Try This
The Bottom Line: How to Help Hair Grow Faster
If you want gorgeous, glossy, long locks to be proud of, the best thing you can do is implement a 360-degree hair wellness routine that includes nourishing, natural hair products. Your lifestyle also impacts your hair, so it's important to implement daily practices that lower your stress levels.
And when it comes to split ends, cutting them off won't speed up the growth process. But clipping the ends of your hair regularly can reduce the number of split ends you face in the future, which will help you preserve any length your hair has gained.
More From VEGAMOUR
Photo credit: Paul Siewert/Unsplash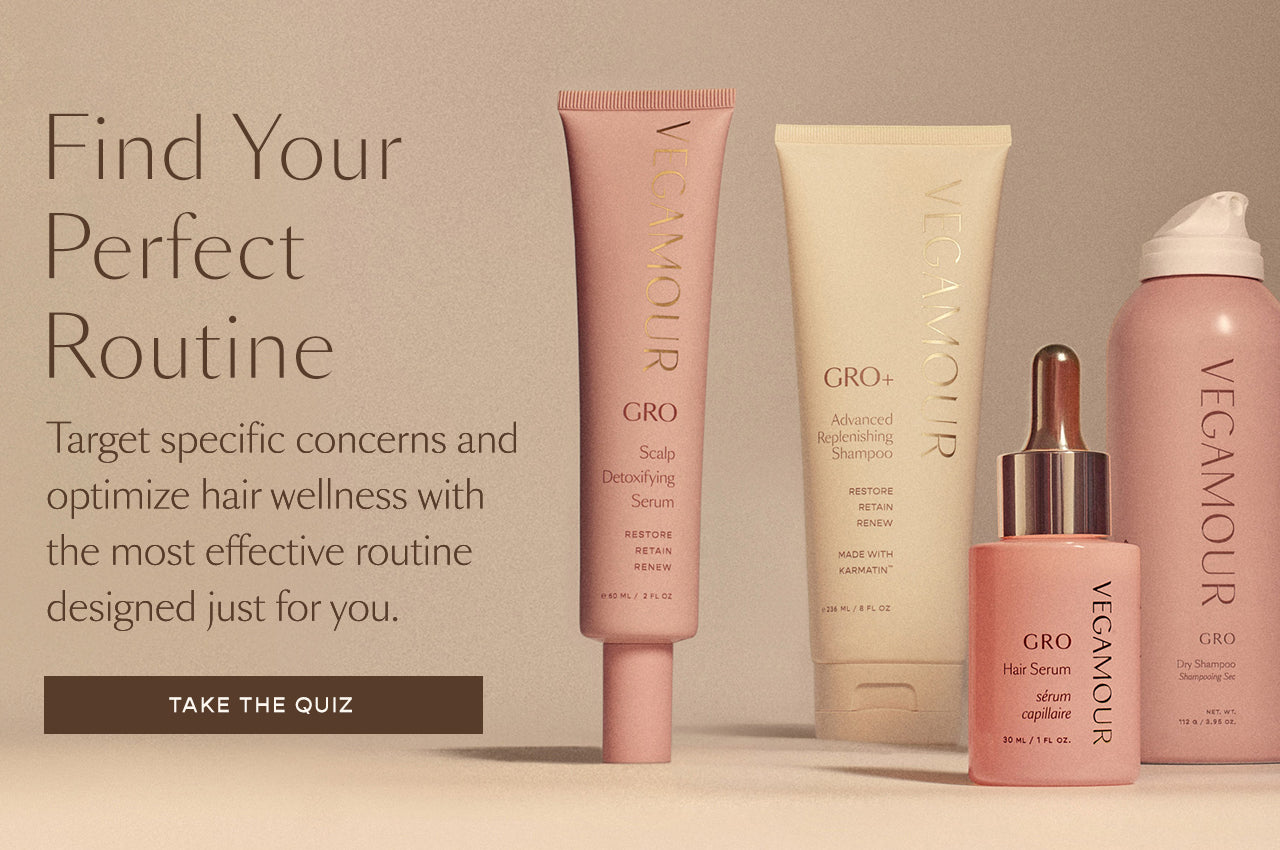 Disclaimer: Information in this article is intended for general informational and entertainment purposes only. It is not intended to constitute medical advice, diagnosis, or treatment. Always seek professional medical advice from your physician.