How to Use Almond Oil for Healthy, Beautiful Hair
Everybody wants stronger and shinier hair. If you're well-versed in natural beauty trends, you've probably seen almond oil in a number of natural beauty products in recent years, including hair products.
Almond oil has great emollient properties to help fill in the gaps of your hair shaft and lock in moisture. Almond oil is also believed to help strengthen and repair hair, treat scalp conditions and even promote hair growth. Read on to see if almond oil is something you should add to your hair care routine. Plus, discover some amazing alternative options for strong, healthy and shiny hair.
What Is Almond Oil?
Just like olive oil, almond oil is made by pressing the seeds of the almond tree. Those seeds are what we know colloquially as almonds. Almonds are rich in high levels of protein, omega-9 fatty acids and vitamin E. These properties make pure almond oil ideal for hair and skin. According to one study, almond oil has been used to treat conditions like psoriasis and eczema.
Read More: These Are the Benefits of Vitamin E Oil for Hair
Benefits of Almond Oil for Your Hair
There are two types of almond oil: sweet almond oil and bitter almond oil. Due to its natural emollient properties, sweet almond oil is an excellent option for repairing damaged hair and locking in moisture. Sweet almond oil is ideal for those that heat-styles their hair, as the oil acts as a natural lubricant on the hair shaft. This reduces friction when styling and minimizes breakage.
The high content of vitamin E present in almond oil makes it a very soothing ingredient for an itchy scalp because it can reduce inflammation. Due to its lightweight nature, almond oil can be massaged into the scalp and won't leave a greasy appearance.
In addition to vitamin E and omega fatty acids, almond oil also contains biotin. This combination is believed to encourage hair growth and control hair fall, although clinical trials to prove this have yet to be conducted. Almond oil, like most oils that can be used on the hair, can also reduce frizz and give hair a softer, shinier feel and appearance when used after styling.
Shop: Christine Chan's Top VEGAMOUR Picks
How to Use Almond Oil for Hair
You can use sweet almond oil in your hair in a few ways. The simplest way is to use it as a finishing oil, or to help lubricate dry hair. Simply rub a few drops into the palm of your hands and apply it to the hair after it's been styled, or before it air dries. You'll want to pay special attention to the ends of the hair since they tend to be the most damaged. You can also soothe an irritated scalp by simply adding a few drops of almond oil to the scalp and massaging it in.
Almond oil can also be used as a hair mask. Apply a tablespoon (or two, depending on hair length) and let it sit overnight before shampooing the next day. Or, you can mix some almond oil with mashed avocado and apply this to the hair for several minutes before washing out. If you're more into using a hot oil treatment on your hair, you can warm almond oil until it's a comfortably warm temperature and then apply this to the hair the same way you'd apply any other hot oil mask.
"Many people find that sweet almond oil is a more versatile option than other hair oils since it can be used for both the scalp and hair shaft," said board-certified dermatologist, Dr. Alpana Mohta. "In addition, sweet almond oil is less likely to cause build-up or grease-up than other oils."
Possible Risks and Side Effects of Almond Oil
Almond oil is generally safe for all skin types, except those with certain nut allergies. While almond oil is non-irritating and lightweight, anyone with a severe nut allergy should steer clear from using it for any purpose to avoid a possible allergic reaction.
"As with any oil, it is possible to overdo it with sweet almond oil," said Dr. Mohta. "If you use too much, your hair could become greasy or oily. Patients with oily acne-prone skin should try to avoid keeping sweet almond oil in hair overnight, as this may cause the follicle pores to become clogged."
Read More: Can Peppermint Oil Help Hair Grow?
Better Alternatives to Almond Oil
While almond oil has become increasingly popular over the last few years, there are some ethical reasons why you might want to choose another oil for your hair and scalp.
Currently, California produces 80 percent of the world's almonds and 100 percent of the U.S. commercial supply of almonds. Almonds are a popular source of protein when consumed for food. Almond milk and almond yogurt are popular milk substitutes for those with dairy sensitivities.
The unfortunate truth is that almonds need a lot of water to grow. In fact, it takes just over one gallon of water to produce a single almond. Because California is a state that experiences consistent and frequent draughts and has a limited supply of water, almonds are one of the crops contributing the most to the state's water supply stress.
For this reason, almond oil actually has a higher carbon footprint than other hair and skin oils on the market. So while it's popular to use, it's not the most eco-friendly option. Hair oils like argan oil and marula oil might be better options for your hair and skincare routine.
If you're looking to strengthen and nourish your hair, VEGAMOUR's Pure Marula Oil is a great alternative to almond oil. Just like almond oil, marula oil is packed with antioxidants and omega fatty acids to nourish hair and skin.
If you're looking to nourish or detoxify your scalp, try VEGAMOUR's GRO Scalp Detoxifying Serum. This clinically proven serum locks in moisture and protects the scalp from harmful environmental pollutants. It contains zinc PCA, which works to absorb excess oils all while reducing scalp irritation and supporting the skin's natural moisturizing factor. Wild-harvested baobab and marula oils provide additional antioxidant support in the form of omega-6 and omega-9 fatty acids which moisturize, protect and balance the scalp.
If thinning hair is your chief concern, VEGAMOUR's GRO Hair Serum uses a combination of clinically-tested, vegan phyto-actives that work together to help support a healthy and balanced follicular ecosystem — all while soothing the scalp and revitalizing the hair's roots. 

Nourish Your Strands for Healthy Hair
No matter how you choose to nourish your hair, remember that healthy hair is beautiful hair. Nourishing your scalp with omega fatty acids and antioxidants keeps the hair's biome healthy and happy, resulting in stronger, shiny locks. Just like your skin, you want to feed your scalp and hair follicles to keep hair healthy from the inside out.
More from VEGAMOUR
Photo credit: Yang Deng/Unsplash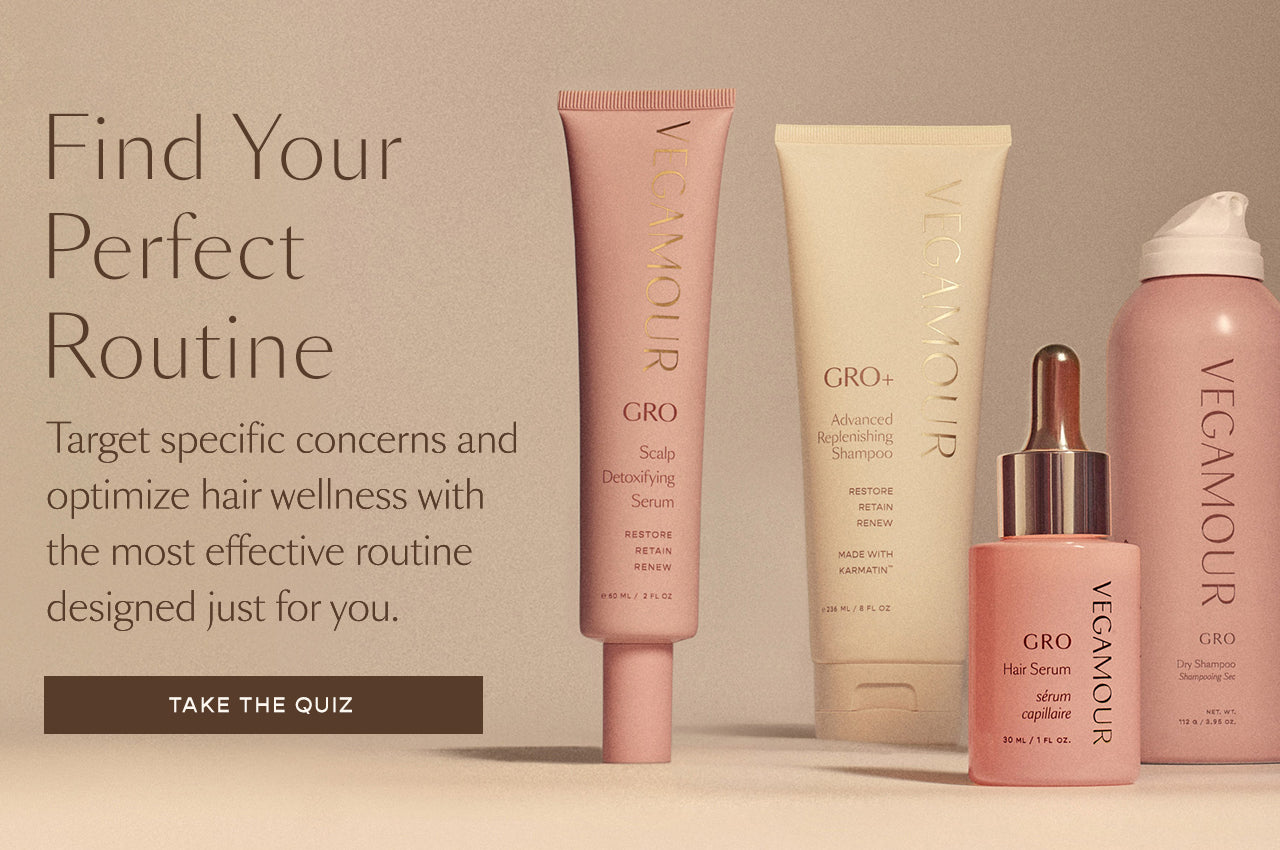 Disclaimer: Information in this article is intended for general informational and entertainment purposes only. It is not intended to constitute medical advice, diagnosis, or treatment. Always seek professional medical advice from your physician.