Can Pumpkin Seed Oil Help With Hair Loss?
Baldness and hair loss might be something still mainly associated with men, but more women than ever are dealing with hair loss, too. According to the American Hair Loss Association, 40% of those affected by hair loss are women. But with so many ingredients claiming to resolve pattern hair loss and more, how do you know what works?
Pumpkin seed oil has gained attention for not only its health benefits but also its apparent hair regrowth capabilities. Is it the hair growth ingredient we've all been looking for? To understand the science behind pumpkin seed oil and scalp hair regrowth, VEGAMOUR dug a little deeper to unearth the truth and spoke to some experts to get the facts. Plus, the lowdown on products that actually help encourage thicker, fuller looking hair. 
Does Pumpkin Seed Oil Work for Hair Loss?
You probably know that if you want to incorporate more fatty acids, anti-inflammatory vitamins and good minerals into your diet, eating more nuts and seeds will help. While walnuts, almonds, chia seeds and flaxseed all top nutritional lists, pumpkin seeds are the superfood many of us forget about. They're full of protein, healthy fats and heaps of micronutrients that your entire body loves. But it's the effect of pumpkin seed on hair loss that's sparked debate in recent years.
What's the Science of Pumpkin Seed Oil for Hair Loss?
One double-blind, placebo-controlled study published in the Evidence-Based Complementary and Alternative Medicine Journal in 2014 claims that pumpkin seed oil increases hair growth in men with androgenetic alopecia.
The study was a blind placebo-controlled trial that took place in Korea and focused on male pattern baldness only. Over 24 weeks, those struggling with androgenetic alopecia (AGA) took either a placebo or pumpkin seed oil supplements in an attempt to improve hair thickness — and the results were impressive. In fact, patients with mild to moderate hair loss who took the pumpkin seed oil supplement experienced 40% more hair growth than those who took the placebo, according to a significant study published in 2014. This study really kickstarted pumpkin seed oil as a natural option for hair growth.
That's four times higher than the hair growth observed in this study, which ran over 48 weeks on men using Finasteride. Finasteride is a drug often used for benign prostatic hyperplasia (an enlarged prostate) and male pattern baldness.
Shop: Ashley Thompson and Ashley Rosenberg's Vegamour Picks
The Controversy
Of course, these impressive findings catapulted pumpkin seed oil to the forefront for those in need of a quick-fix for pattern hair loss. But before you rush out to sweep the shelves of pumpkin seeds, there are a couple of essential things to consider. 
For starters, pumpkin seed oil wasn't the only ingredient in the supplement. What was actually tested was a Korean health aid called Octa-Sabal Plus, which contains pumpkin seed powder and not oil. And that's not all. Alongside the pumpkin, the supplement also includes ingredients derived from red clover powder, corn silk powder, vegetable powder, evening primrose powder and tomato powder, which all could have affected the results. 
Not only that, the study was short, small and it only considered male pattern baldness. During 24 weeks of treatment, 100 men took part in the study, and women were nowhere to be seen. So what does this all mean? Well, there's no clinical evidence to support the positive efficacy of pumpkin seed oil on hair growth over a long period of time — and we have no idea if it works on women at all.
It's not all bad, though. The study took place on humans (not rats), which is surprisingly rare. Plus, it was the first to use a randomized, double-blind placebo to evaluate the effects of pumpkin seed oil for hair loss. This type of study is considered the gold standard of clinical research, so it shouldn't be dismissed entirely.
Also: 3 Beauty Benefits of Daily Hair Vitamins
Does Pumpkin Seed Oil Block DHT?
Even though the 2014 study proved a bit controversial, there was enough solid evidence to suggest a link between pumpkin seed oil and increased hair thickness. While other studies have been conducted, they were not conducted on humans so evidence for impact on hair growth for humans remains insufficient.
DHT derives from testosterone, which is a hormone present in both women and men. It's an androgen that contributes to:
Muscle mass
A deep voice
Increased body hair
How fat is stored across the body
Growth of male genitalia as sperm production increases
Everyone's hair goes through a growth cycle that lasts up to six years. Having high DHT levels can shrink the hair follicles and shorten the growth cycle, resulting in the hair falling out and looking thinner. Prohibiting the 5-alpha reductase enzyme stops DHT from binding to the scalp tissue, helping prevent hair loss and thinning. Inhibiting the 5-alpha reductase enzyme is precisely how the drug, Finasteride prevents hair loss.
Further research and scientific studies are needed.
Also: How to Choose the Best VEGAMOUR Serum or Foam for Your Hair
How To Use Pumpkin Seed Oil on Your Hair
While the evidence behind its efficacy is inconclusive, there are still many health benefits to the little wonder seed. Hair Expert Ghanima Abdullah explained, "You could ingest pumpkin seed oil capsules at 400mg daily, or you could rub the oil on the scalp directly." You could also ingest one to three teaspoons of oil three times a day to start seeing results — though that doesn't sound too tasty!
If you're applying pumpkin seed oil directly:
Warm it on the stove and let it cool. The oil shouldn't be so hot it scalds you.
Massage the oil into your wet hair and scalp.
Wrap the hair up in a hot towel and leave for 20 minutes.
Remove the towel, then shampoo, condition and style.
Do this a couple of times a month for at least six months to see the positive effects of pumpkin seed oil on hair.
Also: Can Resveratrol Help With Hair Loss?
Are There Other Oils That Work on Thinning Hair?
It's always worth discussing options with your dermatologist or trichologist first when it comes to hair loss. If you're looking for a natural approach, some of these oils and serums could prove effective:
Lavender essential oil: We all know that the soothing scent of lavender can help calm the mind, but did you also know it is thought to speed up hair growth? One study saw the oil encourage faster hair growth over time.
Mung bean, curcumin and red clover: This trio makes up the powerhouse ingredients in best-selling GRO Hair Serum. With anti-inflammatory properties, antioxidants and vitamins A, B, C, B7 (biotin) plus so much more, daily use of this incredible serum can lead to visible results in as soon as 90 days.
CBD: For an extra boost, GRO+ Advanced Hair Serum has all the same power as the original GRO Hair Serum with the addition of CBD, soothes and calms the scalp, plus it increases the effectiveness of the other phyto-active ingredients in the serum. When taken internally, like with daily GRO+ Advanced Hair Gummies, CBD can help relax you and reduce stress, a major contributor to telogen effluvium, or stress-induced hair loss.
Peppermint essential oil: You're probably aware of the cooling, tingling sensation that peppermint has on your skin. One study found that the oil actually helps increase circulation, promoting hair growth during the growth stage.
Lemongrass essential oil: Having a nourished, flake-free scalp has a lot to do with how healthy and shiny your hair looks. One 2015 study found that lemongrass can significantly reduce dandruff in just one week.
For a serum that's completely plant-based and cruelty-free, try GRO Hair Serum or GRO+ Advanced Hair Serum with hemp. This incredible before & after photo comes from a customer who used GRO+ Advanced Hair Serum with CBD consistently. These balanced, vegan formulas soothes the scalp and helps revitalize the roots to encourage fuller, thicker looking hair. The serums' powerful phyto-actives increase the appearance of the hair's density and help reduce the frustrating signs of shedding.
DIY: Does Rice Water Help With for Hair Growth?
Massage Your Way to Healthy Hair
Massaging the scalp has long been recommended by hairstylists as a way to stimulate scalp hair growth. Research from 2016 found that regular scalp massages can lead to thicker, healthier hair and promote growth. 
Scalp massaging centers on the hair follicles, which are located just below the skin's surface. According to the research, routine scalp massaging can increase the hair's thickness by stimulating and stretching the follicles. It's also thought that a scalp massage helps dilate blood vessels in the skin, encouraging the hair to grow. The GRO Revitalizing Scalp Massager is the perfect partner to any hair serums, oils, foams or shampoos you want to try. Not only will you feel relaxed after using it, but you'll also stimulate the scalp, which can help boost the scalp's health.
If you're living with hair loss, you're probably well aware of the negative effect it can have on your psychological state. When you feel good about your hair, you feel good about yourself. So, it's important to have products and ingredients in your hair care arsenal that really work.
If you're looking to boost your hair's wellness, though pumpkin seed oil could prove effective (and it certainly won't harm your hair), more research needs to take place before it's proclaimed a hair-growth savior.
Also: These Medications May Cause Hair Loss
Get GROing
While a couple of studies have looked at the treatment of AGA — aka androgenic alopecia — in men, what about women? While more research needs to happen, there seems to be some anecdotal evidence that pumpkin seed oil may help.
While we wait for further studies on pumpkin seed oil, you can rest assured that there are products that do help combat thinning hair. The GRO and GRO+ Advanced collections from VEGAMOUR are designed to help you get the thicker, fuller looking hair you want every step of the way — from the time you shampoo & condition to when you apply your serums or foams before bed. 
More From VEGAMOUR
Photo by Karolina Grabowska/Pexels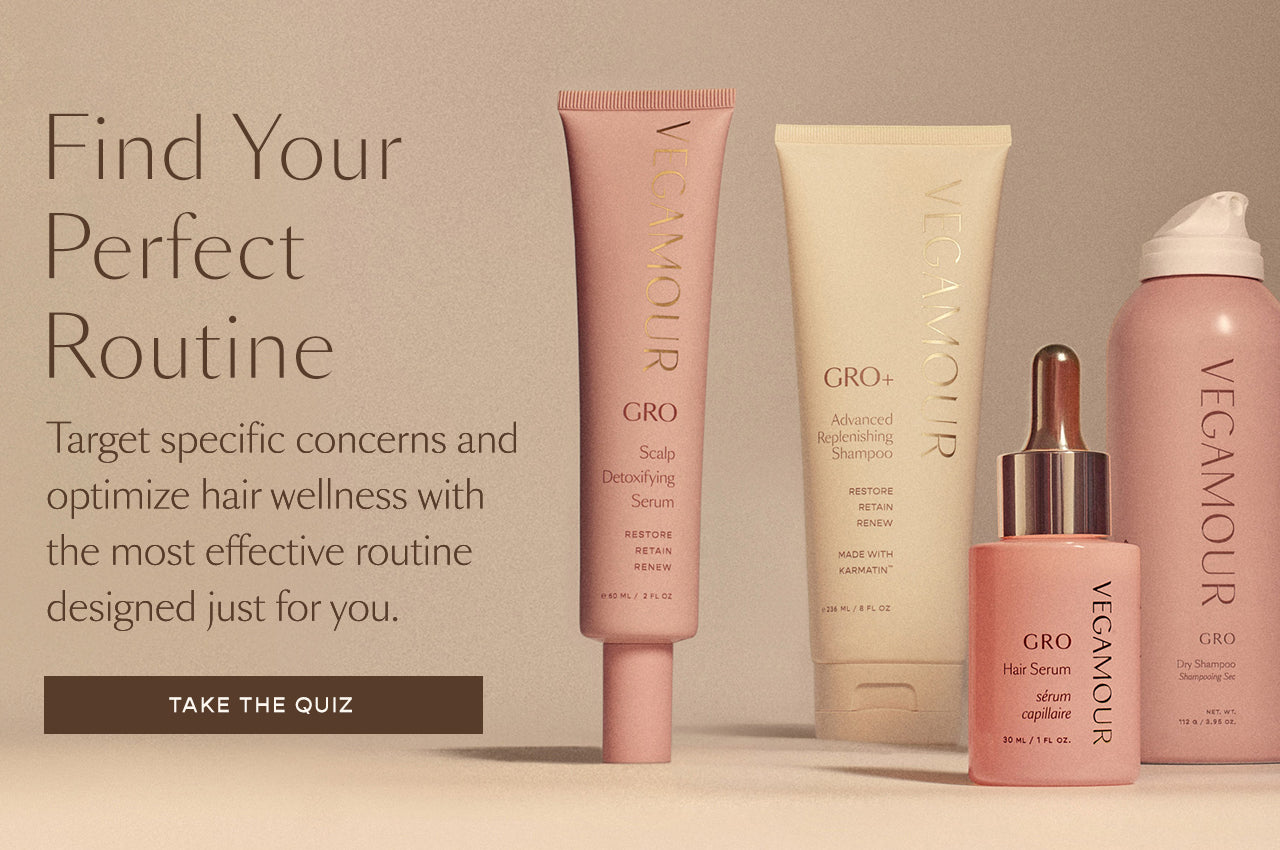 Disclaimer: Information in this article is intended for general informational and entertainment purposes only. It is not intended to constitute medical advice, diagnosis, or treatment. Always seek professional medical advice from your physician.